!!!DEATH/GRIND METAL FROM CHILE!!!
We had a conversation with BRUXISMO. Enjoy!
Welcome to the FILTHY DOGS OF METAL Webzine.
Tell us a few things about BRUXISMO (Members, Starting Year etc).
M. Flesh: Bruxismo was born as an idea of Envased (Guitar, Vocals.) to take some ideas and songs from his old band (Agilator) and create new songs. At the beginning of 2015 he contacts me (M.Flesh, drums) and we started rehearsing constantly until we already had a good repertory to play live. Most of the time the band has been a grind-duo, but a good couple of bass players and another drummer have passed momentarily through the band, but since about 2019 we have a stable bass player (Juams, Bass).
Envased: We try to use different musical styles, whether grindcore, hardcore, thrash, death, punk, black, making mixtures in the different songs, we also play in the metal underground are, as well as within the countercultural punk scene as we support the socio-libertarian ideas. We also can tell you that as a band we organize and perform a concert called "SOLVE ET COAGULA" where we invite bands from other regions and local bands, with the objective of supporting the local scene.

You have recently released your album ''Camino de Muerte''. What is the feedback from your audience as well as from the press?
M. Flesh: Yes, this album has been a long wait for a lot of reasons (it was recorded in mid 2018, we had a temporary band break, etc.), that can sometimes cool or slow things down but the album has been well received within the close environment of the scene and from people who knew about the band in some way or another. Some bands have spoken to us to show support and it's always nice when other bangers enjoy what you do, the same way you do with other bands. So far we've had little press exposure and it's never that massive at least in our reality, but the album just came out.
Envased: Well, our friends have loved it, they have told us that it is brutal and the sound is good. We appreciate the support, they buy our records. The cassette is about to come out and you can listen the album on the net, we are sure that at this moment we would have a lot of concerts for the release of "Camino de Muerte" but because of the pandemic situation it is still not possible, so we are still waiting for the live release in the next concert "SOLVE ET COAGULA" that we organize as a band.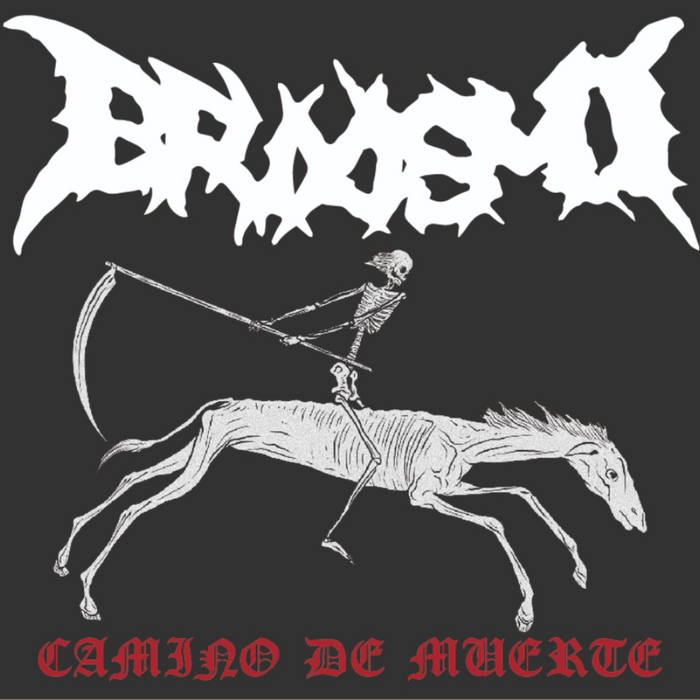 Label or DIY and why?
M. Flesh: I don't think we would choose one over the other. I consider that both are important in helping to spread metal, only that in numbers or way of working they could be differentiated. A lot of DIY work leaves a lot to be desired, but there are others that are high standards in every way. The same goes for labels. In the end it will always depend on the fucking human factor but I think it all comes down to the possibilities you have and what your interests are as a band.
Envased: Our work is done with different people who each do their specific function. We work with a designer and tattoo artist (Francisco CAOS Manson), he does all the digital work, and transforms our ideas into the images we want. The recording is done with our good friend Francisco Meriño, leader of "GANGRENA" a death metal band from the region, in his studio "SCARS RECORDS". Well, he helped us a lot to make the album with a good sound and we thank him for that. Our physical material was released with "SELLO AUTONOMO RECORDS", underground work, do it yourself (DIY). They did an excellent job in the elaboration of the CD's of "CAMINO DE MUERTE". In this way we have achieved that the album came out, working collaboratively in the metal scene.
Do you prefer Vinyl, Tape, CD or Digital Format and why is that?
M. Flesh: Personally, I don't have a preference for any of them, and I have music in all three formats. There is a lot of fetish and nostalgia in all of this and I'm not saying it's wrong, but I don't consider one to be above the other. I Consider that there are musical styles in which not even the physical format is an issue, and everything has a digital approach, which I don't think is a negative thing either. All these formats are channels for metal to manifest itself!
Envased: I prefer the compact disc (CD), it is a classic format, easy to carry and with information in the book such as lyrics. It has a good sound, you can listen to it in the car, on your radio, you can share it and generally there is more chance of being able to play a cd anywhere than any of the other formats mentioned.
Your music style is Death Metal with Grindcore elements. Which are your main influences (Favourite Artists / Bands etc.)
M. Flesh: We are very attached to the meaning of the word "grind" therefore when it comes to creating or influencing us we can grind anything as long as it falls within our parameters of what we conceive as metal, or more unhinged, heavy, dark and fast music (not necessarily death or grind). On the grind side I guess we prefer the more classic side like Anal Cunt, Agathocles, Napalm Death (I hope this question can be answered by Envased who is the one who comes up with the riffs to build up the songs). In death metal I guess it is wider but bands like Deicide, Angelcorpse, Mortician, Benediction, Unleashead, Demilich, Demigod, Degial, Necros Christos, Kaamos, Carcass, Vital Remains, Broken Hope, Immolation, Impetigo, Pungent Stench, Arkhon infaustus, Bloodysign, The Chasm, Broken Hope, Mortem, Caligula, Proclamation, Incantantion, among many more, are bands that their sound and way of playing do not go unnoticed, therefore they exert an influence indirectly or not.
Envased: The band has always had influences from different bands, but I believe that this itself derives in a personal stamp that marks the style of BRUXISMO. There are bands like Brutal Truth, Dominus, Hell Hammer, Venom, Napalm Death, Agathocles, Kreator, Medio Muerto, Brujería, Torso Fuck, Enfermos terminales, Cannibal Corpse, Spazz, Nunchaku, among others that are precious and influence in a direct or indirect way.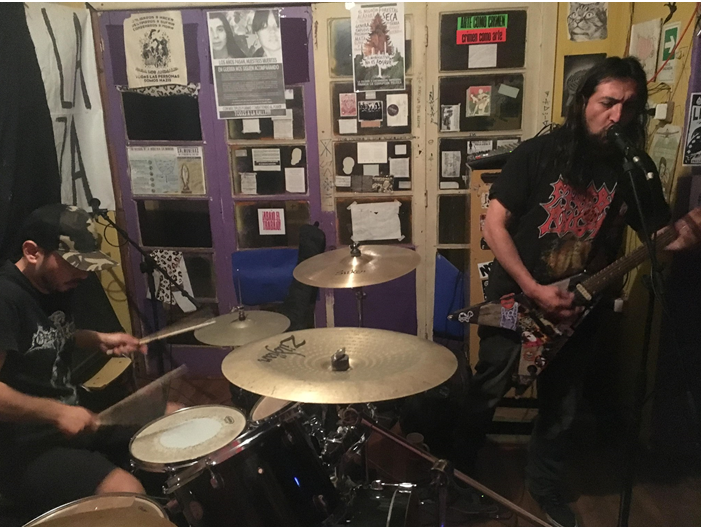 Which things, do you think, a Band should sacrifice in order to succeed?
M. Flesh: Most of the underground musicians have side jobs with which they can cover the costs of having a band, although there must be cases in which there comes a time when someone has to decide between quitting their job or going out on tour, and in more extreme cases, having family or couple issues. Nowadays is not so drastic from my point of view, especially in the underground scene, that even if you have some notoriety as a band for what you do, you can mostly continue with your life routine. More than sacrifices I would say that you should focus on what you want to achieve as a group, and try to achieve it.
Envased: Running a band is a reciprocal relationship, with similar goals among the members, this requires work, methodology, time, and importance. This leads to have a rhythm of life together with the band, you can always reach an agreement between the decisions of the members, but if you have to make sacrifices I think it would be distances when you have to travel, money, time to accommodate the dates of the recitals, rehearsals, but only that kind of situations, nothing major.

Have you ever sacrificed anything in your life for a better future for your band?
M. Flesh: Personally, I don't think the sacrifices are so many. If you invest time and money, it's because you want to do it, but I think the final lesson of having a band is that if you want to take it to new levels, you have to make an effort on the instrument you play and have and know how to reach consensus with the other members without that generating something negative in the band.
Envased: I already sacrificed my life to METAL!!!!

Describe your ideal live show as a performance Band. Have you already experienced that?
M. Flesh: I really don't know. We've had good shows but usually my standard is when I'm satisfied with my performance and when the audience starts to mosh or nod (something you see much less than before, unfortunately, because it's a good indicator that the music is having an effect). I would consider the last show we had as special, because besides debuting live for the first and last time with the current line-up, the audience was receptive, and after that the fucking K666VID started. Another memorable date was the one organized by the people from UDEN (Grind band From Talca, CHILE, in which they brought the German band "BLOOD" TO THEIR CITY!!!) which was in a subway that kept old wine vats. It was a good and insane date around everything a metal head could ask, plus very good bands played that day, such as: NECRORIPPER, LOS DUROS, and UDEN.
Envased: An ideal show for me is to have good sound, an audience present, if possible fairs of musical material, and I think we always experience that when we play and have a good time with friends that always support us.

Which attributes, do you think, that a new Death Metal Band should have in order to gain identity and be unique?
M. Flesh: The new crop of DM bands that are proliferating like pus is a good symptom, plus many of them are also young in terms of the age of its members or have a more plastic vision of what can be done or not within this style.Many bands no longer take the trouble to ask themselves if this is 100% DM or BM, Thrash, Heavy, etc, but they dedicate themselves to make music under a certain recognizable spectrum but with resources of other subgenres, and thus satisfy their needs or creative standards. That explains that for example there are a lot of bands that mix styles that were previously unthinkable either by the mainstream of the moment (remember the absurd advertising rivalry that was made in the late 90s and entering 2000 with BM vs DM) or by the "purist police" of what is and is not metal, etc.. I think this started with Darkthrone's attitude to start doing whatever they wanted without needing to justify it too much. Some people resist this way of conceiving UG or how you shape your music, but I think it's precisely this attitude that can give you identity and make your music stand out.

Do you believe that Bandcamp and other Digital Platforms help the new Death Thrash Metal Bands? Which, do you think, is the ideal way for a Band to promote its work?
M. Flesh: As I said before, I think all formats serve a purpose and none of them hinder the development of the other, so bandcamp and other platforms are a good way to show your music to people who don't have access to it in a physical way. Many labels now use these platforms so that people can review their catalogs. The system of buying through these platforms is also an easy way to access a copy without having to depend on whether the "distros" you know will carry it, or if the album is in your country or not. In fact thanks to Metal Archives and bandcamp, a guy from Spain wrote us to buy the album digitally (something totally new for us).
Envased: For many years we have been using platforms such as purevolume, myspace, youtube. Now there are more and more digital media, we have lived since we were teenagers the distribution exchange through tapes, it was something exciting to buy or obtain by exchange the production of your favorite band or another new band to know and add to your collection, something that also happened with fanzines and metal magazines, then came the CD and it was like the ultimate thing, everything was physical with digital sound, and then suddenly came the mp3 and everything changed, everything became computer files. The platforms help to spread the word about metal bands, it communicates the interest of the fans to get the material in the format that the band has available, it's a chain.
Tell us a few things about the New Underground Metal Scene in Chile (Bands, Fanzines, Webzines, Metal Clubs, etc)
M.Flesh: You must already know that in Chile there is a very high level in Metal and there are bands that thanks to their own merits and the rise of the labels have a very good reception here and in other countries. Some that I could mention are Unaussprechlichen Kulten, Godless, Wrathprayer, Force of darkness, Necrobastard, Temmor, Ancient crypts, Eaten Alive, Putrid Evocation, Diabolical Messiah, Mayhemic, Dekapited, Ejecutor, Mortify, Horrifying, Demonic Rage, Solipnosis, Phantasmagore, Féretro, Repulsic, HallusxValgus, Venus Torment, Black beast, Los duros, Necroripper among many, many more. In the region where we live we have a good number of active bands like INVIERNO NUCLEAR, BIO TERROR, GANGRENA, MORGUE, FUSILATED, BLASFEMIA that make very good extreme metal.

Do you know anything about the Hellenic Metal Scene?
M. Flesh: Of course, we really like the "Greek sound" even if each band has its differences and different ways. Bands like Varathron, Thou Art Lord, Rotting Christ or Necromantia, as well as the old Septicflesh are true classics. Dead Congregation, Acrimonious, Unholy Archangel, Acherontas, Embrance of Thorns, Ectoplasma, among others. And in the punk scene I could mention Chain Cult.

What are your future plans?
M. Flesh: We hope that the health crisis will change and that we will be able to go out and play, although I see it as difficult. In the meantime we want the album to be distributed (another run of CDs and tapes is coming) and we are starting to create a couple of songs for a future EP and have a new experience in terms of recording. Personally I would like that some label would show interest in the material we have and thus get some re-release or for what we can record in the future. What is for sure is that the flame will keep burning and death metal will never die.

Thank you very much for your time & Keep up the good work! The closure is yours.
M. Flesh: Thank you very much to you for giving us this space and for exalting the underground from your trench. Thanks to those who have supported the band in some way or another, and you can visit our bandcamp "https://caminodemuerte.bandcamp.com/releases" whenever you want to listen digitally. Any kind of contact with the band, write to us (bruxismo.band@gmail.com) CAMINO DE MUERTE NEVER DIES.

By Steve the Filthy Dog.
BRUXISMO CONTACT:
https://caminodemuerte.bandcamp.com/releases
https://www.facebook.com/Bruxismo.band/