!!!ITALIAN BLACK/THRASH METAL!!!
We had a conversation with Borys (Guitars/Vocals).Enjoy!
Welcome to the FILTHY DOGS OF METAL Webzine.
1. Tell us a few things about BARBARIAN (Members, Starting Year etc).
We started late 2009. In the meanwhile we did all that is supposed to happen with a band that loves music: we played about 100 concerts (a couple of European tours and a U.S. one included), released 4 albums, 1 split album and a 7". We are especially restless when it comes to writing new music, that's the essence of it all. Current line-up features Borys Crossburn, guitar and vocals, Blackstuff, bass, and Sledgehammer, drums.
2. In 2019 you have released your album ''To No God Shall I Kneel''. What was the feedback from your audience as well as from the press?
We are not a fancy band relying on gimmicks or trends, we just play what we like with a low profile. I'm sure we will never have a sudden major breakthrough, but people seem to appreciate our attitude more and more, so with each album our audience grows bigger. I'm convinced that our music, although being "genre" music, has a very personal sound. It's just that it's not on the surface, it needs a dedicated listening which is something that is not too common in an era marked by an incredible overflow of releases that come out everyday. Many people give just a quick listening on bandcamp or youtube to shape their opinion on a band. Honestly, I can't blame them, there is no other way to be up to date, but this way doesn't work with our music. But, since 2009 I've seen many bands come and go while we are still here with a loyal army of fans whose ranks keep always increasing.I consider the "press" as part of the audience, most of the webzines and magazines around are made by fans buying records like any other. The "press" is something extremely more widespread nowadays, it's not like in the 80's with a handful of magazines plus a number of fanzines. Communication is way easier and less structured.
3. Label or DIY and why?
Today, the difference is not as big as it once was. It's a continuum that goes from the bedroom based tape-label to major labels (once indies) like Nuclear Blast or Century Media. It's not easy to say where DIY becomes Label. Our label, Hells Headbangers, is a big one revered in the whole underground, bands like Midnight, Deathhammer, Acid Witch, Nunslaughter, Nekrofilth or Bat ar here to prove it. Still, HHR relies on itself, they spread their records directly, they do their own promotion, they trade records with other labels. We are always in touch directly with the "boss", Chase, whom I also deal with when it comes to matters related to my lown label, Ripping Storm. It might not be DIY in the old punk way, but it's still more DIY than many others so called "independent" labels.When it comes to matters more related to the band, I'd say it's definitely DIY. Our records are released by Hell's Headbangers, but all the rest is under our control, we don't want a management. We print our merch, we manage our tours, sometimes we self-release tape-editions for tours. We want to keep control on anything band-related, and I can tell you that it pays off, Barbarian, although a small band, doesn't need any money from our pockets for recordings, artworks and stuff, the money that comes in is enough. I think it's an excellent result.
4. Do you prefer Vinyl, Tape, CD or Digital Format and why is that?
I'm definitely into physical formats, especially vinyl. I've grown up with that, I need to hold something real in my hands, it's not only about the experience of listening to music, it's something deeper.
5. Your music style is Black/Thrash Metal. Which are your main influences (Favourite Artists / Bands etc.)
The three of us has an endless range of musical tastes, we listen to shitloads of different stuff, including a lot of different metal of all times. With such a huge background sometimes it's not easy to understand what was the initial influence. In the latest album, for instance, there's a riff influenced by an old 70's pop song. It's just the matter to translate everything in the Barbarian sound. When it comes strictly to metal, there's a lot going on in our songs. I've read a lot of reviews comparing us to any kind of metal band. That's good, it means that is not so easy to pigeonhole our music. Still, it's very coherent (we are not Mr. Bungle, haha), it's our personal sound. For the sake of namedropping, I might go with Hellhammer/Celtic Frost, Manowar, Running Wild, Sodom, Exciter, Kreator, Iron Maiden, Judas Priest, Motorhead, Accept, Diamond Head, Bathory, Venom, early Metallica... the usual classics, but also bands like Slaughter, English Dogs, Mercy, Whiplash, Black Uniforms, Bulldozer, Turbo, Backwater, Zoetrope, Heavy Load, Omen, Atomkraft, Death Side, Gastunk, Death Strike, Acid, Kat, Trance, Steeler, T.S.A., Anti-Cimex...
6. Which things, do you think, a Band should sacrifice in order to succeed? Have you ever sacrificed anything in your life for a better future of your Band?
My life is totally dedicated to music, so it's never a sacrifice! You can definitely hear when music is driven by passion, be it Barbarian or any other band.
7. Describe your ideal live show as a performance Band. Have you already experienced that?
We played in any kind of situation possible, from the house-show to the big festival stage. We are not that demanding, it's enough having a good sound on and out of the stage, and a crowd interested in what we are doing, then it all works perfectly. Yeah, it happened a lot of times, that's why we love playing live so much.
8. Which attributes, do you think, that a new Black/Thrash Metal Band should have in order to gain identity and be unique?
Passion, perseverance, dedication, will, care. And fun. This way it gets easier to get creative even withing a specific genre.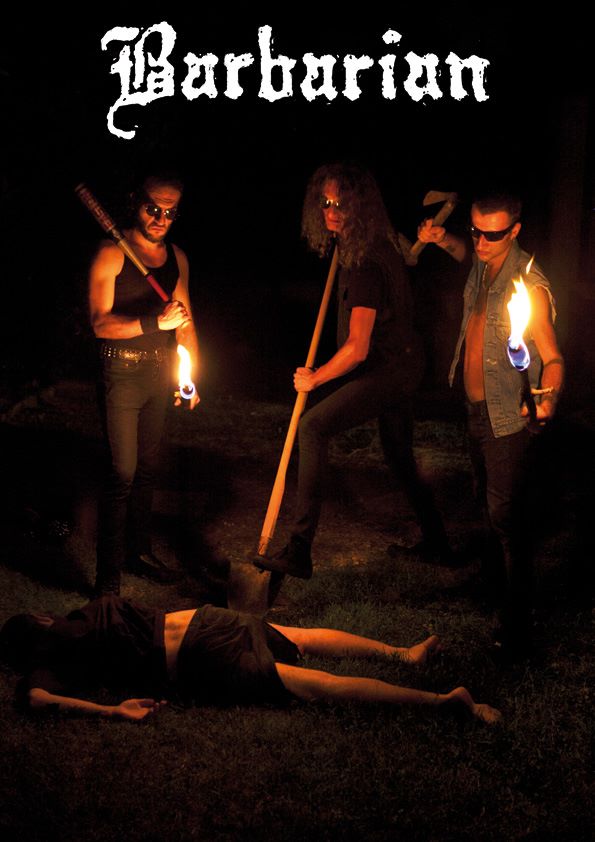 9. Do you believe that Bandcamp and other Digital Platforms help the new Black/Thrash Metal Bands? Which, do you think, is the ideal way for a Band to promote its work?
I'm not against digital music, it's an excellent mean of promotion, cheap and fast. At the same time there's so much stuff around that the digital experience tend to be quite superficial. Yes, there are people who buy records only to collect them without even listening to them, that's another issue. But there's a psycological mechanism, people who put more effort to get hold of something tend to care more about it. My dubbed tapes of long ago were a treasure to me, it was difficult to get hold of music before internet, and I knew by heart every single song. We kinda lost it with digital music. That's more a binge and forget experience.As for promotion, first rule: writing good music! Then playing live as much as possible, caring about all the details (recording, artwork...). Then all the digital thing MIGHT work in the endless sea of worldwide bands.
10. Tell us a few things about the New Underground Metal Scene in Italy (Bands, Fanzines, Webzines, Metal Clubs etc.)
Like anywhere else, a lot of stuff going on. Great bands like Bunker 66, Gravesite, Abysmal Grief, Naga, Restos Humanos, Extirpation, Sickening, Baphomet's Blood, Noia, Doomraiser, In Grief, Ancillotti, and a lot more that I'm forgetting. Sledgehammer also play in Kinetik, while I play also in Children of Technology. My favourite fanzine is Metal Redentor, The New Noise is an excellent webzine since it covers a wide range of music. We don't have Metal Clubs like in Spain for instance (hail to our friends at Pounding Metal Union, Litrona de Acero and Metal Bats), unleass you mean venues, in that case I would mention the Circus here in Firenze and the Freakout in Bologna.
11. Do you know anything about the Hellenic Metal Scene?
I could go on forever. About the past, of course Flames were great, also Vavel. But I also like Danger Cross, Epidemic, Acid Death, Medieval Demon, Piranha... And of course the old black and death metal scene, Rotting Christ, Thou Art Lord and Varathron to start with, then Zephyrous, Sadistic Noise (gods!), Zemial, Vorphalack, Death Courier, Deviser.. As for more recent bands I would mention Ectoplasma, Violent Definition, Dead Congregation (of course), Rapture, Raw Poison, Sordid Dogs, Cult of Eibon, Abyssus, Resurgency... And great labels/distros like Chainsaw, Nuclear Winter, Floga.
12. What are your future plans?
We are working on our fifth album, we might record it by the end of the year. Also a European tour is in the works, scheduled for late 2020, hopefully the virus we all know won't stop us.
13. Thank you very much for your time & Keep up the good work! The closure is yours.
Keep up you great work of supporting the underground, cheers!
By Steve the Filthy Dog.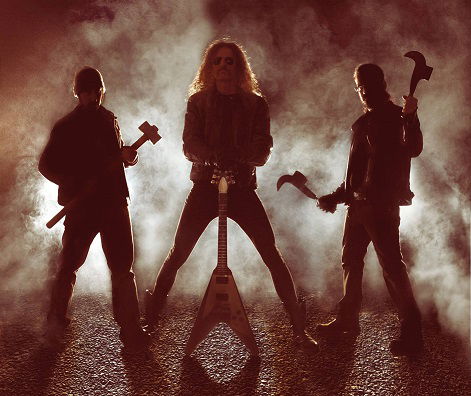 BARBARIAN CONTACT:
https://www.facebook.com/barbarianmetal
https://www.instagram.com/barbarianmetal/
https://barbarian-italy.bandcamp.com/