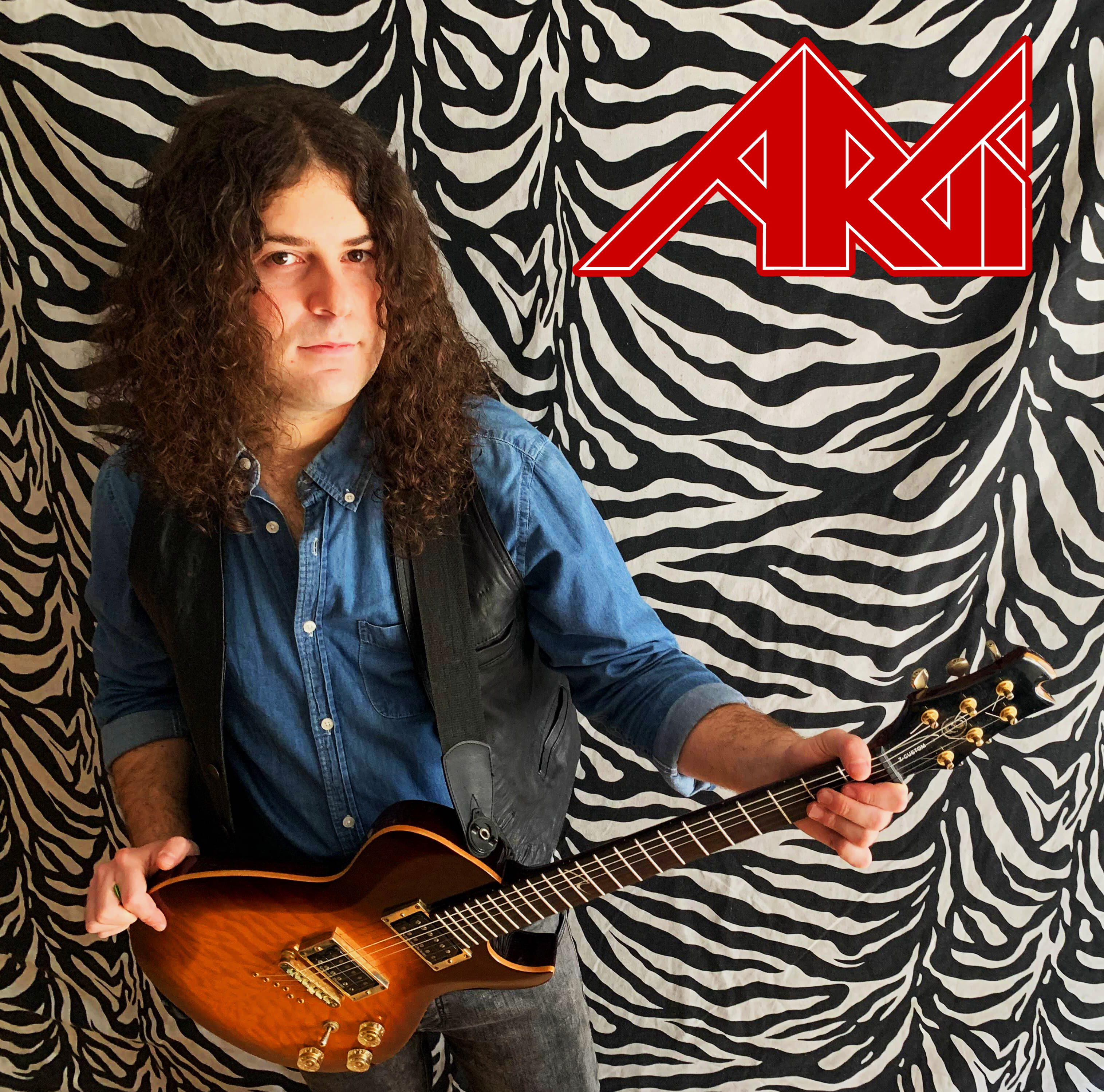 !!!MELODIC ROCK / AOR FROM SPAIN!!!
We had a conversation with Dani Argilés. Enjoy!
Welcome to the FILTHY DOGS OF METAL Webzine.
Tell us a few things about ARGI (Members, Starting Year etc).
First of all, thank you so much for this interview. It's a great pleasure for me to answer every question about my Melodic Rock Project called ARGI. For those who don't know, the name ARGI comes from my name, Dani Argilés. Throughout my music career, I've played in different bands from different music genres – Rock and Roll, Blues, Heavy Metal – but when I discovered Melodic Rock, I was amazed and caught by its atmospheric and massive sound. That music reminded me of the American TV series and films of the '80s and I needed to play it, but I didn't know musicians that liked this music, so I designed my own logo having no idea of graphic/art design with the excitement of a child, and this is why ARGI was born as a project in 2016. The musicians who have collaborated in the first EP are:
♦ Dani Argilés - Lead Guitar, Rhythm Guitar, Keyboards, Drum Programming
♦ David A Saylor (PUSH UK, WILD ROSE, ZHENX) - Lead Vocals, Backing Vocals (R.I.P.)
♦ Rod Marenna (MARENNA) - Lead Vocals, Backing Vocals
♦ Pablo Gaba - Bass
♦ José A.Pereira (DANGER, SAVIA, JORGE SALÁN) - Drums
♦ Haris Patsos (WILD ROSE) - Keyboards
♦ Rafa Hernández - Keyboards

You have recently released your EP ''Dare To Dream''. What is the Feedback from your audience as well as from the Press?
The feedback is being very positive. All the people who have bought this first EP, both, the audience and the press, are enjoying it a lot, so I´m glad, because my main goal is that people enjoy my music as much as I do. I hope all those people that love classic Melodic Rock and don´t have the EP yet get it soon, I´m sure they will like it.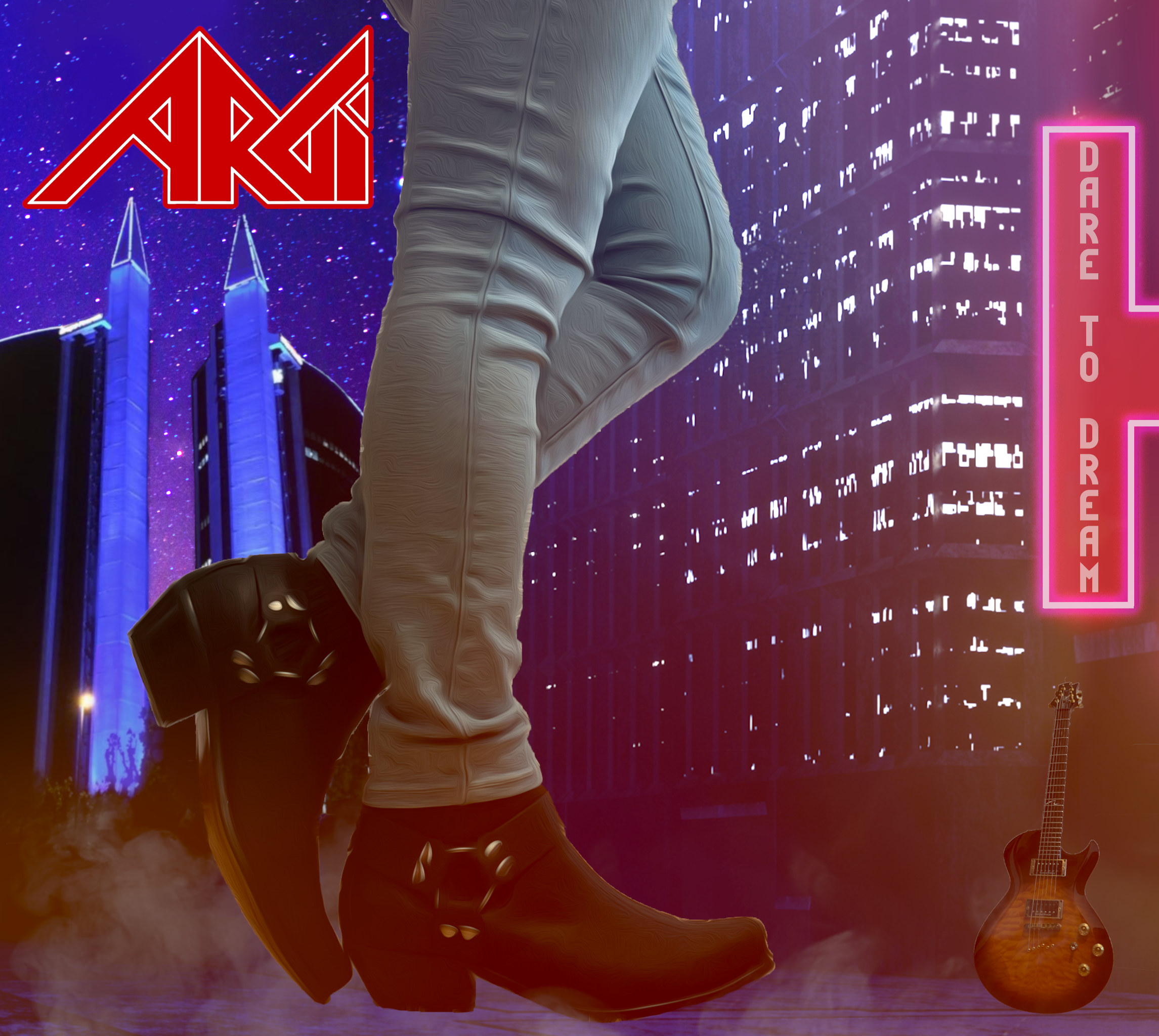 Label or DIY and why?
Personally I think you don´t need a label to release an album nowadays. You can do your own distribution and promotion through digital platforms having more control about your sales and without losing your music rights, but it requires more work on the musician´s part. When you release an album with a label (small label), they help you with the manufacturing of the physical copies but on the other hand they are getting the most part of the sales benefits. However they don't invest anything in recording, mixing and mastering. If it´s an important label you can get a large number of followers in a short time, so that is the only advantage that I see. ...Anyways, every way has its own advantage and every experience is positive.
Do you prefer Vinyl, Tape, CD or Digital Format and why is that?
The physical format as vinyl, tape or CD is very loved for the true music lovers and collectors and above all for those who have lived that time where the internet was not in its greatest splendor. I like listening to music in general terms and every way to do it has its charm.
Your music style is Melodic Hard Rock. Which are your main influences (Favourite Artists / Bands etc.)
I´m influenced by the sound of the 80's in styles such as Hard Rock / Melodic Rock / A.O.R. and classic Heavy Metal. I´m also a lover of guitarists of other styles such as Blues. My influences include Gary Moore, Survivor, Toto, FM, Journey, Starship, Scorpions, Europe, Def Leppard, Whitesnake, Iron Maiden, Dokken, Stryper, Ratt, Kiss, AC/DC, Deep Purple, Eric Clapton, Santana, Barón Rojo, Obús, Sangre Azul, etc.
Which things, do you think, a Band should sacrifice in order to succeed? Have you ever sacrificed anything in your life for a better future of your Band?
Well, it all depends on what success means to each person. When I was younger and I was studying at high school and university, I was involved in different Rock and Roll bands as Versátil and Slide, and later in Hitten, a heavy metal band with whom I had the chance to play in different countries of Europe at the age of only twenty. We were young and we had a hunger to conquer the world like Rock stars with no thinking about real life problems or work. Sadly, that changes when you have to earn a living, but I'm still a dreamer. Obviously, If you have a band or music project, you need to spend time and invest money. This is a sacrifice that not everyone is willing to do it unless you are a true music lover. Have a band or music project requires many hours of dedication, effort and sometimes frustration, but above all, of great enthusiasm coming from combining the everyday life with this crazy passion for music.
Describe your ideal live show as a performance Band. Have you already experienced that?
I think I prefer to play and enjoy smaller concerts venues, maybe the ideal live show for the most of the musicians is playing in some country far from home in an on air festival with many people. That is always a great place, also for me. But I think I prefer to play and enjoy smaller concerts venues because the sound is usually better and you can meet the musicians and fan in person and why not, share some beers. I really love the small festivals where people know what kind of music and bands are seeing and understand the true essence of the music genre. I would like to add that the best festival where I´ve been as a fan is "Monsters of Rock Cruise X" in USA, and it would be awesome If I can play there someday. It's a Theme Park for the Hard Rock lovers!
Which attributes, do you think, that a new Hard 'n Heavy Metal Band should have in order to gain identity and be unique?
I think the most important thing that the musicians must consider when they write and compose a song is have something to tell and do not get carried away by stereotypes or slogans without feelings just to pretend to be a true rocker. You´re already true and unique when you talk about your life´s experiences through a song but you need to respect the essence of the genre that you´re playing. If you´re able to show all that to the Hard´n Heavy fans you will gain your own identity. It is also important to get your own sound and your own way of playing though there are influences.
Do you believe that Bandcamp and other Digital Platforms help the new Hard Rock Bands? Which, do you think, is the ideal way for a Band to promote its work?
Yes, of course. The best way to promote the work is to be in all the possible digital platforms like Bandcamp, Youtube, Spotify, etc and social media apps like Facebook or Instagram, and get in touch with all the people that keep Rock alive such as fans, online radio shows, webs, rock bars, music venues and festivals.
Tell us a few things about the New Underground Hard 'n Heavy Metal Scene in Spain (Bands, Fanzines, Webzines, Metal Clubs etc.)
I can see that the circuit of bands, fans, clubs is different for Melodic Rock/AOR and for Heavy Metal although you can enjoy the two musical styles. In Spain, we have an awesome scene of Melodic Rock with bands like 91 Suite, Güru, Hackers, Strangers, XIX Years, La Fase, Hard Love, etc. Some melodic rock webs, radios, channels are ViriAOR, Vigilante AOR/Westcoast, AOR WORLD, AORLAND, Manners of Hate, JUST ROCK, Rock Angels Radio Show, Rock The Best Music, El Micro Ondas Radio Show… There are some great bands of the New Underground Heavy Metal like Hitten, Iron Curtain, Leather Heart, Ciclón, Witchtower… Some Metal Clubs like Heavy Metal Espectros, Pounding Metal Union, Metalmeria…

Do you know anything about the Hellenic Metal Scene?
I don't know so much about the Hellenic Metal Scene, but I played with Hitten in "Rock You to Hell Festival" some years ago at the Kytarro concert venue in Athens. We appeared on the same roster with bands like Q5, Praying Mantis, Grim Reaper and so on. When it comes to Melodic Rock I know Raw Silk, Douglas, Hideaway, Odyssey Desperado and Wild Rose, band where the great David A.Saylor sang. Later he would be the singer of the first ARGI´s song "Runaway Love".

What are your future plans?
The next step is to distribute this first EP all around the world and introduce this project a little more – later, I would like to start composing new songs. My intention is to enjoy every song and that people enjoy it too. I'm not in a hurry to make albums, but it would be great to start as soon as possible with the next songs for a possible LP. I still have to learn if I would do this as a studio project or a band with a lineup. If this terrible situation caused by the COVID-19 is over someday I would like to form a band under the name of ARGI with some musicians who want to join me in this musical adventure and, if possible, play concerts.

Thank you very much for your time & Keep up the good work! The closure is yours.
I'd like to thank you again for this chance to present my project to all the Filthy Dogs of Metal's readers in this interview. Thanks so much and see you all soon at the concerts.
By Steve the Filthy Dog.
ARGI CONTACT:
https://www.facebook.com/ArgiOfficial.MelodicRock
https://argi.bandcamp.com/releases
https://www.instagram.com/argiofficial.melodicrock/
https://open.spotify.com/artist/6MmWtnNC5GFpQh092UAmrQ