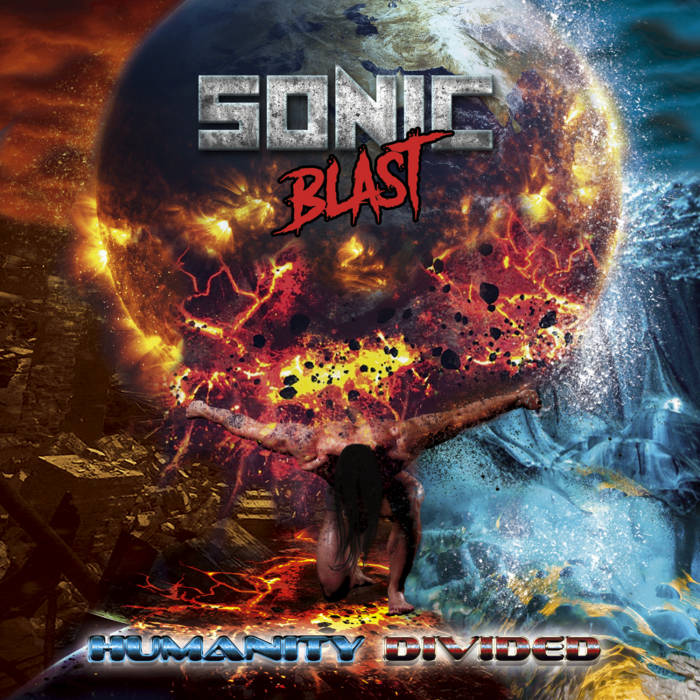 SONIC BLAST - HUMANITY DIVIDED
Country: Greece
Year: 2021
Label: Boersma Records
SONIC BLAST is a Heavy Metal band from Kozani, Greece. ''Humanity Divided'' is their first full-length album.
The album contains 10 songs:
1. Sonic Blast
2. Treasure of the Victim
3. Queen Isis
4. Atlas
5. Wistful Dream
6. Nobody Cares
7. Excalibur
8. Quest for Camelot
9. Humanity Divided
10. Scorn of Piracy
The album starts with the instrumental song ''Sonic Blast''. Beautiful song with really great & melodic solo! The songs of the album are classic Heavy metal tunes with up-tempos and high pitch guitars with lot of melodies and aggressiveness inside. ''Sonic Blast'', ''Treasure of the Victim'', ''Atlas'' (my favourite song of the album) & the epic ''Quest For Camelot'', are the highlights of the album.Of course all the songs of the album have a lot to give like the ''Queen Isis'' is a beautiful song with oriental & atmospheric feeling! ''Excalibur'' is an instrumental small epic ''intro'' before the great ''Quest For Camelot'' & the last 2 songs ''Humanity Divided'' (beautiful refrain with an amazing solo ala IRON MAIDEN) & ''Scorn of Piracy'' a very strong & powerful song!
Line-up:
Dimitris Vachtsevanos - Vocals
Nikos Dedes - Guitars
Dimitris Gatziaris - Guitars, Bass
Nick Vogiatzis - Keyboards
Thimios P. - Drums
Generally, I had a great time with the ''Humanity Divided'' and the album flows very quickly and smoothly with beautiful old school Heavy Metal songs. If I had to change something that would be the cover artwork, it is too digital for my taste and I think for this kind of classic heavy metal. They are young & the future is bright for them.
By Steve the Filthy Dog.
SONIC BLAST CONTACT:
https://sonicblastofficial.bandcamp.com/
https://www.facebook.com/SonicBlastTheBand
https://www.instagram.com/sonic.blast.official/
https://open.spotify.com/artist/0nwow0VOprF3MnwAjdDLpy