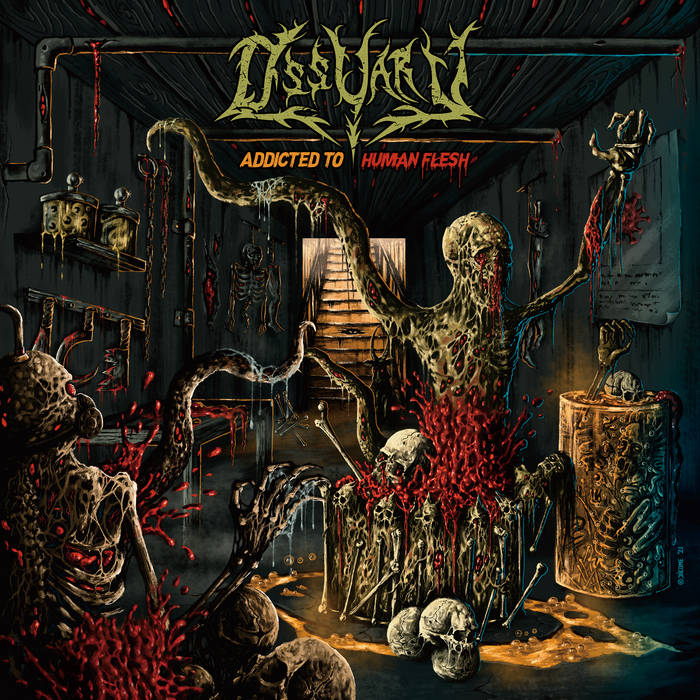 OSSUARY - ADDICTED TO HUMAN FLESH
Country: Colombia
Year: 2021
Label: Awakening Records
OSSUARY is a Death metal band hailing from Colombia. ''Addicted to Human Flesh'' is their 3rd full length studio album and it was released on 26th of June, 2021 via Awakening Records (my favorite record label!). OSSUARY are playing classic, true and old school death metal. Very extreme and brutal metal band with fast & technical songs with lots of killer ''slow parts'' in the vein of the mighty AUTOPSY. The band members have a lot of experience on their instruments and this seems to be because the compositions are highly technical. The drums are very fast and technical with a lot of blast beats and of course slow and hard parts. The guitars sound is so fucking loud like you hear the pounding hammers on the anvil & together with the sound of the bass, giving a scary and powerful sound to the songs. The vocals are so fucking brutal & wild! The album contains 9 songs of pure classic technical death metal + 2 bonus tracks! The CD is a limited edition to 1000 copies and it comes in a classic standard jewel case with 16 pages booklet with lyrics, photos and beautiful gore images. This release is dedicated to all fans of old-school death metal. Ideal for fans of CANNIBAL CORPSE, SINISTER, DISMEMBER, AUTOPSY etc.
Line-up:
Andres Giraldo: Vocals and Guitars
Juan Esteban Sánchez: Lead Guitars
Brahiam Valencia: Bass
Julián Vega: Drums
Tracklist:
1. Laments Of The Void (Intro)
2. Psychic Spawn
3. The Earth Regurgitates
4. Wheel Of Torture
5. Blinded Fornicator
6. Gastronomic Carnage
7. Addicted To Human Flesh
8. Condemned To Impalement
9. Bloody Fantasies
10. Spell
11. A Morbid Lust For Death
By Steve the Filthy Dog.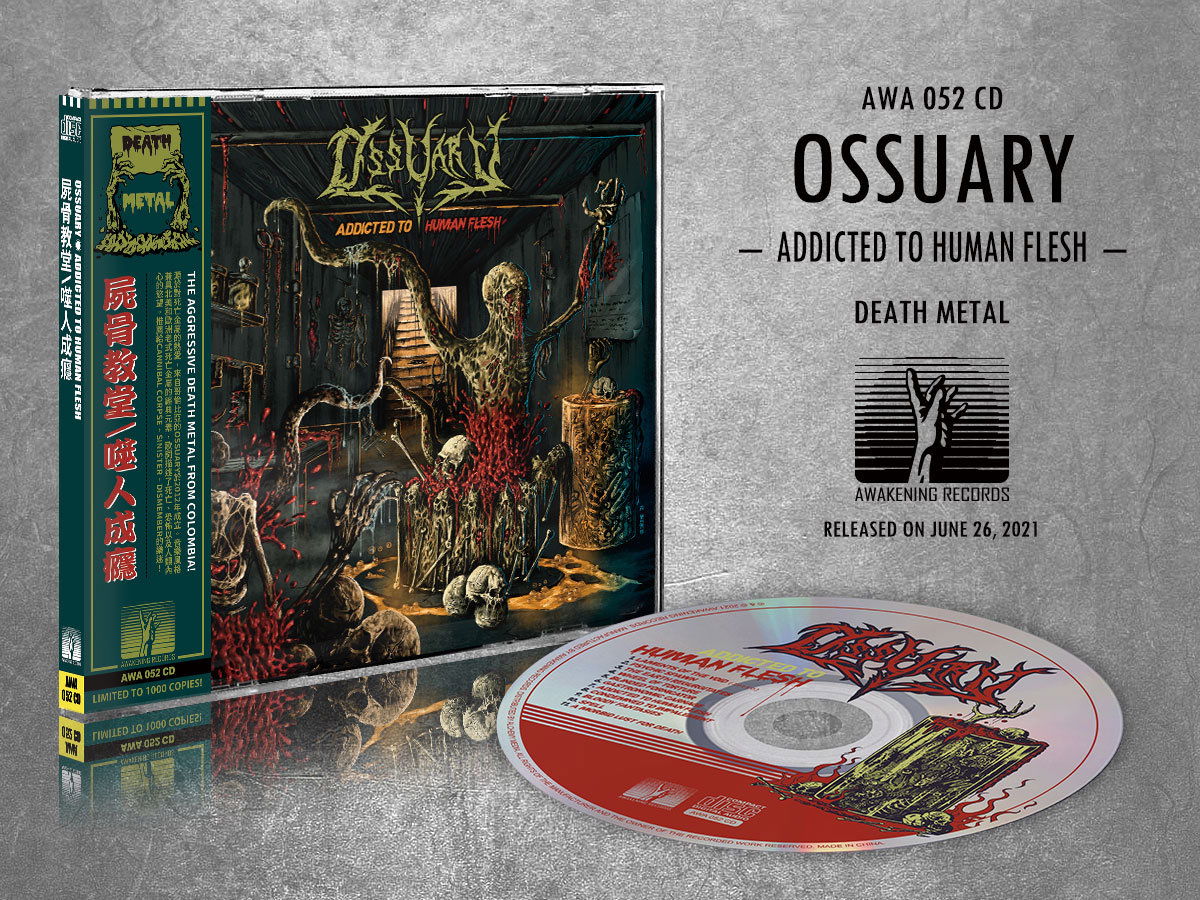 OSSUARY CONTACT:
https://www.facebook.com/ossuary.death.metal

https://www.instagram.com/ossuary.death.metal/

https://ossuary7.bandcamp.com/
https://open.spotify.com/artist/0Rq2zbXcVq7of53nsjk8tU
https://www.deezer.com/en/artist/6474237?autoplay=true&deferredFl=1&utm_campaign=artist&utm_source=google&utm_medium=organic
http://www.awakeningrecords.cn/
https://awakeningrecordscn.bigcartel....
https://awakeningrecordscn.bandcamp.com/
https://www.facebook.com/awakeningrec...
https://www.instagram.com/awakeningre...