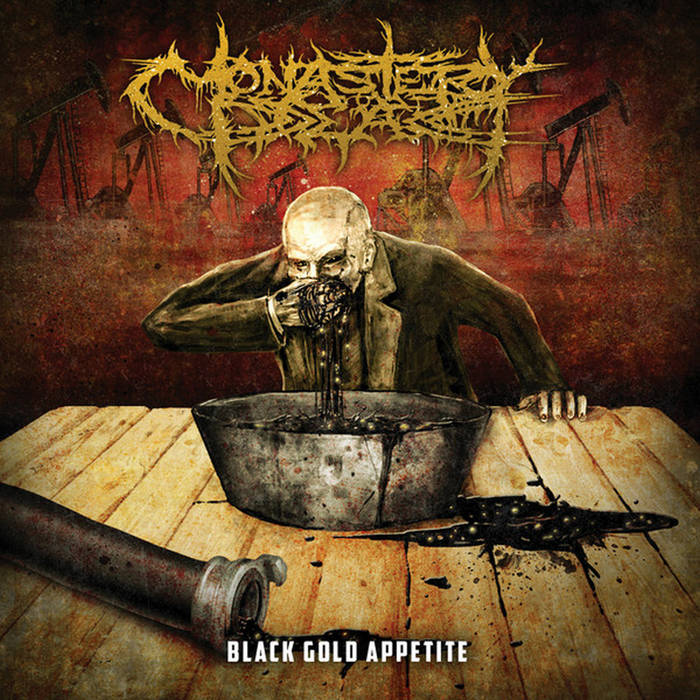 MONASTERY DEAD - BLACK GOLD APPETITE
Country: Russia
Year: 2015
Label: Wings Of Destruction Production / Narcoleptica Productions / Grotesque Sounds Productions / Symbol of Domination Prod.
MONASTERY DEAD hailing from St. Petersburg, Russia. I know that ''Black Gold Appetite'' is an old release from 2015, but I think it is worth telling some things about it. Their music is brutal, death, horror and wild!! Maniac riffs with fast blast beats and vocals that make your ears bleed. Great classic death metal songs that fans of DEATH, AUTOPSY, CANNIBAL CORPSE, CARCASS, MACABRE etc. will love this album. Aggressive songs like ''Despairing Existence'', ''Sick Absolution'' (Sick intro!), ''Generation: Rats'' (amazing instrumental song!!), ''Why Are You Born'', ''Global Bleeding Euphoria'', ''Black Gold Appetite'', ''More Power'' are the perfect samples of this sick album! The guitar parts of Kirill Tatarinov are amazing and brutal, so I bet that he has spent lots of hours bleeding his fingers on his guitar. Kirill Zharikov is such a technical drummer that makes me feel that his playing leads the songs on a higher level. Blast beats, fast double bass drumming mixed an explotion blend!! Vadim Nikolaev is the Bass player who adds notes of perfection with his technical playing and last but not least is the singer of the band Anton Malov. His voice is sooooo brutal!!!! Generally all the members of MONASTERY DEAD are a killing machine! The production of the album is awesome and it was made by the band (well done boys!). Also, I must say here that the cover artwork is so badass!! ''Black Gold Appetite'' is the perfect soundtrack for serial killers and brutal death metallers!!
By Steve the Filthy Dog.
MONASTERY DEAD CONTACT:
https://www.facebook.com/monasterydeadspb/
https://www.instagram.com/monasterydead/
https://monastery-dead.bandcamp.com/