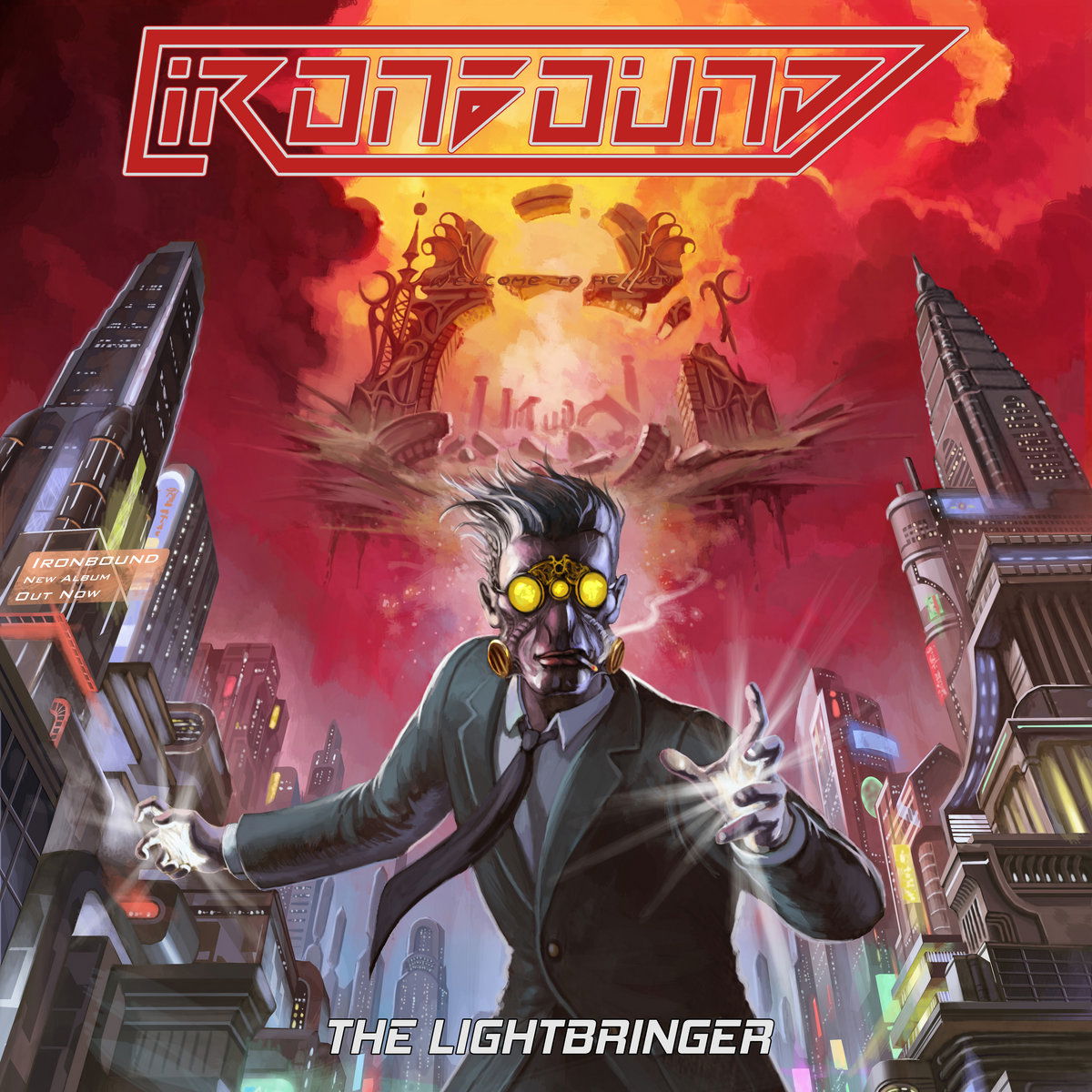 IRONBOUND - THE LIGHTBRINGER
Country: Poland
Year: 2021
Label: Ossuary Records
Ossuary Records has set out to destroy our heads with their awesome releases!! Here we have the 1st full length studio album of IRONBOUND (Hey guys..still waiting for the answers of the interview..haha!).
The album contains 9 songs:
1. Far Away
2. The Witch Hunt
3. When Eagles Fly
4. Smoke and Mirrors
5. The Lightbringer
6. Children Left by God
7. The Turn of the Tide
8. Light Up the Skies
9. Beyond the Horizon
The album starts with the ''Far Away''. An epic heavy metal intro before the dynamic ''The Witch Hunt'' (my favourite song of the album) started. Metal to the bone, hot guitars and a wonderful refrain that sticks in your mind. The metal attack continues with songs like: ''When Eagles Fly'', ''The Lightbringer'', ''Children Left by God'', ''Light Up the Skies''. Classic heavy metal songs in the well-known forms. No synths, no progressive trend parts on the songs, just pure heavy metal chords! Well done IRONBOUND! This is how heavy metal should be played!! There are also 2 songs on the album ''Smoke and Mirrors'' & ''The Turn Of The Tide'' that are very emotional tunes. Especially ''Smoke and Mirrors'' is an ideal live song!! Both tracks have their outbursts and dynamics needed to become great songs!! The album ends with a beautiful instrumental song ''Beyond the Horizon'' (a mix of Iron Maiden's ''Transylvania'' & ''Losfer Words'').
Line-up:
Łukasz Krauze – Vocals
Michał Halamoda – Guitars
Krzysztof Całka – Guitars
Zbigniew Bizoń – Bass
Adam Całka – Drums
Amazing guitar work from Michał Halamoda & Krzysztof Całka. Double leading, harmonies and savagery! Drum playing ala Nicko McBrain from Adam Całka (the way he uses the ''Ride'' cymbal and the hit on the Hi-hat, reminds a lot of his technique). As far as I noticed, especially in the song ''Beyond the Horizon'', Adam uses a double bass drum. Heavy bass lines from Zbigniew Bizoń & last but not least the vocals of Łukasz Krauze which are so similar to Blaze Bailey. The production of the album is heavy, clear & solid, mixed and mastered by Daniel Arendarski. Also, I should mention the great & futuristic covert artwork made by Mariusz Gandzel. Generally IRONBOUND is highly inspired from the heavy metal gods Iron Maiden (mostly from Blaze Bailey era). This has pros & cons.The classic heavy metal recipe is always smooth & warmly welcomed to the ears of heavy metal fans. On the other hand, of course a musician or a band will have the inspiration from the groups that they love and respect, but in my humble opinion they should find their own style & their own sound. I'm pretty sure that IRONBOUND will give us more powerful albums like ''Lightbringer'' in the near future! ''Lightbringer'' album is a must for every headbanger out there!!
By Steve the Filthy Dog.
IRONBOUND CONTACT:
https://www.facebook.com/ironboundpl
https://ironboundpl.bandcamp.com/
https://www.instagram.com/ironbound_pl/