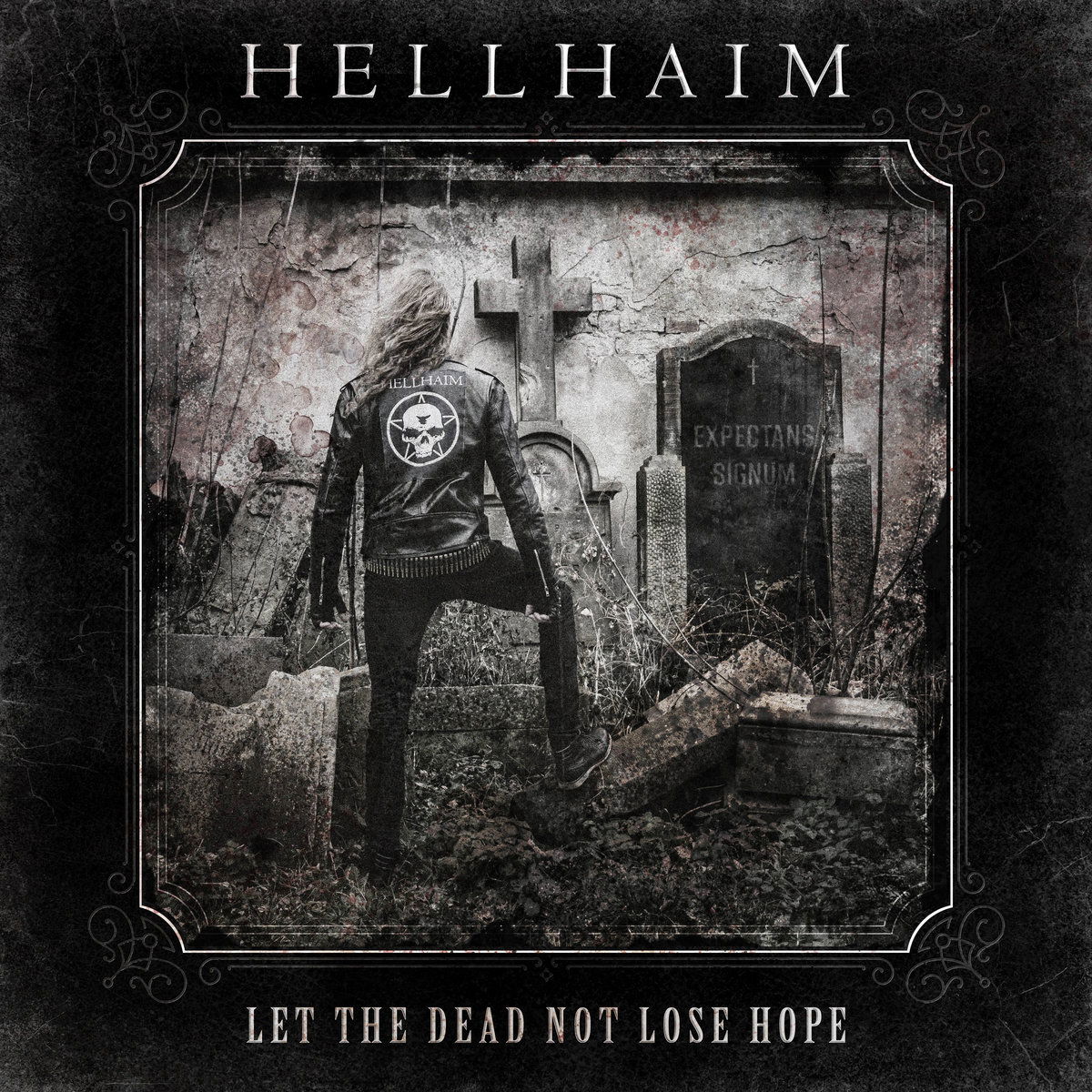 HELLHAIM - LET THE DEAD NOT LOSE HOPE
Country: Poland
Year: 2022
Label: Ossuary Records
HELLHAIM hails from the metal motherland Poland. After one EP (In the Dead of the Night) and their first full length studio album (Slaves of Apocalypse) they are back with their newest hot & heavy studio album ''Let The Dead Not Lose Hope'' released in May, 2022! As I have already written in my other reviews, Ossuary Records (Hail metal brother Mateusz!!) has been one of my favourites heavy metal record labels because not only produced high quality releases but also have top notch bands in their roster, check their releases HERE. Now let's talk a little bit about ''Let The Dead Not Lose Hope''. The album starts with a heavy speed holocaust ''Axe to Grind''. Amazing song with killer guitar riffs and solos (this double leading guitar is fucking awesome!!). In the continue we have ''Devilin''. Fast song with double bass drumming and with killer high pitched vocals ala Rob Halford!! Also, I liked the operatic vocals in the middle of the song, it gives the song a strong boost. Check also the amazing video clip! Third song of the album is ''Virus''. Old school heavy riffs ala Black Sabbath and with solid bass lines that you can feel the ground shaking from the speakers. In the continue we have ''Zodiac'' (Do you remember the American serial killer?) . This song has an amazing guitar riff and a killer refrain with an awesome melody on the back that sticks to your mind. Fifth song of the album is ''Hell is Coming''. Speed metal attack that will blow your head off!! Fast double drumming is pounding and together with guitar riffs (Oh man the guitar solos are so fucking great!!!), the heavy bass lines together with the screaming vocals for sure the hell is coming...ha ha ha!! This song is KILLER!!!
The Sixth song is ''La Santa Muerte / The Triumph of Life''. A very sentimental song with beautiful melodies and passionate vocals. Next is ''Aluminum & Ash''. It's a small song (only 1:10min) with strange, atmospheric and horror sounds (do not hear it when you are alone..!). Eighth song of the album ''Livet är stunden''. A super fast song. Oh fuck is like you've been hitted by lighting. It's gonna blow you away!! Last song of the album is ''Metro''. What a great song to end this awesome album. Heavy as fuck riffs in the vein of JUDAS PRIEST & ACCEPT & killer solos that will make your ears bleed! I enjoyed so much this great album from HELLHAIM. It is so enjoyable from the beginning till the end! The members of the band are very well experienced with their instruments (you can hear it clearly in the songs) and they are long time in the heavy metal scene with bands such as HOLOCAUST, DIVINE WEEP, SUBTERFUGE, DARK RIDE. So, headbangers out there, if you wanna taste a hot steel in your ears then this album is for you!
By Steve the Filthy Dog.
HELLHAIM CONTACT:
https://hellhaim.bandcamp.com/
https://www.facebook.com/HELLHAIM/
https://www.instagram.com/hellhaim/

https://open.spotify.com/artist/0nSxNiiV6UhZn0gWJnlegc
https://twitter.com/Hellhaim_Band?fbclid=IwAR2vs82Ai0-GAd3iudRR26SQovbTm0jRbzuV2fOeOSIuJjWxrTJmCVj39CQ