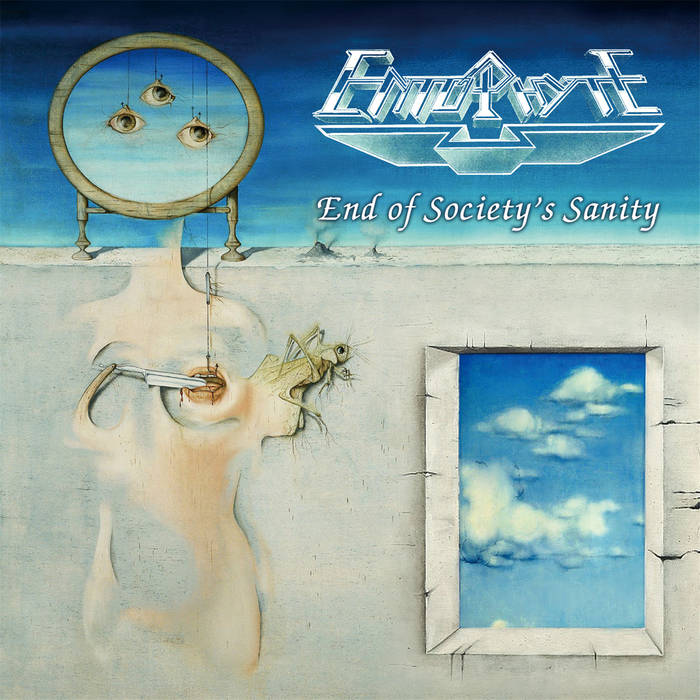 ENTOPHYTE - END OF SOCIETY'S SANITY
Country: Germany
Year: 2019
Label: Awakening Records
''Awaken Series'' is a project that aims to re-release classic and hidden old school metal treasures from the past. Rare and expensive releases that finally officially came back to the light! A treasure here is the ''End Of Society's Sanity'' from the German technical thrash metal band ENTOPHYTE. The album was originally released in 1992 by MAD NOISE (band's own label ) & OFF LIMIT RECORDS (This label also released another awesome release in 1990 SP aka SINCE PROJEKT, check them out!). Their music is twisted, psychotic, progressive but most of all technical and thrash. ENTOPHYTE had no boundaries to their music composition & they were made a unique prog. thrash sound that I'm pretty sure the thrash headbangers out there will be obsessed with their music. The band has a surreal aesthetic starting from their name which means any plant growing as a parasite within another organism, also a vegetable parasite subsisting in the interior of the body. The cover artwork is the well-known painting ''Noise Of Silence''. An amazing surrealist piece of art made in 1949 by the Czech painter Mikuláš Medek and of course their music compositions which were so technical & twisted. The songs of the album are killer with powerful and technical drumming by Matt Bauer (JAVELIN / DORIAN GRAY and more..), Matt is an animal behind the drum kit! Listen to the ''Human Machine World'' and the epic song ''The War Of Khyr'' double bass drumming, fast and loud & complicated brakes! The guitar riffs are totally twisted, powerful and technical (I'm pretty sure that many guitarists will feel jealous about that!) made by Peter Gascoigne and Peter Oko (ATTACK / FREAKS ON THE ROOF). Arpeggios, sweeps and riffs that your brain takes minutes to understand. So fucking clever!! ''Rat Race'' & ''A Day Less Than Zero'' are the perfect examples. Great!! Last but not least is the charismatic voice of Harry Kortboyer (R.I.P. 2008). Excellent and dynamic vocal range with melodies and wildness and of course with his bass lines (must hear ''Random Victims'' the songs goes to another level. The production of the album is excellent and 5 songs recorded, engineered & mixed by Ricky van Helden (ATTACK!!!) and ENTOPHYTE at Nobelstudio, in Bünde, 1991. ''A Day Less Than Zero'' recorded, engineered and mixed by Clements Paskert & ENTOPHYTE at Capitol Studio, Bocholt in 1992. This official re-issue of Awakening Records contains 1 bonus track ''Imprisoned Souls''. The song was recorded at Studio Monheim in 1990 and it was included at the same year in the compilation of Rockbüro Haltern's ''First Step''. It is a limited edition to 1000 copies & it comes in a 16 pages booklet full of unreleased photos, lyrics, special thanks & notes. Generally the album needs a lot of listening to understand it BUT when you understand the meaning & the music of ENTOPHYTE, then ''End Of Society's Sanity'' will become one of your favorite albums! Ideal for fans of MEKONG DELTA / WATCHTOWER / DEPRESSIVE AGE / MEGACE & DEATHROW.
By Steve the Filthy Dog.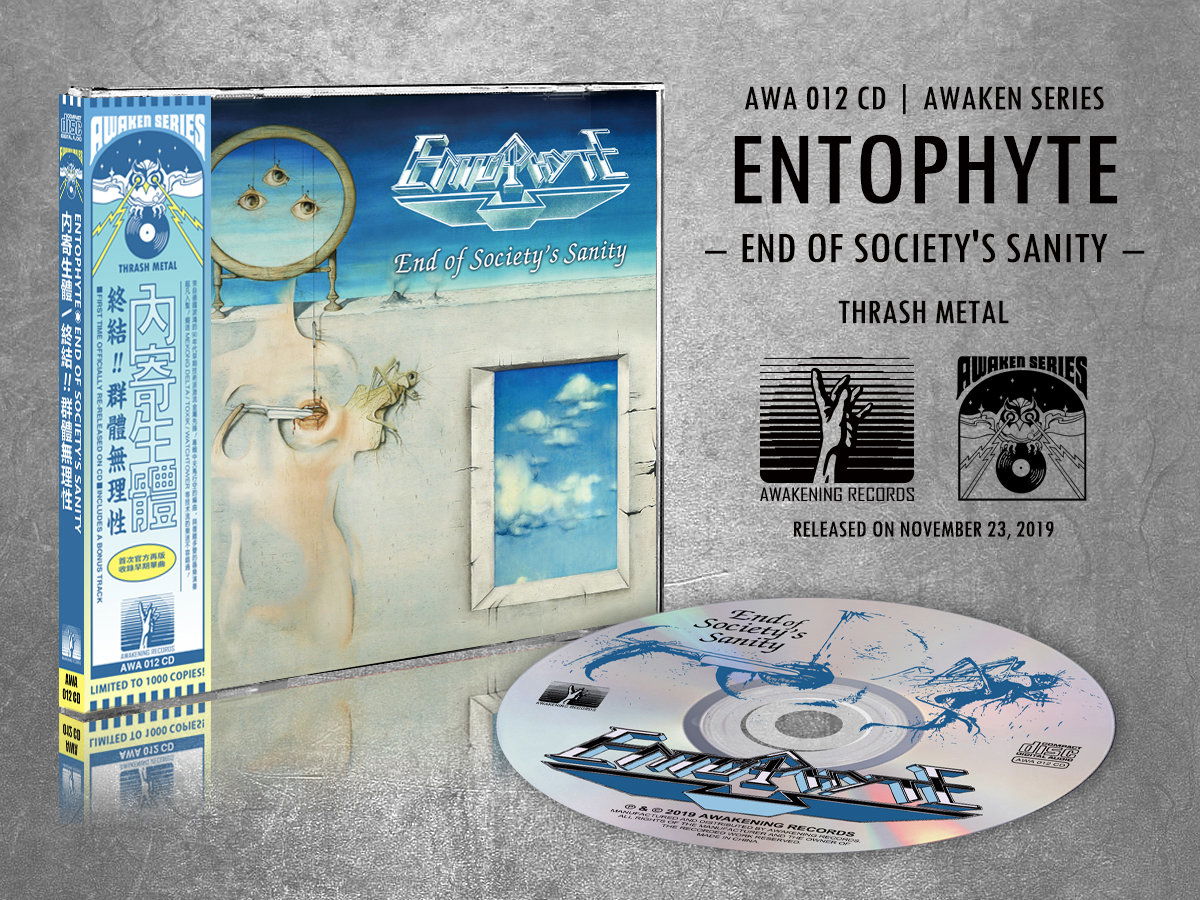 AWAKENING RECORDS:
http://www.awakeningrecords.cn/
https://awakeningrecordscn.bigcartel....
https://awakeningrecordscn.bandcamp.com/
https://www.facebook.com/awakeningrec...
https://www.instagram.com/awakeningre...