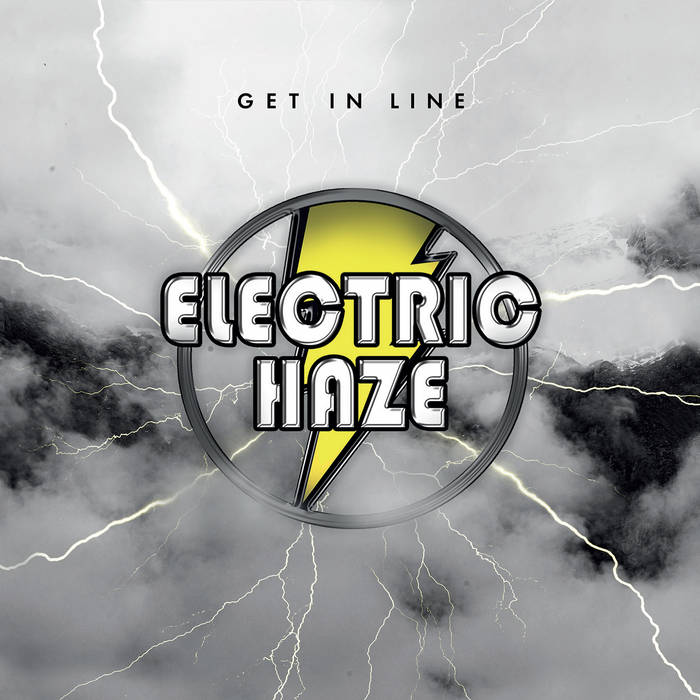 ELECTRIC HAZE - GET IN LINE
Country: Sweden
Year: 2021
Label: Idle North Records
Electric Haze comes from the beautiful Sweden. ''Get in Line'' is their first full length album and it was released by Idle North Records. Looking at the cover artwork, AC/DC came to my mind, probably because of the lightning.. But..let the music talk..
The album contains 9 songs:
1. Succuba
2. WOAH!
3. Get In Line
4. All I Ask For
5. Cavern of Pain
6. Lest We Forget
7. Too Close To The Truth
8. Clenched Fist
9. Cryin'
''Get in Line'' album starts with a powerful song ''Succuba''. Beautiful song with a really catchy riff that sticks in your mind. The vocals of Anton Ekstrom are clear, passionate and powerful! The guitar work of Tommy Toya is so ''hot'' especially in the solo of this song! ''The demon is free..'' Second song is the ''WOAH!''. Groovy song with very good drum work by Yuppie Anderson. More hard rocking style, up tempo with catchy refrain in the vein of Cinderella & Sea Hags. Third song is the same title of the album ''Get in Line''. The main riff of the guitar work reminds me a lot of those groovy riffs of Led Zeppelin. Good song but I would prefer it with a different style on the refrain section. In the continuation we hear the song ''All I Ask For''. Again here Zepp's influences are very strong. Also I must say that the bass lines of Andre Ekstrom are really great! They give the song a strong boost! Fifth song of the album is ''Cavern of Pain''. The song starts with a beautiful melodic classical guitar. It is emotional, melancholic and generally a song emotionally charged! Very nice work, it reminds me of the ''Stairway to Heaven'' meets the ''Solitude''. Sixth song (my favourite of the album) is ''Lest we Forget''. Here we have a very strong and powerful song. For me this song was a big surprise. Fast drumming, heavy riffs and passionate vocals. Εspecially the solo is really tough in the middle of the song! The bass line reminds me of Accept's ''Fight Back'' & the main riff ''Stampede'' from Krokus. For my personal music taste this mix is ideal! ''Lest we Forget'' is such a badass song!!! In the continue we have ''Too close to the Truth'' & ''Clenched Fist''. Μid-tempo songs with groovy rhythms and I would say that they are really interesting compositions. The listener can realize that the members of Electric Haze have spent lots of hours practicing their instruments! The last song of the album is ''Cryin' ''. Mid tempo song with amazing work in the bass lines! It is atmospheric and somewhat melancholic. Reminds me a little bit of Alice in Chains.
Line-up:
Anton Ekstrom – Lead Vocals
Tommy Toya – Guitar
Andre Ekstrom – Bass
Yuppie Anderson – Drums
The production of the album is crystal clear & I should also mention the beautiful artwork! Generally Electric Haze is a band which is not afraid to show to the audience their main influences such as Led Zeppelin / AC/DC or even sometimes influences from Nazareth. However, they filter those influences with their own style. Electric Haze is not the band that will ''change" the Worldwide Rock scene, but they know how to rock & they do it well. I don't want to analyze it, it's only Rock 'n' Roll and I like it...
By Steve the Filthy Dog.
ELECTRIC HAZE CONTACT:
https://electrichazeswe.bandcamp.com
https://www.facebook.com/electrichaze...
https://www.instagram.com/electrichaz...
https://twitter.com/electrichazem
IDLE NORTH RECORDS:
https://idlenorth.bandcamp.com
https://www.facebook.com/idlenorth
https://www.instagram.com/idlenorthre...