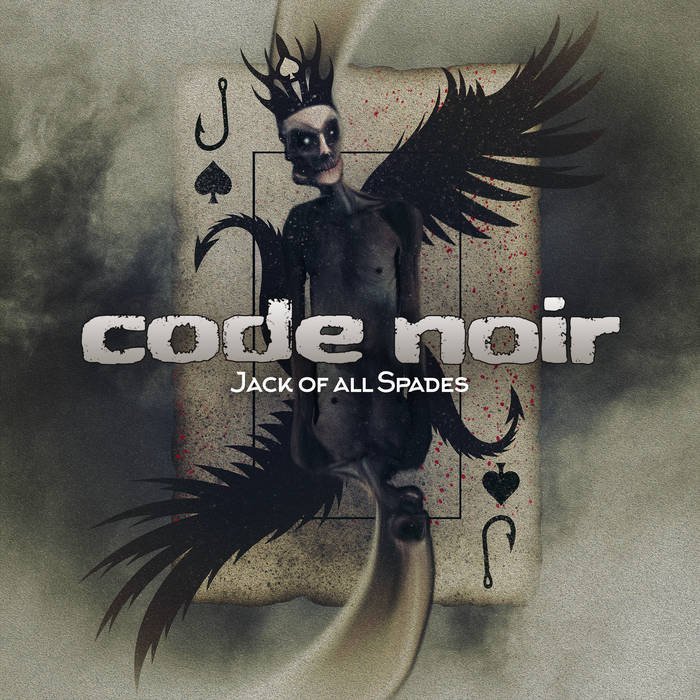 CODE NOIR - JACK OF ALL SPADES
Country: Greece
Year: 2020
Label: Leviaphonic Records
CODE NOIR is a heavy rock/metal duo from Greece and Sweden formed in 2015. Michael T. on vocals, guitars and bass and Adam Chapman on lead guitar. Αfter their first EP in 2017 ''Burn Card'', CODE NOIR returns with their brand new work ''Jack Of All Spades''.
The EP contains 5 songs.
1.The Devil Within
2.Supersonic
3.Words Never Said
4.Monarch
5.Crucify Their Way

The EP starts with ''The Devil Within''. From the first notes the listener understands that the band is a perfect combination of professional musicians..
Heavy guitars, wild vocals with a very beautiful and melodic refrain that sticks in your mind.The second song is the ''Supersonic''. Deeply inspired (especially in the vocal parts) from the big ones like METALLICA & MEGADETH.
Groovy song with a great refrain and a beautiful solo in the middle of the song.Then we hear the song ''Words Never Said''. Again here, the influences of METALLICA are very strong.A strange tempo song with many changes in the riffs and on the drum parts. Lots of melodic bridges with a beautiful guitar sound.
Next song is the ''Monarch''. A melodic and sentimental track.With a beautiful electro acoustic guitar and with a really amazing guitar solo.A mystical and passionate song with a catchy refrain.
The EP ends with the ''Crucify Their Way''. Heavy guitars, drums pounding like a hammer on the anvil. Melodies and wildness in one song.Great solos with excellent sound & straight in your face riffs as well.
Generally CODE NOIR is a band which is not afraid to show to the audience their main influences such as METALLICA / MEGADETH or even sometimes influences from BLACK SABBATH.However, they filter those influences with their own style.
The CD has a really great cover artwork made by VisionBlack and comes with an 8 page booklet.
Mixed by Adam Chapman at Black Dawn Studios, Sweden & mastered by Tobben Eriksson.
Support CODE NOIR, they deserve it!
By Steve the Filthy Dog.
CODE NOIR CONTACT:
https://code-noir.bandcamp.com/