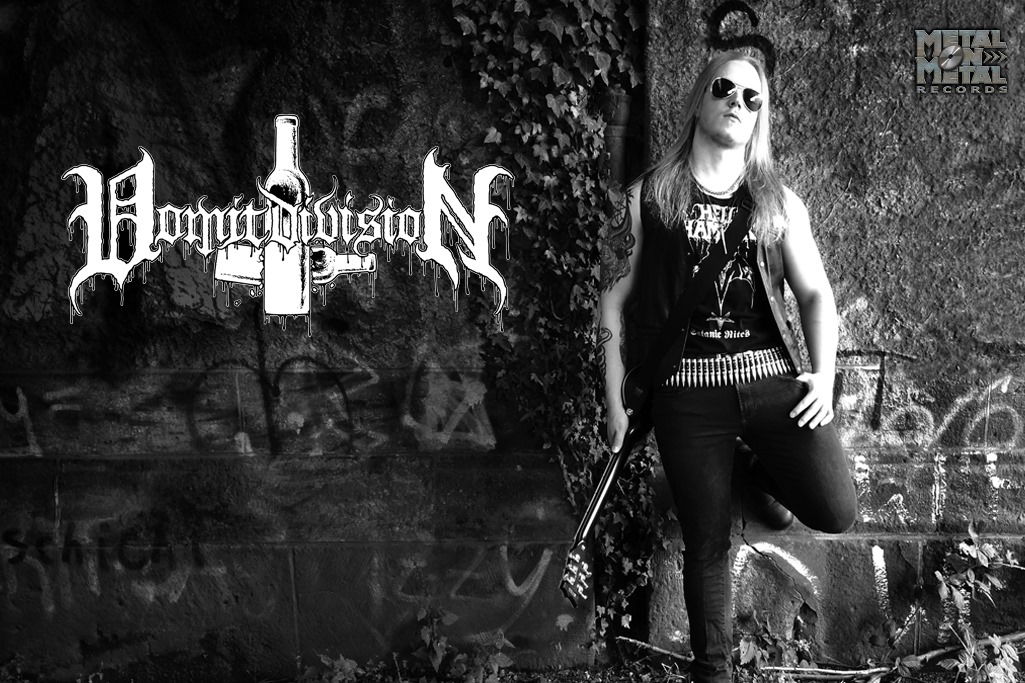 !!!TEUTONIC BLACK/THRASH METAL!!!
We had a conversation with Desmotes.Enjoy!
Welcome to the FILTHY DOGS OF METAL Webzine.
Hello there!
Tell us a few things about VOMIT DIVISION (Members, Starting Year etc).
In 2019 I got really frustrated with my other bands. Not that I did not like the music or the people anymore, we were (and still are) really sophisticated, very critical with everything, in short, we wanted everything to be perfect.This kind of behavior and musicianship is basically great but because of that attitude, the output was more then sparse.
I needed something, where I could write, record and release something without being dependent on others.Something that reverses my normal behavior when it comes to music and furthermore something that would be fun to play live.(Additionally I wanted a band, where I only do the vocals instead of vocals and an instrument, as I usually do.)Thus, I created VOMIT DIVISION. An entity totally under my control. The basic idea is that I won't think too long about something I come up with – If I like it, I'll record it (except for some solos, I'm not that great at those).That's it. It's a pretty refreshing way for me. Finishing Rites of Vomit, I gathered some of my friends to form a live group and we started rehearsing. We already got our first gigs confirmed and then Corona hit us straight in the balls.Since then, I focused on recording again and put out an EP, a collaboration with my brothers from THE CHAINSAW DEMONS and the debut album ''Hell In A Bottle''.
You have recently released your album ''Hell in a Bottle''. What is the Feedback from your audience as well as from the Press?
So far, there's not that much of a feedback at all, aside from two rather positive reviews.My close friends appreciate it and the label is enthused but I don't know how the rest feels about it. I'm quite satisfied with it and listen to it at least once a week.It still energizes me and that's what's important to me at the moment. (Although – I have to add – the more time passes, the more things I would have changed... but since that's my problem in general I'm glad I did not.)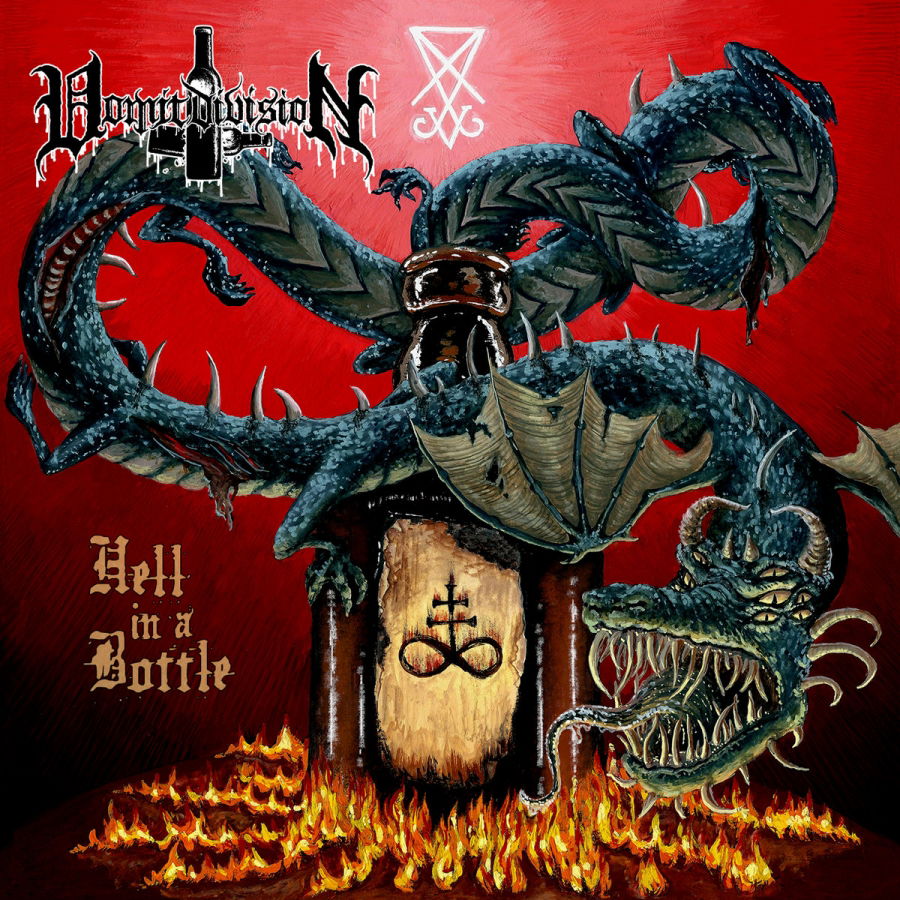 Label or DIY and why?
It always depends. If you're able to finance everything on your own and feel confident to sell it, go for it! You got the control, you don't change for anyone! But if your finances are somewhat low or occupied, a label is really helpful. Without it and furthermore without any gigs, it's incredibly hard to sell your stuff or cast it upon the world.

Do you prefer Vinyl, Tape, CD or Digital Format and why is that?
You see, I'm no man of generalization. I prefer vinyl, when I got the time and am calm enough. It's a small ritual to unfold the cover, put it onto the table and set the needle. Some works are just MADE for vinyl in my opinion. But when I'm at work, I'm only able to listen to CDs, so that's what I mostly listen to. When I'm going from A to B I'm listening to music on my mobile phone, also when I was in the gym or doing sports... It very much depends on the situation. The only format I've grown apart from is tape.
I do have some and hypocritically released some myself, since it's just a part of it (demos naturally come as tape) but I rarely listen to tapes myself anymore.

Your music style is Black/Thrash Metal. Which are your main influences (Favourite Artists / Bands etc.)
For VOMIT DIVISION I was especially influenced by the raw energy of Bathory, the power of Division Speed, the enthusiasm of Desaster and the Punk attitude of Midnight! I listen to a lot of stuff but I guess those are mostly responsible for this project turning into a Black Thrash direction.

Which things, do you think, a Band should sacrifice in order to succeed? Have you ever sacrificed anything in your life for a better future of your Band?
Money and time, that's all. You don't sacrifice your ideas, you don't sacrifice your opinion and you don't sacrifice a bit of what you've visualized for the band. Go all the way or go home. I hate it when bands try to please an audience. You do, what you want to do and if you like it, that's true success. If you want to do business, METAL is not for you in general.
Describe your ideal live show as a performance Band. Have you already experienced that?
That's a hard one. I think it comes down to the genre. Heavy Metal, Thrash, Black Thrash etc. are by nature very inclusive, in my opinion. It has the potential of letting the audience sing along, get energized or get their spirits lifted by the songs you play. For VOMIT DIVISION the ideal live show would be a wild crowd, headbanging, moshing, singing along and spilling their drinks on each other... Just people having a good time.On the other hand, Black Metal for example is more about the darkness that consumes you, while you listen to it. With those bands I prefer a serene audience.
You first hear a little chatter here and there but the more you play, the quieter it gets and people look at you, like they've been hypnotized. I really appreciated this, too.

Which attributes, do you think, that a new Black/Thrash Metal Band should have in order to gain identity and be unique?
Being unique is fucking hard now. There are so many musicians and bands, you can hardly distinguish yourself from everyone. I think what matters most is to convey a certain energy. If you're a black thrash band you should transport the will to move, to fuck up things, to drink! Your riffs must be catchy and stay in the audience's head for ever, the vocals must be dirty, aggressive and in best case totally crazy... Being unique is not that hard. Being unique AND good, that's the challenge.I could do Black/Thrash, mix it with Gospel and yodel over it, that's a unique idea... but it's also a shitty one.

Do you believe that Bandcamp and other Digital Platforms help the new Black/Thrash Metal Bands? Which, do you think, is the ideal way for a Band to promote its work?
I think it cuts both ways... On the one hand you got the possibility to share your music with basically everyone. On the other hand, everyone can put out his or her music, therefore it's too overcrowded. People have an attention span of a few seconds nowadays and won't give a song a chance, if the first seconds aren't catchy enough, special enough, or anything else, what keeps their attention. I'm guilty of that too, sometimes. However, I honestly despise this attitude as a musician. You should rather take your time, listen to one band or one album closely, to really evaluate it for yourself... But I'm no fool, I know this is just being utopian at best.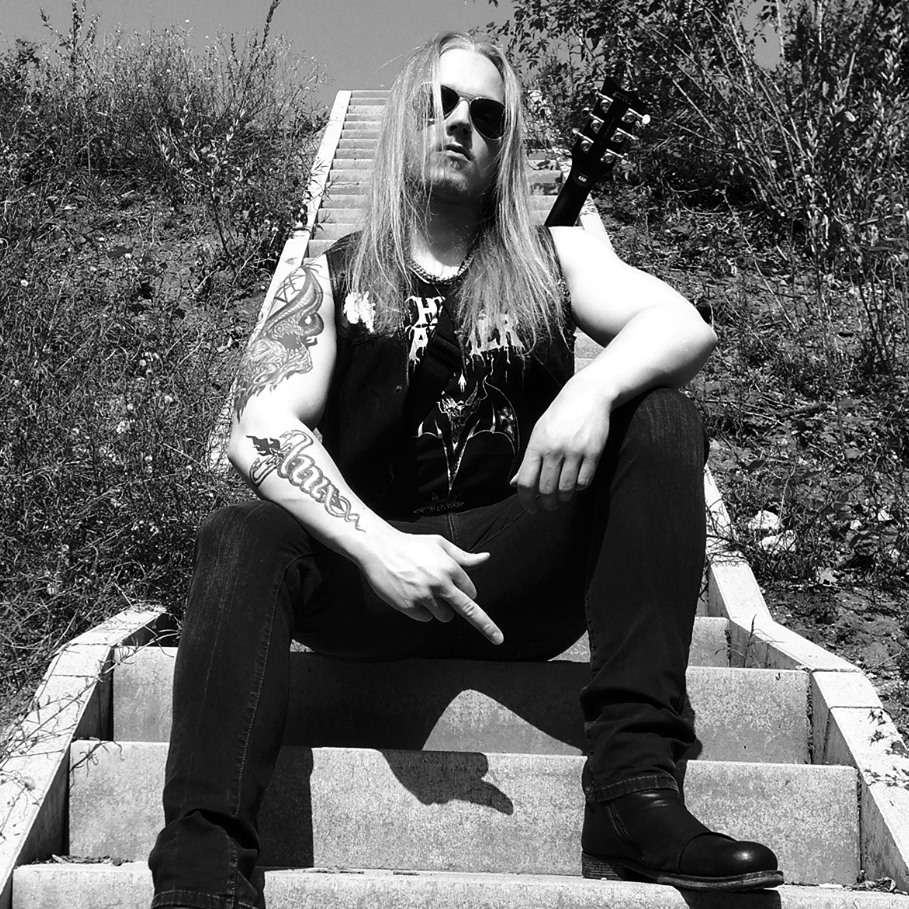 Tell us a few things about the New Underground Metal Scene in Germany (Bands, Fanzines, Webzines, Metal Clubs etc.)
I'll use this question to drop a few names, which deserve more attention in my opinion:
–STEALTH is a rather new band, greatly capturing the spirit of bands like Tank and Warfare.
–CRYPT DAGGER is first wave Black Metal worship done absolutely right.
–MARKGRAF takes a unique approach, their demo sounds like combining Archgoat and Cirith Ungol (it works, trust me!).
–LAERE basically Icelandic Black Metal from Germany. They released a 7" not long ago, amazing Vocals and riffs!
I don't really read any magazines anymore, nor do I continuously follow any websites but I really like to recommend HAALLICHT ZINE. A ton of interviews with a great roster and interesting questions. No standard phrases and I really appreciate the effort put into this magazine! There are a few locations, I regularly visited: the Bambi Galore in Hamburg, the Helvete in Oberhausen or the Magazinkeller in Bremen. All of them have a great atmosphere and book great bands and concerts. Hopefully they'll survive this pandemic.

Do you know anything about the Hellenic Metal Scene?
Actually no. I do love a few Greek bands (there's one above them all, inspiring me for years) but I have no idea about the actual scene aside from a a few, great bands and musicians.

What are your future plans?
At the time I'm a bit fed up. I focused a lot on VOMIT DIVISION this year and since there are no gigs in sight the near future, I might focus on my other bands again.I still have 2 to 3 new Songs for VOMIT DIVISION, which I want to release but I don't really know when, let alone how I'll do that.

Thank you very much for your time & Keep up the good work! The closure is yours.
Thanks a lot!
Let's hope we'll see each others drunk faces again in shady concert halls and overcrowded festival grounds, I badly miss that. Until then, stay safe and keep supporting your favorite artists, labels and venues, now is the time!
Desmotes.

By Steve the Filthy Dog.
VOMIT DIVISION CONTACT:
https://vomitdivision.bandcamp.com