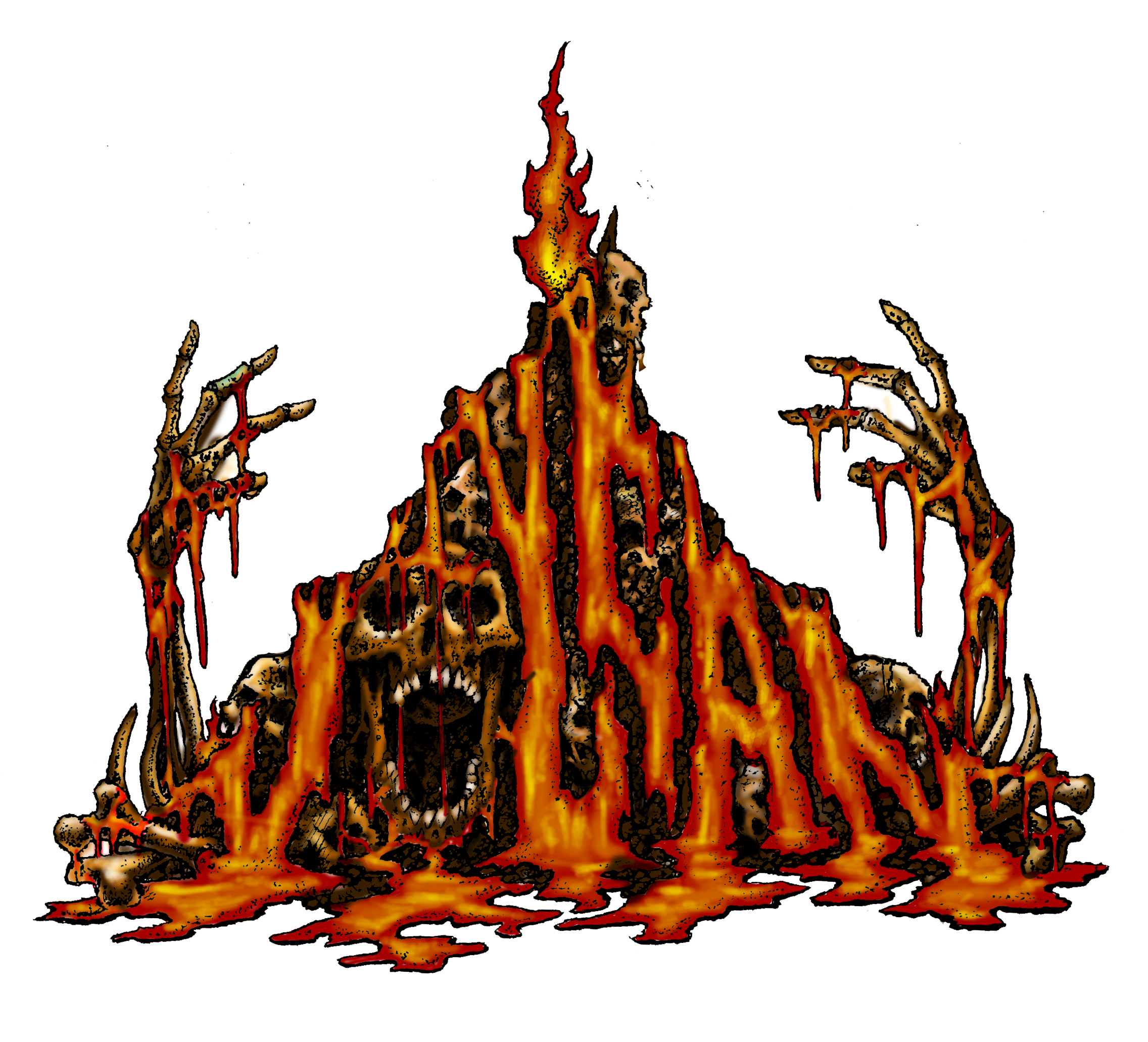 !!!BLACK/THRASH METAL FROM COLOMBIA!!!
We had a conversation with Javier Marín (Guitars/Vocals). Enjoy!
Welcome to the FILTHY DOGS OF METAL Webzine.
Tell us a few things about VOLCAN (Members, Starting Year etc).
A respectful greeting for you, Stavros and for Filthy Dogs of Metal. It is a great pleasure for me -Javier Marín, Guitars-, so as it is for Yeison and Óscar (Drums and Bass, respectively) to be read on these metal lines, sharing a bit of what Volcán is all about. We hope this is an appealing, enjoyable and substantive interview. Volcán originally started back in 2017 as an alternative project which was born one year before Sathaxia died, which was guitarist Javier Marin's first band along with its former vocalist Yeison Lopez (current drummer of Volcán). The same year I also joined Tumulario (aspects I always like mentioning). Sathaxia ceases to exist between 2017 or 2018, passing the torch to Volcán. As a duo, we started composing some songs through moments of improvisation, yet at that point there wasn't enough constancy, so it isn't until 2019 when the project started in a totally serious and committed way. Therefore, we generally and currently consider there are two stages for Volcán: it's born in 2017, but it gets consolidated properly as a band in 2019. Here, Javier González joins the band in the Bass and Backing Vocals (also member of Malevolente, and formerly part of Orgullo Nativo and Egaheitor), who remains as part of the band until mid-end 2022. In February 2023, Oscar Tavera joins Volcán in the Bass (also member of Macabre Darkness). We've been working hard these short but productive months since then. So then, Volcán is formed by:
Javier Marín (Guitars/Vocals/Backing Vocals)
Yeison López (Drums/Vocals/Backing Vocals)
Óscar Tavera (Bass)
In 2022 you released your EP ''Volcán''. What was the feedback from your audience as well as from the press?
That's right, the first homonym production of Volcán gets released in February 2022. An EP loaded with 5 songs composed between 2017 and 2020, under an alliance with Vestigio Records (Tumulario's own label), with whom 300 slipcased Digipak CDs were made. The first 50 copies got out with a poster, a pin, a patch, postals and stickers, and they were sold out in the first 3 weeks of pre-order.We are very pleased to know and announce that up to today there are only 38 available copies from the 300 copies that were pressed. That really fills our fibers in an incredible way. We've been so grateful from the beginning with every person who has a copy, and we really hope they continue to enjoy it every time they dispose at max vol.Precisely talking about this reception, there's something worth mentioning, and it's that as Volcán is an emergent band, we didn't expect to have such a positive response. But seeing how quick it's been sold, and, also importantly, how impressive the energy we've received live has been, along with the crowd's accurate comments… we feel so honored for the answer we've had during this time, and we hope it continues as it corresponds. Even if things are going well or not, we'll always have the conviction to give them something back in the best possible way.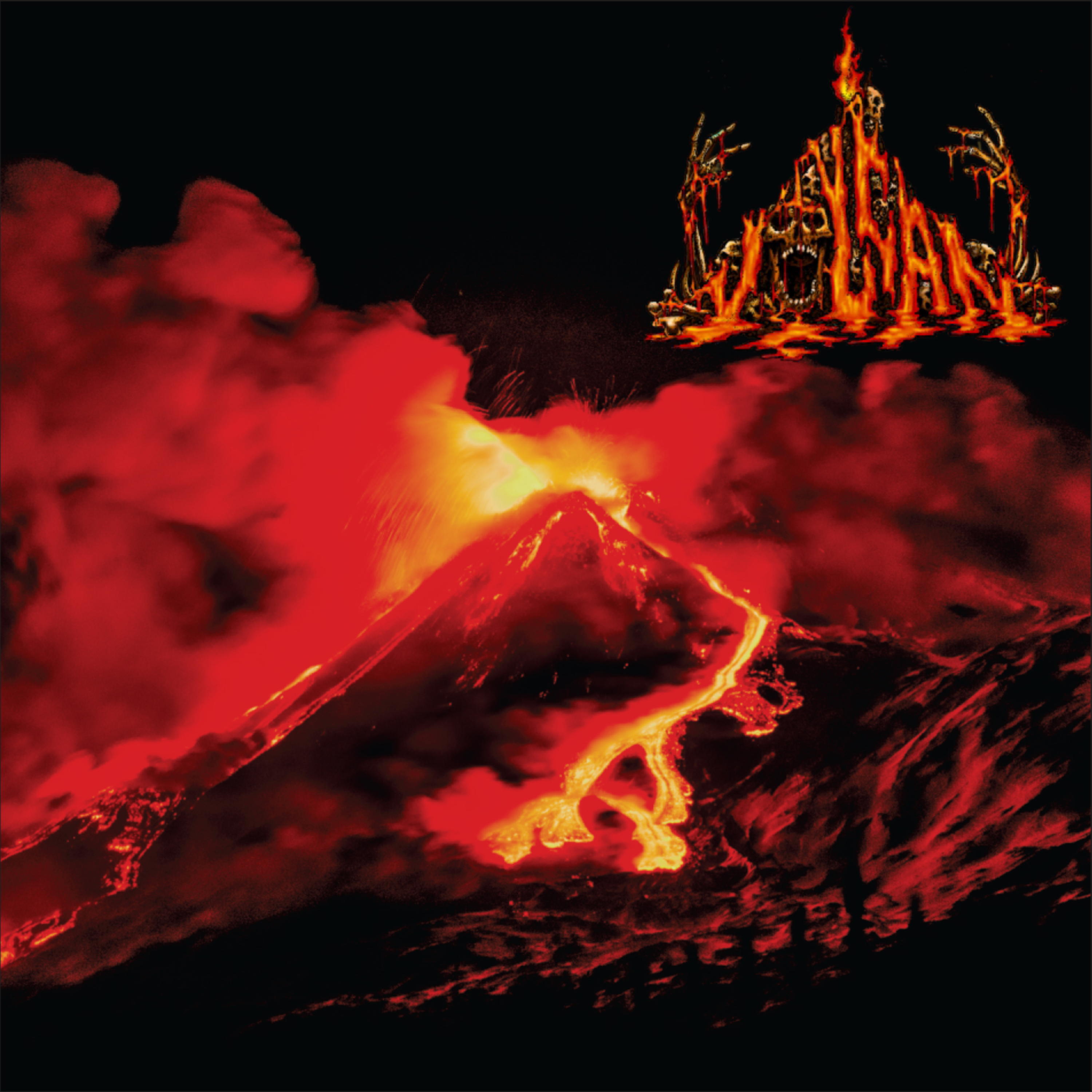 Label or DIY and why?
It depends. If there is a good deal between the label and the band, the conditions are fair and both parties obtain a benefit to move ahead; I'd choose a label. But it's always good and sometimes safer to use DIY especially when the deals are not fair.There are bands that release material with a label that can easily ask for more than 75% or 80% of the utilities, which I think is not equitative at all due to the importance and delicate matter of intellectual creation and the time linked to it. Understanding that the label can press all the material, it is a non-equilibrated trait.Furthermore, a just deal should be 50/50%, as long as some agreements can be met, or even 60/40% with the investment of both parts. Anything else is not profitable, but unequal. If the label invests all the money, then it clearly has to earn it back, but justly for that reason, I would mention that a firm alliance where both parties invest and promote is the best possible option.
Do you prefer Vinyl, Tape, CD or Digital Format and why is that?
At first, we would opt for physical formats because it supports the band directly. Now, something we three have in common on our collections is the acquisition of CDs, since it is more practical in terms of accessibility, quality and even organicness. Even if it is not properly an analog format, it saves enough quality for the audio experience to be highly perceivable and enjoyable. We also highlight tape and vinyl as old means which rescue fond memories and remind us of the way that bands used to record.On the other hand, we don't throw shit to the digital format either because diffusion and practical ease to reach are two undisputable advantages. We have even got to know new bands through those means, which afterwards we get their respective physical material. For instance, an equilibrium between those two means is not bad… Anyways, physical material still kicks ass and will continue to kick asses, we will always choose it. A band that does not record nor press on any physical format, does not offer a complete and sensible experience, so it simply doesn't exist.
Your music style is Black/Thrash Metal. Which are your main influences (Favourite Artists / Bands etc.)
Volcán gathers different aspects on its music, but it 's mainly influenced by the South American sounds. We are followers of the old and new South American school (Sarcófago, Sepultura, Vulcano, Mutilator, Miserycore, Goat Semen, Bestial Holocaust), and clearly among it, there's much about Colombian metal (Esquizofrenia, Savage Aggression, Ex-Mortis, Dirges, Black Vomit 666, Dicterium, Witchtrap), but also from other continents like Europe (Deathhammer, Tormentor, Sodom, Mortuary Drape, Diabolic Night, Messiah), Asia (Sabbat, Abigail, Metalucifer, y Evil) and North America (Blasphemy, Deicide).Finally, in our respect for South American music, we also rescue some Andean Music groups and autochthonous music like Inti Illimani from Perú or Grupo Putumayo, here from Colombia, which in some specific ways (mainly instrumental and conceptual, for what's coming) have intervened as influences.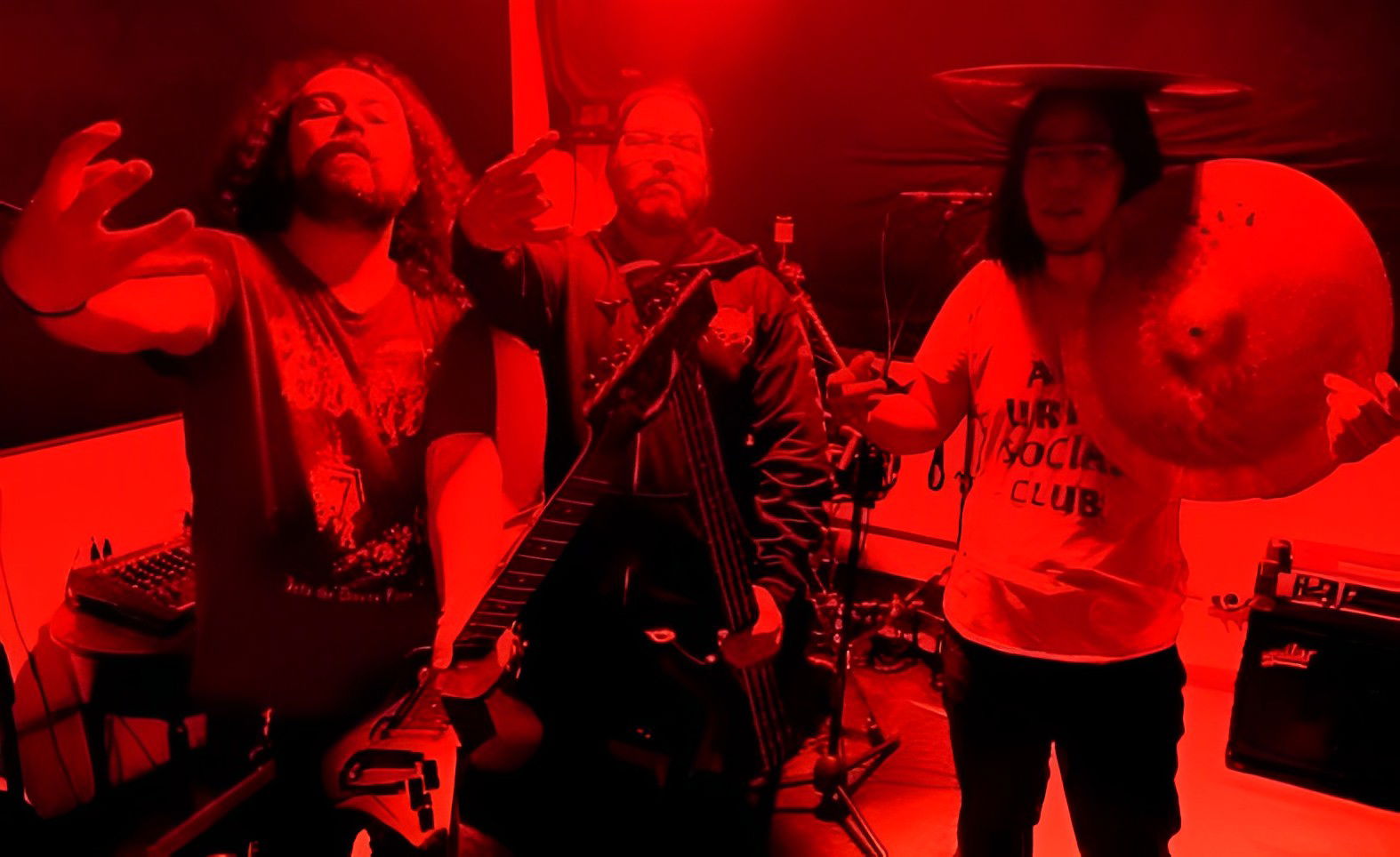 Which things do you think a band should sacrifice in order to succeed? Have you ever sacrificed anything in your life for a better future for your band?
We firmly believe that there some thought and non-thought sacrifices made in response to a life delivered to Metal, which we are not ashamed to quote: working, family time, sentimental and social relationships (here I quote a song of Dirges called "Metal": "He sacrificado amores en tu nombre" (T.N. I've sacrificed loves on your name), academic classes (way back) or even the alienation from the commercial culture when we prefer not to be accepted by the vain shit which constantly overwhelms our existence.
Describe your ideal live show as a performance band. Have you already experienced that?
We consider an ideal show the one that involves themes, content and elements like fire (torches, air chambers, fireworks on different levels, etc) all of those with a constant coherence taking into account the lyrical and musical parts that can be reaffirmed visually, and a constant performance that tributes all what must be manifested. For example, a show like Kiss's is a sample that stated a big ideal that can be fulfilled as something authentic back in its days and still even now.
What attributes do you think that a new Black/Thrash Metal Band should have in order to gain identity and be unique?
We think that the most important thing is to take care of all the spheres: musical, lyrical and visual. We consider that we like our concept a lot in all those levels, such as the volcano theme that we have proudly manifested and which will continue to be so.The personality and identity of the band are primordial in that regard, believing in the need of innovating with sense and essence, and not just to stand out in an empty way. Although we respect the classic topics Metal deals with, we consider it nice to approach topics which are not commonly deeply talked about in Metal, and then to have a certain impact with them while they are born from the most important: a natural interest, affiliation and a necessary ownership over the topic referred.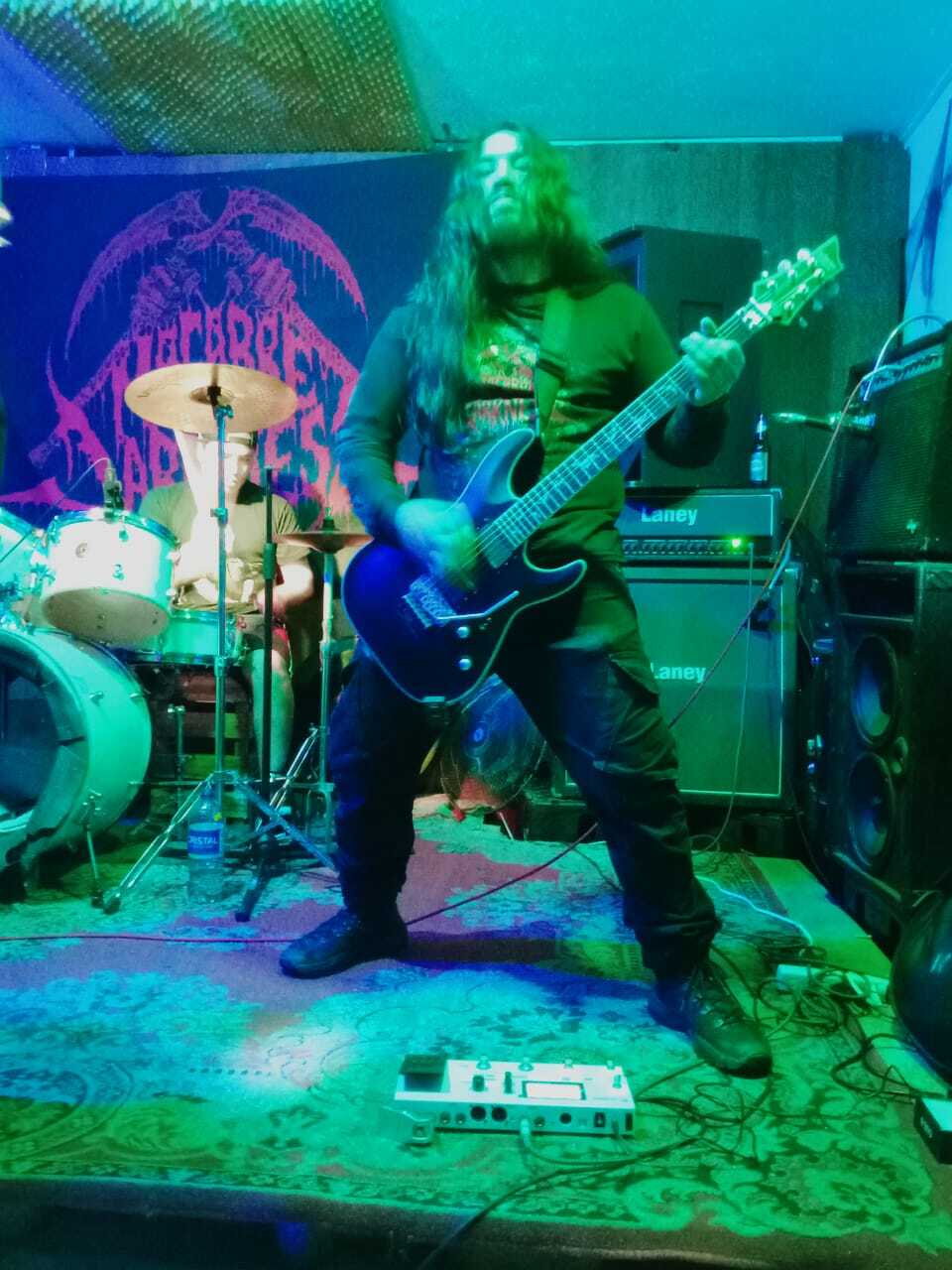 Do you believe that Digital Platforms help the new Black/Thrash Metal Bands? Which, do you think, is the ideal way for a band to promote its work?
It depends on the platform and the quantity / quality of the reach associated with the algorithm to obtain more visualization. If that is indeed the band's intention, then media like Spotify, Youtube or even the reach of platforms like Tik-Tok… We strongly believe in the band's own management of digital platforms though, considering them in function of what we mentioned before regarding diffusion and reach. In this case, it is a great help for emergent bands like us (indeed, we still consider ourselves so). On the other hand, aspects like word-of-mouth, or the unmissable physical material have more weight when promoting your own work along with the help of digital tools (we can even associate the web search about volcanoes since it helped many people to get to know Volcán, just for topic interests or just by chance).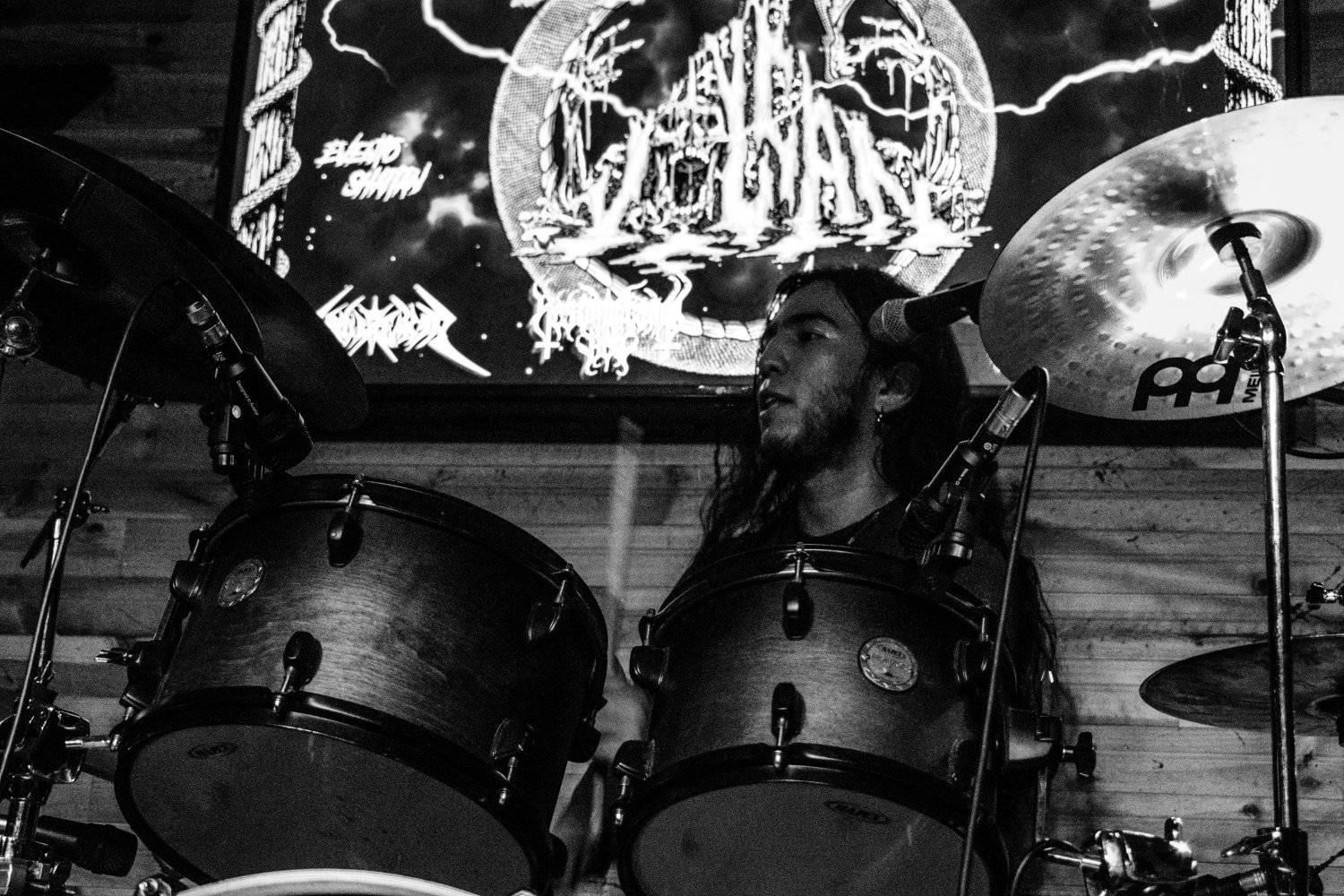 Do you see any differences between the Colombian Metal Market & the EU Metal Market (Labels, Bands, Fans etc)?
We can't make accurate comparisons, until we are actually there. What we know is because we have seen it through some social media footage. But we can mention that a big difference is the quality of festivals with fair paid tickets. So, Hellfest, Wacken or Steelfest, despite summoning more or less people, could be better than Rock al Parque or any distrital event in terms of selection, seriousness, and sound. Why the comparison? Because on the former ones you pay a ticket, unlike the latter. That equals a big difference. We firmly defend paid events just for that whether private or public, since it's the starting point to build proper festivala with labels, bands and more than all, with Metalheads who actually show respect for Metal.
Tell us a few things about the New Underground Metal Scene in Colombia (Bands, Fanzines, Webzines, Metal Clubs etc.)
The first thing we like mentioning is how delivered it is, the expresion, emotionality and effusivity of the Colombian metalhead crows. Even without having attended other countries, through videos you can see that Brazilian and Chilean are like that too: you can feel this in the South American audience. We gladly qoute Colombian bands like: Tumulario, Sobibor, Dirges, Infernal, Reckless, Shellshock, Revólver, Malevolente, Posesión, Devastación, White Thunder, Bloody Nightmare, Witches Sacrifice, Magmount, Satan's Hammer, Ensomhet (Luna Oculta), Rotten Blasphemy, Bonfire, Nazgûl, Bloodlust, Punisher, Witchtrap, Ossuary, Exiled, Hellroar, Ex-Mortis, Dicterium, Muyhyxio, Riler, Nocturnal Feelings, Hellpike, Black Vomit 666, Dantalian, Lamentaciones, Asbel, Vitam Et Mortem, Umbrae, Captionem Dimensio, Ekinoxio, Evil Whiplash, Antikristo, Corpus Calvary, Strike, Spleen, Hellstorm, Oda, Macabre Darkness, Fire Darkness, Letal, Evil Depression, Nafal y Ryvelion.Regarding metal labels or distroa we refer: Vestigio Records, Blasphemous Attack, War March Records, Barbarois Metal Distro, Ultrametal Productions, Repulsion Records, Pure Metal Records, Bestial Death Records, Entropy Records y Black Abyss Productions.Webzines y Fanzines: Distorsión Zine, Oráculo Magazine, Oscura Radio T.V., Paranoid Metal Radio, Digimetal Zine, Vanguardia Disidente, Midnight Funeral Zine, Ecos Metal Colombia y Hellzine.
Do you know anything about the Hellenic Metal Scene?
Actually not much, but I say bands like Necromantia (amazing band), Rotting Christ, Varathron, Septicflesh y Αχέροντας. It's still pending to find new bands from Greece; it'll be our assignment.
The last 3 years, worldwide in the world, we have faced many dark, strange & new situations in our everyday life (covid, lock-down etc.) Did all of this affect you positively or negatively?
Precisely, COVID-19 projected a negative impact on an economical and emotional level (more anxiety and stress), daily routines, affectation in the creation of new songs, or the fact that there was no open place to get the damn strings of the guitar or bass or to get drumsticks when they all broke be. (although the good part of this was to get the shipments over the internet). As for the positive part, the purchase of physical material increased, the learning and reinforcement of different skills in one or more musical instruments was strengthened and the visibility of bands rose with some "live" broadcasts on social networks.
What are your future plans?
Future plans for Volcán involve getting the construction of the album going, since currently all the songs on the album are composed, and we have already started to assemble them, working in parallel on the creation of the cover.On the other hand, to keep advancing in the constant improvement of the skills of the three musicians, to interpret our music in different live events, and to continue sharing the songs in different parts of the country and the world, if possible. Finally, also to start investing in important visual aspects to give live events a significant enhancement (as we mentioned before, the importance of all spheres).
Thank you very much for your time & keep up the good work! The closure is yours.
Gratitude to you Stavros and to Filthy Dogs of Metal for this great space for Metal from all over the world. I hope we keep in touch, and we share Metal from each of our countries as exercise. There is always a lot of Metal to know which deserves to be heard and appreciated. A big greeting and hug from the long distance. May the flame of Metal never die until the moment of our death is our banner and our vestige!
By Steve the Filthy Dog.
VOLCAN CONTACT:
https://www.facebook.com/VolcanMetalIgneo
https://www.instagram.com/volcan_metal/
https://soundcloud.com/volcan-metal-igneo
https://open.spotify.com/artist/6c0kA1ElPg74Tqey195XUU?si=8p3YEufSShGn-FQ-sHdxzA&nd=1