!!!COLOMBIAN METAL ATTACK!!!
We had a conversation with Stiven Giraldo (Vocals/Keyboards). Enjoy!
Welcome to the FILTHY DOGS OF METAL Webzine.

1. Tell us a few things about DIAMOND CHAZER. (Members, Starting Year etc)
Hails!!! First of all I want to thank you for taking us into account and invite us to this interview.
Well, I (Stiven Giraldo) created Diamond Chazer in 2017 cause i've always wanted a heavy metal project (i tried a couple times with a band called "Hunter") So finally I decided to created and I started to write some songs and I called my brother in arms Ramiro Alvarez (we played together in Hunter and in a Black/Thrash band called Abdcutor) to play the guitar with me. Then I contacted Jose Cardenas (drummer of the band "Louder") and Oscar Morales to play the lead guitar (former bassist of "Tyger Tank) and a co-worker called Cristian for playing the bass. But Cristian didn't have the same taste and influences that we do so we decided to contact the previous "Hunter" bassist Jhon D. Rojas which was the piece we were looking for!


2. On 2018 you have released the tape ''Chained In Tokyo''. How many copies were pressed & what is the Feedback from your audience as well as from the Press?
At first it was released on tape by "Repulsion Records" to 100 copies, they sold out so fast that we were totally speechless and of course glad as hell since was our first release ever. Then "Metal Force Records" released the cd version including poster and patch limited to 300 copies. The support has been amazing so far, we have sold most of the copies overseas specially in Asia and Europe. There is also another label interested in releasing our EP on vinyl format!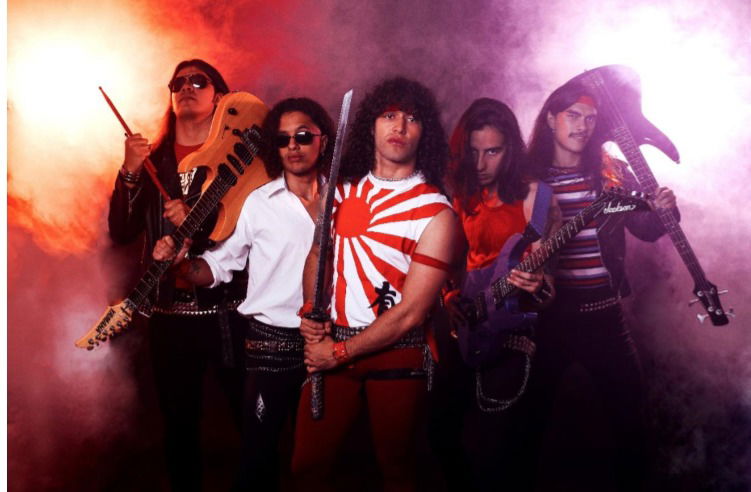 From left to right:
Jose Manuel Cárdenas – Oscar Morales – Stiven Giraldo – Ramiro Álvarez – Jhon Denis Rojas
3. Label or DIY and why?
I'd rather label so far since DIY is extremely expensive specially in our country. So having support from a good label would be the best option from an underground band!!

4. Do you prefer Vinyl, Tape, CD or Digital Format and why is that?
VINYL VINYL VINYL!! I love all physical formats but vinyl has always been my favorite format 'cause it is 100% art!!! From the cover to the record itself is pure art and spinning them is kinda ritualistic for me! I really hope to see our music pressed on a record someday!

5. You are a Classic Heavy Metal Band. Which are your main influences (Favourite Artists / Bands etc.)
Well there are many! But personally these are the bands that inspired the most to write the Diamond Chazer's music: Judas Priest, Scorpions (in the mainstream way) and in the underground would be: Shogun, Blaspheme, Tokyo Blade, Sortilege, High Power, Proud, Randy, Witchfynde, Witchfinder General, 220 Volt, Blitzkrieg, Diamond Head… Well there are too many to remember!!
6. Do you believe that Bandcamp and other Digital Platforms help the new Heavy Metal Bands? Which, do you think, is the ideal way for a Band to promote its work?
Fortunately, our generation is lucky enough to share our music worldwide and we have reached a lot of metalheads all around the world through Bandcamp and Cdbaby!
Nowadays is easier to spread your music due to those platforms and I'm almost sure that it has been some of the best destributions platforms ever!

7. Which attributes, do you think, that a new Heavy Metal Band should have in order to gain identity and be unique?
Well I'd say that everybody's got influences and it's hard to be 100% original nowadays but there are always different rock and roll styles to take influence from and of course you gotta KEEP IT TRUE and don't let modern shit to pollute your metal heart. Try not to be a copy cat just take influences and mix 'em up! You could get surprised with the result!

8.Describe your ideal live show as a performance Band. Have you already experienced that?
We have tried to make our shows different from the rest of the heavy metal bands from our country, i've always projected in my mind huge things such as a giant diamond above us and a lot of blue neon lights on the amps, instruments and more… and of course FIRE!!!!!! but since those things are expensive as fuck we have been doing the best we can with smoke, costumes and theatrical scenography (coreographies are a must in a heavy metal performance)

9. Tell us a few things about the New Underground Heavy Metal Colombian Scene.
Couldn't be happier about the bands that are coming up! Colombia has always been a Death/Black metal country so it is interesting the bunch of heavy metal bands that has been showing up recently: Snow blind, Steelhammer, Sorceress, Yunque, Evil terror, Tyger Tank, Evilucifer, Hellroar, Axe Steeler, Visions, Runner Hell, etc…

10. How is the situation in Colombia as far as Studio Recordings / Rehearsal Rooms etc. are concerned?
Well now is easier than it was years ago, there are many recording and rehearsal rooms now and not too expensive luckily!

11. Do you know anything from the Hellenic Heavy Metal Scene?

HELL YEAH! But mostly from the 80's, bands such as: Northwind, Spitfire, Vice Human, Macedon Harriers and A.P. Mystery are constantly being played at my place!
12. What are your Future plans?
Well we are recording a single of two songs right now, and there are some labels interested in release it. So we would like to have more gigs soon and get a good deal for a full lenght álbum. And of course we are looking forward to play in the Greek Heroes' land some day! That's my biggest dream!

13. Thank you very much for your time & Keep up the good work! The closure is yours.
We want to thank you for giving us this chance to spread our heavy rock around the globe. Thanks for taking the time to read and keep on fighting against society with power in your fists, passion in your heart and METAL IN YOUR HEAD! HAILS!!!!!!!!!!!
KEEP ON CHASING DIAMONDS!!!!!
By Steve the Filthy Dog.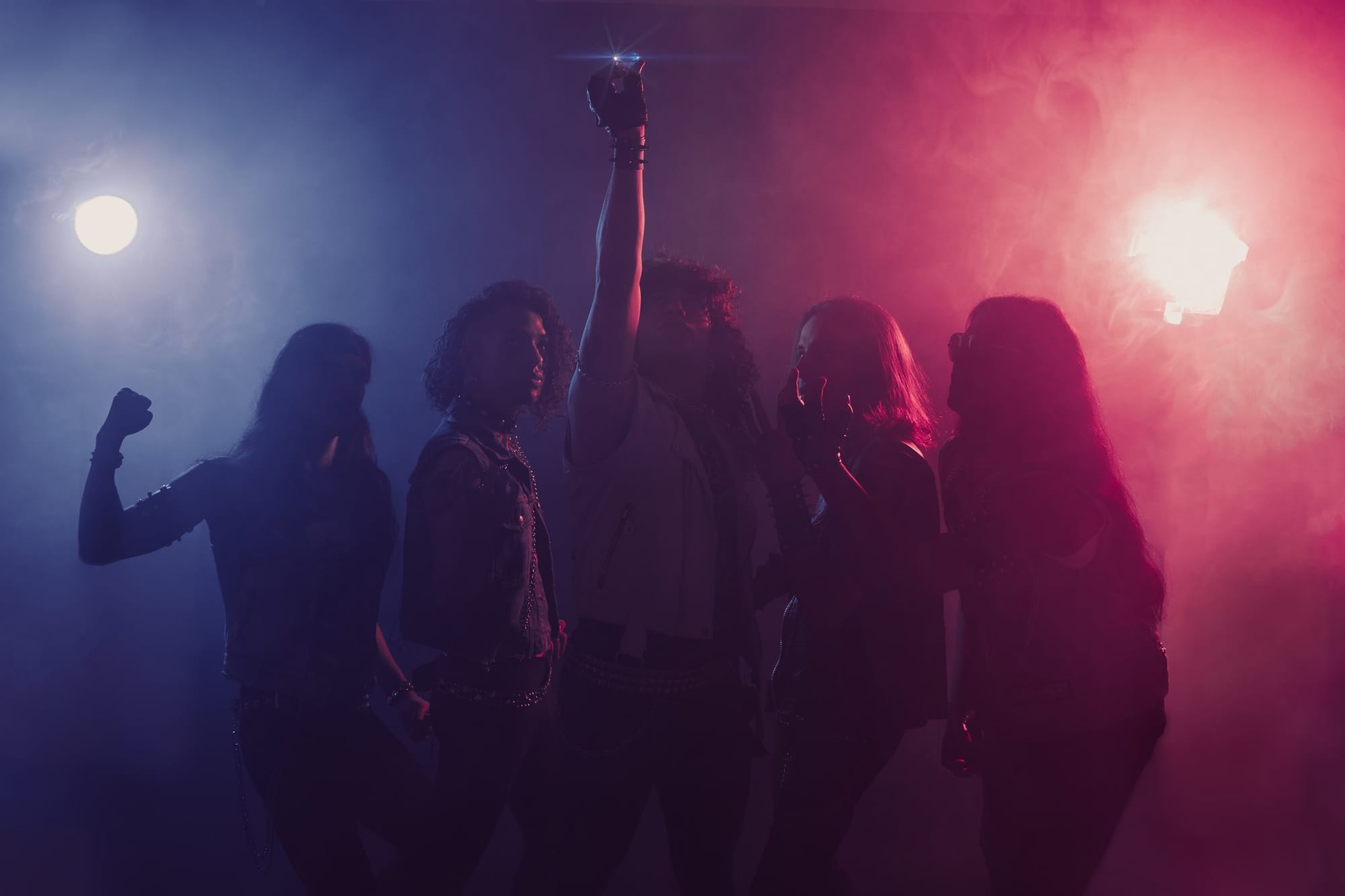 BAND CONTACT & SOCIAL MEDIA:
• e-mail: diamondchazer1@gmail.com
• Fanpage: https://www.facebook.com/DiamondChazer/
• Bandcamp: https://diamondchazer.bandcamp.com/
• Instagram: @diamondchazer1
• Youtube: https://www.youtube.com/channel/UCOxlwZW2-BNWnXkMUb8GYbA