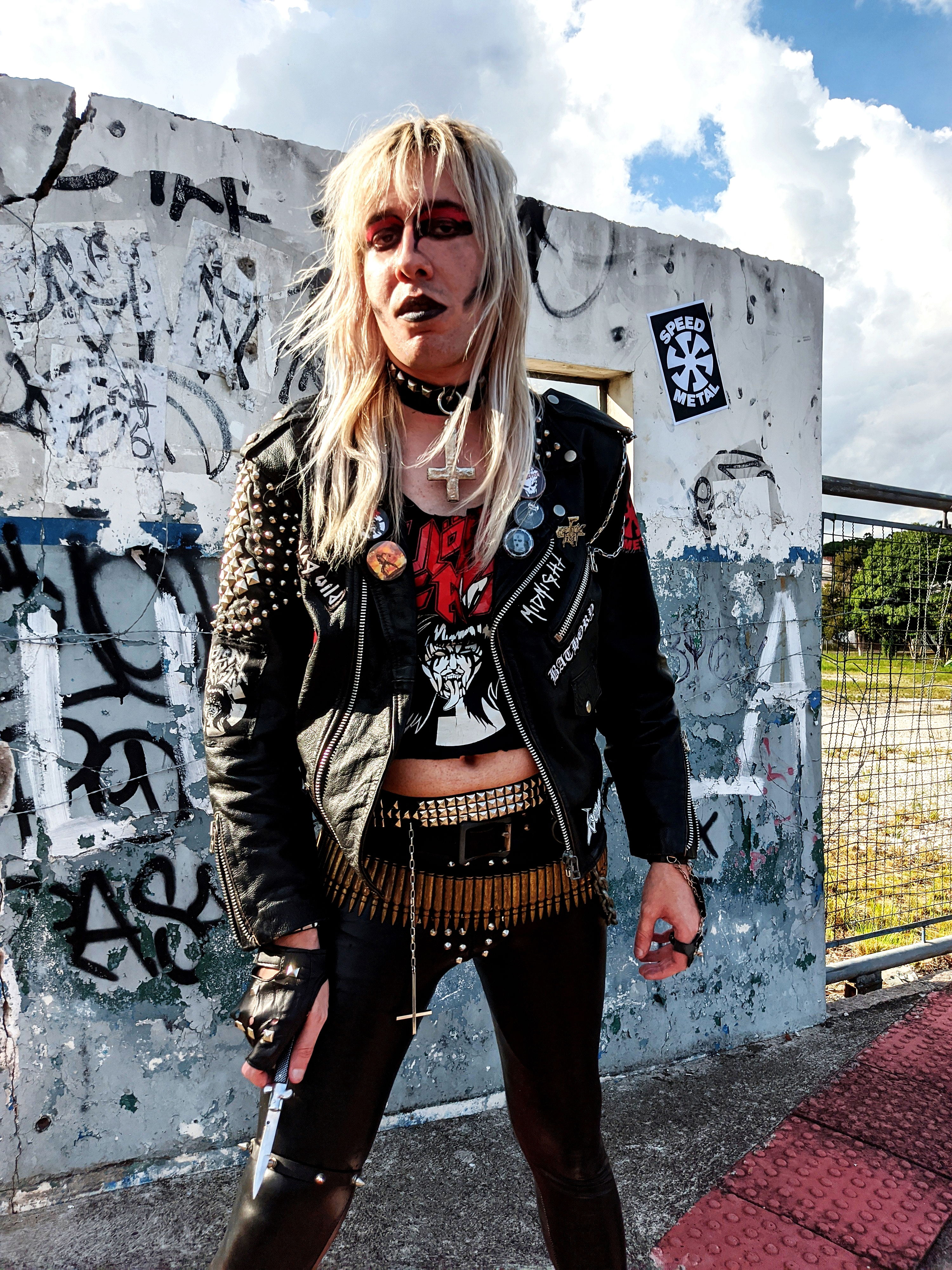 !!!SPEED METALPUNK FROM BRAZIL!!!
We had a conversation with De'Sade. Enjoy!
Welcome to the FILTHY DOGS OF METAL Webzine.
Tell us a few things about VIOLENT CRUSH (Members, Starting Year etc).
Well, I started Violent Crush after i had an argument and went out of a cover band that i used to sing and was starting to make autoral songs, a very shitty cover band with stupid people,you know, no one can stand this kinda of bullshit, specially if that band plays Metallica that was never good to start,after that I wanted to make my own songs, about sex and women specially that i was unable to do on that first band, Violent Crush started as Satan`s bitch, and being a black thrash inspired on Hellhammer, Sarcσfago, but after some changes, and years, specially now the sounding goes perfectly for metalpunk,now I can say that is the music that i always wanted to do since the beginning on 2014.

You have recently released your EP ''Hell, Savage Women and ... Motorgasm!''. What is the Feedback from your audience as well as from the Press?
The release and production was full independent DiY,and also the divulgation is being made all by me, so its still too early to tell you how my audience did their feedback, I hope who already have the physical copy has liked, some years ago I heard of some people that used to support me that they weren't linking the changes that happened, but who gives a fuck about black metal fans? what Violent Crush is now is much better than lame satanism shit like those other bands, I don't believe in god or and neither i have believe in satan/devil or any other entity, I just believe in me and that`s how you all should do, I`m my own god.
Label or DIY and why?
DIY, after the tour that i did playing with another band I was planning to released it by the label of a contact i have, but a lot of things happened,and
always money and people giving you word and promising a lot of shit was the biggest problem,everybody has problems and responsibilities so I just said ok, i started getting money to release it myself alone since a lot of other labels that i get in contact with weren`t interested in my work and were run by grownup kids who play being underground label owners,I`m not the kind of loser who keeps being dependent by incompetent people, I do my own effort to get what I want.

Do you prefer Vinyl, Tape, CD or Digital Format and why is that?
I`m not much familiar with Vinyl and think that shit takes a lot of space, tape i think its cute, Violent crush`s split was released on a tape, i liked a lot even if i had never chance to listened to due to my ex-girlfriend, digital is easy but I prefer CD, its cool to collect and you can make it look very astonishing every page, I`m really proud of HSWAM since I was the one who designed everything.
Your music style is MetalPunk. Which are your main influences (Favourite Artists / Bands etc.)
I can say of all Motorhead, but one genre only is wrong to claim Violent Crush is, I play metalpunk, speed metal, glam metal, hard rock, and have a lot of influences from the Japanese scene, but about metalpunk I can put here that I have a lot of influence from G.A.T.E.S. Inepsy, Plasmatics, Syphilitic Vaginas and Midnight.

Which things, do you think, a Band should sacrifice in order to succeed? Have you ever sacrificed anything in your life for a better future of your Band?
Peace I can tell, when you start a band and want to face it serious you will never have peace, I can`t say I sacrificed so much,maybe my time, but one thing that is true I put end to many friendships and relationships because of this project, but that comes because of my personality thou.

Describe your ideal live show as a performance Band. Have you already experienced that?
I didn't played live much as Violent Crush cause i never find competent people to play with, the best drummer I had is Paraguayan, but my ideal performance i can say is something similar to what Gwar did when Oderus was still alive, good audience, blood, jokes and a nice relation between artist and who is watching them.

Which attributes, do you think, that a new MetalPunk Band should have in order to gain identity and be unique?
Be yourself and do different from what others are doing, my biggest problem with thrash metal, death metal and black metal scene is that every band starts with the idea of being a Metallica or other mainstream shit and keeps on that shitty idea till the end making their music be generic as fuck, there are many metalpunk that do stuff like that, my advise is that people stop this shit and start to do DIY for real, be yourself write about what you want even if it makes you look wrong in the eyes of moralist or elitist motherfuckers.

Do you believe that Bandcamp and other Digital Platforms help the new Heavy Metal Bands? Which, do you think, is the ideal way for a Band to promote its work?
Those digital platforms never really helped me so much, Youtube and Spotify are good to that use, but nothing is guaranteed. if you want to get known I think luck and persistence is the secret. You have to find your own.

Tell us a few things about the New Underground Metal Scene in Brazil (Bands, Fanzines, Webzines, Metal Clubs etc.
Today`s bands don`t draw much of my attention cause many are too generic,specially from my city, Violent crush is the only and first metalpunk from here, but I`m a really big fan of Whipstriker and Vultor.

Do you know anything about the Hellenic Metal Scene?
The first time I listened to a Greek song was when Grave Digger did ''Hellas'' cover, but one of my biggest influences is Raw Poison from Greece, R.P. was my influence to change a lot my songs and embrace my metalpunk style.

What are your future plans?
Don't know for sure, at the moment I just want to send my EP to many labels as possible,and also sell my CD to more people to know my work, the band has no plans till then, maybe some new merchandise, but nothing that I can say for sure by now.

Thank you very much for your time & Keep up the good work! The closure is yours.
Thanks a lot, hope you and your readers enjoy HSWAM, was a big hard work and I`m sure you all will like it, that`s the real Violent Crush, thanks again specially for those who support the band since a long time, be Violent and eat pussy.
By Steve the Filthy Dog.
VIOLENT CRUSH CONTACT:
https://www.instagram.com/violent.crush/