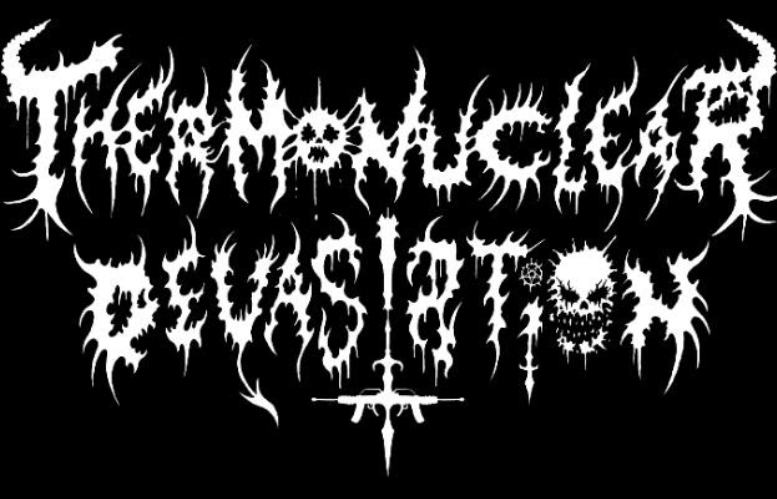 !!!CHILEAN BLACK THRASHERS!!!
We had a conversation with Kütral Vilú (Bass & Vocals).Enjoy!
Tell us a few things about THERMONUCLEAR DEVASTATION.
Thermonuclear Devastation kicked off in mid-2019, originally composed by Kütral Vilú on guitar/vocals and Burst Commander on drums. At first, the band was going to be called Skullcrusher, but finally, after reflecting about it a few weeks, we decided to name it Thermonuclear Devastation. In the fruitless search for a bass player, we had some trouble finding the bassist we needed and decided to look for other guitarists. For this reason, Kütral Vilú changed the guitar for the bass, and Diabolical Ulama and Recalcitrant Detestator were integrated as guitarists.After this, under the context of the violent social outbreak in Chile, as well as the Covid-19 pandemic, the band's activity stopped partially, but when the situation began to soften we decided to record the songs that we had finished. Unfortunately, Recalcitrant Detestator could not participate in the recording because he decided, for security reasons, to take shelter in his hometown, Puerto Montt, in southern Chile.
Your have recently released your EP ''Worshipper of Darkness''. What is the feedback from your audience as well as from the press?
We have generally received good comments from the local scene and what has been repeated the most is that we represent the South American sound well, I wonder why? hahahahahaha.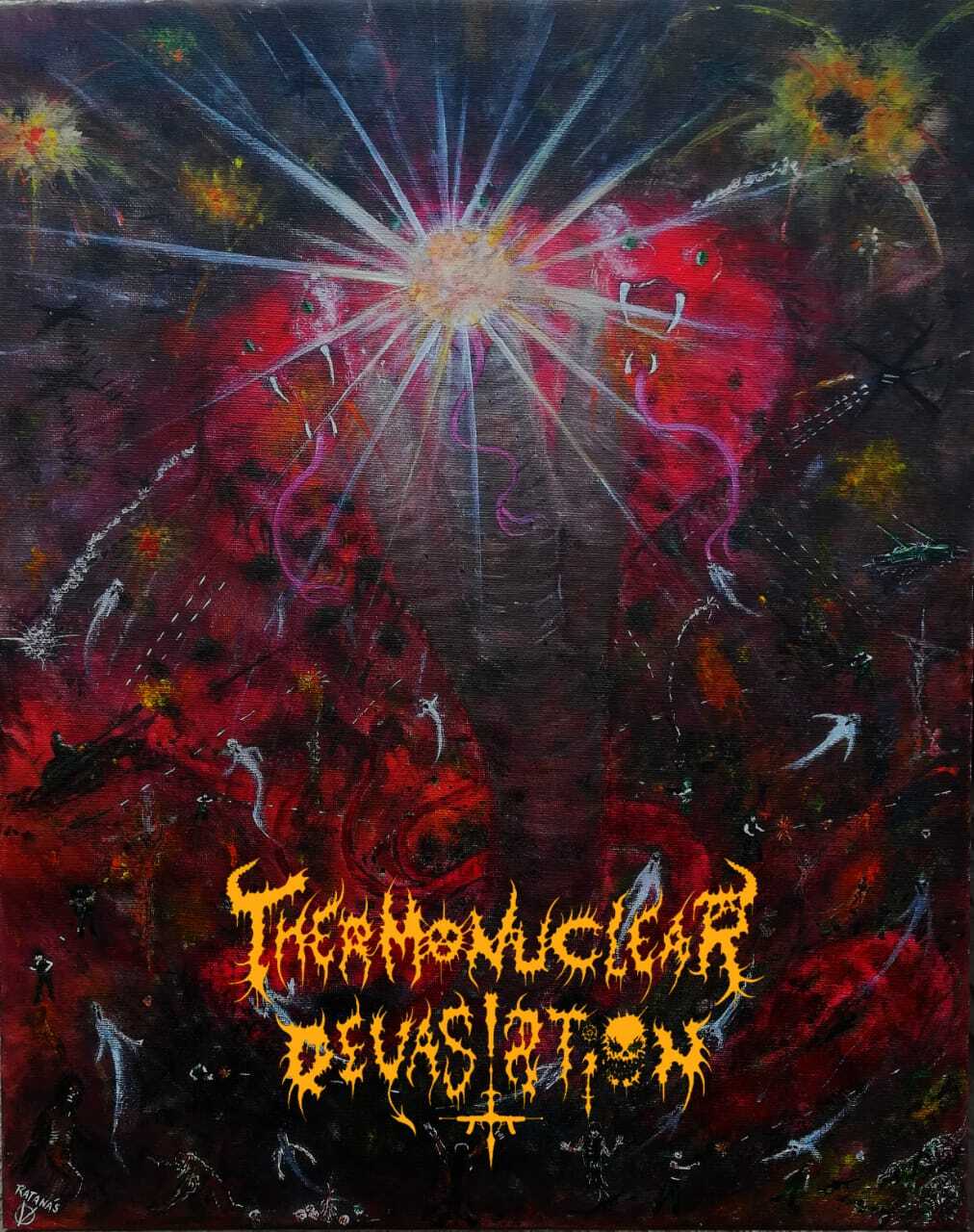 Label or DIY and why?
We believe that both are good options, with their respective pros and cons. Although, we would go for labels because, in general, when the work is distributed among people who are in constant contact with other labels and scenes, the bands receive more visibility and recognition, without having to carry that extra work.
Do you prefer Vinyl, Tape, CD or Digital Format and why is that?
We love physical formats, we believe that it maintains the ritualistic essence of taking the time to listen to an album, accompanied by a lot of alcohol and drugs with comrades. The digital format has the plus, and especially in our times, that enables a greater diffusion, making to know how bands and scenes from other parts of the world are developed.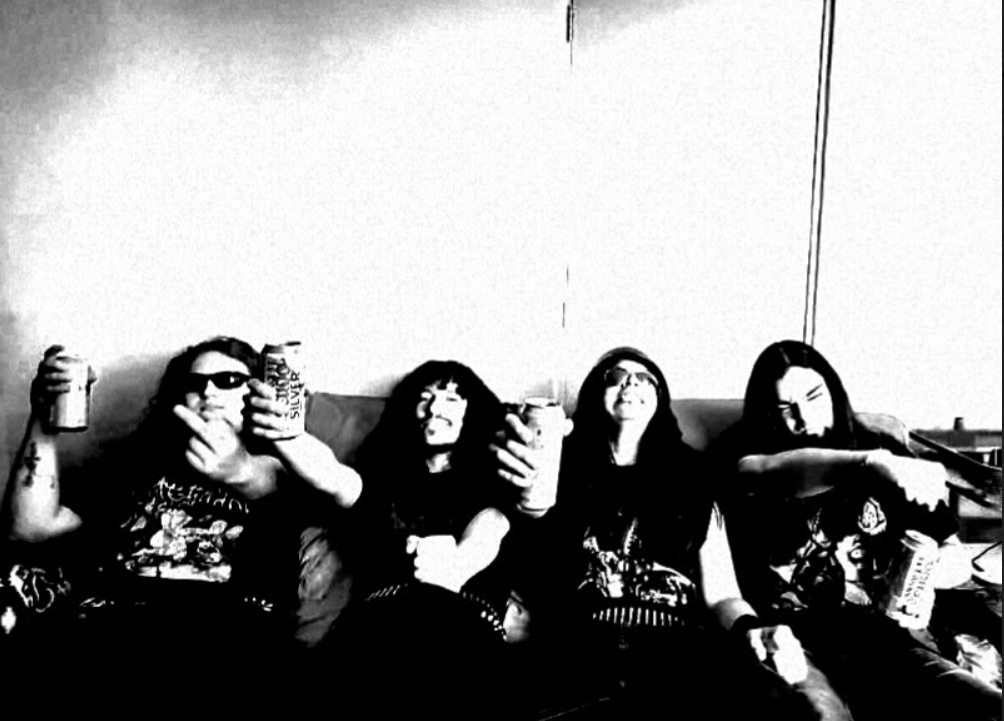 Your music style is Thrash Metal. Which are your main influences (Favourite Artists / Bands etc.)
Our influences are quite varied. Mainly we could say that it focuses on German Thrash Metal, First Wave Black Metal and South American noise. We also really like Death Metal, Grindcore, Hardcore Punk, Traditional Heavy Metal and 70's Hard Rock. Citing the bands that influence us, they would be: Violent Force, Bathory, Carnivore, Tormentor, Evil Blood, Törr, GISM, Sodom, Venom, Celtic Frost, Sacrifice, Slayer, Slaughter Lord, Hallows Eve, Rigor Mortis, Possessed, Exumer, Minotaur , Hobbs Angel of Death, Onslaught, Sarcofago, Holocausto, Blasphemy, Vulcano, Sextrash, Mefisto, Poison, Miserycore, Desaster, Sabbat (Japan), Mortuary Drape, Deströyer 666, Bestial Mockery, Sadistik Exekution, Atomic Aggressor, Morbid, Darkthrone, Nifelheim, Nunslaughter, Negative Approach, Bulldözer, Siege, Poison Idea, Misfits, Ratos de Porão and Cro-Mags.
Which things, do you think, a Band should sacrifice in order to succeed? Have you ever sacrificed anything in your life for a better future of your Band?
The truth, I feel that the band is something that is born (arise) directly from our balls hahahaha. We do this because it's what we like. Life is too short to deny that feeling of doing what you like best, whatever it is in any aspect of life.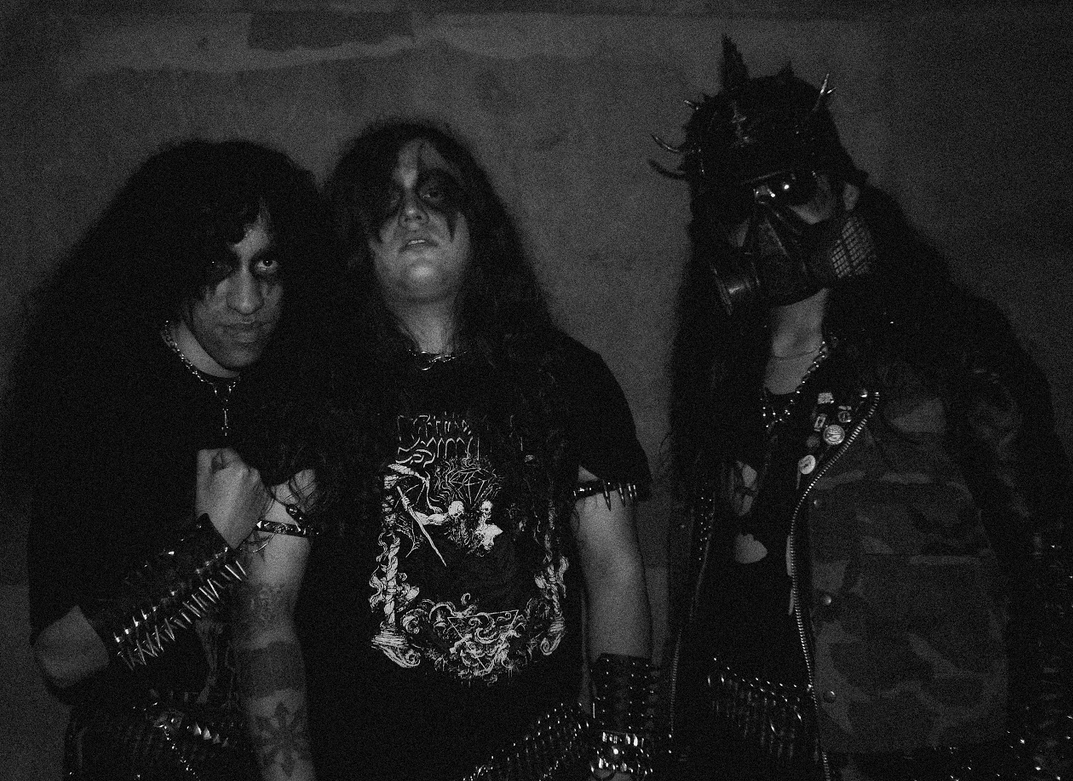 Describe your ideal live show as a performance Band. Have you already experienced that?
It is not something that we have thought much about, because of the global situation that distresses us at the moment. As soon as the plague ends, we would like to destroy every stage we play in, every city and town will see brains popping out of the eye sockets hahahahaha. Almost all of the members have played live or played in other bands: Burst Commander is also a drummer on War Därmen and Malevolent Invader, and vocalist on Maniac Revenge and Psychopath; Recalcitrant Detestator is the guitarist on Cavernal, Putrid Evocation and Strigoi; and Kütral Vilú played on Toke de Keda and Alienation as a guitarrist.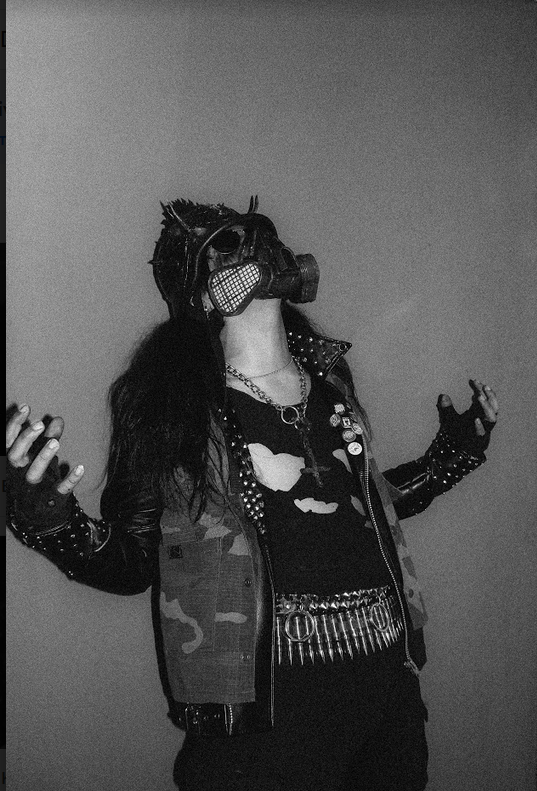 Which attributes, do you think, that a new Thrash Metal Band should have in order to gain identity and be unique?
The main thing is to believe in yourself and the members of the band, without that you are screwed. On the other hand, it's knowing what we want to do, we can have influences and all that stuff, but if you do not integrate your own essence on it and materialize it, you are condemned to a music stagnation. Finally, consistency and set goals, and respect their deadlines.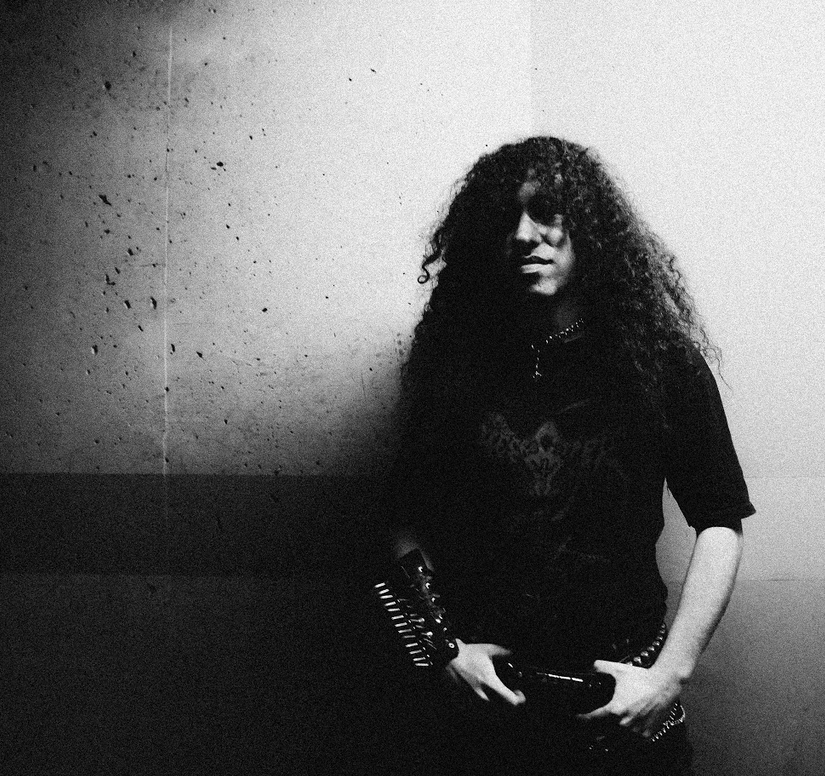 Do you believe that Bandcamp and other Digital Platforms help the new Thrash Metal Bands? Which, do you think, is the ideal way for a Band to promote its work?
I think that digital tools such such as Bandcamp, YouTube or Spotify, to name some platforms, are useful to make bands known in other places, with one click you can travel around the world haha, but the physical format is the fundamental one, the materialization of one's own work, which is given to whoever is willing to enjoy it.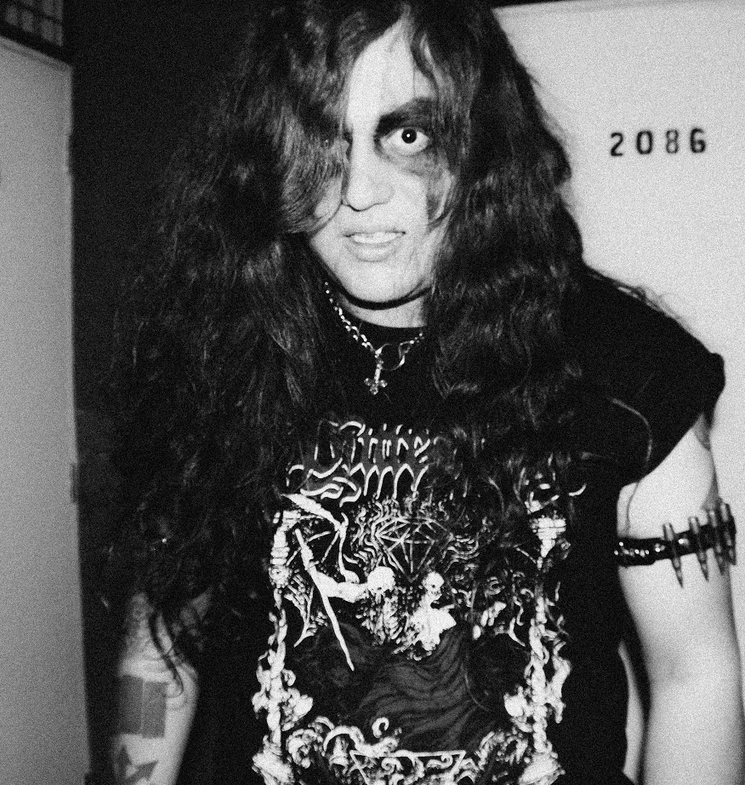 Tell us a few things about the New Underground Metal Scene in Chile (Bands, Fanzines, Webzines, Metal Clubs etc.)
Ufffff (Phew), what could I say about the scene in my country that hasn't already been said? hahahaha
Well, it is a very active and diverse scene, like the saying "one man's meat is another man's poison". Despite certain differences that can occur between bands or regional scenes of certain styles and subgenres, there is a certain unity that allows there to always be something to chill out. Throughout Chile, there are an infinity of bands with their respective characteristics, depending on the area, which with some knowledge you can easily identify if the band is from the south, the north, the capital or the regions adjacent to Santiago. Somehow, something that identifies the national scene is that new bands are constantly appearing, with a self-managed base where between bands and producers made up of fans, it allows that apart from keeping the flame alive, it grows constantly.
Do you know anything about the Hellenic Metal Scene?
We have great respect for Greek metal, somehow what we are working on now will be influenced by Hellenic Black Metal. Commonly in our covens we hear: Necromantia, Varathron, Thou Art Lord, Kawir, Ravencult, Slaughtered Priest, Satan's Wrath, Acrimonious and Diavolos.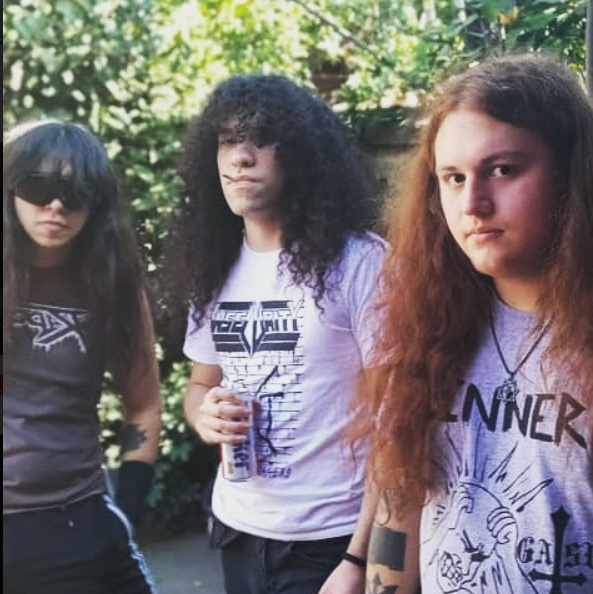 What are your future plans?
We are in the process of writing our first LP now, from which, we already have some songs partially ready, and when the plague ceases we'll playing them live.
Thank you very much for your time & Keep up the good work! The closure is yours.
Thanks for the interview and the support, this really helps us a lot to make the band known in Hellas and the world, which we hope that if it's not the Covid-19 that destroys it, we'll endeavor to do everything possible to do it hahaha. We also want to greet those who liked our work and in any way have helped to spread this, without you it would not be possible. We want to give special greetings to the Thrashers of Santiago (you will know who they are) and the Rio Blanco Gang of Puerto Aysén, you drunk motherfuckers! hahahahahaha.
By Steve the Filthy Dog.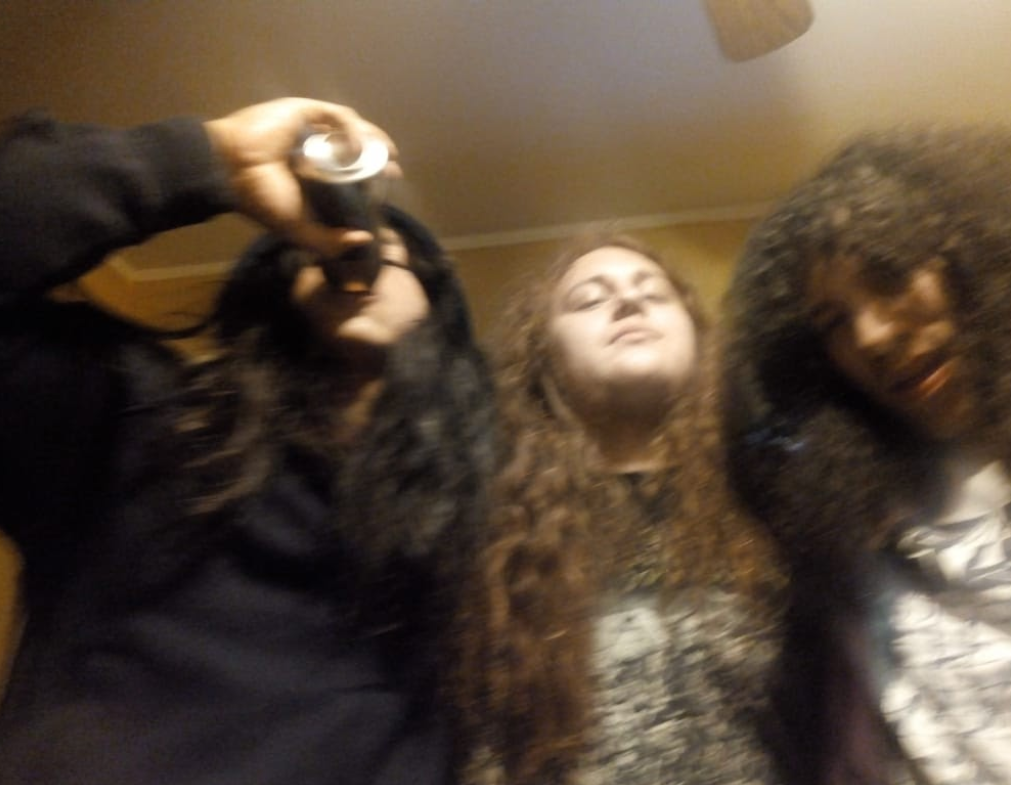 THERMONUCLEAR DEVASTATION CONTACT: