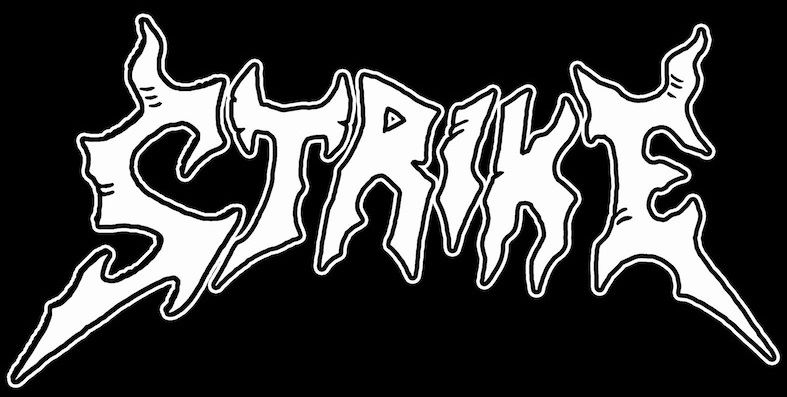 !!!COLOMBIAN BLACK SPEED PUNKERS!!!
We had a conversation with Santiago Perez.Enjoy!
Welcome to the FILTHY DOGS OF METAL Webzine.
Tell us a few things about STRIKE (Members, Starting Year etc).
In 2016 I started this, initially as a solo project, but over time I called a couple of friends to play live and all that, before another guy sang, and the bassist at that time, Sebastian Muñoz, is still with me. in the fight as my right hand in Strike. Nowadays I do the guitar, the drums and the vocals in the studio and Sebas the bass and some vocal choirs, but for tours and live shows we have a session drummer, a friend from another band. It happens that in the past Strike has had several drummers and line-up changes, but I got tired of that and decided to do the drums in the studio myself, so the band is Sebas and I, we started by recording a demo (Drunk rock n 'roll) with the first line-up, then a single sebas and me (Destroy!), and a few months ago we released the album (Fast & Loud). Currently we have new songs recorded for upcoming productions.This band is heavily influenced by the classic branches of rock n 'roll and punk from the 70's to the 90's. Bands and artists like Motorhead, Celtic Frost, Darkthrone, Dead Kennedys, Inepsy, and even Elvis Presley are our references. It sounds crazy, but in Strike we combine all of this, the result is something like Lemmy, Fenriz, Cronos and Sid Vicious making a raw sounding Metalpunk band, hahaha.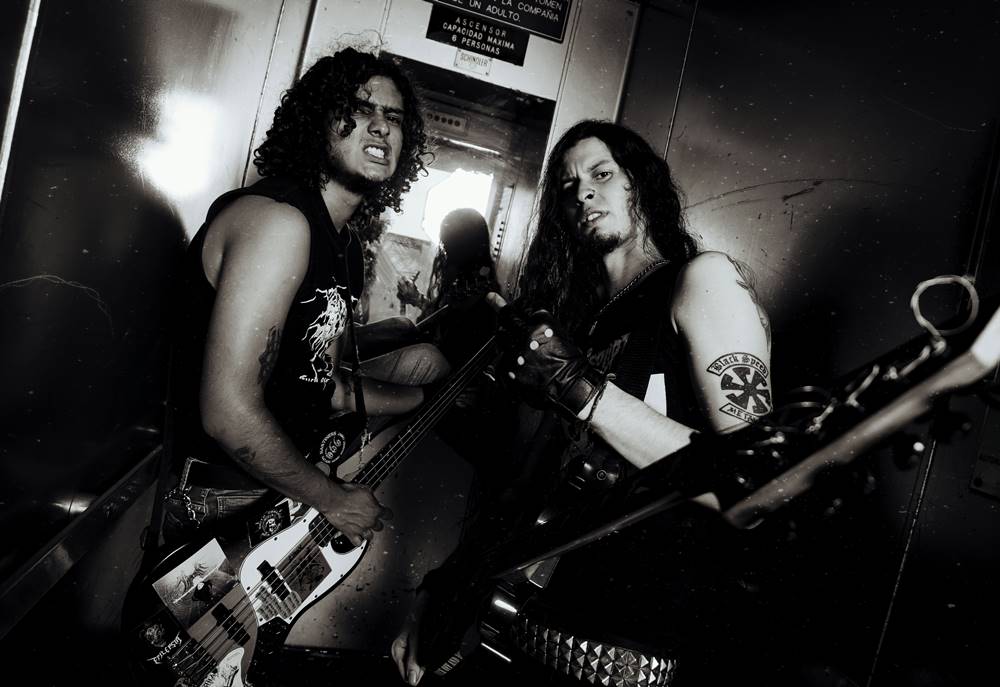 You have recently released your Full Album ''Fast & Loud''. What is the feedback from your audience as well as from the press?
We've had good reviews, especially from those who have bought the album, although there seem to be some 'purist' metalheads who don't get along with punk and misunderstand our rock n 'roll, we just laugh at that hahaha. In general, I am very grateful for the support they have given us for this album, the reviews in other countries are positive, and even here in Colombia (South America) we have seen that people enjoy our dirty speed rock n 'roll, we have even sold several copies of the album in Japan and China.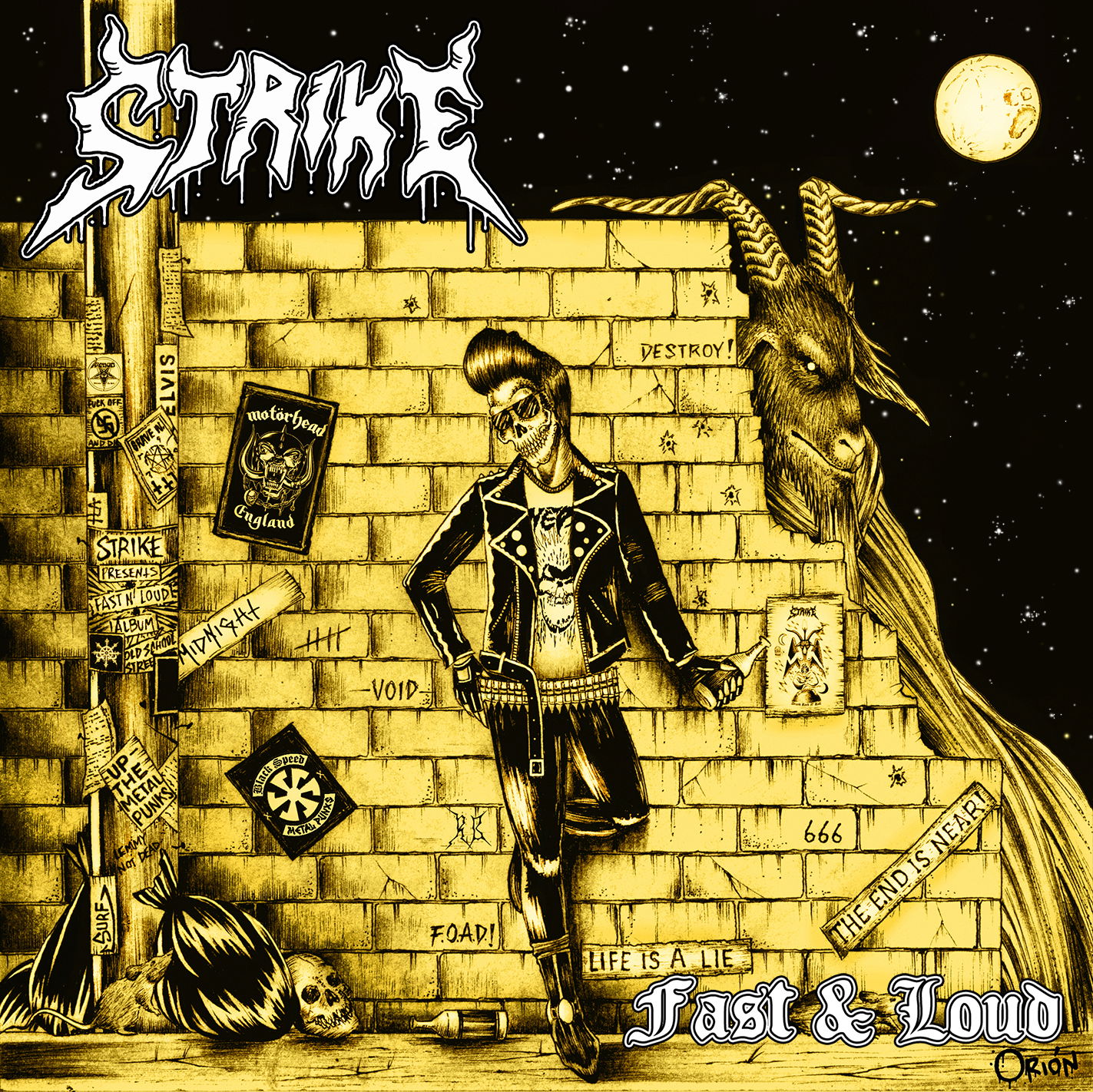 Label or DIY and why?
Both! Although I'm a guy who will always prefer DIY, I'm going to explain the case of Strike: I always do things on my own, without depending on anyone, even musically speaking, but the labels are necessary for our music to be distributed in the underground of other countries, that is positive for us. The issue is to set limits and make things clear, in the case of this Strike album, we did an independent tapes edition when we went on tour to the neighboring country, but later I commissioned the pro CD version from Tanatophobia Prods. (Colombian Label) because I trust them and it's an underground label. There will also be an official edition of Pro tapes from the Warhemic label (New York, USA) and a very limited special edition from the Burning Witch label (China, Pekin) but in neither of these cases have I transferred the rights to the music, it is my property and the role of the seal is simply to materialize and distribute and give us a good part of that. On the other hand, to reinforce our position, we will release a completely independent CD pro edition financed by ourselves. So I think we've always stayed independent, the studio recordings are paid for by us, all the art and design on the album was done by me.
Do you prefer Vinyl, Tape, CD or Digital Format and why is that?
In my particular case, I am a collector of CDs and tapes, especially of underground bands of styles such as metalpunk and black speed metal. I think that in the case of rock n 'roll the analog format will always be the most authentic, heavy metal has some dirt in its sound and the analog formats capture those details perfectly, they make things complement each other. In addition, the CDs, tapes, vinyl and all that have an incredible magic that I adore, that emotion generated by seeing the photos in the inserts of the ambumes and reading the lyrics of the songs, and reading the credits and technical details of the album. It's great, I think the fact that I'm an illustrator makes me appreciate those details more, I love when the bands' records impress me with the design and the printed art, beyond the music, I think the graphic and Aesthetics in a band is very very important, just try to imagine what Judas Priest would be without his leather clothes or his vintage metallic covers, or the black metal without their covers with guys using corpsepain and winter forests, they would definitely not be the same. On the other hand, I also think that the digital format is important nowadays, since it allows underground bands from very distant regions to be listened to and recorded from anywhere in the world. It is just a matter of knowing what is essential, and trying to promote rock n roll with all possible tools. In the case of Strike, my priority with productions is always to materialize the music in analog formats, starting with tapes and CDs.
Your music style is Speed Metal with Punk elements. Which are your main influences (Favourite Artists / Bands etc.)
Sometimes it is difficult for me to have to pigeonhole Strike into a musical genre, rather I think that this band is a tribute to the roots of rock n roll from the 70s to the 90s. Musically speaking, the sound of Strike is based on rock n 'roll and blues from the 70's, heavy speed metal from the 80's, punk from the 70's and 80's, and black metal from the 90's. The threshold of bands that inspire us is not too great, but rather of bands that synthesize many things that we like, such as Darkthrone that being black metal, has heavy metal influences and even crust punk and metalpunk in some of their albums , and Motorhead that synthesizes punk, blues, and heavy / speed metal in a single band. These types of bands that are the product of the roots of rock n roll are the ones that drive and motivate us. More specifically, we have been influenced by bands like Omega (Gre), Celtic Frost, Inepsy, Midnight, Joel Grind's bands (Toxic H, and YG), GBH, Dead Kennedys, Exciter, Tank, Elvis Presley, Chuck Berry, among much others.To sum you up, we feel identified with the title of that Venom song (From The Very Depths album), which is called 'Long haired punks', because that's what we are.Black metal punk, heavy speed metal, and especially black rock n roll (All this accompanied by some street drinks, of course, hahaha).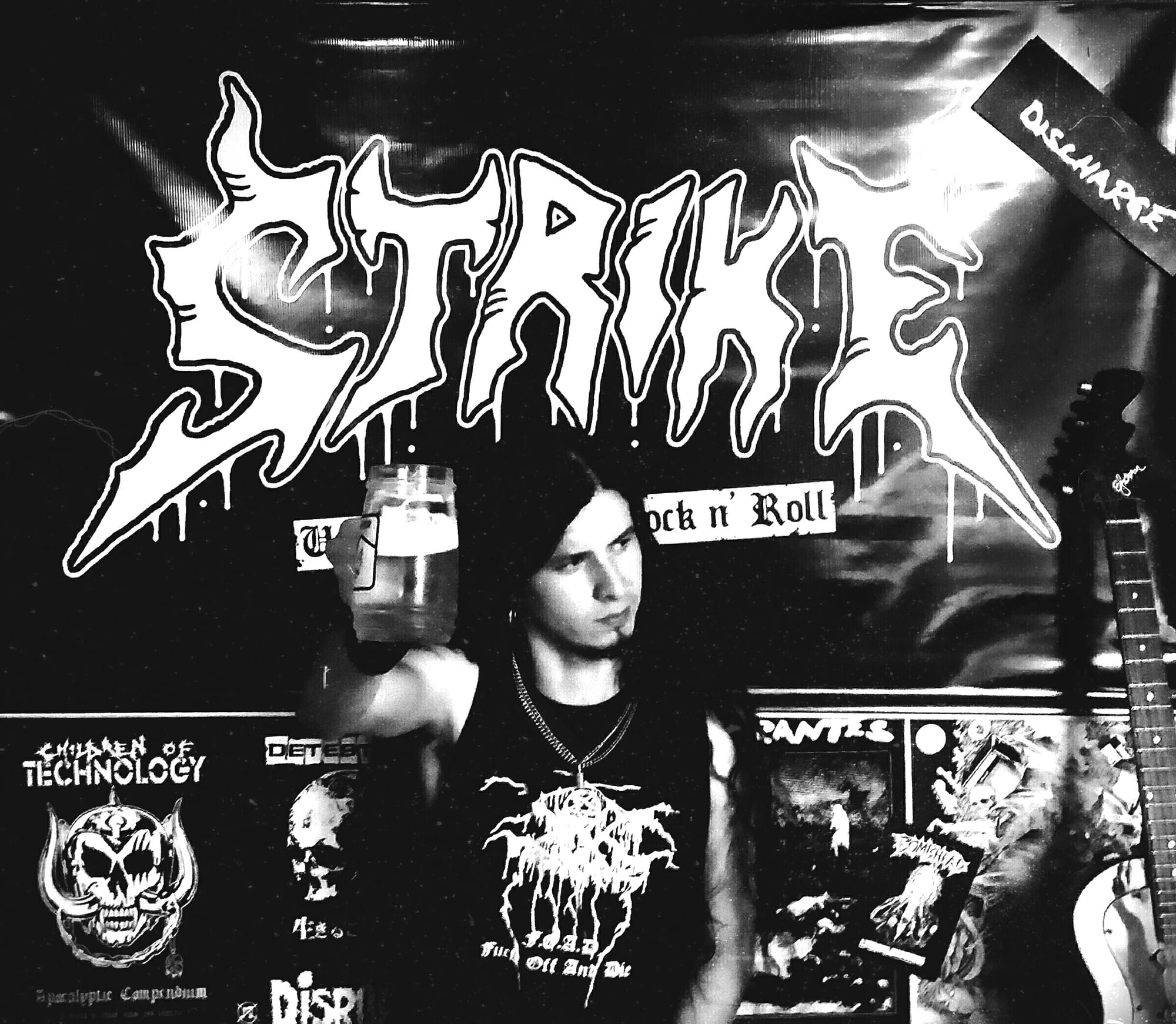 Which things, do you think, a Band should sacrifice in order to succeed? Have you ever sacrificed anything in your life for a better future of your Band?
Well, I don't know if it's always a sacrifice, but the essential thing that you must give for your band to emerge is to dedicate time and a lot of energy, and above all you must feel passion for what you do. you yourself are the sacrifice.Speaking of things that I have had to sacrifice for this cause (street rock n 'roll, our cause) it has been the time with my loved ones, by taking care of the affairs of the bands I am forced on occasions not to share much time with them, even they have reported that to me. Sometimes it's difficult for me to handle everything, you know, especially leading Strike, because I, Santigo (Orión), apart from being the live guitarist and vocalist, I'm also in charge of the drums in the studio, and all the artistic design and aesthetic of the band (cover art, CD design, tapes, merchandise, answering messages, interviews, making contact with labels, etc ...), and as is well known, time is something that never recovers, therefore I try to invest it well, and given the priority I give to music, I have to dedicate a lot of time to it. Another sacrifice is the emotional part, in this underground thing to do things is more difficult, sometimes it is inevitable not to have a bad time, you have to go through several defeats before having any achievement, any triumph, but I think in the end it is worth it, Resisting and being independent is my way. With Strike we have had some victories, so I can't complain. And to finish, it is obviously a disaster economically, doing things well done requires investments, and to get that money I have had to work and do some things that I do not like, it is obvious that we will never be 'rock stars' hahaha. Maybe that's why Lemmy used to say 'born to lose, live to win'.
Describe your ideal live show as a performance Band. Have you already experienced that?
I think I have experienced it on a small scale, but I am a bit ambitious and still hope for more.For me the ideal show is the one where we stand proud of who we are on a stage in front of an audience that is there because they really like this music and they want to have fun too. Obviously it is also necessary to have decent technical equipment to make our instruments sound loud. It would have to be in a big bar, the kind that has a wide and well-equipped platform, with lights and stuff, like old-school shows, in these kinds of places I think people enjoy live shows more and it's more exclusive.The rockers drinking, screaming, singing the songs and jumping all over the place. I love to see how they go crazy and feel the fucking black rock n roll!Some of that I lived in a Strike show in Bogotá (capital city of Colombia) where I saw people really enjoy our rock n roll, many were drunk but sane enough, we played fast and loud, I even remember that people gave us alcohol while we played, spilling liquor on our faces and clothes, at the end of the show we are drunk and victorious.We are not really that demanding, it is enough to connect our instruments well and give our best no matter how many people are in front of us, the idea is also to have fun and be honest while we play.
Do you believe that Bandcamp and other Digital Platforms help the new Speed Metal Bands? Which, do you think, is the ideal way for a Band to promote its work?
Of course, in my case I don't usually use all the tools that Bandcamp offers, but I have witnessed how useful it is for bands, especially underground ones, the great advantage is that they can listen to the band's music in the best quality and see the merchandise available to buy, all in one place.The best way for a band to promote their work ... I'm not really sure, from my experience I think that you have to use all the available tools to show the music, how to materialize the album in various formats, access interviews and reviews in magazines , fan zines and things like that focused on heavy metal, use social networks and digital platforms to promote and show the new production, do a live show to show and tell people that there is something new, maybe ally with a couple of labels in a fair deal, etc ... the grace is to make a total bombardment everywhere, trying to show the album in sites focused on rock n 'roll, it is useless to promote the music in a place where people do not know anything about this issue.
Tell us a few things about the New Underground Metal Scene in Colombia (Bands, Fanzines, Webzines, Metal Clubs etc.)
Oh, there are very good bands, despite the difficulties of living in this country, wonderful bands emerge that are even inspired by this same decadence, I can recommend black / speed / metalpunk bands like Rotten Blasphemy, Bonfire, Alcoholic Force, Fusilator, Hellfire, Adrenaline, Old Skull, among many others, listen to them bro, they are bands from this decade, add Sick Desecration, Nazgul, Bloodlust and Black Vomit 666, they are part of the underground resistance in this country. There are several fanzines, I can recommend BN (Bleading Noise), and Stahl Fanzine, they spread underground metal and stuff, webzine is 'demonizer-the infernal webzine' and there are two others that are being created called RNOE and Midnight Funeral. There is also a virtual communication medium called 'Maldito Metal Colombiano' (Fucking Colombian Metal, translated into English), it is like a station and at the same time they do premieres and other live programs focused on Colombian metal. The flame of the real underground lives in this destroyed country, but don't get me wrong, politics sucks, but natural landscapes are from another world.
Do you know anything about the Hellenic Metal Scene?
I think you mean the bands from Greece right? Sorry for my ignorance, it's the first time I've heard that term, well, we've heard some bands, but the truth is I don't know what the movement is like there or their condition and activity.For example I really like Ravecult and Slaughtered Priest, those damn bands sound really great, and next year maybe we will do a split with Raw Poison. Omega started in Greece, I adore that band, although I don't think they consider it to be of the Hellenic style and Rotting Christ maybe it's a similar case. If I have hit something with this I think I have had a relationship with the bands of that scene as you can see. Now that I think about it, there are several bands over there that I love, a few years ago I often listened to Suicidal Angels and a little Bio-Cancer and Exarsis, bands of the new wave. That country is like another European metal capital. It seems that since the ancient philosophers, the Hellenics teach the world how to do things, I feel respect, one day I have to know that scene in person.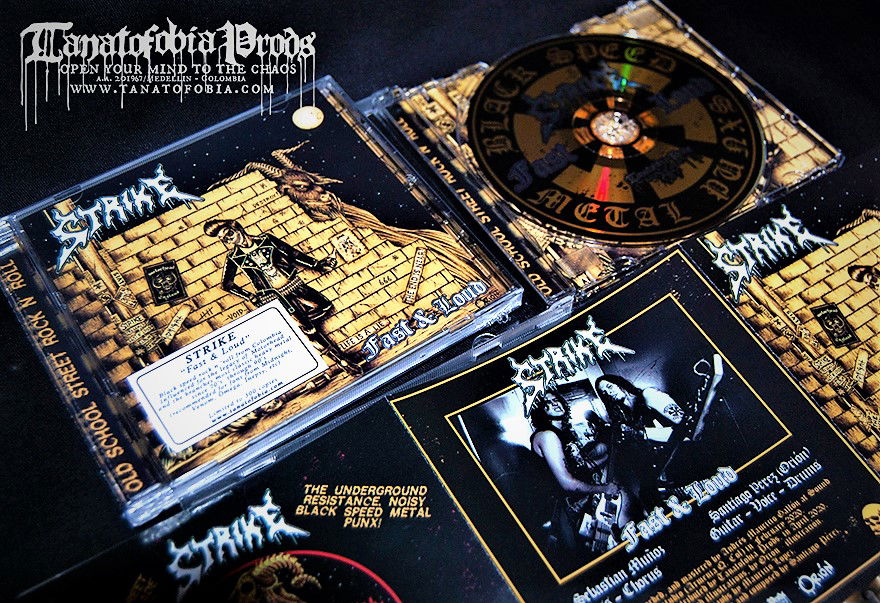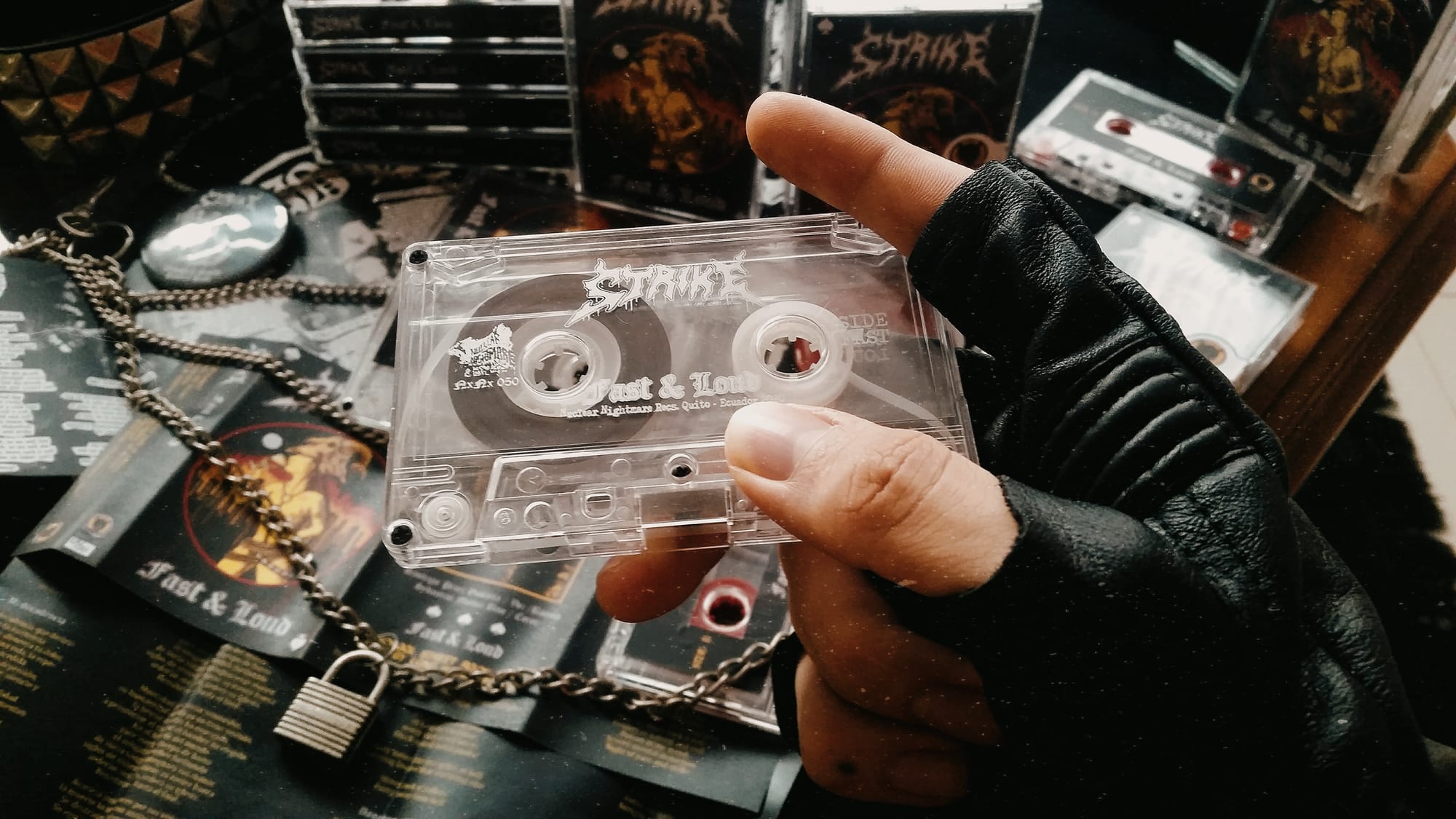 What are your future plans?
We just recorded new songs, so the next thing will be to work on the new productions of the band, for example we have a Split pending with Nightprowler (band from Ecuador) and then another with a band from Greece for 2021, both splits with new songs and a sound different without leaving behind our essence. After that we will continue composing more songs for the next full length. We are also waiting for this damn pandemic crisis to end to schedule another international tour through South America, we already have some proposals. In fact there are still many places here in Colombia in which we want and must play. I will also continue working on reissues with other labels of the productions that we have recorded and those that we will record. And well, that's the plan more or less, maybe more things will happen, life is strange and unpredictable, maybe global extinction will destroy us before all that.
Thank you very much for your time & Keep up the good work! The closure is yours.
Thank you very much, I had fun answering your questions, it was interesting and it's great to see how they support underground bands from all over the world through this medium. I hope one day I can go play in your country with my maniacs.To those who are interested, I invite you to listen to STRIKE, street rock n roll from South America, a little of our music is on YouTube and those things, you can look for us and if you want to buy physical material, just write to us. Remember that when all else fails, rock n roll will always be with us. Cheers!
(excuse my imperfect English, haha).
By Steve the Filthy Dog.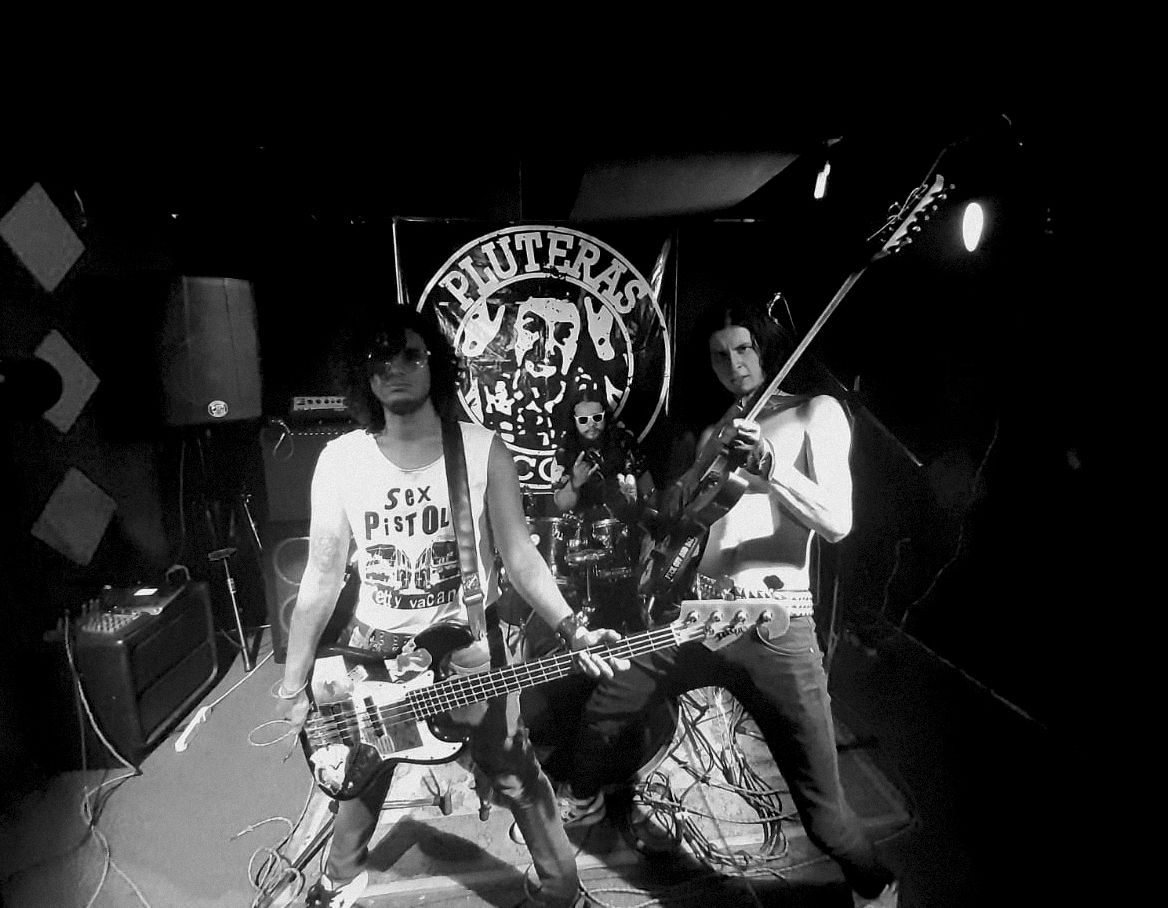 STRIKE CONTACT:
https://www.facebook.com/Strikespeedmetal/
https://strike-speedmetalpunx.bandcamp.com/
https://www.youtube.com/channel/UC550YtY3vPY-6gVRc16AqQQ
Instagram: @strike_blackspeed_punxs