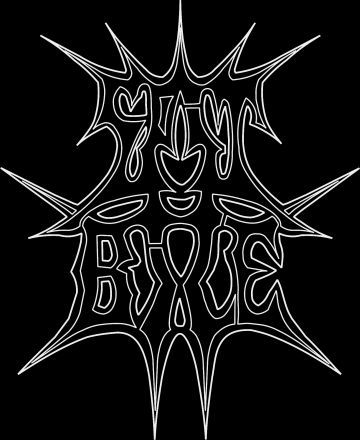 !!!THRASH METAL FROM UKRAINE!!!
Welcome to the FILTHY DOGS OF METAL Webzine.
Tell us a few things about SPIT BILE (Members, Starting Year etc).
Hello! Spit Bile is a thrash metal band from Kyiv , Ukraine, and started in 2011. During this years line-up of the band changed, but the main members were always are Andrii (vox/guitars) and Eugene (bass) , and drummer Illia from 2013. In beginning of 2021 new guitarist Vitaliy added to us and we hope for long work together.
You have recently released your album ''Age of Harsh Realities''. What is the Feedback from your audience as well as from the Press?
The feedback is much more better than we expected! It is more from audience, not from press, but we hope there will be more attention from press too!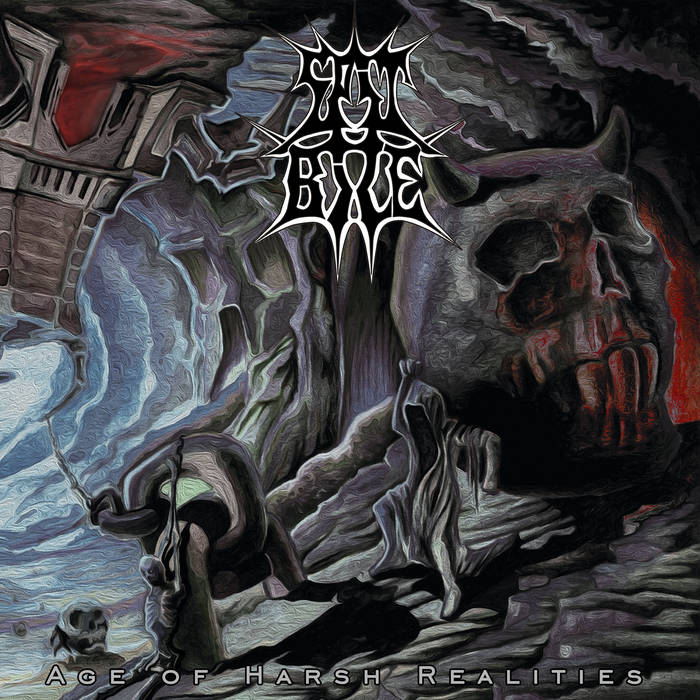 Label or DIY and why?
Illia: We have not received a proposals for release yet,so first press of tapes was DIY
Andrii: Both ways are cool. On the one hand if the band chooses DIY then it keeps the spirit of the underground and something real and sincere. On the other hand, the label is a kind of recognition of your music and the opportunity to reach more people who can hear it, which is also very nice. And it's also more opportunity to release the album on such physical media as CD or vinyl, since it is difficult to do it yourself, especially in the case of vinyl. But in any case, the most important thing for us is music, so that we get pleasure from what we play, and our fans from listening to it.

Do you prefer Vinyl, Tape, CD or Digital Format and why is that?
Illia: We prefer all the formats which help to spread our music. Of course, we are in full support of non-digital formats,but we of course we understand the importance of digital formats, streaming platforms etc. for promotion of music
Andrii: As for me I like to buy all variants of physical media but prefer vinyl. But digital format help to find more interesting music and if I like band or album I will try to support them and buy their stuff.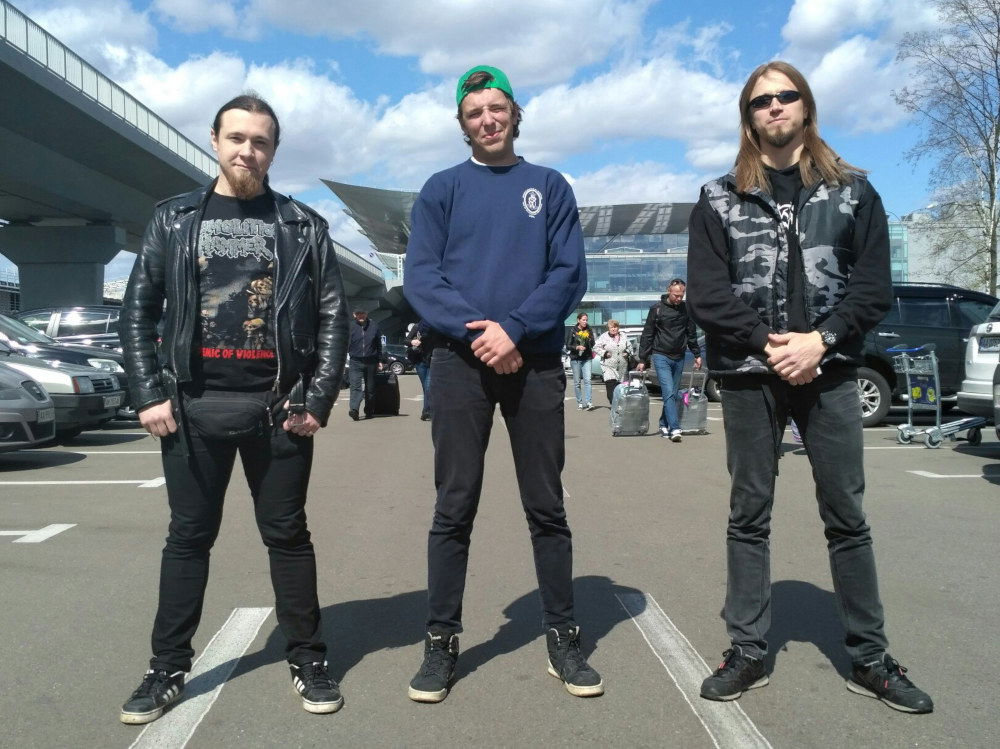 Your music style is Thrash Metal. Which are your main influences (Favourite Artists / Bands etc.)
Andrii: If we say exactly about Thrash metal our inspirations are both very famous Bands like Slayer, Exodus, Razor, Testament, Sodom and less popular like Protector, Demolition hammer, Atrophy. But we living in 21st century when there are many styles and their mixes, so I think that our music has absorbed some elements of Death metal, Black metal, etc.
Eugene: Slayer, Sepultura, Death, Morbid Angel, Demolition hammer, Exodus, Coroner - this is the basis of my "thrash taste"

Which things, do you think, a Band should sacrifice in order to succeed? Have you ever sacrificed anything in your life for a better future of your Band?
Illia: Well, you need a plenty of time to become a successful band, for touring and etc., that means you need at least quit your job! We didn't, so maybe we will not succeed, haha! Of course we try to spend as much free time as we can for a band, but in Ukraine it is very hard to earn money by music (especially with metal music).
Eugene: Time I ρould spend for some additional beers and sleep (haha)

Describe your ideal live show as a performance Band. Have you already experienced that?
Andrii: We performed both in small clubs for 50 -100 people and in large clubs in different towns of Ukraine. Every time the crowd supports you and you enjoy the performance, it can be called ideal
Illia: Nothing could be better than a just good venue with a good sound, crowd headbanging and making circle pits! That's all what we need to name a show 'ideal'!
Eugene: Maybe it's a show on the stadium.. Didn't try yet).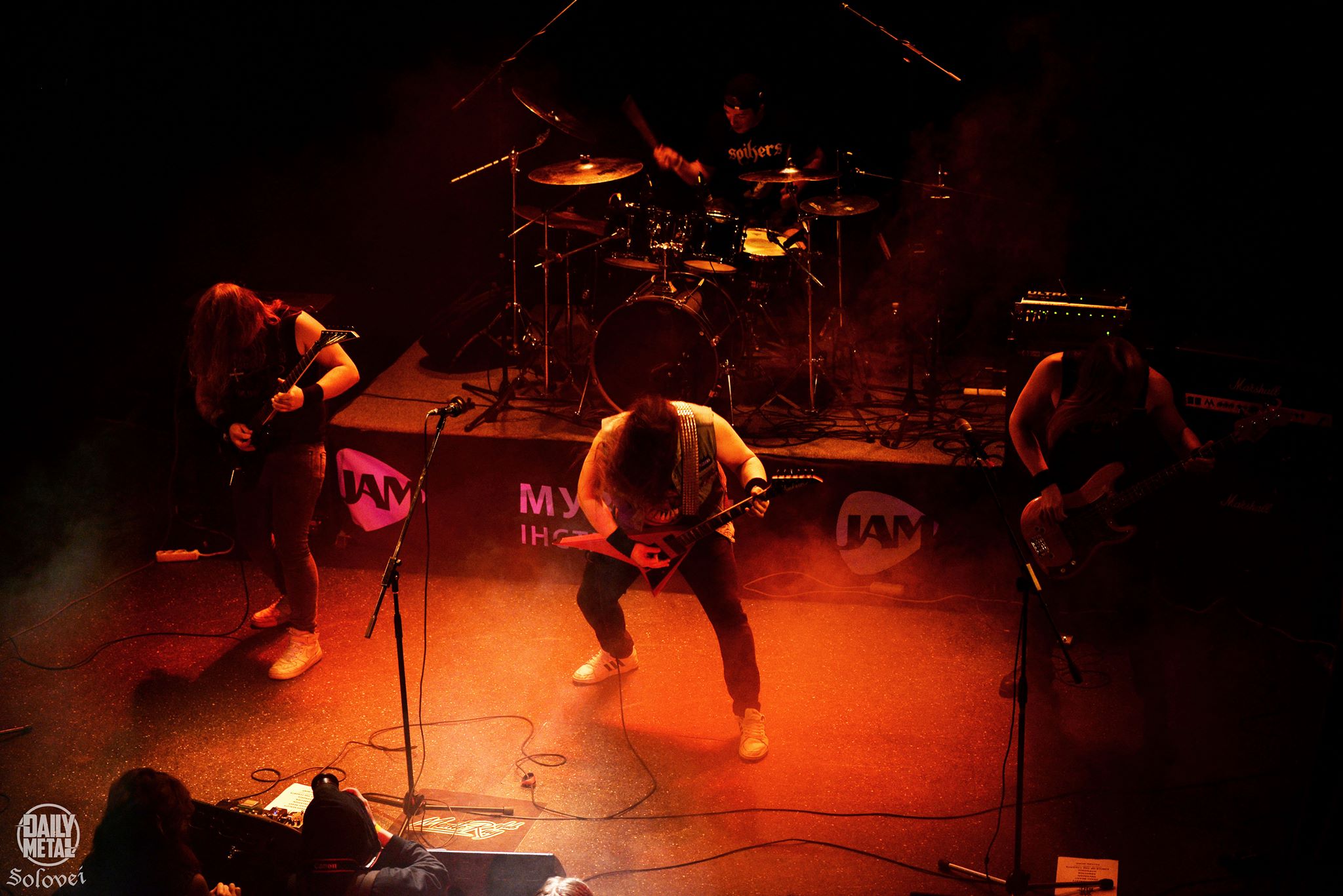 Which attributes, do you think, that a new Thrash Metal Band should have in order to gain identity and be unique?
Illia: In our opinion, in 2021 it is almost impossible to be unic on this stage, but the least we can do - put our soul and great forces in our music and not try to copy anyone.
Andrii: it's hard to say how to be unique in our time, but I can definitely say what not to do). Stop to paint zombies, radiation signs, toxic waste on the covers and use a logo in the Municipal Waste style. Although this does not mean that I do not like Municipal Waste, haha.
Eugene: It's a very hard question. We all trying to find this attributes. It's like a search of the Holy fucking Grail.

Do you believe that Bandcamp and other Digital Platforms help the new Thrash Metal Bands? Which, do you think, is the ideal way for a Band to promote its work?
Andrii: In our time, when all information is available via the Internet Bandcamp and other Digital Platforms it's a part of things that can help you to promote your music. It's an opportunity to advertise yourself. The ideal way is to combine the promotion of your group through social networks, digital platforms, playing concerts and, of course, recording interesting material.
Illia: Big amount of live performances is the ideal way. Digital platforms are not the way to big success, I think, but it helps to start and then live work should develop this start. Hopefully, all this Corona-crap will be over soon and there will be more and more shows.
Eugene: Nowadays, digital platforms are the main way to promote your music. But a physical stuff, such as discs, vinyl, cassettes are also important. It's like a souvenirs, symbols of support for fans. It is always nice, when people interested for it.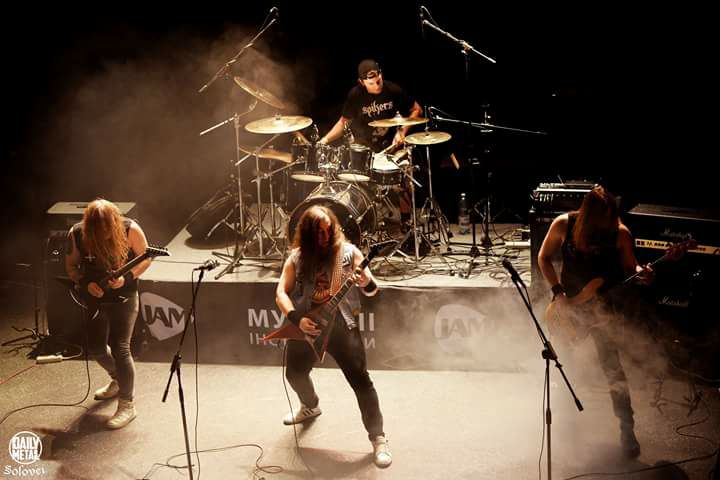 Tell us a few things about the New Underground Metal Scene in Ukraine (Bands, Fanzines, Webzines, Metal Clubs etc.)
Eugene: Unfortunately, now the underground life of Ukraine is not burning, but smoldering... Thrash bands you can see only at a hardcore-punk (in better case) or at a mixed gigs, with different styles of metal. Death and black metal scenes have a little bit better condition.
Illia: Well,in Ukraine now it is too complicated. Almost no new metal bands created by adolescents, something new usually created by those who are long time into this. How can you create a band being a young man, if you making some bullshit videos to TikTok or watching some shit on the internet instead of taking guitar and practicing? But of course we have good underground metal bands here in all metal styles.
Do you know anything about the Hellenic Metal Scene?
Illia: I am a big admirer of some Hellenic bands, can't say that I know too many of them, but there are some names which I like very much: Rotting Christ, of course. Great and eternal act. Also, such good old bands like Necromantia and Thou Art Lord, some side projects like Raism / Diabolos Rising . Also Acherontas, and very underrated gothic metal band, On Thorns I Lay. If we speak of thrash metal - Suicidal Angels of course. We opened their show in Kyiv, and these guys are incredible. And, if we speak not only about metal, Hellenic land breeded also many great acts, such as Aphrodite's Child (as well as other Vangelis music) and Lamentation (dungeon synth).
Eugene: Of course all of us know a famous Greek band Rotting Christ. It's a Cult! As well as Septicflesh! With the Greek thrashers Suicidal Angels we played in Kyiv in 2010 us a support. It was a honor for us be a part of that great show. Also, sometimes I listen some black metal music, such as Acherontas, Nocternity, Shibalba.
Andrii: If we talking about Thrash Metal bands it's Flames, Suicidal Angels, Mentally Defiled, Bio-Cancer, The Crucifier.
What are your future plans?
Andrii: More new songs, more live shows, more metal! Hope that we finally will play somewhere outside of Ukraine.
Eugene: To begin with, present our album in Kyiv) Well, then we would like to make a tour of Ukraine, at least. Our global target is a participation at some of the European metal festivals.
Illia: Future plans - working on a new record and playing live shows. Maybe you even invite us to Greece, haha!
Thank you very much for your time & Keep up the good work! The closure is yours.
Thanks for your interest in our band! Hope we will talk again when our new record will out :) Stay metal!
By Steve the Filthy Dog.
SPIT BILE CONTACT:
https://spitbile.bandcamp.com/
https://www.facebook.com/spitbilethrashua
https://www.instagram.com/spitbilethrashua/
https://www.reverbnation.com/spitbile