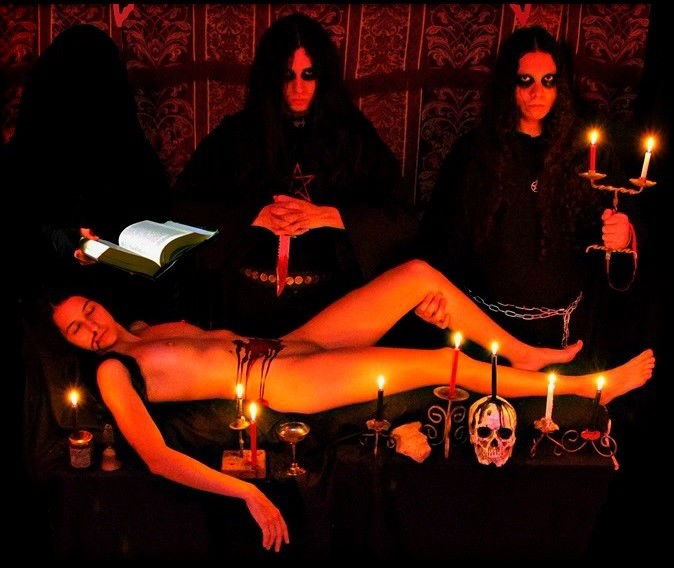 !!!BLACK/THRASH METAL FROM HONDURAS!!!
Welcome to the FILTHY DOGS OF METAL Webzine.
Tell us a few things about SOULS PERVERSOR (Members, Starting Year etc).
Souls Perversor is a Black/Thrash Metal band born in Tegucigalpa Honduras, and takes as philosophical reference certain knowledge, practices and hidden gnostic teachings in relation to the nature of the soul, since the founder of the band Mario Canales (Darko Perversor) It comes from a family dedicated to various hermetic currents… The band also includes lyricic tendencies in relation to classical literature and philosophical currents.In December 2017, Darko forged an alliance with Alejandro Martinez (Ulthar) on drums, fervent believer in superiority of soul and being and also member of the Heavy Metal Cantaxia band, Together they give form to Souls Perversor / name given to the band in the form of provocation and at the same time metaphorical to what the Catholic Church calls a perversion of the purity of the human spirit, not to call it ignorance. Thus recording its first demo in cassette format that carries by name "Cosmologia Oculta"Souls Perversor is a pioneering band in Honduras regarding the sound of the Black / Thrash Metal and that in addition to carrying out certain secret practices on the stage also carries them out in the everyday life.
You have recently released your album ''Gloria al ocultismo''. What is the feedback from your audience as well as from the press?
It has been widely accepted and of significant international scope within the Underground community, even more than we expected.Every time metalheads from different countries of the world in both North America, South America and Europe express their interest and support through positive comments towards singles, text messages to the official website, purchase of merchandise, views, youtube shared, etc. Within the National framework has been gradual, many people are digesting our sound, since although it may seem strange for international scenes: in Honduras there is no other band of our style in sound, visual, thematic and artistic definition. Despite everything we can say that our album has had a great acceptance and positive reviews in Honduras and most importantly we are very satisfied with the work that has been reflected on the album.Several Hondurans at first impression think that we are a European band, they are the ones who are interested in our music and merchandise, young and old, they our true fans, who do not let die the primordial ancient sound of Metal.Divided opinions exist but we are pleased to know because it shows that we are doing things very well in relation to impact and scope... we're actually pretty proud of even that.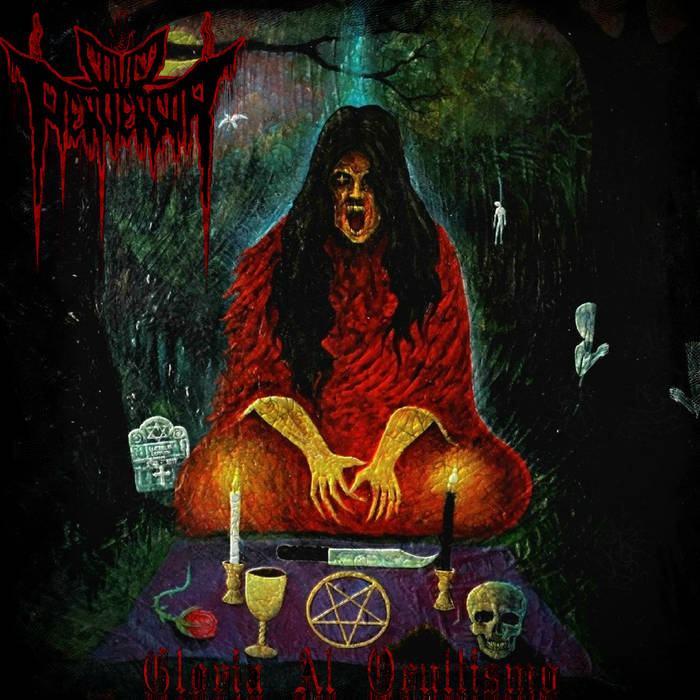 Label or DIY and why?
We are a nascent band, in a country where it is difficult to find the industrial manufacture of physical musical formats, to date our releases of record material and tapes have been made by ourselves because we do not have for now any stamps, previously they have offered us attempts to manufacture industrial and distribution our album Gloria Al Ocultismo in Countries of South America but due to the global situation in 2020 the plans have been on hold, in the meantime we can offer our music independently to Honduran metalheads and even have pending shipments abroad. As we said earlier we have received a lot of support from fans from different parts of the world thanks to the promotion that has been made to the band. Artists must do everything on our own if we want to get ahead and make ourselves known, in some cases even the representation of our own.
Do you prefer Vinyl, Tape, CD or Digital Format and why is that?
We really prefer the physical method since this system; be vinyl, cassette or cd is an appliance of collection which in the course of time goes so far as to have a price invaluable. Since well it is known we the metaleros we still preserve the tradition of having our favorite music of a tangible way, but due to the times through that we are living where the technology facilitates to us to come to any corner of the world we have chosen in throwing it in a digital way this way to be able to have a global scope.The physical formats LP, CD and Cassette in addition to being a great support to the bands are the human factor that could not be missing in metal and even in some practices..., the feeling, intention and roots of this musical revolution for us must be in force, not to mention the artistic depth that the physical formats entail within the collecting No one buys a painting from Monet to have it photographed in a folder on the computer... but it is a work of art that must be appreciated as such.The advent of the internet is not a negative thing but is a valuable weapon for the promotion of the music and merchandise of new bands, much more so in countries where the media does not take art into account, as in Honduras. But it's okay! Metal has never needed any tariffs to exist. For now we have available with Cds, Cassettes under our own label and also digital platforms of our album GLORIA AL OCULTISMO, our intention is intended over time to offer custom LPs with the means to carry out such a project.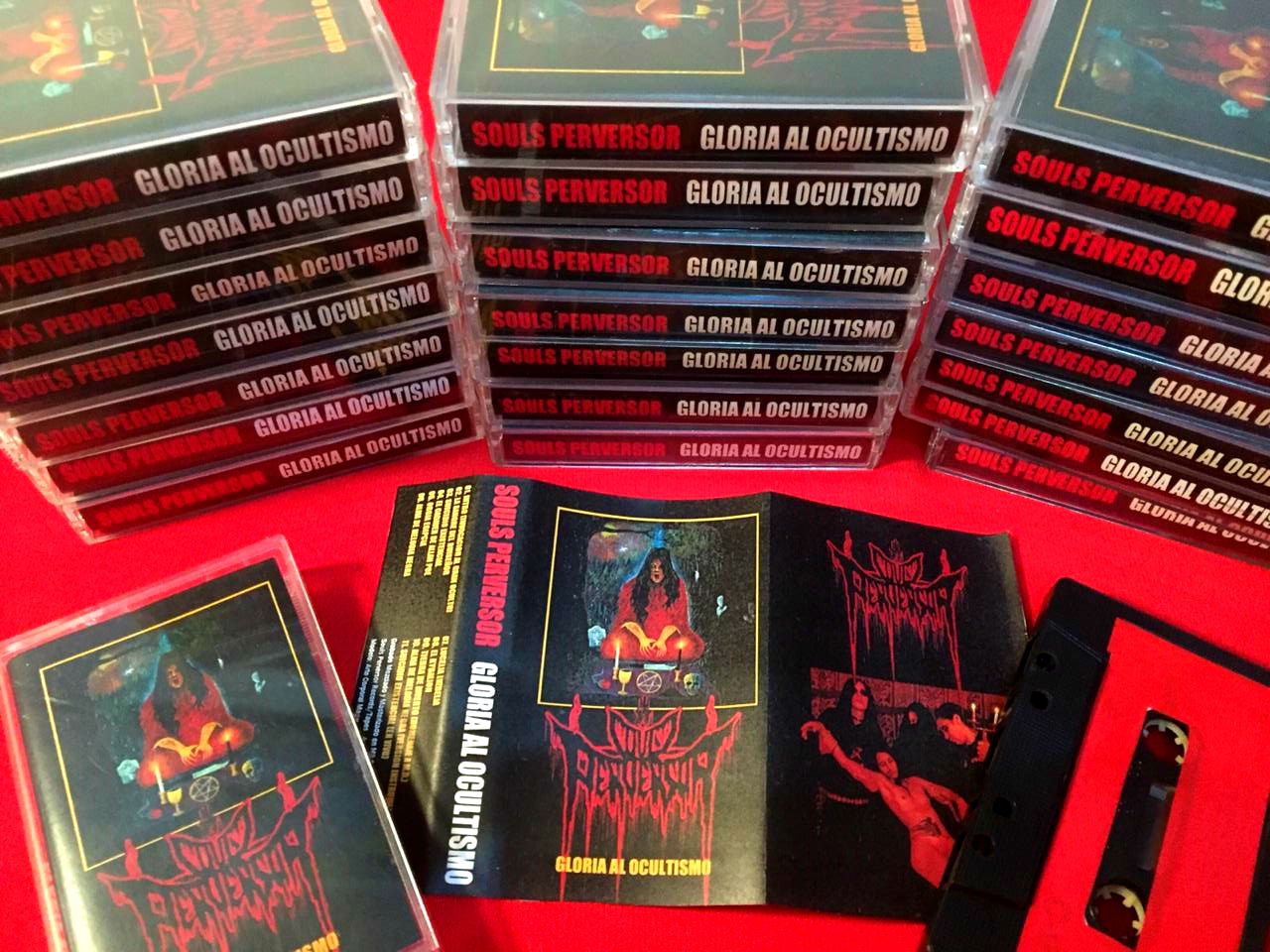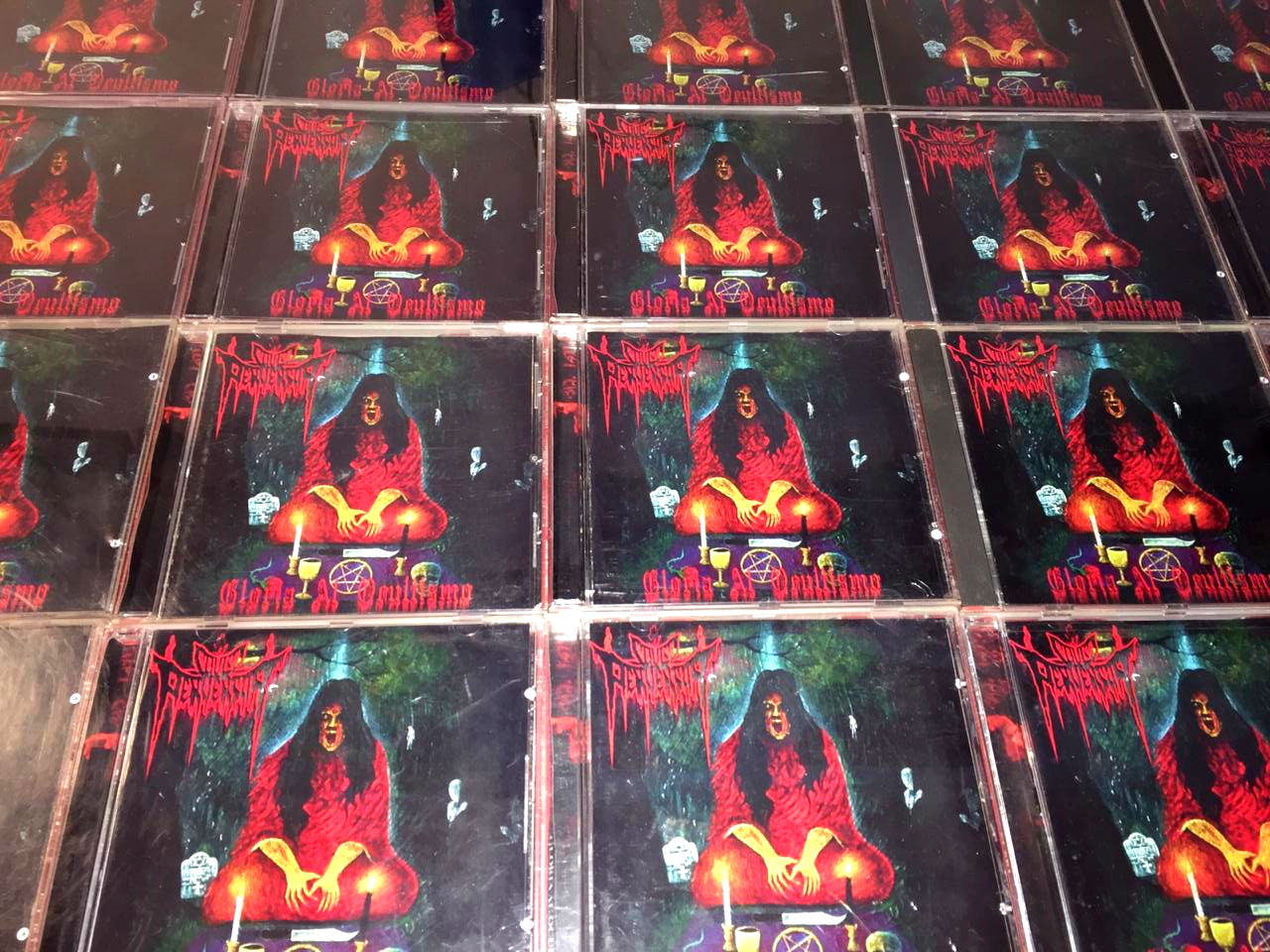 Your music style is Black/Thrash Metal. Which are your main influences (Favourite Artists / Bands etc.)
While it is true that our music is a direct black/thrash and uncensored, the influences of each of us is not limited only to this style since the tastes of each member are very varied; but we agree that the whole wave of the NWOBHM as well as the heavy and speed metal bands from the 1980s we have been marked and it is in these that lies the true essence of heavy metal using this term to refer to metal as a whole with each of its branches. Each song on the album varies in various influences, ranging from the dirty thrash of the early albums of Slayer, Kreator, Sepultura, Sabbat to contemporary black/thrash bands such as Nocturnal (Germany) Slaughtered Priest (Greece) in turn bands such as Acutor and Revenge (both Colombian) and a few bands from the first Black Metal scene of the 1990s. On the one hand we have the dark and aggressive influence of the aforementioned bands but we also credit the melodic influence of some NWOBHM bands since some of them are influenced by pieces of the band such as El Kybalion.
Which things, do you think, a Band should sacrifice in order to succeed?
First we would have to clarify two things, the first thing is that Metal is an marginalized music made for the marginalized, our intention is not to appear on the lists of conventional music media for people hungry for trends, maybe they reach some people like this but they never usually prevail over time... Our goal is to reach as many outcasts as possible around the world, and that in addition to that you make your fans feel like part of the band, that is true success, as people, as artists, and as walkers of the path of occultism. Our art is not for anyone, just like magic. Many bands have achieved success and abundance based on that and without the help of the media.Secondly, we are all creators of our reality and our success through the mind, if an idea is embodied in the mind you must think twice, once in your mind and once in the physical universe through actions that are relentless before everything that prevents you from achieving it, call it family, time spent, money, study, vacation etc.In the end you're always reciprocated. Sacrifices as a band and intelligent moves are part of the trail, but satisfaction is always greater, success is mental so you must enter the inconscious collective of the Metalheads for greater reach....For a band to succeed we consider that the most important and main thing is to believe in oneself and have the confidence and courage necessary, since metal is what we like and are passionate about and independently.... because in the middle we live in it's not that we're going to live off this but we do it with the heart that's the most important thing and we see this as the fundamental element of success. It also sacrifices many things one to bring this dream to reality since it takes effort, time, money... because it is one who invests in his instruments, recordings, concerts and merchandise.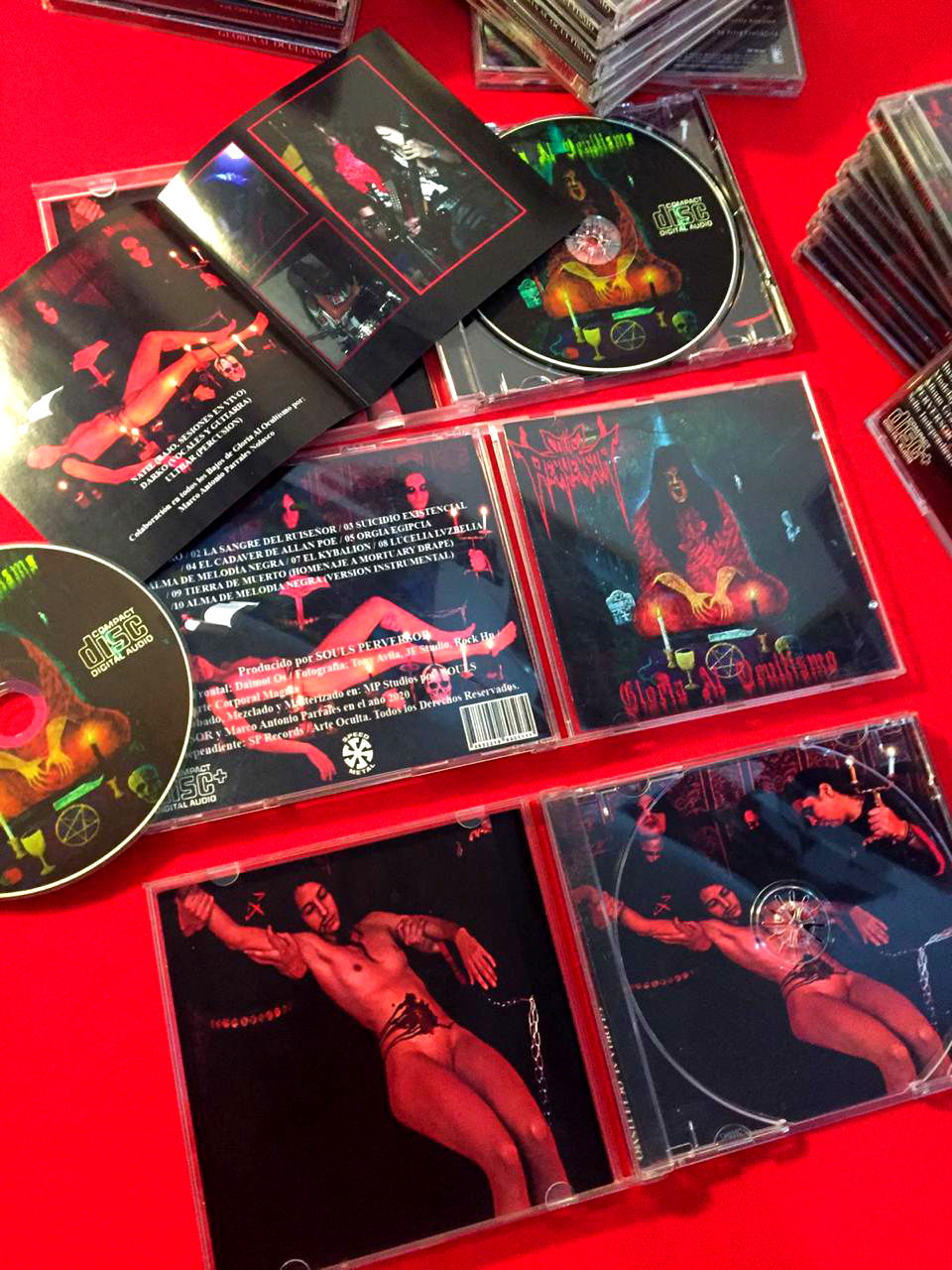 Have you ever sacrificed anything in your life for a better future of your Band?
Of course, our country has a high unemployment rate, which means that alternative means are made to generate income, many of them have gone directly to the band, leaving aside some personal scattering needs and sometimes basic needs. For some time it is so while investing in the goods, this usually happens at the beginning of all bands, over time there is always recovery. Another kind of sacrifice has been time and family. But as we said before, we don't care.
Describe your ideal live show as a performance Band. Have you already experienced that?
In 2018, 2019 and part of the 2020 Souls Perversor is dedicated exclusively to giving concerts in different localities and regions, every presentation was and has been a new learning at the technical level, during our first concerts we imagined that there would be a great mosh in front of us but it was not so because as we mentioned before our style is something never seen before in the country , in addition to a certain ritualistic altar that we place in the middle of the stage provoked the attention of the metalheads attended at the events who show an attitude of extreme surprise rather than euphoria.There is a lot of legend in honduras in relation to witchcraft and some when they notice the theatrical influence they are curious in front of the ritual altar... it was until some part of 2019 that we started to notice the cursed dance in front of us with quite a few choruses and ovations from the expectant metalheads who had already digested our proposal, for us the ideal show is the one in which the public with his euphoria is the one who gives life to the night and not the band as such. A band besides being good must be experimental closeness with their fans under the stage, despite being quite reserved people in everyday life during the concerts we live with the boys, that is the real underground attitude and that also guarantees you a great show and recognition.In addition to that we can say that an ideal concert would be that outside our borders and not only outside our country, it would be that outside our continent, a concert at a festival with great bands that have been a source of inspiration and motivation.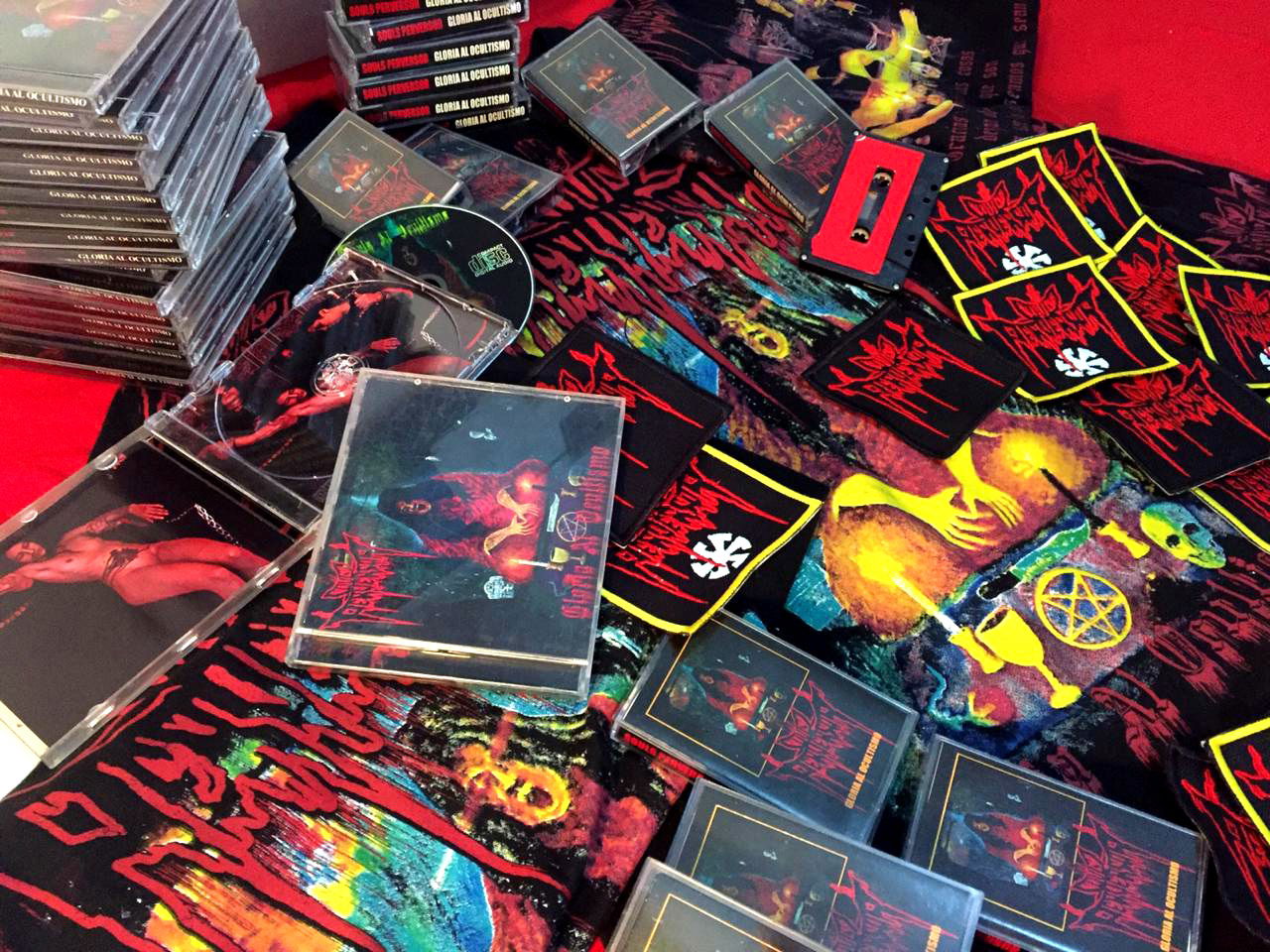 Which attributes, do you think, that a new Black/Thrash Metal Band should have in order to gain identity and be unique?
First of all for that you must forge a unique and identifiable sound, the influences play an important role but it must not be the fundamentals nor should it be an exact replica of the other bands because other bands would already become a trend... you should add 80% artistic creation and 20% technical influence... Having that starting point the road is clear so that every time a new work is recorded it surpasses the previous one in various primitive aspects.
Do you believe that Bandcamp and other Digital Platforms help the new Black/Thrash Metal Bands? Which, do you think, is the ideal way for a Band to promote its work?
Of course they help, the important thing is to reach a certain specific audience around the world, and the internet is just a new metal weapon and bands to promote their existence... there will be fake metalheads behind the computer but they themselves with the passing of the seconds are disappearing from the world scene for x and reason, the false never prevails.And regarding the ideal way of bands to promote their work is: having varied material both visual and auditory, official videos, singles, striking photographs, striking illustrations made by hand by professionals of plastic art (which serves a lot to then adapt it to the merchandise) slogans, interviews both written and video, recordings of concerts, backstage etc.In short, the more varied content there is of a band, the more promotion and metal is offered to the real metalheads. In addition to that, creating alliances with international followers through mentions and thanks and collaborations with international bands, close contact with the public is also a great form of promotion.Creating rumors and intentionally provoking media and "the law" attention through acts that are not well seen by society or that are shocking to the younger public is entirely optional and a valid form of promotion as long as there is a strong ideology of background.It should not be co-referred to in the face of negative criticisms because that is the best sign of good promotion.
Tell us a few things about the New Underground Metal Scene in Honduras (Bands, Fanzines, Webzines, Metal Clubs etc.)
As far as our music scene is concerned, we can say that it is reduced compared to that of other countries in our region and the world, which is somehow good. Currently there are many bands throughout the country with different proposals, each in their style, doing their thing.What is scarce is the support of the artist by establishments but everyone seeks their way to get ahead because one way or another we support each other to put together concerts and publicize the music. Rehearsal venues and concert venues are scarce even though there are still concert venues, but whatever the scene is, it has always come forward and doesn't die.In relation to the change of generation by the fans we can see that the transition has been difficult but in every global scene the same thing usually happens, it is a total regeneration of old structures that are re-formed almost from scratch and progressively, call it bands, fans, clubs, alternative media etc. All in force to date.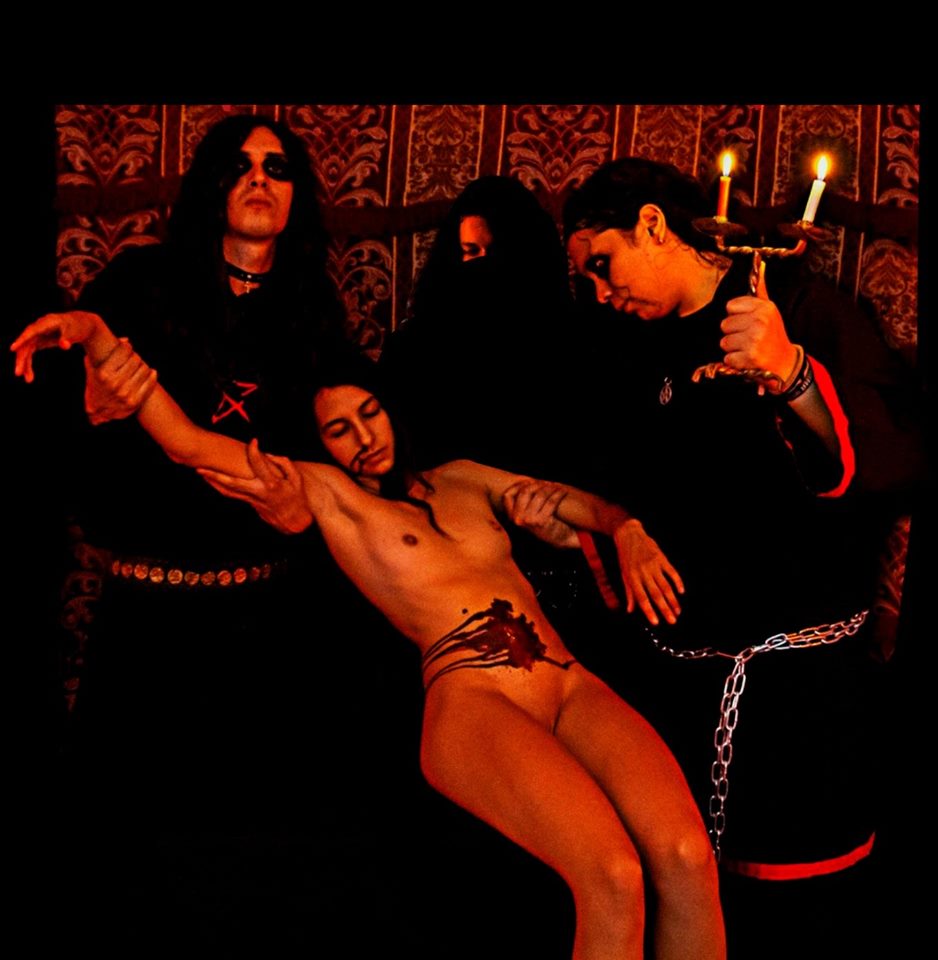 Do you know anything about the Hellenic Metal Scene?
We are a band open to different underground genres and the metal of Greece is no exception, as we said above one of our main musical influences has been the band Slaughtered Priest with whom we had the honor of participating in a black thrash band video show festival called UNHOLY DARK AND TRUE METAL available on youtube.We can add that there is no essay of Souls Perversor at the home of our drummer Alejandro Martinez that does not end with good beers listening to the compilation of Greek bands called "Attack Greece Vol 1 and 2" where you can find cult heavy metal bands such as Angel Heart, Crush and Gladiators.For a long time we said a phrase in our early essays and it was this "There can be no real heavy metal without a touch of melancholy and feeling" referring to the bands included in that Hellenic compilation.
What are your future plans?
We are right in the middle of promoting our album Gloria Al Occultism, as we do not have a promoter of the band we have to do all the promotional work ourselves, once the first era of the band is finished we will be able to enter the studio again to offer the metalheads of the world more quality material from Souls Perversor, quarantine and the world situation will be no excuse to stop under any circumstances and the truth fills us with pride to have launched our material in this year so meaningful to all.Honestly for us the most important thing is to record and it will always be the most important thing, if the world situation improves well at good time! There will be Souls Perversor for the stage and go out of the country with our music. In the meantime we only have to produce more and more material.
Thank you very much for your time & Keep up the good work! The closure is yours.
Long life to Souls Perversor and long life to the dark metal! Our Intention is to forge souls and strong minds in warriors who fight to forge their own way. ALWAYS REMEMBER: WE ARE SOULS PERVERSOR, IT IS NOT IMPORTANT FOR US TO DESTROY WEAK MINDS AND TO STEAL STRONG SOULS.
By Steve the Filthy Dog.
SOULS PERVERSOR CONTACT:
https://soulsperversor.bandcamp.com/releases
https://www.facebook.com/soulsperversor/