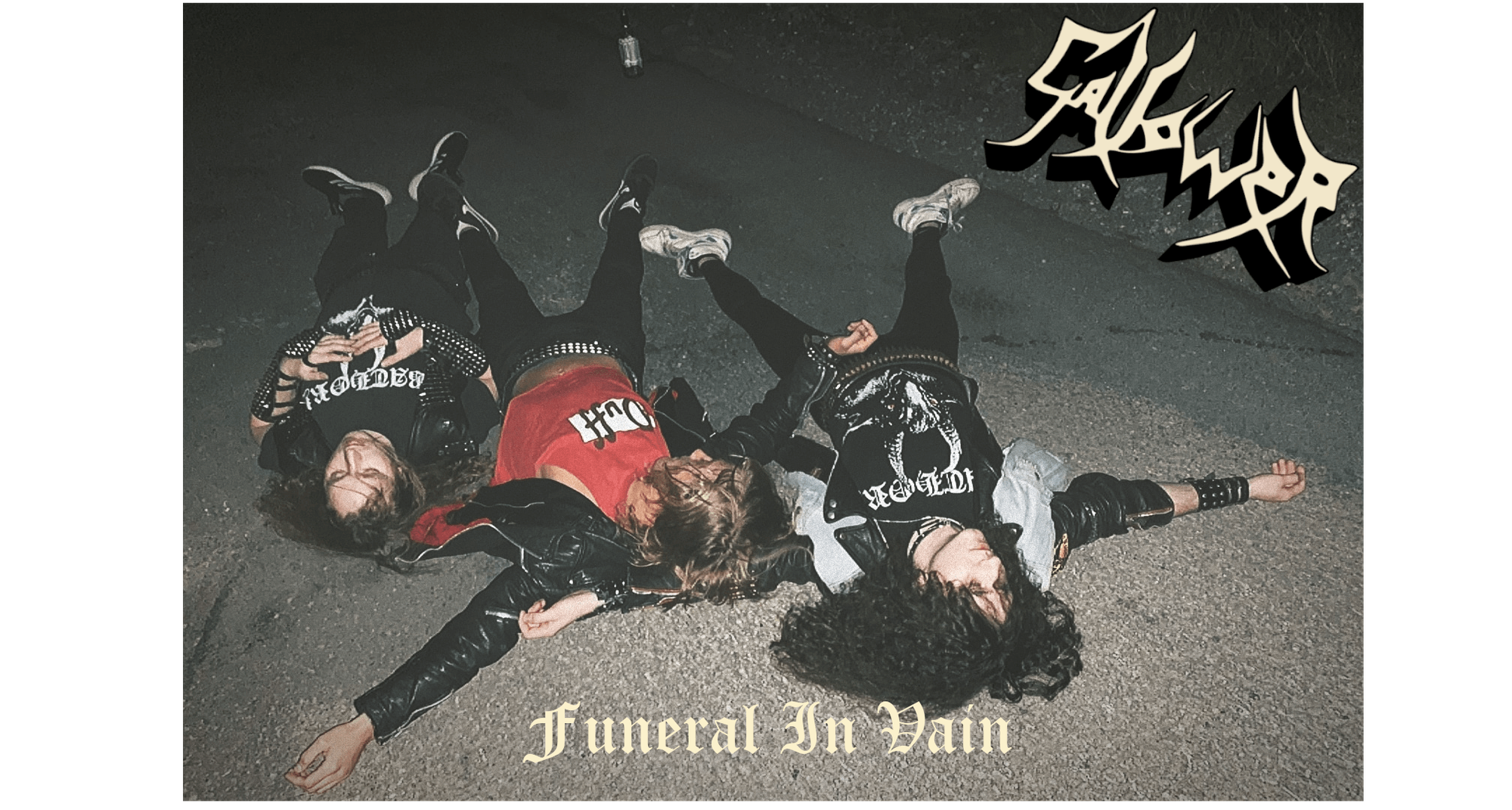 !!!HELLISH BLACK THRASH METAL FROM POLAND!!!
We had a conversation with Nocturnitier. Enjoy!
Welcome to the FILTHY DOGS OF METAL Webzine.
1. Tell us a few things about GALLOWER (Members, Starting Year etc).
Hi, guitarist Nocturnitier here speaking. So Gallower started as a classical European power-trio band with singing
bassist, guitarist and a drummer. Me and Speedfire (drummer) were playing in a thrash band called Snake's Head
and once when we went on Alcoholica's gig in our hometown Tychy we met there Tzar (vocalist/bassist) who was also playing
in a thrash band Insomnia. Together we decided to create a band which still will be thrashy but in a old school teutonic
way (like Sodom, Destruction, Kreator) and also we wanted to incorporate more evil, blackened sound of bands like Venom,
Sabbat (JPN), Bathory, Hellhammer. First rehearsal took place in 2014 in Speedfire's garage in Tychy (which still is our rehearsal place, and we recorded 2 demos there), but formally band exists since we created it's name - Gallower and started
rehearsing regularly in the beginning of the year 2015.
2. You are going to release your new single ''Funeral In Vain''. Tell us a few things about this work.
Yeah, actually it was officially released on MC by Destruktion Records on 29th of March 2020 and digitally few days
earlier. This is song taken from the same recording session as for debut album, since we can't tell when debut album
will be released, we decided to give some foretaste for our listeners. Everything was recorded by the end of September
of 2019, then it took quite much time to finally mix and master everything (by the end of February of 2020 everything was
finally done).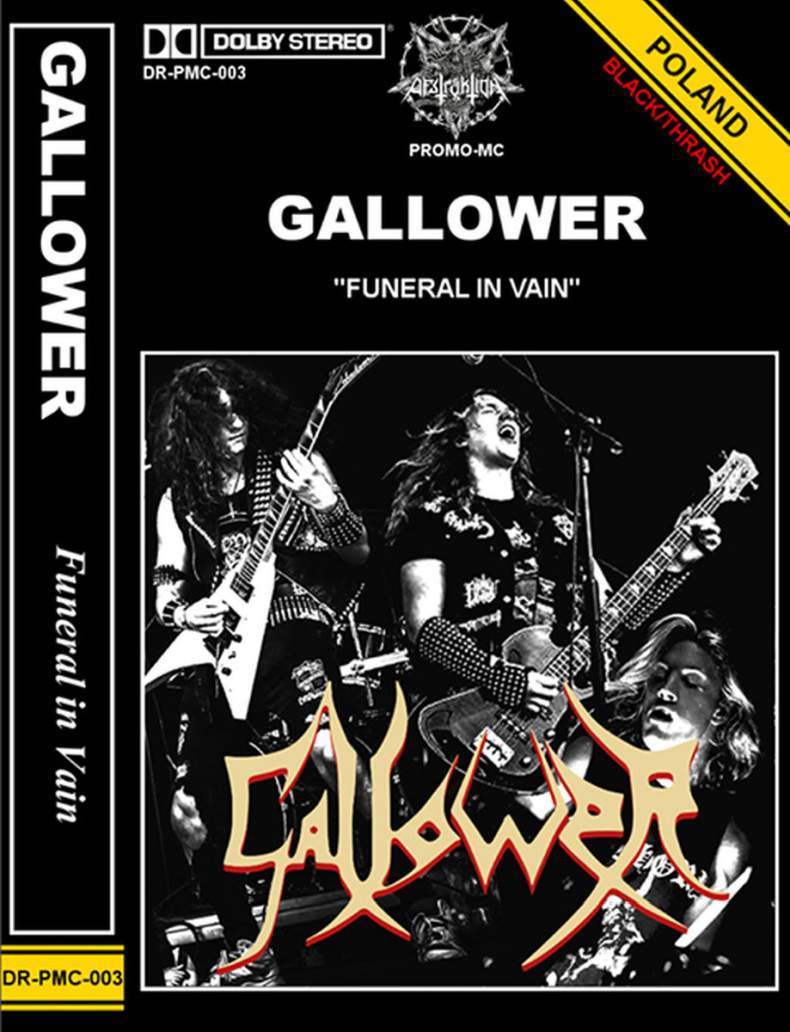 3. Label or DIY and why?
It depends, when band doesn't have cash to release their material in large quantity then label can do it (profits for the
band aren't the same, because selling all the material released by yourself gives you much more income) and also label
can promote your band all over the world, personally I don't care about profit or money so I would go for a label.
4. Do you prefer Vinyl, Tape, CD or Digital Format and why is that?
For me vinyls and tapes are the best, firstly because of all that old school feeling and attachment to the band that you are listening to, secondly I really prefer raw sound of my used cassettes than polished neo-metal digital sound and lastly I like to collect music on physical format, read booklets inside of it, all of this gets me closer to the
music of a band.
5. Your music style is Black Thrash Metal. Which are your main influences (Favourite Artists / Bands etc.)
Oh, I have actually mentioned them in first question, but to clarify it is mostly old teutonic thrash metal and first
wave of black metal, but actually all of us have our own favourite bands and genres/subgenres. For example me and Speedfire often incorporate to the Gallower's music some punk vibe and riffs based on this, while Tzar is more into black/thrash and black metal. Besides some punk bands my favourite type of metal is classical thrash/heavy/speed metal/early black - one of my favourites are bands like Violent Force, Tank, Exciter, Darkness, Living Death, Running Wild, Rigor Mortis, WarFare,Deathrow, Manilla Road, Destruction, Mercyful Fate, Heavy Load, Raven, Voivod, Celtic Frost, Mortal Sin, Virtue, Bathory, Razor, Tankard, Wehrmacht, Sodom, Agent Steel, Vio-Lence, Venom or Iron Angel. So everyone has his own taste but overall bands like Bathory, Destruction, Sodom, Sabbat, Slayer, Venom are uniting us in our vision of
music we create.
6. Which things, do you think, a Band should sacrifice in order to succeed? Have you ever sacrificed anything in your life for a better future of your Band?
I think we are not a band on this point of fame or interest than we need to sacrifice anything. The only thing that every
band members has to sacrifice is some of his free time. You have to spent your time on practicing your instrument, doing
rehearsals, playing gigs, writing music and lyrics, money and stuff like that. So we can say that I have sacrificed some of those things, but I prefer to not name it as a sacrifice, more like living my life as I want to. But your time, as a member is most important for prosperity of the band.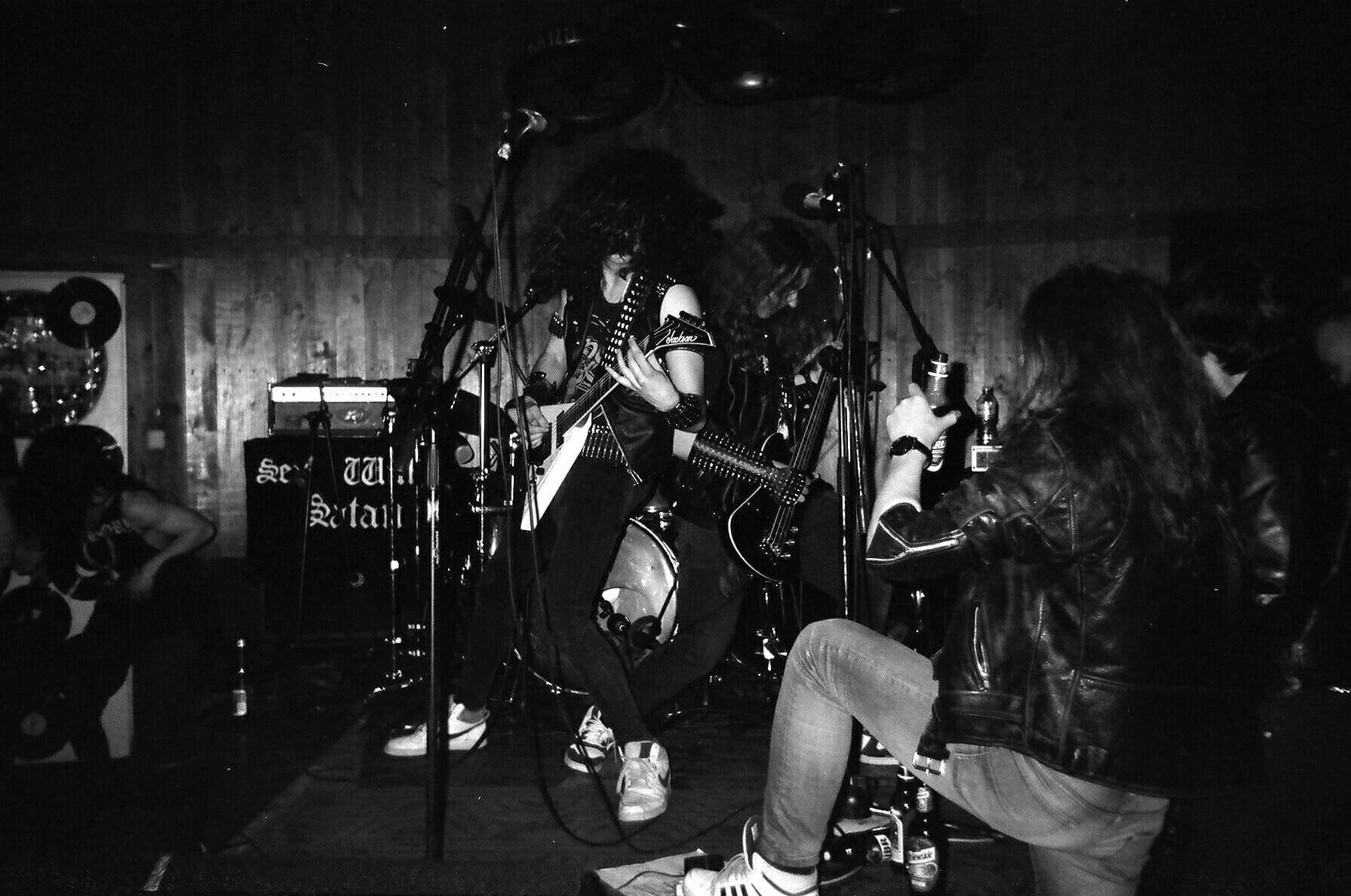 7. Describe your ideal live show as a performance Band. Have you already experienced that?
I think the most important thing is the audience and how much they enjoy our show. Audience doesn't need to be counted in thousands, I prefer small amount of people who can just enjoy gig in 100%. Our best show was in September of 2017 when we supported Angel Witch in Łódź, sound team was great, scene was big and everything was really professional.
8. Which attributes, do you think, that a new Thrash Metal Band should have in order to gain identity and be unique?
Hmm, I am that kind of person that doesn't like new things in metal, I prefer to stick to the old school way, riffs that
are built in the same way they were built 35-40 years ago, so I don't think that every band needs identity and uniqueness and
I'm not sure if people who listen to Gallower consider us as an unique band, so actually maybe I'm not good person to
answer that kind of question :D.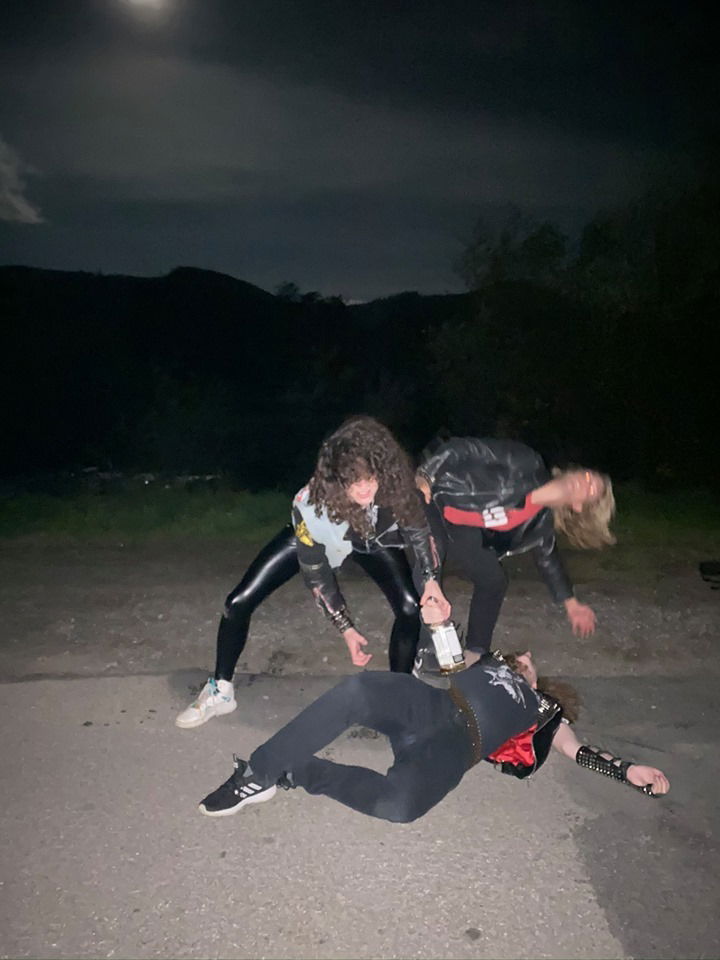 9. Do you believe that Bandcamp and other Digital Platforms help the new Thrash Metal Bands? Which, do you think, is the ideal way for a Band to promote its work?
Yeah, I think in those modern times this is really important if any band wants to be heard by a wider audience. For now Gallower is using Bandcamp, so I can't tell yet which of the platform is the best.
10. Tell us a few things about the New Underground Metal Scene in Poland (Bands, Fanzines, Webzines, Metal Clubs etc.)
We have plenty of bands, but there is lack of traditional thrash/speed/heavy metal bands. Most bands in Poland play some
death/black metal and many metal fans in Poland mostly listens to that music. I'm not a fan of that kind of metal, so that
I'm saying our scene lacks of some real old school speed fucking metal mania. We have many underground fanzines, there's
a plenty of webzines and as it goes for metal clubs - there are some good clubs, but mostly they are shitty, with no space,
no stage, tragic sound propagation. Good clubs are those bigger and it is quite obvious that underground metal bands
are not playing there.
11. Do you know anything about the Hellenic Metal Scene?
Yeah we know some thrash/black metal bands like Suicidal Angels, Bio-cancer, Chronosphere, Varathron, but actually I do not listen to those bands. It is possible that I miss great bands by not investigeting the scene as much as I would like to,
but i'm trying to focus on central/west Europe scene because this is my favourite type of metal.
12. What are your future plans?
Release our already recorded debut album and play more gigs! For now those are our only plans.
13. Thank you very much for your time & Keep up the good work! The closure is yours.
Thanks for interview, pray to the speed metal godz!
By Steve the Filthy Dog.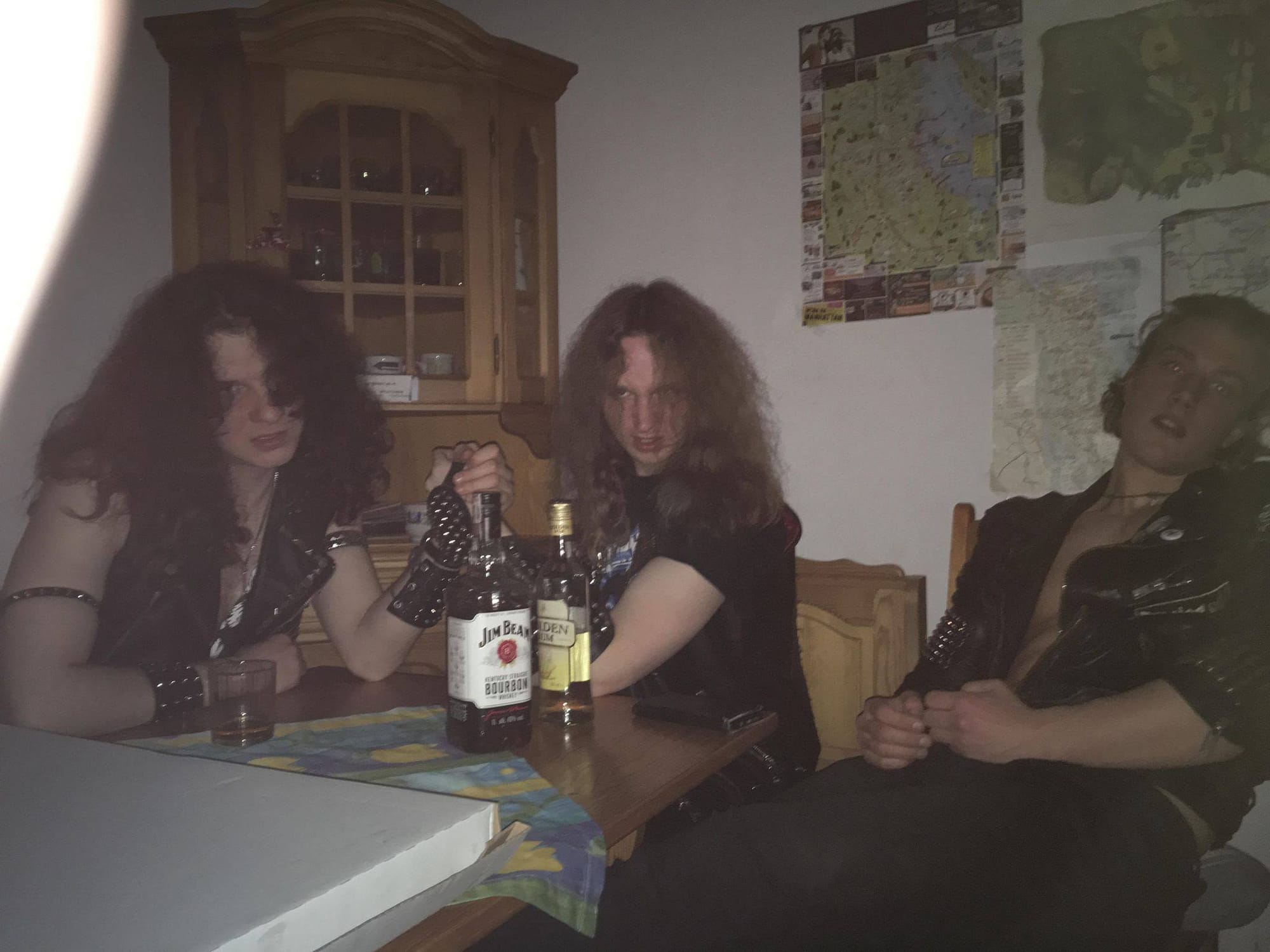 GALLOWER CONTACT:
https://gallower.bandcamp.com/