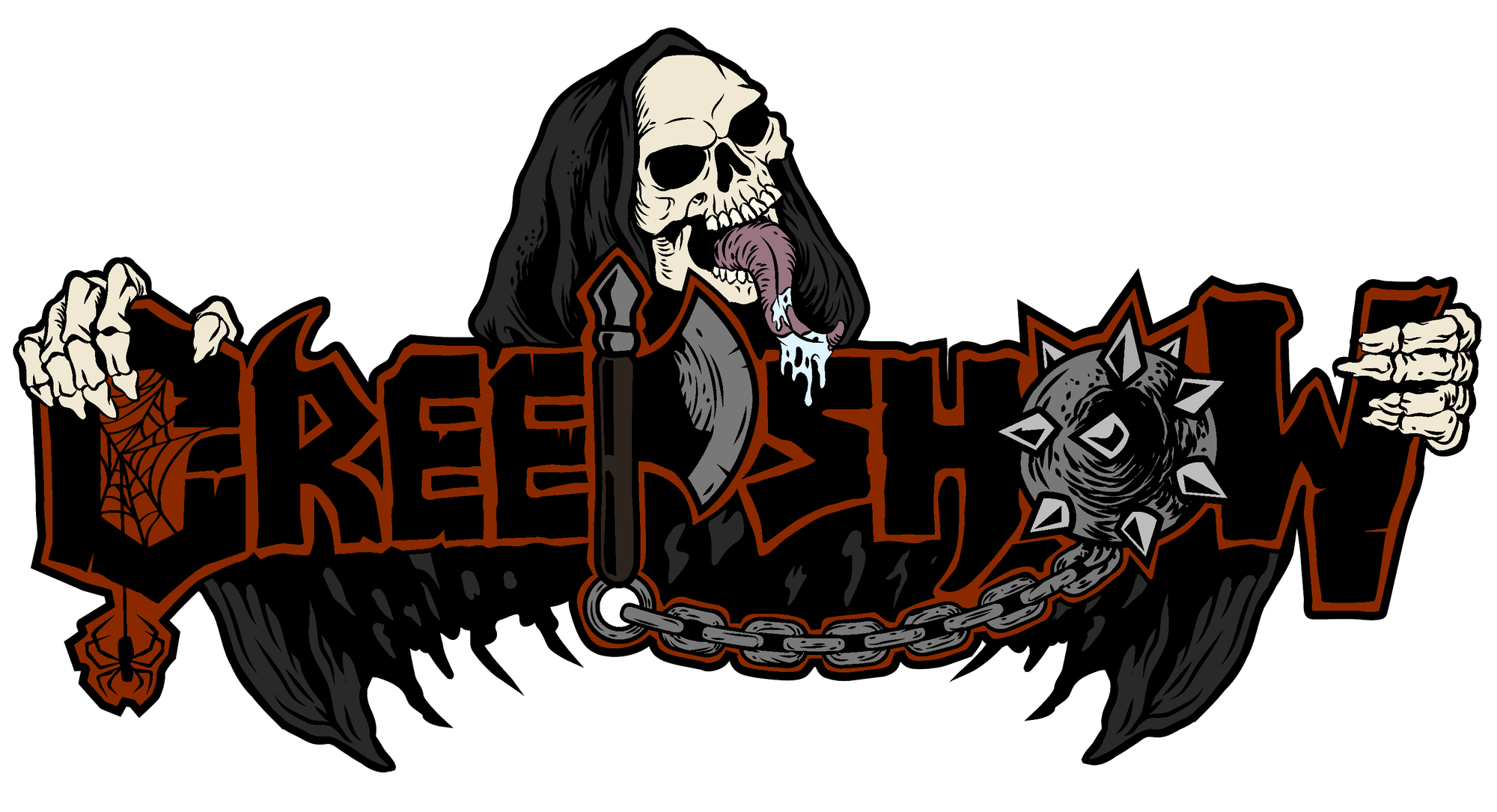 !!!US BLACK/THRASH METAL!!!
We had a conversation with Uncle Death.Enjoy!
Welcome to the FILTHY DOGS OF METAL Webzine.
1. Tell us a few things about CREEPSHOW (Members, Starting Year etc.)
Creepshow is a 5-piece cult of horror that emerged on Halloween after a long marathon of classic slashers and a listening of some of what was to be Creepshow's biggest influences. While the current lineup didn't form until 2019, Creepshow was always an idea that Uncle Death (cult leader of the Creepettes) had in the back of his skull. Creepshow is comprised of Guitarists CadaVeronica and CemeTerry, Bassist FunerAlice, Drummer NecroNancy, and finally Vocalist/Keyboardist Uncle Death. Mainly our style and influence come from several genres, but our purpose as a band is to pay tribute to horror in our own terrorizing ways.
2. You have recently released your EP ''Bump In The Night''. What is the Feedback from your audience as well as from the Press?
It's been interestingly positive to say the least. To be featured on Kerrang! Magazine's Listen to This and to have the support of some of the coolest horror bands around such as Axeslasher and VHS, it's a really cool experience. This response has only motivated us to continue writing our full-length album and continue bringing more unholy tunes for the ravenous horror movie hordes.
3. Label or DIY and why?
Both have their ups and downs, and while we love the DIY take on things, we wouldn't be opposed to signing with some of our favorite labels such as Relapse, Tankcrimes, or Hell's Headbangers. It'd be cool but hey we're dead not picky. We're not really sure what belonging to a label would imply for Creepshow as a band, so I can't say for sure why I'd pick label over DIY. Maybe belonging to a label would be cool, but maybe it won't be. I guess make us a deal(?) We'll do children's birthday parties. Funerals have become kind of repetitive.
4. Do you prefer Vinyl, Tape, CD or Digital Format and why is that?
There is absolutely nothing like getting a CD or Tape in the mail and opening up the booklets or shoving that tape in your 1987 cassette-player. Of course, digital music is easier to handle and a lot faster to get into a fan's hands. Vinyl is super expensive and fragile, but I can understand hardcore fans wanting them. All have great qualities but for us personally, we love the collectability of tapes and the ease of access of digital music.
5. Your music style is Black/Thrash Metal. Which are your main influences (Favorite Artists / Bands etc.)
Some of us would argue that it goes a little deeper than 2 genres, but yes, our main genres have to be Black and Thrash metal which is certainly not a bad thing to us. Some of our favorite horror bands of all time would have to be Axeslasher, VHS, Devil Master, October 31, King Diamond, and Ghoul for sure. While those are our main influences, we love listening to a wide variety of stuff including Carpenter Brut, GosT, Necrophobic, Carpathian Forest, Perturbator, Troglodyte, Power from Hell, and many more…
But seriously we could be here all day talking about amazing music that inspires us, those above are bands we honestly could not exist without and we thank them from the bottom of our skeletal chest cavities where our hearts used to be.
6. Which things, do you think, a Band should sacrifice in order to succeed? Have you ever sacrificed anything in your life for a better future of your Band?
We've sacrificed virgins in the catacombs, does that count?
We've definitely sacrificed our own sanity; this is a lot of fun and all that, but recording can be a nightmare as well as the writing process. We love what we're doing, and we hope it shows in our music. But also boo, spooky ghost.
I think we've all come to the conclusion that you have to invest time and money into a band, but also sacrifice is a mental thing as much as it is a physical thing, and you should always leave a part of yourself in an album. No, like a literal part of yourself, I can't find my left arm anywhere, it must be in Bump in the Night.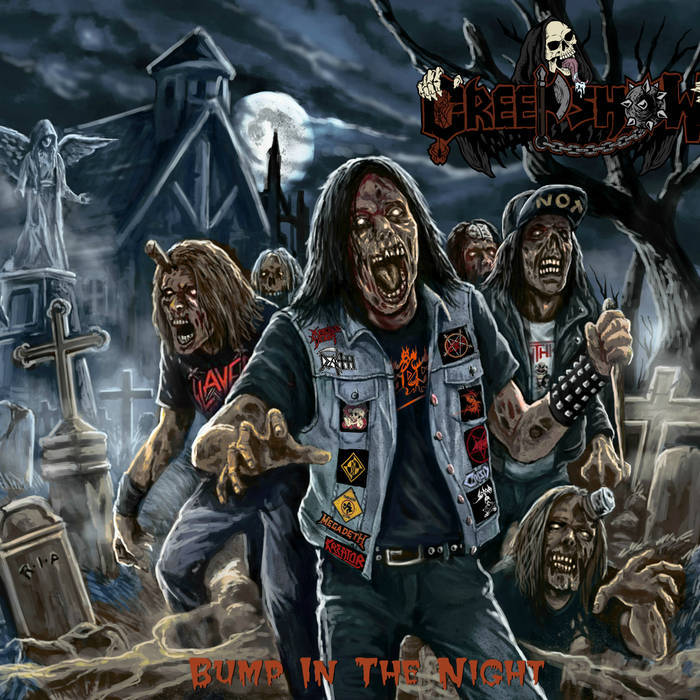 7. Describe your ideal live show as a performance Band. Have you already experienced that?
Fog. Lasers. Lights. Horror. Skits. Chaos. Blasting Music.
No, we're pretty fresh on the scene and we haven't been able to really do shows yet. For the most part, we are mainly concerned with the costumes and getting into character. We are very excited to bring our performance to people, but our first priority is making it a spectacle worth remembering every night in every city, before we return to the grave. When Creepshow hits the stage, it will be after rigorous 80's exercise montages and self-help seminars by Skeletor himself.
8. Which attributes, do you think, that a new Black/Thrash Metal Band should have in order to gain identity and be unique?
We're a little wary of boxing ourselves into Black/Thrash and we always recommend to any new band: make good music, forget the category you fall into. We're a bunch of weirdos in and out of the studio, and so I don't believe genre matters when you're being yourselves. Horror is a big part of our lives, and that is channeled through Creepshow, regardless of what you can categorize it as musically. That being said, catchy riffs and clever lyrics never hurt to build an identity. You have a boney thumbs-up from all of us here at Creepshow if you can create crushing riffs and evil music.
9. Do you believe that Bandcamp and other Digital Platforms help the new Metal Bands? Which, do you think, is the ideal way for a Band to promote its work?
Bandcamp, iTunes, and Spotify have changed the game for sure. Social Media has made advertisement easier to start, but harder to master as well. We believe social media, music streaming and online stores have made music a lot more accessible but have made it a lot harder to stand out in a sea of bands. The ideal way to advertise nowadays is through Facebook, Instagram, and generally just through blogposts and YouTube. The only downside is there is no rest, you have to consistently gather the attention of your fans with something new every week, and that definitely makes modern bands a group of entertainers as well as musicians. It's hard work and we probably would've stayed buried in unmarked graves if we knew that going into this business but oh well, at least we have our Death SS records to keep us warm at night.
10. Tell us a few things about the New Underground Metal Scene in Chicago, Illinois USA (Bands, Fanzines, Webzines, Metal Clubs etc.)
We've been buried since the 7th Day of July 1777, so bear with us. Bric-a-Brac and Bucket o' Blood books and records are regular spots to find horror gems and good company. Horrorpatch.com is a local webzine that covers a lot of important subjects on horror and heavy metal as a whole which is very cool. Across the city there are a lot of great clubs such as the Exit, Cobra Lounge, and Reggie's Rock club. There are tons of DIY spots across the city and the scene is diverse enough for anyone visiting. For the most part Chicago has a lot of cool things for any horror/metal fan and we encourage people to visit these great places.
11. Do you know anything about the Hellenic Metal Scene?
Does Necromantia count? We will summon unholy specters to some Necromantia. Jokes aside, we tend to like bands such as Suicidal Angels, Exarsis, Rotting Christ and Bio-Cancer so we hope that's close enough. While we can't claim to know a lot about the Hellenic Metal Scene, we hope Greece will embrace our boney visage with open arms if we're ever able to go on a European tour (wink wink.)
It would be a nightmare come true for us.
12. What are your future plans?
Right now, get a full length out and merch. Our most urgent task is new material and physical CDs. After that…shows? We're not entirely sure what comes next, but regardless of what direction we head in, it will be filled with hard work and horror movies. Creepshow has a long way to go and we really do appreciate all the support we've received since releasing our debut EP.
13. Thank you very much for your time & Keep up the good work! The closure is yours.
First of all, Uncle Death and his Creepettes would like to give a big thank you to Filthy Dogs of Metal for taking the time to interview us, it almost makes us feel alive again. We are working hard to get merch out as soon as possible and we want to encourage everyone to follow us on social media and Bandcamp for updates. And if you're in the market for great horror metal, check out Axeslasher, Crypticus, or VHS for some Grade A stuff.
And remember kids, Christmas sucks – Halloween is better!
By Steve the Filthy Dog.

CREEPSHOW CONTACT:
https://creepshow.bandcamp.com/
https://www.facebook.com/CreepshowThrash/