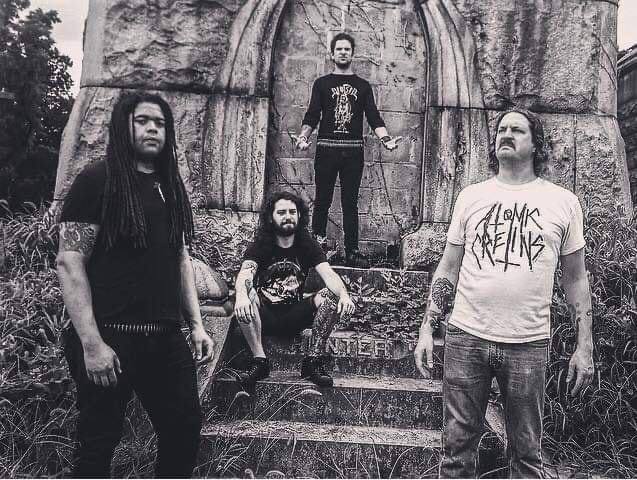 In order from left to right:
Hit Cunningham: guitar
Keith Mikus: Drums
A.J. DeFeo: Guitar & Vocals
Jay Mazzilo: Bass

We had a conversation with A.J. (Vocals/Guitar). Enjoy!
Welcome to the FILTHY DOGS OF METAL Webzine.
1. Tell us a few things about ATOMIC CRETINS (Members, Starting Year etc).
Well we started back in late 2016. In our original line up we had more of a thrash punk sound. After a while we wanted to progress more. Two line up changes later, we finally found our sound. A.J. (me) and Hit started Atomic Cretins after a failed music project. We knew we wanted to play loud, fast, and heavy.
2. In 2019 you have released your EP ''Spiritual Cancer''. What was the Feedback from your audience as well as from the Press?
As far as the audience goes it's kinda hard to get your music out there in your local scene. Sure we have some great support but there are so many bands in Philadelphia right now that it's hard to really catch the local's attention. Having two line up changes kind of slowed us down a bit but it was worth the change. And don't get us wrong we're grateful for all of the local support we've had and it doesn't go unrecognized. As far as the press we've gotten, the press was outstanding. Nothing but great responses. We were really proud of spiritual cancer but we're ready to fire off with newer material.
3. Label or DIY and why?
We've been fortunate enough to have our friends put out our last three EP's on their cassette tape label Suicide Bong Tapes. Really solid guys who will go to the end of the earth to put local Philly bands on the map. Mostly everything is DIY so far.
4. Do you prefer Vinyl, Tape, CD or Digital Format and why is that?
At this point in time all the above are just as important. Especially to the maniacs out there that have a real passion for music and discovering new bands. CD, cassettes, vinyl, etc etc, they're all vital for bands and listeners.
5. Which are your main influences (Favourite Artists / Bands etc.)
A.J. (me), Hit, Keith, and Jay all come from different musical backgrounds but we all share a love for fast and loud metal music. Some of our influences include: Midnight, Iron Maiden, Megadeth, Destruction, Slayer, and the list goes on.
6. Which things, do you think, a Band should sacrifice in order to succeed? Have you ever sacrificed anything in your life for a better future of your Band?
Do whatever it takes to get where you wanna be. We just sacrificed our health just to go on a two day tour in the middle of the COVID-19 pandemic before every show was getting canceled.
7. Describe your ideal live show as a performance Band. Have you already experienced that?

Anytime the crowd is throwing down we're happy. As long as there's moshing or heads banging (even if heads are just bobbing lightly) it's always great to see. Especially when everything clicks in one night. Our release show for "Spiritual Cancer" was mayhem.
8. Which attributes, do you think, that a new Punk/Thrash Metal Band should have in order to gain identity and be unique?
That's a good question. We often ask ourselves that. We know that we don't sound like everyone else and we like to keep it that way. But it's cool when hearing people tell us that we sound influenced by (insert band name here). The best attribute is to not sound like everyone else. Even if it's not catching on at first. Stick with it because motherfuckers will get burned out on the same sound real quick.
9. Do you believe that Bandcamp and other Digital Platforms help the new Metal Bands? Which, do you think, is the ideal way for a Band to promote its work?
Bandcamp is definitely a big help for a lot of bands. Not so much for us. We decided the best way to get our material out there is to just keep touring and have good PR. Sure people stream our stuff here and there on Bandcamp and Spotify but it's up to us to step our game and shove our tunes down everyone's throat. We're starting to emerge from under the radar with this latest lineup for sure.
10. Tell us a few things about the New Underground Metal Scene in Philadelphia, Pennsylvania USA (Bands, Fanzines, Webzines, Metal Clubs etc.)
Philly is a tough city. So many good bands but it's also over saturated for sure. We're tight with a lot of the local bands who are killing it these days. However, when we're not playing shows, some of us try to catch them when we can. Some of us work full time jobs so our schedules are limited. But our bassist Jay, runs one of the best diy spots in Philly called Century Bar. It's a Mecca for so many metal bands locally and for bands on tour. All the money from the door goes to the bands playing at Century.
11. Do you know anything about the Hellenic Metal Scene?
Unfortunately not but we'd like to be enlightened for sure.
12. What are your future plans?
Once (or if) all the pandemic shit ends we're recording a full length EP to be put out on vinyl. We're just about finished writing the new album. Expect to see more about later in 2020.
Thank you very much for your time & Keep up the good work!
By Steve the Filthy Dog.


ATOMIC CRETINS CONTACT:
https://atomiccretins.bandcamp.com/
https://www.facebook.com/Atomiccretins666/
https://www.instagram.com/atomiccretins666/