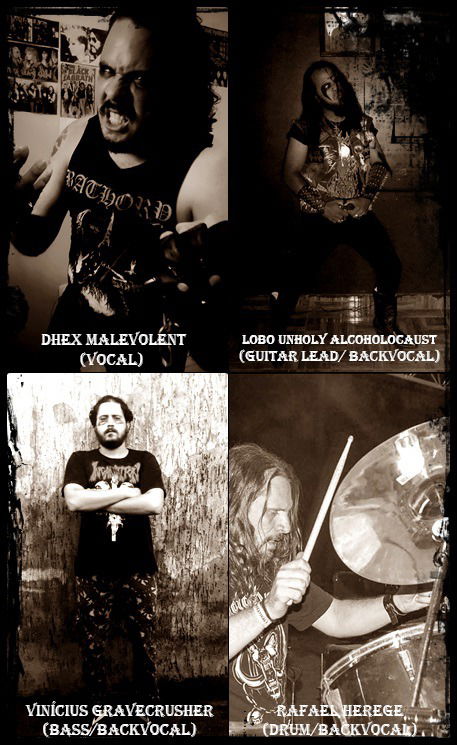 !!!BLACK/THRASH METAL FROM BRAZIL!!!
We had a conversation with Lobo Unholy Alcoholocaust. Enjoy!
Welcome to the FILTHY DOGS OF METAL Webzine.
Tell us a few things about SENECTUS (Members, Starting Year etc).
Senectus started around 2016 created by me, Lobo Unholy Alcoholocaust, after a few unsuccessful projects. During that same time, I met Dhex Malevolent (vocals) and we were already so hooked on this style. So, he put together Força Diabólica, but it ended up not working (which it's actually hidden in the abyss). And from that very same infernal speed, I decided to start Senectus (that's Latin for "old") and found pretty fair to stick to this sonority. Later then, we decided to join forces as we already knew each other. New members have joined us and they are: Vinícius GraveCrusher (Bass/Backing vocals) and Rafael Herefe (drums/Backing vocals). The horde is complete to carry on the old blasphemies.

In 2020 you have released your EP ''Ataque Bestial''. What was the Feedback from your audience as well as from the Press?
We are excited about the audience's feedback. It was great and we didn't expect it to have such repercussion. That gave us the fuel to keep working on the band and to push ourselves even more on the next release. Old school thrash and black metal maniacs will enjoy it! But if they don't, fukk off! Haha.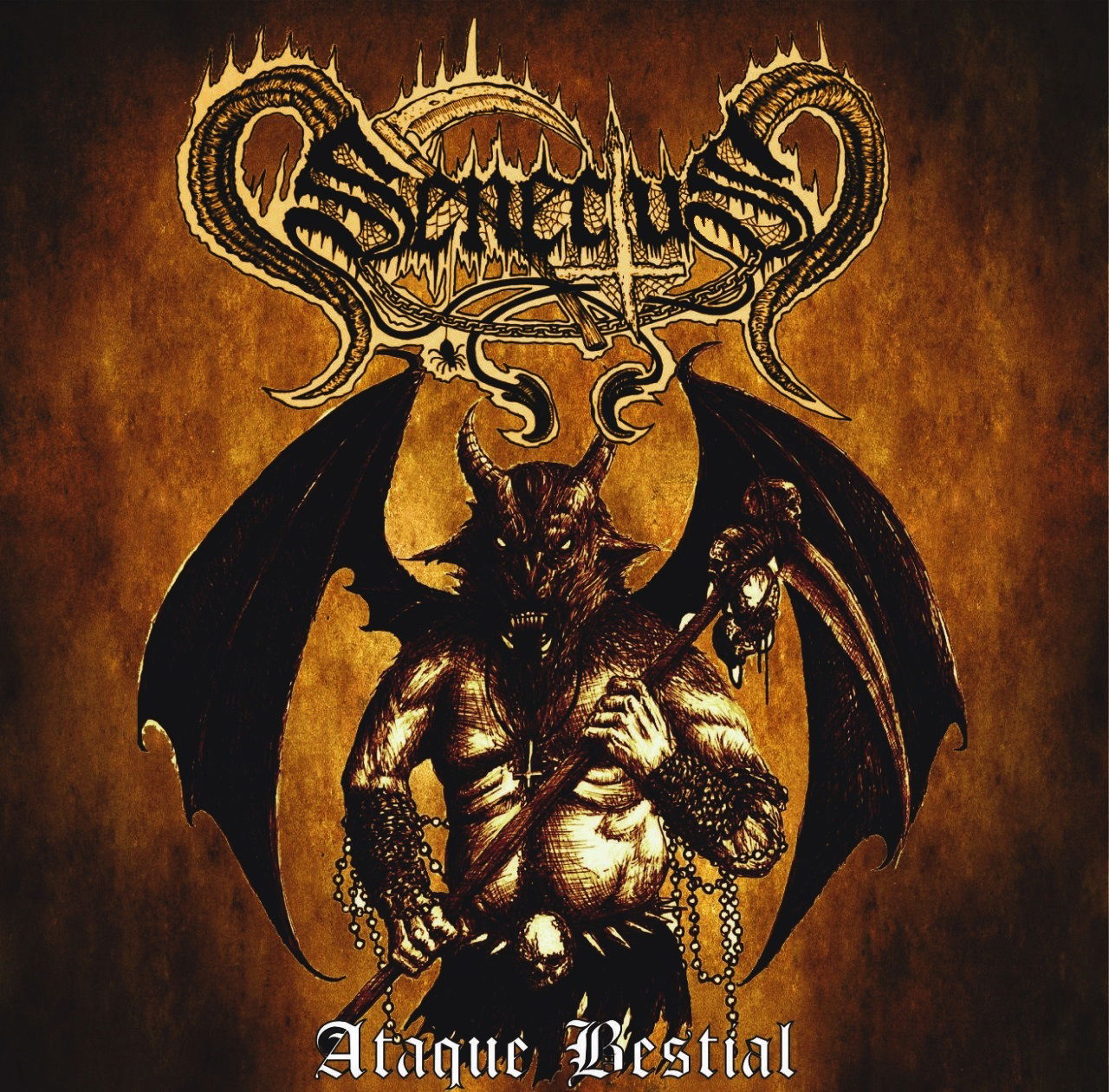 Label or DIY and why?
As we are a new band, we have been handling everything on our own, that means, we bear the expenses of recording and producing. We do understand that a label may be an important way of supporting bands, such as having easy access to certain places, promotion, and distribution. The latter two are important for the band's artistic recognition.

Do you prefer Vinyl, Tape, CD or Digital Format and why is that?
We prefer all kinds of physical formats, especially vinyl. We find these records in old format pretty cool. Either way, get music to reach the ears of those who want to hear it no matter by what means. We bear in our minds that music has a role to play. The digital format, for example, has enabled us to share our EP better. That's a fact. But there's no denying that the good and old vinyl is still a passion.

Your music style is Black/Thrash Metal. Which are your main influences (Favourite Artists / Bands etc.)
I am personally a big fan of the old satanic school european thrash and black metal with the Brazilian brutality and savagery. Bands such as Sepultura, Sarcófago, Motörhead, Bathory, Kreator, Mercyful Fate, Nocturnal and so on have a huge influence on all of us. Hellbutcher from Nifelheim has been an inspiration to the our vocalista.

Which things, do you think, a Band should sacrifice in order to succeed? Have you ever sacrificed anything in your life for a better future of your Band?
Time and effort put into improving the genre and writing songs are the greatest things a band can sacrifice for. Success may be a consequence of it all. I think we all agree that the greatest sacrifice we have been making is in regards to rehearsal expenses and the costs for our next album.

Describe your ideal live show as a performance Band. Have you already experienced that?
We haven't had the opportunity yet due to this sanitary chaos we have been living through. But either way, a killer show would be that one where the artist is respected as well as is also able to perform both his music and art in the best way possible. That is what a perfect concert would be like for me. And of course, with everyone drunk, high as fukk and banging the shit out of themselves! haha

Which attributes, do you think, that a new Black/Thrash Metal Band should have in order to gain identity and be unique?
A band shouldn't give in to trends, but it should establish a perfect bond among its members and have its own true blasphemic essence, hate against christian metal and all of its subgenres. Although the genre can be very specific, I believe that pushing beyond the boundaries of what you are doing is what you should go for. By playing filthy riffs to the satanic waltz and a sickening music as you spit on the nazarene's face.

Do you believe that Bandcamp and other Digital Platforms help the new Black/Thrash Metal Bands? Which, do you think, is the ideal way for a Band to promote its work?
We believe that all means of promoting the band's work and effort are valid as long as it isn't linked to religious institutional pretensions that are fascist and controlling. Bandcamp does a good job at promoting bands. We find it excellent to make some extra money to buy beer. Therefore, it makes us able to promote our work and chaotic noise. But at the end of the day, getting to the ears of true and real hellbangers is what really counts.
Tell us a few things about the New Underground Metal Scene in Brazil (Bands, Fanzines, Webzines, Metal Clubs etc.)
In our city (Brasília), there are bands that I (Lobo) am into: Embalmed Souls and Vultos Vocíferos. But as for in Brazil, I can name Grave Desecrator (RJ), Lápide (RJ), Grave Reaper (MA), Blasphemaniac (SP), among others. Dhex Malevolent is the mind behind one of the filthiest and wildest festival named Kommander of Kaos that we invite underground bands whenever we get the chance to.
Do you know anything about the Hellenic Metal Scene?
We listen to a lot of bands: Slaughtered Priest! I also like Necromantia, Rotting Christ, Omega and Diavolos. They all dwell in the abyss of Hades!
What are your future plans?
Right now, we are focused on our new material. We plan on releasing some new stuff, working together on a split with metal fellows from other bands, and playing live once it is possible.
Thank you very much for your time & Keep up the good work! The closure is yours.
We are immensely grateful for the invitation. It has been an honor! May metal prevail and burn in the flames of hell because that's what we are driven by. Thank you for the time and for the people's interest who still believe in the evil roots. Hail to all the maniacs who have enjoyed our work. Follow us on our pages. Follow the mark of the pentagram. Feel the Ataque Bestial Aaaaaaarrrrrrgggggg Hail Satan!!!!!
By Steve the Filthy Dog.
SENECTUS CONTACT:
https://senectus.bandcamp.com/releases
https://www.facebook.com/senectusband/
https://soundcloud.com/user-720300664/