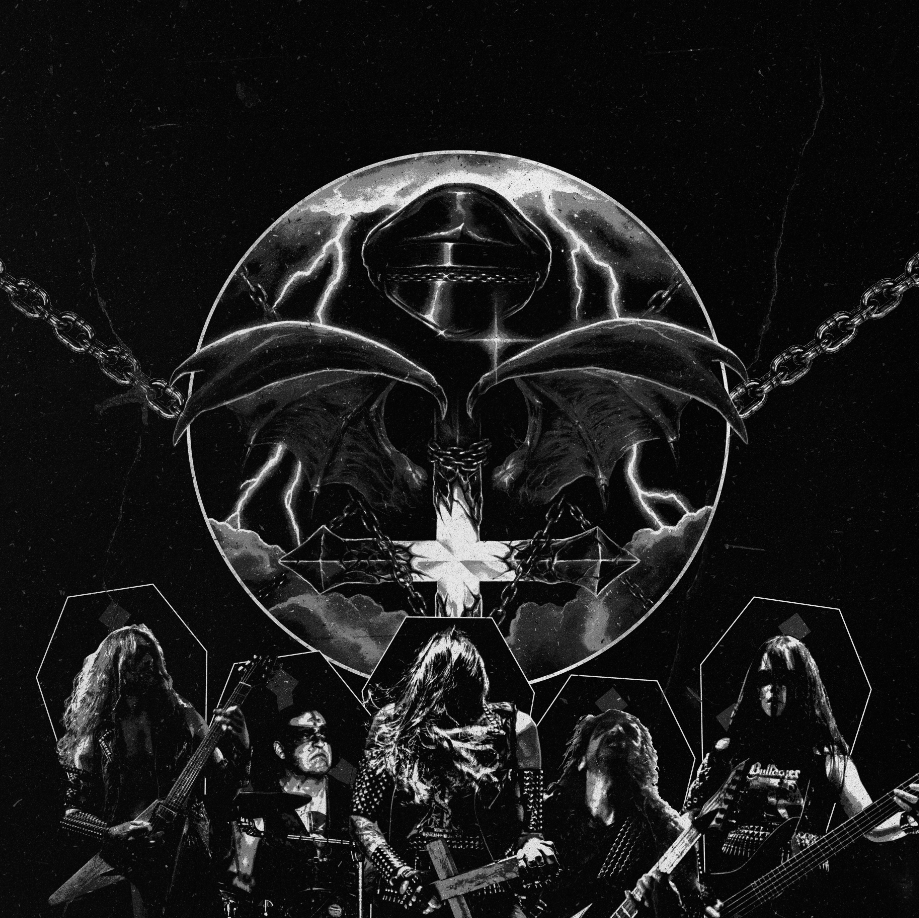 !!!BLACK/SPEED METAL FROM FRANCE!!!
We had a conversation with Sexumer (Vocals). Enjoy!
Welcome to the FILTHY DOGS OF METAL Webzine.
Tell us a few things about SACRIFIZER (Members, Starting Year etc).
We created the band in 2017 and quickly recorded the demo ''Night Of the Razors'', at the time the line-up was a bit all over the place, we had three guitars at this time, a few months later,Slaughterwytch joined us as a bass player to record the EP ''La Mort Triomphante'', which contained the rest of the songs that we had not recorded. Since then, the line up is stable and we are burning the same leather together since 2018: I am in charge of the vocals, Slaughterwytch on bass, NightReaper and SteelGrinder on guitars and Lethal on drums, having a stable line up is essential.
You are going to release your new album ''Le Diamant De Lucifer''. Tell us a few things about this project.
Things take their time, always more than we wanted, making the fire of an album is a long process, So we went in the burning wet of the Helldscala studio in the west of France last summer. Be sure we put in the guts, the blood and the hate it takes to bring back our sincere love for Rock, on that, Sir Raph Henry, the arm of Rock and producer of the album guided us masterfully to where we wanted to go, something authentic, bestial and uncompromising.The album contains 10 tracks, two introductions and a very special guest in the person of our brother in arms Nathaniel Colas, who wrote the lyrics and sing on the closing track of the album.
Label or DIY and why?
Releasing physical formats is expensive, you have to pay for the pressing, distribution, cover art etc... Few bands have the means to do this, personally I prefer to have the support of a label, DIY is fine but it will never be as good as with the support of people who have the communication, financial and distribution network to promote your band.
Do you prefer Vinyl, Tape, CD or Digital Format and why is that?
I'm not very old, I didn't grow up with vinyl like some generations, for me at the time,it was the CD and I didn't start buying vinyl and tapes until much later. I prefer the physical format of course, digital is useless in my opinion, collecting, buying CDs, LPs, tapes is part of the eternal ritual of the Rocker,it's part of the folklore and it's really cool. I don't really have a preference, maybe the LP for what it represents.
Your music style is Black/Speed Metal. Which are your main influences (Favourite Artists / Bands etc.)
So many bands and albums have influenced us,especially for a style like ours,which is very close to the 80's scene and the beginnings of black metal, our influences are so wide and even go beyond the Rock'n'Roll domain,I'll choose some albums which have influenced us with Sacrifizer, if not original, it's purely personal:
Razor: Evil Invaders
Slayer: Haunting the Chapel
Protector: Protector of Death (first demo)
Ratt: Out of the cellar
Judas Priest: Defenders of the Faith
Satan: Court in the act
Bathory: Under the sign of the black mark
Which things, do you think, a Band should sacrifice in order to succeed? Have you ever sacrificed anything in your life for a better future of your Band?¨
For me, Rock'n'Roll band should not deviate from its state of mind, should not sacrifice anything for the sake of other things like success or money, these things should not enter into account if you do Rock'n'Roll. It's a music of passion, personally we will never make a living with the band and it's not the goal, we play because we love it, not with some dirty thoughts behind it, I would never sacrifice anything for the band if it could be derived from our state of mind, FUCK FAME, FUCK MONEY, FUCK GLORY!!!
Describe your ideal live show as a performance Band. Have you already experienced that?
I love small places who smell like piss and beer, when the sound is dirty and the people are completely fucked up, it's in these kinds of places that I like to play, maybe even more than the big stages, we've already done a few gigs like that and they were definitely the best!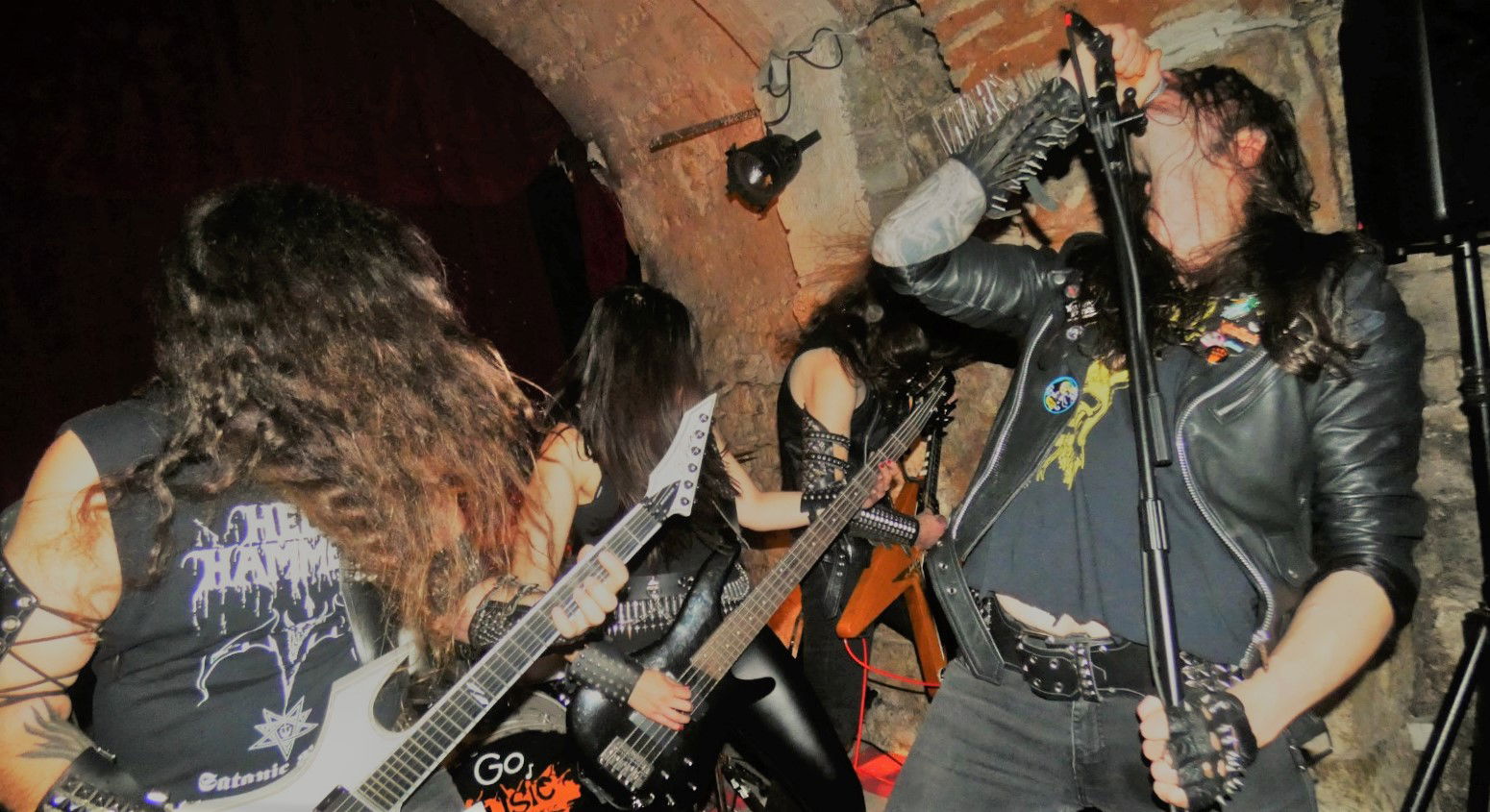 Which attributes, do you think, that a new Black/Speed Metal Band should have in order to gain identity and be unique?
Damn it's a Hard question!! A Speed/Black Metal band? I don't know, play faster, dirtier and Evil than all the others?
Do you believe that Digital Platforms help the new Black/Speed Metal Bands? Which, do you think, is the ideal way for a Band to promote its work?
You go on the internet today and you can discover absolutely any band you want, it's an access that fans didn't have a few years ago and I don't even know all the digital music platforms that exist. In this sense, yes it's a quick way to listen to a band you want to discover, now it can become a problem if people miss the essential, that is to say to really support the bands by buying the physical format, all these platforms are useless if you don't make the effort to go to the end.
Tell us a few things about the New Underground Metal Scene in France (Bands, Fanzines, Webzines, Metal Clubs etc.)
Currently, UG scene in France is first class, it has never been so good,we have been lagging behind for years: Komodor, Dionysiaque, Tentation, Cadaveric Fumes, Goatvermin, Herzel, Hexecutor, Skelethal, Lord Gallery..... they are part of the bands you have to listen to,I forget dozens of them,not to mention veterans like Mercyless, Necrowretch, Manzer, Ritualization or Agressor who are still here after all these years. There are very good festivals dedicated to the underground scene like Court of chaos, Anthem of steel, PWOA, Winter rising fest and good associations and people really involved in it! There are still some places in the big cities like Lyon, Paris or Lille but it is difficult to find them outside. Unfortunately the small places are more and more rare, people don't really go for small gigs anymore, not to mention the places that had to be closed because of Covid. I think there are still some paper fanzines but there are not many of them anymore,(Metal Witchcraft!?) we did an interview for some young hard rockers who had the fire to launch one a few years ago but it doesn't exist anymore...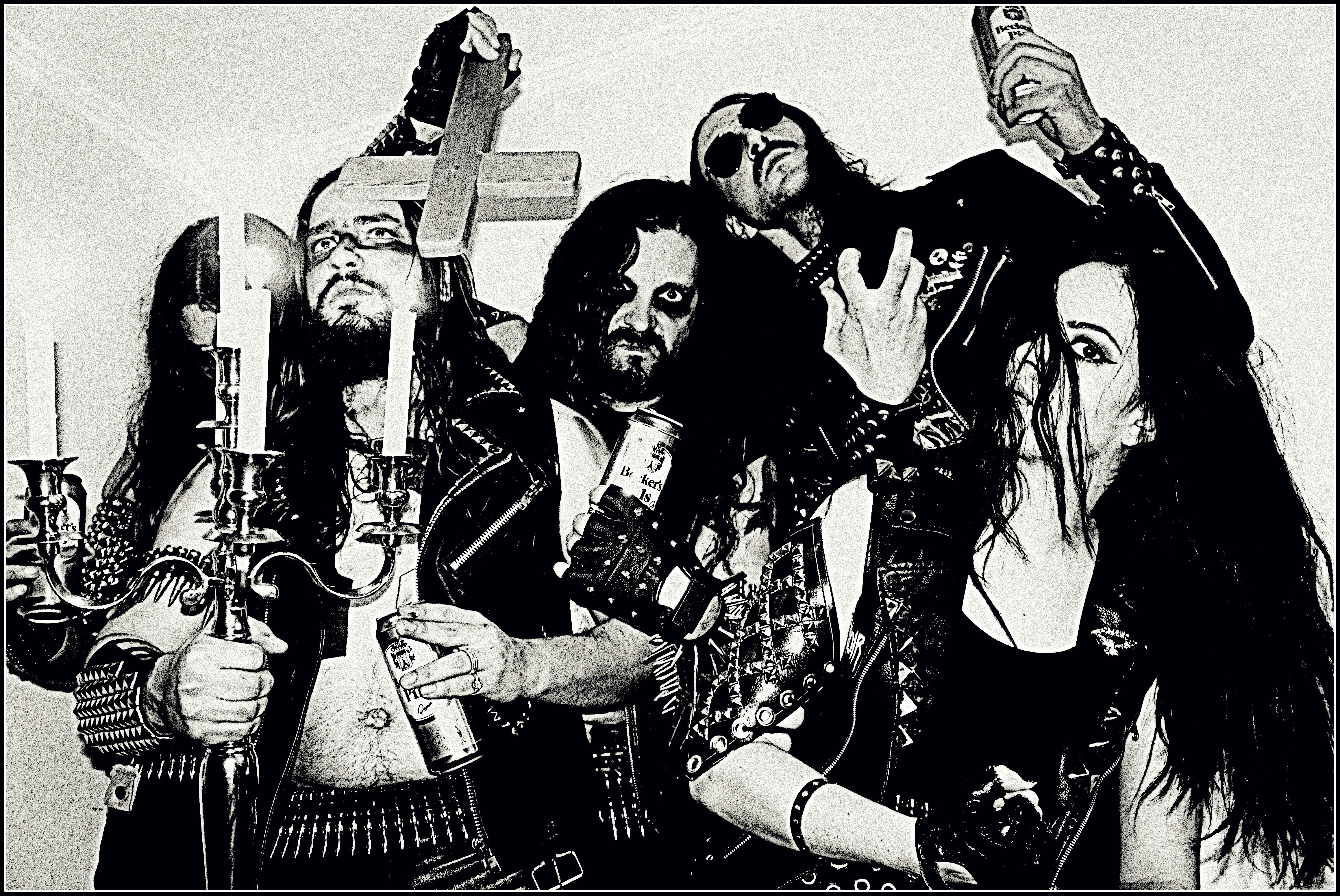 Do you know anything about the Hellenic Metal Scene?
NECROMANTIA!! CROSSING THE FIERY PATH!!! it's probably the Greek band and the album I listened to the most, the ''Forgotten Path'' Demo when Septic Flesh was still doing real death metal, Varathron which is a totally cult band, Vicious Knights or Wrathblade in the more recent bands with an excellent old school spirit!
What are your future plans?
Playing fast, Party Hard, Die Young!
Thank you very much for your time & Keep up the good work! The closure is yours.
Thanks to you for the interview, keep the flame and HAILS Filthy Dogs of metal!
By Steve the Filthy Dog.
SACRIFIZER CONTACT:
https://www.facebook.com/profile.php?id=100063245229594