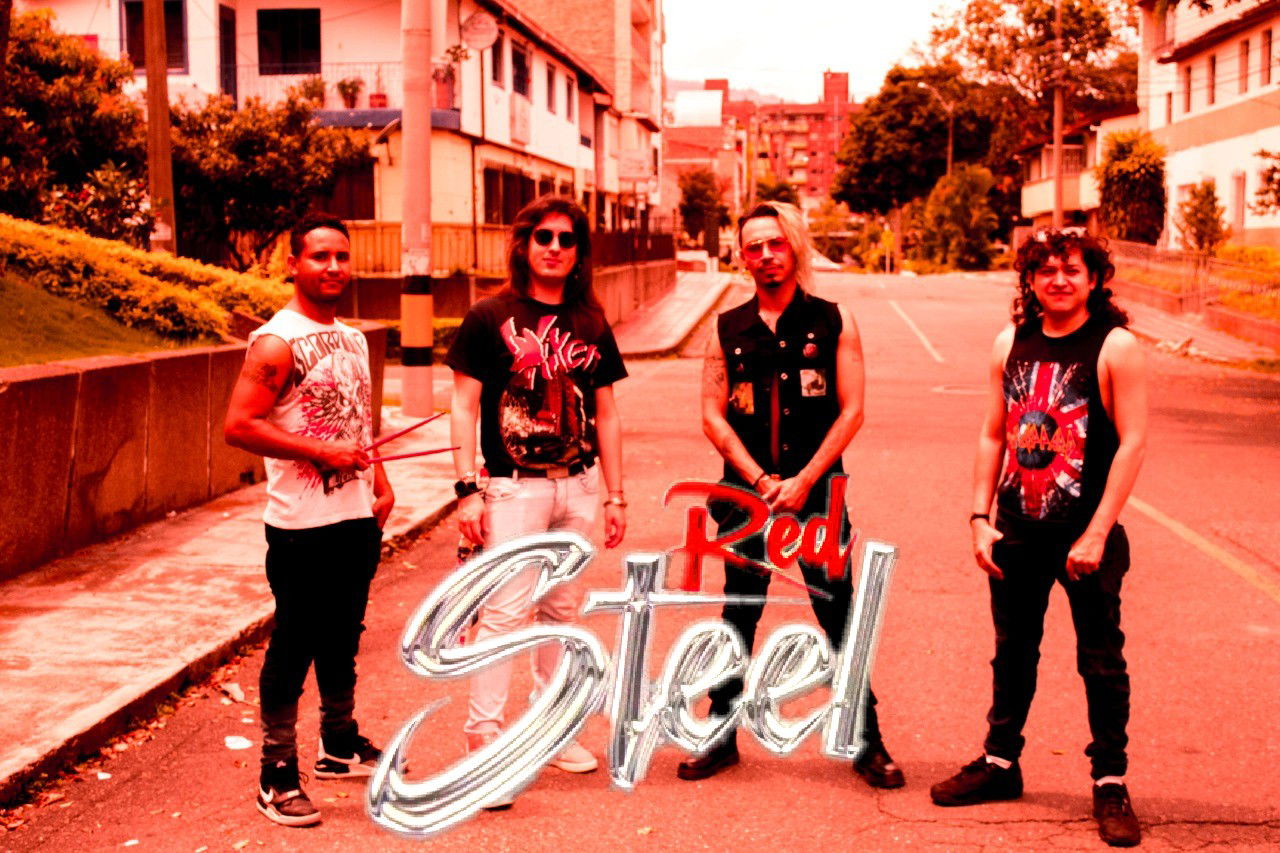 !!!HARD 'N HEAVY METAL FROM COLOMBIA!!!
We had a conversation with Andy Steel (Vocals). Enjoy!
Welcome to the FILTHY DOGS OF METAL Webzine.
Hello everyone and thank you very much for having us in the zine, it is pleasant for us to be part of this.
Tell us a few things about RED STEEL (Members, Starting Year etc).
Okay, Red Steel was born in 2009 in the city of Medellin, Colombia.We made a 3-year stop and returned in 2017, we are 4 members: Felipe Tuirzo on bass and backing vocals, Esteban Velez on guitars, Alvaro Andrade on drums and Andy Steel on vocals.
Congratulation for your video clip ''Sexo, Metal y Licor''. How many songs you have till now?
Lol great, thank you very much, it was something that was done in two hours and the truth is that it looks good for the time it took ...We have 8 songs so far, which are already recorded and will come out with a bonus track on the disc that contains 9 songs. And we hope it comes out at the end of this year 2020.
Do you prefer Vinyl, Tape, CD or Digital Format and why is that?
Usually the formats handled in the country are more CDs, but in these times digital tools are a fairly significant contribution to music, so we must take and be part of them, the tape and vinyl is something more romantic and collection, which we are not closed to do, but I think that now we do not intend to focus on these formats. If something comes out that deserves it, maybe we will.
Your music style is Hard 'n' Heavy Metal. Which are your main influences (Favourite Artists / Bands etc.)
Hahaha for us it is a comic theme because we have very different influences in each of the members of the band, but in reality the focus and sound of Red Steel is defined by all that we contribute from our musical perspective, but clearly the most influence great is the Glam, Hair Metal, AOR and all the Hard Rock sound of the 80s (Danger Danger, Trixter, Ratt, Poison..) and other Latin American heavy metal.
Which things, do you think, a Band should sacrifice in order to succeed? Have you ever sacrificed anything in your life for a better future of your Band?
Of course, yes, like everything in life so that it can turn out well, sometimes we have to sacrifice time for our own, which is vital, but they are things that one can handle if they have an order and have clear points. Also money, the investment is important so that a project is musical or commercial, turns out as we think, or at least produces some fruit.
Describe your ideal live show as a performance Band. Have you already experienced that?
Red Steel is a characteristic band, within the Rock and Roll of our country, we have always managed a performance very much in line with the music and the theme we work on, we propose all this on stage, we have not had the dream show, yet, but If we have worked quite visible things and that has made us known, each red steel show is different, in costumes, lights and some other things.
Which attributes, do you think, that a new Hard 'n' Heavy Metal Band should have in order to gain identity and be unique?
Here comes what I was talking about in the previous question, I think we should see beyond music, we must see that we can also do theater, make a real presentation, the public likes the visual and from there we have to work. The visual part of a band is fundamental in the whole process, that the public is satisfied and eager to see the next madness of the band.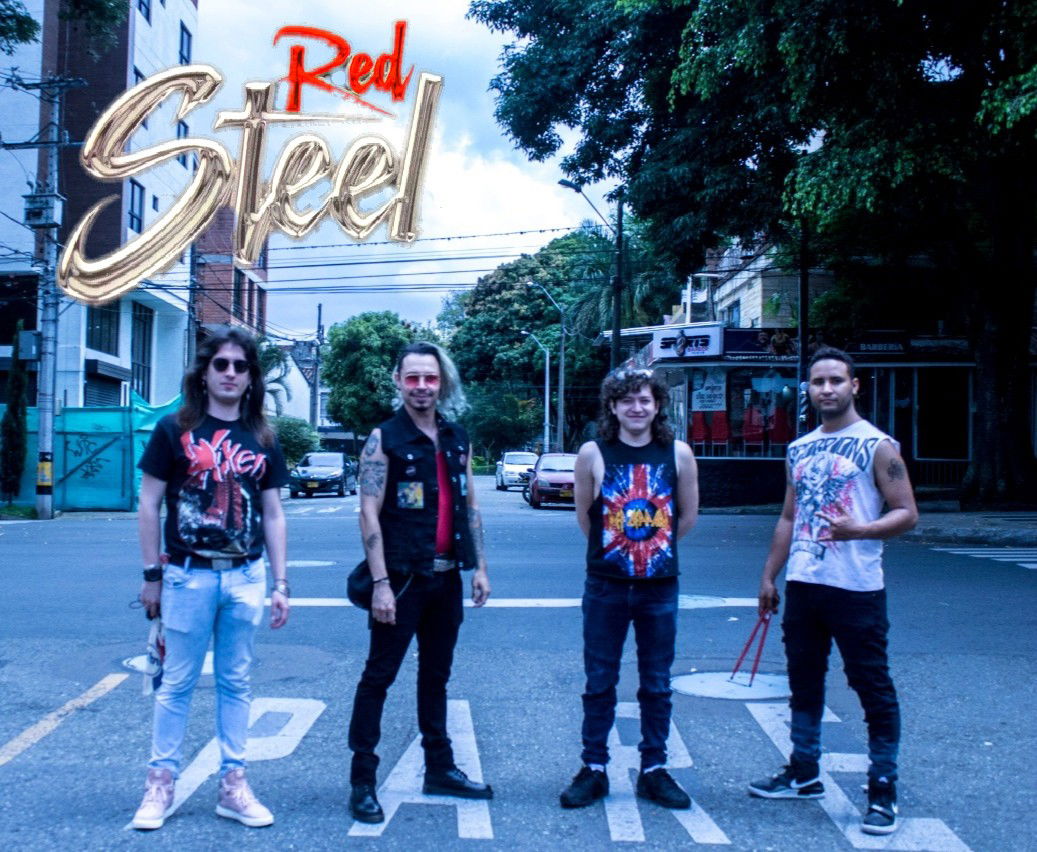 Do you believe that Bandcamp and other Digital Platforms help the new Hard 'n' Heavy Metal Bands? Which, do you think, is the ideal way for a Band to promote its work?
Totally, these tools have been a great help for bands worldwide, it has made the music of Colombia be heard in many other countries that one would not think would sound, it is a great contribution and on the other hand as a band we have to take over what is ours and from us manage a movement of the process that the band leads, work from their profiles, each person is a help, because it multiplies and the sound would reach possible followers.
Tell us a few things about the New Underground Metal Scene in Colombia (Bands, Fanzines, Webzines, Metal Clubs etc.)
The movement of bands in Colombia has increased notoriously, every day more productions are seen, more zines, more web radios, more videos.We could say that there is a lot to listen to, things of very good quality and I think all this is fundamental contributions for the rotation of bands and other projects focused on music.
Do you know anything about the Hellenic Metal Scene?
The truth is that we know little about it, only extreme metal like Septic Flesh and Rotting Christ that I (Andy) personally like a lot, and lately a Junkyard 69 band from sleaze that I love. I think so far those would be the approaches with Hellenic metal.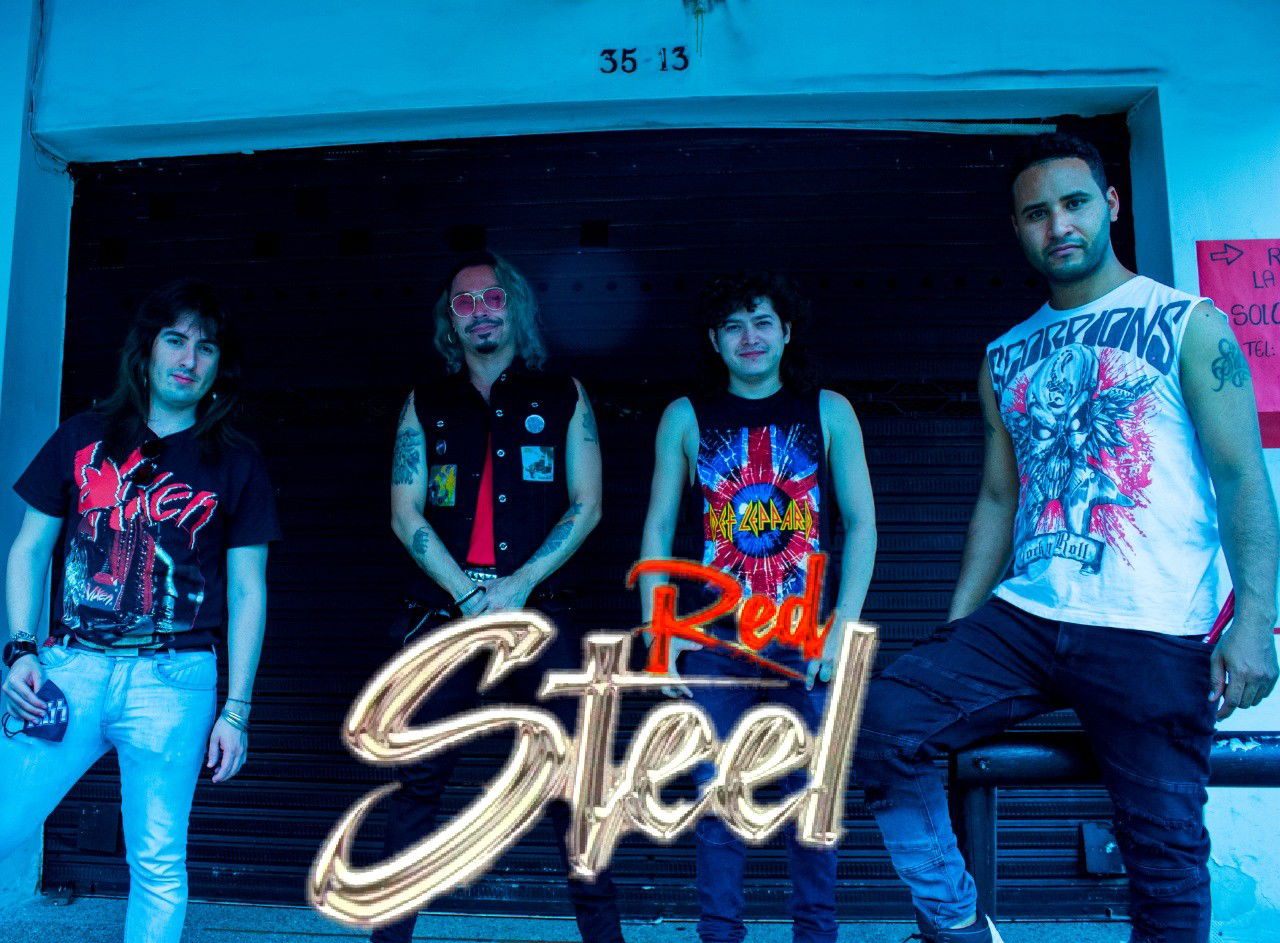 What are your future plans?
Well, a couple of weeks ago we released on video, the first single that will make from the album that we are about to finish, we hope to end this year with another two video releases and possibly the physical album, hoping that the things of this side of the world return to normal and begin to realize the live shows.
Thank you very much for your time & Keep up the good work! The closure is yours.
The truth is, thank you very much for considering this project that is barely coming out but with clarity and also thank you for looking at this part of the planet and reaching out in some way so that the bands sound in Hellenic lands and beyond. We invite you to follow us from all over the world and that you know that in Colombia glam rock is made as it is RED STEEL GLAM ROCK ON FACEBOOK and on Youtube on our channel https://www.youtube.com/channel/UC2_9I09IidKkdCYvkvIJalg?view_as=subscriber. Thanks for reading us and greetings to partygoers from all over the world, from Medellin, Colombia.
By Steve the Filthy Dog.
RED STEEL CONTACT:
https://www.facebook.com/RED-STEEL-156708301055205