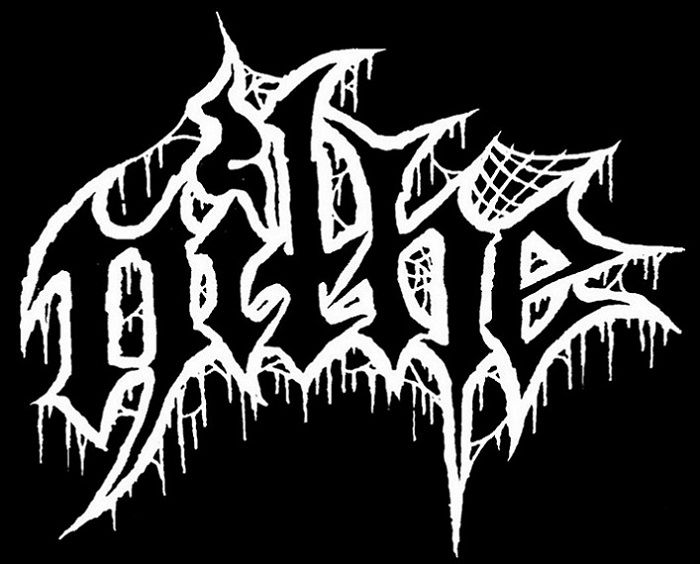 !!!NEKRO METAL FROM NORWAY!!!
Welcome to the FILTHY DOGS OF METAL Webzine.
Tell us a few things about NITHE (Members, Starting Year etc).
We in Nithe are Henrik Nuland (vocals), Aksel Monrad-Krohn (bass), Aleksander Torjesen (guitar) and Stian Utheim Breiland (drums). We are 19-30 years old. The project was formed when Henrik and Aksel retired our former band, Damnation, in 2020. We were sick of not making music, so we asked a bunch of people who we knew could play, and could behave.
You have recently released your demo ''Cemetery Fever''. What is the Feedback from your audience as well as from the Press?
The feedback has been superb on our demo! Honestly didn't expect big things for the release since it's just a demo, but people seem to like more and more nekrotic and demo sound nowadays, and from the time of writing this, it has only been out a day!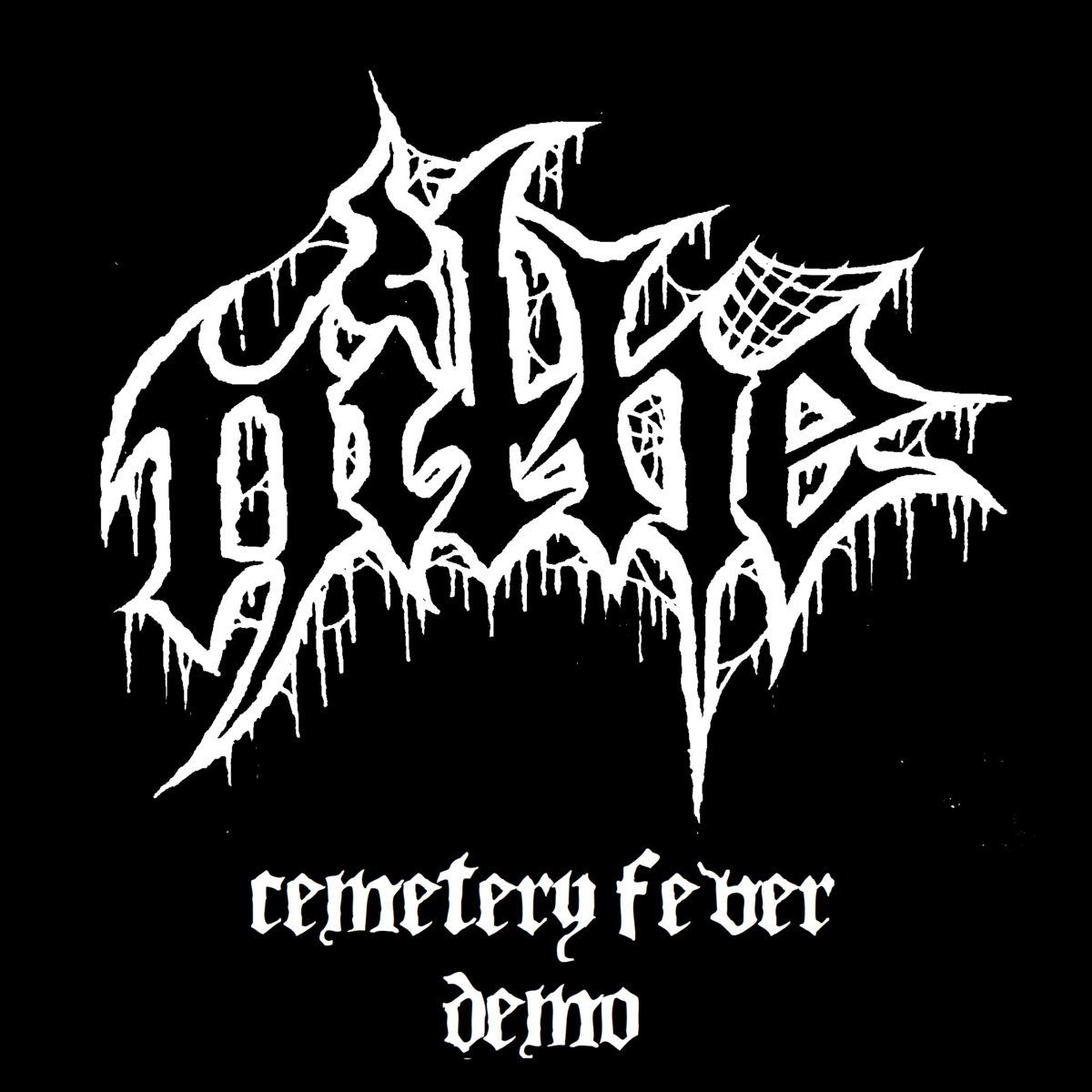 Label or DIY and why?
We are not contracted to a label just yet. We have gotten a very few half offers, but we do not intend to sign to anything right now in the pandemic. We have done everything ourselves on this demo. We used the studio in Tinnheia Fritidssenter, where we have practiced since 2017. Aksel mixed and mastered, and Aleksander did the artwork/logo.

Do you prefer Vinyl, Tape, CD or Digital Format and why is that?
I (Henrik), personally prefer vinyl if we're talking how we would listen to a record. I have a ton of CD's as well, no tapes and I also have to say I use digital streaming a lot as well. Very easy access to all kinds of music these days. If we're talking merchendise to sell, CD's are always the best option. Cheap to get, cheap to sell. Everybody wins!

Your music style is Black/Thrash Metal. Which are your main influences (Favourite Artists / Bands etc.)
We don't really know what genre we are, but we definiely play deaththrash and parts of black metal aswell. Hence why we use "nekro" a lot, because it sums it up pretty good. The project was at first supposed to be an out and out black metal band with Aksel's unique songwriting, but as Aleksander and Stian joined, we leaned more and more towards a kind of Autopsy style. The songs on the demo are pretty dynamic, but for the most part quite slow (apart from K.R.Y.P.T, which is fast all the way) so I have to say there is an element of doom in there. To make this short, some common interest of bands are: Autopsy, Darkthrone, Power Trip, Bolt Thrower, Slayer and many many more.

Which things, do you think, a Band should sacrifice in order to succeed? Have you ever sacrificed anything in your life for a better future of your Band?
Sacrifice. Always a good question. Right now in the pandemic, everyone are working, and we write and practice together once a week. But for a band to succeed, the artists have to dedicate themselves 100% to the music. It is a risk, but it can pay off. Unfortunately this ends up in failure for a whole lot of aspiring artists and bands. This is a risk you can take if you are confident in your talent and attitude. We will just have to wait and see what happens with Nithe when the pandemic is through. Hopefully we will play a ton of shows and drink beer all the time, but we just don't know when this will happen...

Describe your ideal live show as a performance Band. Have you already experienced that?
Ideal live show! Wow. On the top of my head I can imagine us playing in a relatively small venue (intimacy and feel are unbeatable here) packed full of roaring and excited fans. Wouldn't mind having some great bands we know like Blood Red Throne, Deathhammer and Okkultokrati. Having a good time and play loud is prioritized!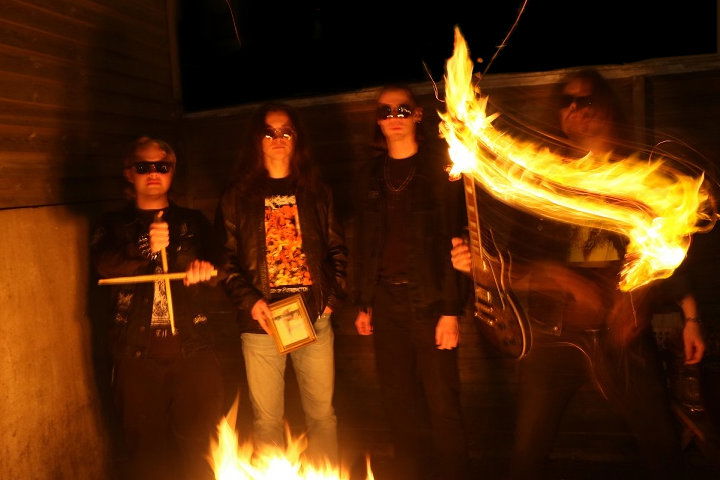 Which attributes, do you think, that a new Black/Thrash Metal Band should have in order to gain identity and be unique?
It is very difficult to bring something new to the table nowadays that bands are doing all kinds of things. The important thing is to stay true to yourself and go the path you'd like to go, and not blatantly rip people off. Aleksander is a master of writing evil and great riffs, Stian has great grooves and hard powerful hits. Both a pretty primitive and raw style, which we all like. But Aksel has a very particular way of writing. I still can't understand how he thinks when he makes songs, but it always turns out perfect. We might sound totally different on the next piece of music we release. Who knows?

Do you believe that Bandcamp and other Digital Platforms help the new Black/Thrash Metal Bands? Which, do you think, is the ideal way for a Band to promote its work?
Digital platforms and social media is a huge help to small underground bands who wants to promote their work. Including us! Obviously to promote your bands work the best, is to play a lot of shows. That way the people will not only listen to your music, but get a performance as well! And the option to buy merch and support the band right then and there. On digital streaming platforms, except for bandcamp which is listeners choice to contribute financially, it is very hard to make money from. Like Spotify. But still a great way to discover new bands and appreciate the music, which in the end, is the most important part of the reason people make music.

Tell us a few things about the New Underground Metal Scene in Norway (Bands, Fanzines, Webzines, Metal Clubs etc.)
We are pretty well oriented in the underground scene in Norway I would say. Especially in the southern part of Norway. We know bands from Oslo to Trondheim to Bergen and back to us, all the way down south. Aleks: «Filthdigger just released a killer demo, and Insane (Swe) just dropped a great album, but I suppose they do not count since they are from Sweden. Also, check out Hecatomb, Evoke, Sovereign, Brainshock, Incinerator, Enter Obscurity, and Töxik Death, I guess.» Other up and coming bands are for ex. Ruun, Haalbuaer, Psykopath and You Suffer, just to name a few. When it comes to webzines, the most common ones are heavymetal.no and Extreme Metal Norway. There are alot of popular places to play metal in Oslo. With previous and current bands, we have played at Rock Inn and Vaterland. Always a good time. In Kristiansand where we are from, there is Kick Nightclub, Håndverkeren and probably our favorite, Vaktbua. Room for 30-40 people. That is a guaranteed great show!

Do you know anything about the Hellenic Metal Scene?
am not too familiar with the Hellenic metal scene, apart from Rotting Christ, Septicflesh and Nocternity. But now I gotta wake up and check some out! Again, the underground master Aleksander could probably tell you something more than I can!

What are your future plans?
Future plans. Good question. As of now, we have no clue. Hopefully the virus will have been erased by next year and we can play shows and spread the good message that we bring with us. Be kind, listen to cool music, and don't be crazy religious! We will certainly write more material even though there are no shows. So don't be surprised if there is more music out even this year!

Thank you very much for your time & Keep up the good work! The closure is yours.
Thank you for the opportunity to promote our band and the brand new filthy and corpsestenchy demo!!! Out on YouTube and Bandcamp! Eternal hails to all you HELLenics!!!

By Steve the Filthy Dog.
NITHE CONTACT:
https://nithe1.bandcamp.com/releases
https://www.instagram.com/nithenorway/