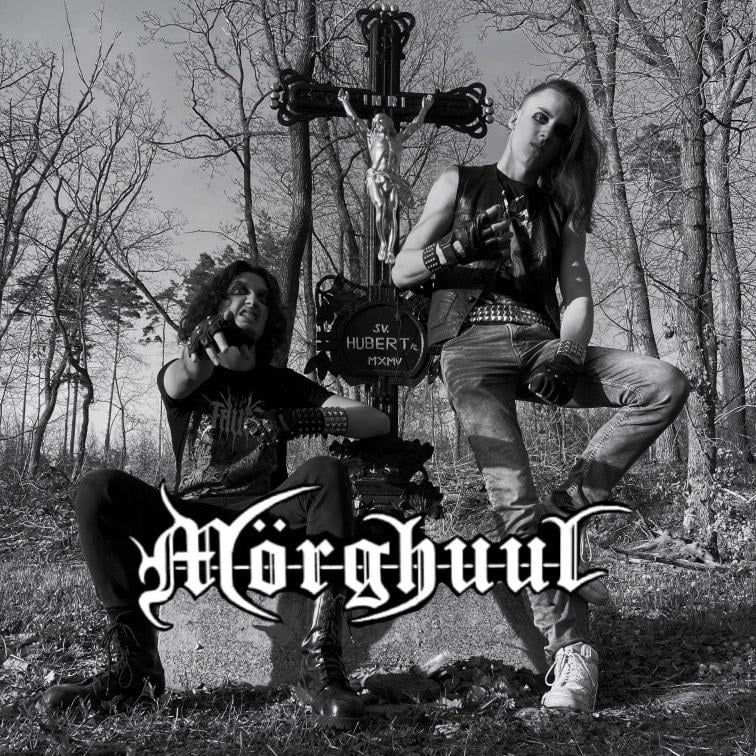 !!!BLACK/THRASH METAL FROM CZECHIA!!!
Welcome to the FILTHY DOGS OF METAL Webzine.
Tell us a few things about MORGHUUL (Members, Starting Year etc).
Well, our history dates back to Autumn of the year 2019, when Matěj Kunc (vocals) and Viktor Heža (guitar), both 15 at the time, decided to start 1st wave of black metal inspired band. In the beginning, we called ourselves Abadon, however we soon found out, that there are many bands with similar names, so we decided to change our name to Mörghuul. Later on we were joined by a drummer and a bass played, however none of them stayed for too long. Since then, Mörghuul was just two of us and became more or less a project. We both also played in different bands, however after some time we decided to leave them and focus just on Mörghuul.
In 2021 you released your EP ''The Beginning of Unholy Ride''. What is the feedback from your audience as well as from the press?
Well, at the time, it didn't even come across our minds to send it to any kind of press, so feedback from the press is virtually none. When it comes to our audience tho, the feedback was mostly hugely positive. One thing, that was repeated however, was, that the sound quality and mixing was awful, which is unfortunately true. At the time, we had no idea about how to record music or make a good sound. We were just happy that we could present our music to the world. We will make sure, that next time, the sound will stay raw, however in a good sense of the word.
Label or DIY and why?
Currently DIY, however if a good label would contact us and offer us a passable contract, we would not have any problems with signing it. Right now, we are happy to be DIY as we are both young and have entire lives ahead of ourselves, so there's no need to rush.
Do you prefer Vinyl, Tape, CD or Digital Format and why is that?
We are both gen Z, so when we started listening to music, it already was a digital format, so digital is the closest to us. However we think that vinyl and tapes, as well as CDs, are the most trve way of doing things and we would certainly love to have some in the future, because right now, our music is only in digital format.
Your music style is Black/Thrash Metal. Which are your main influences (Favourite Artists / Bands etc.)
When we started, we were mainly influenced by 1st wave black metal bands, mainly Venom and Bathory and debut recordings of Kreator and Sodom. But those weren't the only bands we were listening to at the time. We also enjoyed other thrash and black metal acts, which can be heard on our EP, as it doesn't have a unified vision and is basically a mix of music we liked back then. Since the time we released our EP, we had time to mature at least a little bit and to decide on a direction in which we want to continue. This direction basically is blackened thrash/speed metal, mainly inspired by many bands with old school feel, such as Deathhammer, Hellripper, Diabolic Night, Nocturnal and Wraith. Our up and coming album, which is already written, will be in the spirit of this blasphemous style. So it will have a unified atmosphere and direction.
Which things, do you think, a Band should sacrifice in order to succeed? Have you ever sacrificed anything in your life for a better future of your Band?
The greatest and most important thing to sacrifice in order to succeed with music is time. At this point, it even is the only thing we really had to sacrifice.
Describe your ideal live show as a performance Band. Have you already experienced that?
Fuckin' hellish energy is the number one priority. Energy and a degree of showmanship should be a basic pillar of all of metal. It's important to act brutal on stage, but also have a lot of fun with that brutality.
Which attributes, do you think, that a new Black/Thrash Metal Band should have in order to gain identity and be unique?
Denim, leather, spikes and fuckin' bullets. All other ways are false (just joking 😃). Simply obey old school thrash and speed bands and take inspiration there, because that's the kvlt you want to follow.
Thank you very much for your time & Keep up the good work!
By Steve the Filthy Dog.
MORGHUUL CONTACT:
https://www.facebook.com/M%C3%B6rghuul-100470282221271
https://www.instagram.com/morghuul_band_official/
https://morghuul.bandcamp.com/