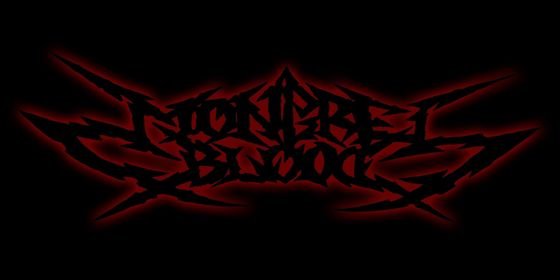 !!!RABID THRASH METAL FROM PHILIPPINES!!!
Welcome to the FILTHY DOGS OF METAL Webzine.
Tell us a few things about MONGRELBLOOD (Members, Starting Year etc).
Mongrelblood started as a local project band around February of 2007. It has since undergone several lineup changes and as of present are composed of original members, Dedrick on bass, Jonathan on guitars and Dennis doing the vocals. They are joined by former Bloodreich members, Kevin on guitars and Jesus on drums. We have 6 studio releases and we are right now working on some new material for our latest release which will be on the 15th year of the band's founding.
In 2015 you have released your split album ''Rabid Execution''. What was the feedback from your audience as well as from the press?
Rabid Execution marked a turnpoint in the band where we have at least improved musically from our previous releases. We have had some "whoas!" of disbelief from our following and most especially from those who have been following us since day one, the feedback from them was that we have established a distinct sound and theme for the band that has given us that image or if you want to call it, a reputation. We were more keen on doing the live shows though and that was because we were inspired by a few bands within our scene. We didn't have any reviews from the press though... We did not have that privilege or opportunity.
Label or DIY and why?
We have asked this question for the entirety of our existence and just recently we have addressed this. Collectively as a band, we came to a point that we had to decide within ourselves if this was something we wanted as a whole. So this is why we are putting more effort into our recordings and releases as to attract a label that could handle our shit. But then if that doesn't work. We could always go DIY. We definitely consider that an option. It's all a matter of how much effort are we willing to exert. The main goal is that we need to get our materials out there. We want more people to hear what we have to say through our music.
Do you prefer Vinyl, Tape, CD or Digital Format and why is that?
Whichever format gets our songs out there for more people to listen to. Let's be honest here. As musicians, that has been our goal from the start. We aren't going to pretend that we are so kvlt and underground as to be obscure that we'll keep the songs we want in a goddamn box. That's why we made those songs in the first place, is to get it the fuck out there. Send the goddamn message through our songs. So whichever format works is our go to. Fuck trying to sell out, fuck trying to be mainstream. We are not fucking hypocrites.
Your music style is Thrash Metal. Which are your main influences (Favourite Artists / Bands etc.)
Funny thing is even if our music style is thrash, we consider a lot of genres as our influences in making Mongrelblood's music. This might be the reason why we are not canned in a single genre when describing our music and we like that. Each of us have our own unique influences musically and it's not just limited to metal.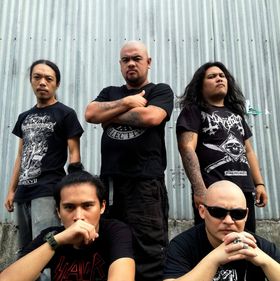 Which things, do you think, a Band should sacrifice in order to succeed? Have you ever sacrificed anything in your life for a better future of your Band?
We have never thought of it that way because as a band, we have since mastered the art of compromise. With compromise, you need not sacrifice anything at all. We just treat Mongrelblood as a separate entity from our own personal, individual selves and this is also the reason why we have stuck with each other for quite a long time. Individually, we may have made some sacrifices along the way in order to reach a goal though but then, we never look back on it and feel any sort of regret. That's why we're very optimistic in our band's future.
Describe your ideal live show as a performance Band. Have you already experienced that?
We just want a rabid thrash pit in front of us moshing their brains out. Doesn't matter where it is as long as the sound is good and everyone has a great time. We've experienced it a lot of times and those moments are unforgettable. We haven't done a large stage but we'd like to thrash one out if given a chance.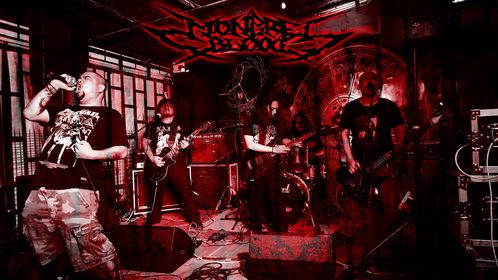 Which attributes, do you think, that a new Thrash Metal Band should have in order to gain identity and be unique?
Tough question. Everyone out there has maybe done it all and everyone else coming behind is ripping it off. But hey, whichever band you got be it metal or not. As long as you put your everything into it and treat it as something else besides your ego. I'm sure you'll succeed. As long as you love what you're doing everything else just falls into place. A little creativity won't hurt as well and fucking live up to what you claim. Be true. That's it.
Do you believe that Digital Platforms help the new Thrash Metal Bands? Which, do you think, is the ideal way for a Band to promote its work?
At this age and time, digital platform has been a powerful tool for any up and coming band or even veteran bands out there. We have to evolve with the environment. As far as it being ideal or not, again, it depends on how much effort you exert into it. How much work you put in is what defines your chances to make it in this industry... and it is not fucking easy.
Tell us a few things about the New Underground Metal Scene in Philippines (Bands, Fanzines, Webzines, Metal Clubs etc.)
Philippines has a lot to offer as far as underground metal goes. We have had the privilege of knowing some of them personally and have been good friends with them as well. As our country is archipelagic in nature, so is the scene. In our place though, our hometown of Iloilo City, the metal scene is pretentious and full of shit. That's why we would rather go someplace else with our music.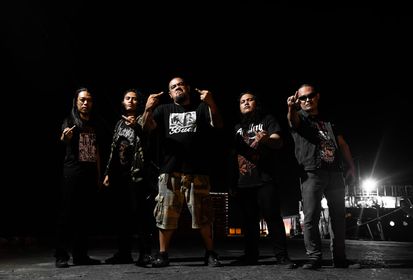 Do you know anything about the Hellenic Metal Scene?
Honestly, we are not familiar but then if given the opportunity to hear about it then we will most definitely give it our attention. That goes the same for any scene we still have not had the chance to hear about.
What are your future plans?
Right now, we are in phase one of accomplishing our objectives. The plan has always been one and the same since day one. We want to be heard all over the world and we will do whatever it takes.
Thank you very much for your time & Keep up the good work! The closure is yours.
We would like to thank everyone who has supported us from the start and to everyone else who said we would not make it past a year or two, we say... Woof! Motherfuckers.
By Steve the Filthy Dog.
MONGRELBLOOD CONTACT:
https://www.facebook.com/mongrelblood/