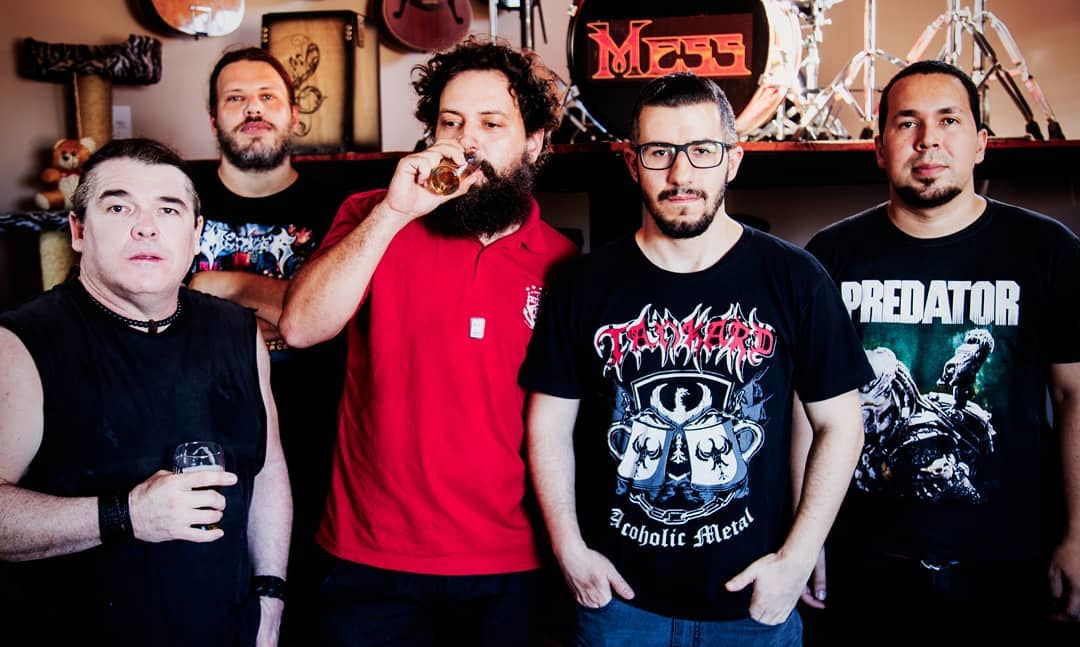 !!!BRAZILIAN THRASH METAL!!!
We had a conversation with METALIZER. Enjoy!
Welcome to the FILTHY DOGS OF METAL Webzine.
1. Tell us a few things about METALIZER (Members, Starting Year etc).
First of all, I wanna thanks a lot FILTHY DOGS OF METAL for this opportunity of showing our music to the metalheads that read your webzine. METALIZER is a thrash metal band formed in 2004 here in Brazil, in the city of Nova Odessa, state of São Paulo. We're releasing our third full length now, called "The Pact" and we are keep on going, trying to bring our music to people around the world.
2. You have recently released your new album ''The Pact''. What is the feedback from your audience as well as from the press?
Yes, we released it digitally and we hope soon to release it also in CD format. The people that listened to "The Pact" in their majority are saying that is our best album and we reached some evolution in our musicianship and production. We still don't had many reviews till now, because we have some difficulty to get it in digital format, but the ones we had till now was very positive.
3. Label or DIY and why?
We're still independent, the press called ROADIE METAL is helping us with digital medias like Spotify, Deezer, Apple and many others and we still hope find some partnership to release in physical format. Hey labels, give a listen to our album, and if you like it, contact us please hahaha.
4. Do you prefer Vinyl, Tape, CD or Digital Format and why is that?
I am a traditionalist in this area, my favorite media is Vinyl. But I also like CD. I even use Spotify, because is impossible to have everything in physical format, and is way to listen music in the street, especially in the bus going to my job. I dream someday release our albums in Vinyl, it will be great.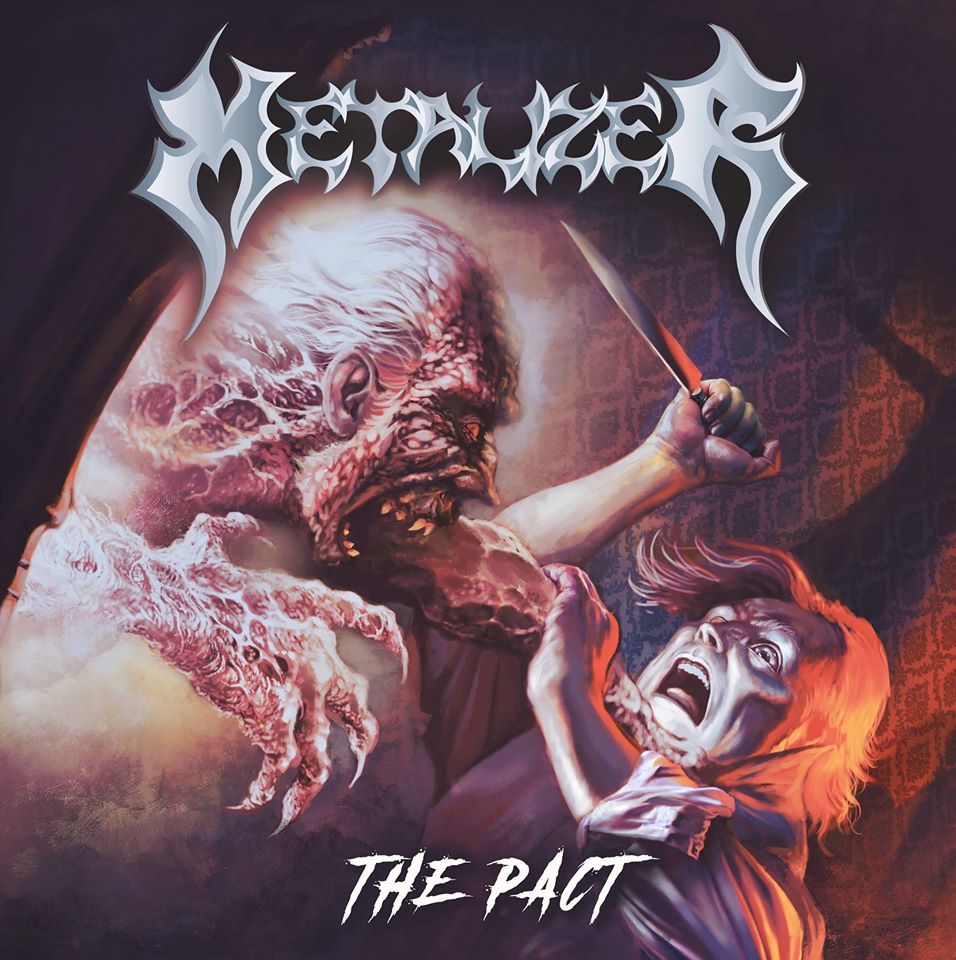 5. Your music style is Thrash Metal. Which are your main influences (Favourite Artists / Bands etc.)
Our main Style is Thrash Metal, and always will be, but we have a lot of influences of other styles like, Heavy Metal, Speed Metal, Death Metal, Hardcore, the nuances of this styles and others are present in our sound in a natural way. We are inspired by many bands, I will tell some names: Slayer, Overkill Judas Priest, Exciter, Sepultura, Motorhead, Candlemass, Destruction, Razor, The Mist, Dorsal Atlântica, Black Sabbath, Coroner, Tankard, Voivod, Metallica, Megadeth, Iron Maiden, Witchfinder General, Obituary, Discharge, Thin lizzy, Running Wild, Rage, Metal Church…….Many, many others.
6. Which things, do you think, a Band should sacrifice in order to succeed? Have you ever sacrificed anything in your life for a better future of your Band?
There are many things we have to sacrifice in our lives. Not only in a question of being succeeded, or better, being commercially succeeded, but even in a question of keeping a band alive along all these years. We spend our personal money, we spend a lot of time that we could be spending with our families, or investing in ourselves studying, or professionally. But we have no repent from this, because music is our essence, we are putting out truth on it, so we think about art first, and commercial success comes second.
7. Describe your ideal live show as a performance Band. Have you already experienced that?
A ideal live show is made of a combination of energy from band and audience with a professional set up, with good amplifiers, microphones and etc. We have experienced this sometimes, but in Brazil we have problems many times in the structural sector, the audience even in shows with bad structure use to be full of energy, and this can make a performance good.
8. Which attributes, do you think, that a new Thrash Metal Band should have in order to gain identity and be unique?
Is hard to tell it, because there's no a magic formula to make it. Talking about our way, we just try to make a real music, bringing our influences to our sound but without thinking about it. For example: Slayer is a big influence for us but we don't think things like "now we will make a song that sounds like Slayer" because the result of this composition will sounds like a copy. I guess the influences must be unconscious, or subconscious, I don't know the expression to use (I need to study more psychology hahaha), but everything we listen will appear naturally in our music without the need to think about it.
9. Do you believe that Bandcamp and other Digital Platforms help the new Thrash Metal Bands? Which, do you think, is the ideal way for a Band to promote its work?
Yes, this platforms help us a lot to show our music to bangers from many places in this world. Today people use this digital platforms to know new bands, or even old bands that they still do not know. Is a good way to listen to the sound before buy a CD or go to a concert.
10. Tell us a few things about the New Underground Metal Scene in Brazil (Bands, Fanzines, Webzines, Metal Clubs etc.)
Our country is full of talented bands, I indicate bands like Rethurno, Suffocation of souls, Cerberus attack, Sadistic Messiah, Evals Mess, Selvageria, Caos Onipresente, Farscape, Flagelador, Sangrena, Blasthrash, Desdominus, Nosferatu, Living Metal, Misthenia, Madhouser, Grim Suffering, Apocalyptic Raids, Comando Nuclear, Grey Wolf, Dragonheart…….and lot of other great bands doing a powerful sound. We have webzines and magazines like Roadie Metal, Roadie Crew, Art Metal, Heavy Metal Online, Portal do Inferno, Headbanger news, Cangaço rádio rock, Mundo Metal, Sepulchral Voice and others...
11. Do you know anything about the Hellenic Metal Scene?
I know some bands, like classic Black Metal groups like Necromantia, Varathron and especially Rotting Christ that I like many classic albums, for example, Thy Mighty Contract, Non Servian and others. I know a Thrash Metal band Called Mentally Defiled, awesome band, many years ago I used to listen to a band called Marauder, if I'm not confusing I remember they had a album about the Greek Revolution, good sound in style of Running Wild and Grave Digger. But maybe my favorite band from your country is Suicidal Angels, they are a giant from the actual Thrash generation.
12. What are your future plans?
For now the principle is work on the promotion for "The Pact". We released a video clip for the track "Wild Eyes" (watch it on YouTube bangers and subscribe to our channel), we will make a new video clip in the next months. I hope as soon as possible release our album in CD. I have the songs from a new album composed since 2016 and together with my band partners we will work in this songs for a future album for the next years.
13. Thank you very much for your time & Keep up the good work! The closure is yours.
We are very grateful for the opportunity to show our music to the public of your webzine, excuse me for some mistakes in english, this is not our first language but I've tried to do my best. Search our music in digital Platforms like Spotify, Deezer, YouTube. You will find our 3 albums, in YouTube you will find also our demos and video clips. Thank you a lot, and thanks to everyone that spent their time reading this interview, cheers!
By Steve the Filthy Dog.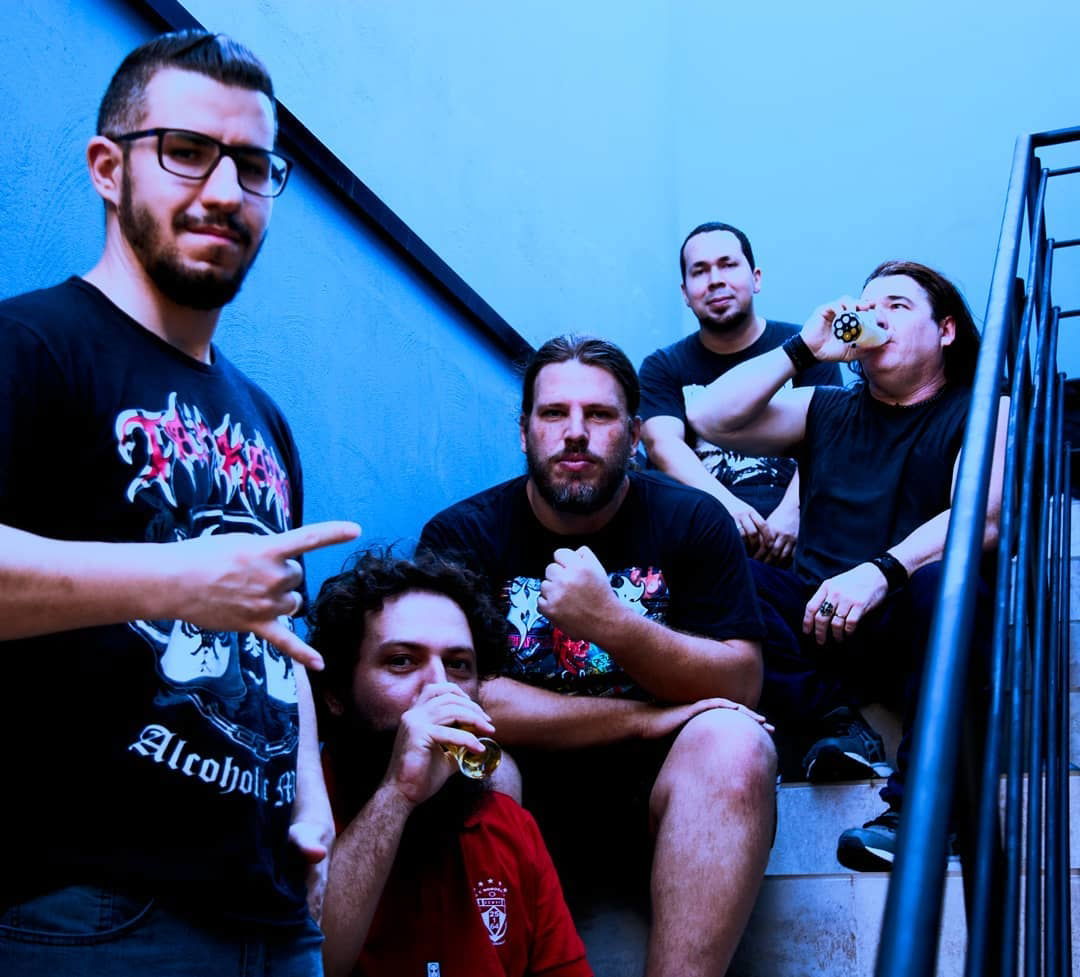 METALIZER CONTACT:
https://www.facebook.com/metalizermetal?fref=ts
https://soundcloud.com/metalizer-thrash