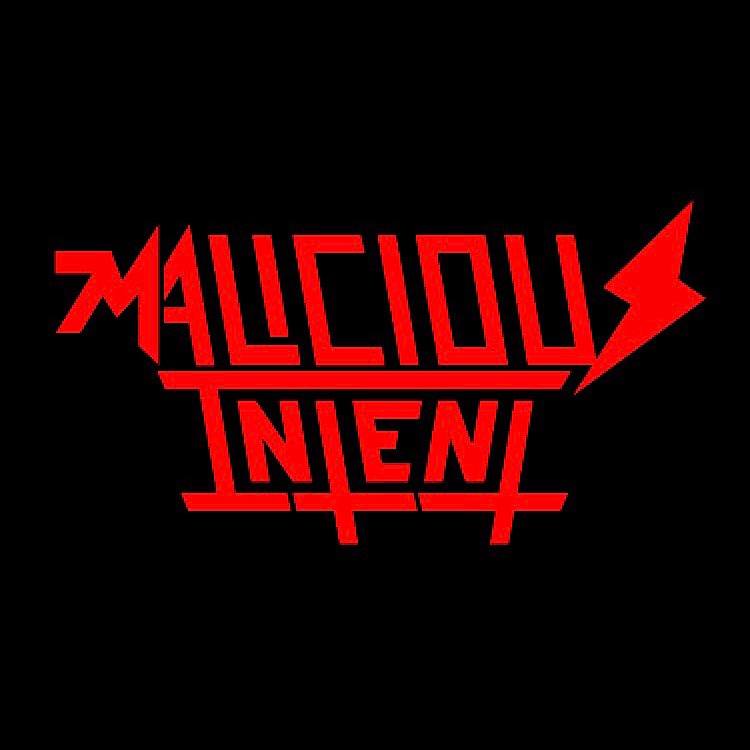 !!!CANADIAN THRASH METAL!!!
Welcome to the FILTHY DOGS OF METAL Webzine.
Tell us a few things about MALICIOUS INTENT (Members, Starting Year etc).
We started in 2014-15 as Diabolica, changed names in 2017 when Conor became singer to Malicious Intent and got way more serious. Guitars have been slaughtered by Dr Enema Matt Dery forever, bass by High Speed Chase Leclair (voxxx as of 2019 too) & heavy drum artillery strike is Your Mom's Favourite Dylan Mackay. We play loud fast loose speed thrash and worship at the altar of Razor, Destruction, Demolition Hammer etc etc!!!!
You have recently released your live album ''Too Live To Drunk''. What is the feedback from your audience as well as from the press?
Feedbacks been overwhelmingly positive! And keep getting asked about the next studio output… it's coming fast .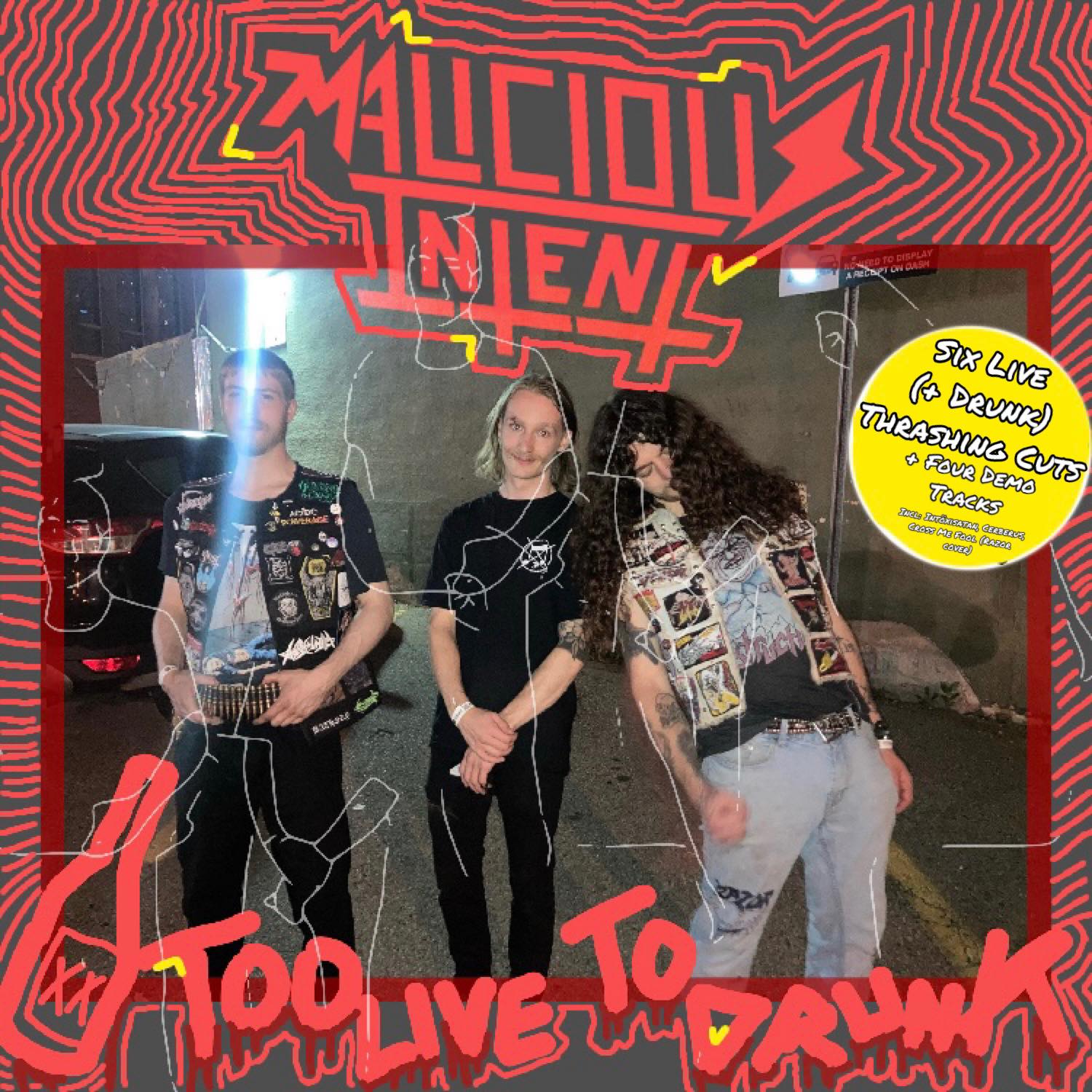 Label or DIY and why?
A little bit of both. I like to do DIY stuff a lot, a few runs of tapes, most of our shirts. Our label out in the Netherlands, Unholy Coven, does great stuff for us too and we love them!!
Do you prefer Vinyl, Tape, CD or Digital Format and why is that?
Vinyl. We hope to press the next release on vinyl, but nothing set in stone yet, still just talking about it. Records just add more depth to the listening experience, you get the full cover art, the full sound quality, can't be on the go to listen to it so it has full attention.
Your music style is Thrash Metal. Which are your main influences (Favourite Artists / Bands etc.)
Razor, Demolition Hammer, Power Trip, Destruction, Sodom, Metallica, Slayer, etc etc!!
Which things, do you think, a Band should sacrifice in order to succeed? Have you ever sacrificed anything in your life for a better future of your Band?
Their time. We lived with the worst drummer in the world through Live Destruction & Cerberus, because he only had time for other shit. And now, we finally have a great lineup that really cares, really gives it their everything, and it's made a world of difference. Kicked it into high gear and have been more productive than ever.
Describe your ideal live show as a performance Band. Have you already experienced that?
The best shows have always been the tight ones. We used to play in this small cafe with our Leadmonton Thrasher Union crew and just go insane. Pack way too many young thrashers into this tiny space and let em go nuts. Really hope those days come back…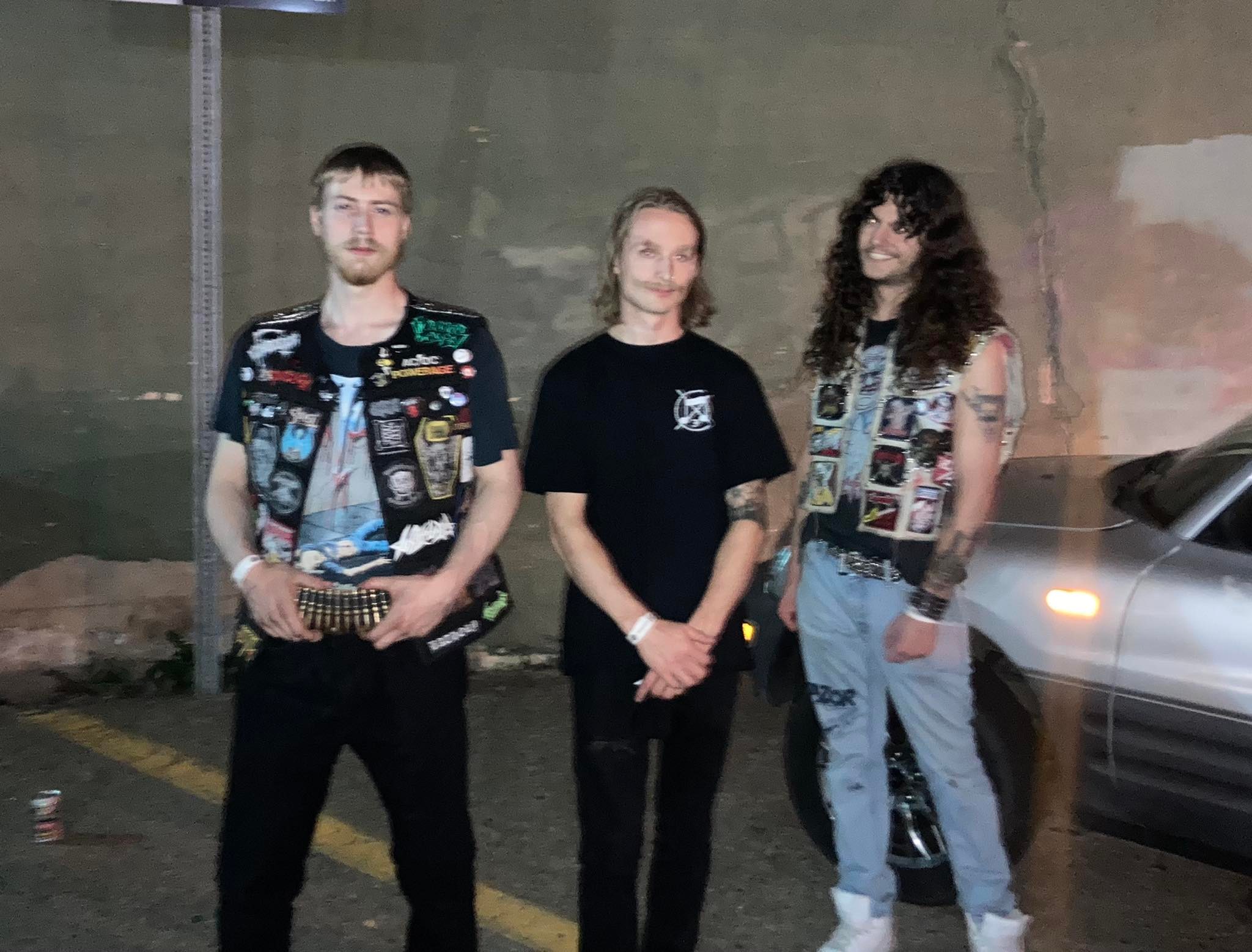 Dr Enema, Your Moms Favourite, High Speed (L-R)
Which attributes, do you think, that a new Thrash Metal Band should have in order to gain identity and be unique?
Gotta be in it cause you care about the music. If you're not writing what you want to be listening to then what's the point? If it's more about the image than anything why even play?
Do you believe that Digital Platforms help the new Thrash Metal Bands? Which, do you think, is the ideal way for a Band to promote its work?
I think it both has and hasn't. Tape traders managed to get stuff around and make deals without the Internet, it's just a different means I guess. To be honest, I'm not too well versed in promotion, everything tends to go by word of mouth.
Tell us a few things about the New Underground Metal Scene in Canada (Bands, Fanzines, Webzines, Metal Clubs etc.)
We have a little crew of thrash bands here in Edmonton that we love a lot! Our boys Rising Sun, Hollow Point & Lacerator are always good for a great time and a high energy show. Not exactly heavy metal, but Dylan drums in Edmonton hardcore kings Vibes who just put out a great record, Baseball Bat To The World's End! Also huge fans of our Calgary brothers Gatekrashor, Riot City, Traveler, Glare…. The lists go on.
Do you know anything about the Hellenic Metal Scene?
Not a ton to be honest, a lot of my focus personally lands on 80s Quebec demo bands like Voor & Damnation.
What are your future plans?
We plan on releasing our first full length in the near future! We've written most of it already, have a couple more to finish and then we're ready to start recording. Really can't wait, it's definitely our best work to date.
P.S.!!!! EAT SHIT GET AWAY……… AND DO IT TODAY!! Blast Executioner's Song & Eternal Devastation forever, and never fucking relax.
By Steve the Filthy Dog.
MALICIOUS INTENT CONTACT:
https://www.facebook.com/Maliciousintentband/
https://www.instagram.com/maliciousintentband/
https://maliciousintentyeg.bandcamp.com/
https://open.spotify.com/artist/5K03yIjyhv1tF1aA4V46n0
https://www.deezer.com/en/album/68654931