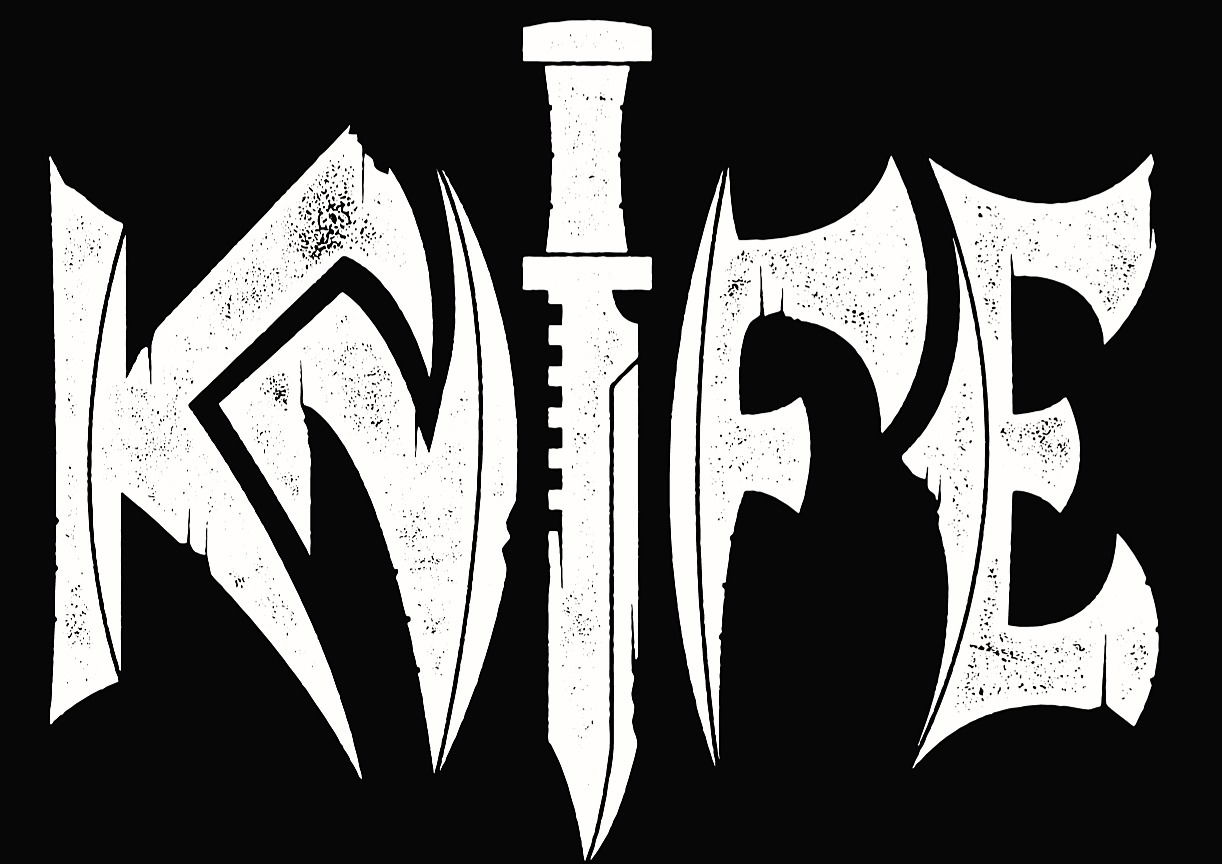 !!!BLACK SPEED METAL PUNK FROM GERMANY!!!
We had a conversation with Benni Bronson (Vocals).Enjoy!
Welcome to the FILTHY DOGS OF METAL Webzine.
First of all we want to thank you for you support and the interview. Hell yeah!
1. Tell us a few things about KNIFE (Members, Starting Year etc).
Knife is a four-piece Black Speed Metal Punk Band from the heart of Germany with Laz on guitar, Ferli on drums, Rook on bass and me, Bronson as the vocalist.Laz and I had the idea to found a new band in 2019 after we had been playing together in another band for nearly 18 years. For us it was time to start something new, something harder, faster, something more METAL. So we started to write and record the first songs and after a few months the line up was completed. We decided to go public at the beginning of 2020 with the first songs.
2. You are going to release your new tape "Black Leather Hounds". Tell us a few things about this work.
Basically the song on the "Black Leather Hounds" tape are the ones that represent the sound of KNIFE very well. We got the fast and wild "Sword Loser" and we got the pounding title track "Black Leather Hounds". These songs are the appetizers of what is about to come. We've already written further songs that breath the power of wild and screaming Black Speed Metal Punk.
3. Label or DIY and why?
We are collaborating with a Swiss label METALWORLD SWITZERLAND who are also responsible for booking. It is really nice to work with Alex of Metalworld because we have all the freedom we need to record the music the world deserves. On the other hand we are also doing many things ourselves. The whole social networking is mainly done by Laz and partly done by me. We are also doing all the artwork stuff and photography together with friends.
4. Do you prefer Vinyl, Tape, CD or Digital Format and why is that?
This is a good question. As a fan I personally prefer vinyl, tape CD, since I am a collector. But nowadays it is also important to use modern technology (which I do as well). When I am at home listening to vinyl is of course the most enjoyable way. In a car or while doing sports it is of course the easiest way to use mp3 or Spotify or whatever...
5. Your music style is Speed/ Heavy Metal. Which are your main influences (Favourite Artists / Bands etc.)
Yes, but one might not exclude Punk Rock which is also a very important influence. Basically I think that our influences are more or less the same the old bands of the NWOBHM had.We love the old school gods like Motφrhead, Sabbath, Zeppelin, Lizzy and of course Judas Priest and we also love bands like the Ramones, Sex Pistols, UK Subs.Further important influences are Van Halen, Venom, Zeke, Iron Maiden,Turbonegro, Manowar,Angel Witch, Exodus, Slayer, Kreator, Misfits, Whiplash, old Helloween, Bathory, Mercyful Fate...man, this list might go on forever. Even though we still worship the old bands we also support new bands as well like Enforcer, Midnight, Bewitcher, Night Demon, Atlantean Kodex.
6. Which things, do you think, a Band should sacrifice in order to succeed? Have you ever sacrificed anything in your life for a better future of your Band?
As long as you passionately do, what ever you do, I think you will be successful to a certain extent. I don't think that you have to 'sacrifice' anything. You have to set yourself a goal that you consider to be realistic and then you have to work hard to reach it. Especially with our old band we spent many hours on the road just to play in front of 15 people. If this is what you like then go for it. If you want to be successful you have to find out what you are NOT able to do. Focus on your music ,and everything that is important for your band, and you will be "successful".
7. Describe your ideal live show as a performance Band. Have you already experienced that?
As I said before, the band is quite 'new' so we have not performed with KNIFE yet. During the hard times everyone is facing at the moment we are still writing new songs, waiting to
bring them onstage in 2021. Hopefully we will deliver the ideal live show then. To me, the perfect live band is not a band that plays flawlessly, but one that is delivering the music, the energy, the atmosphere. It always depends on the kind of music. The perfect KNIFE show is when you get your asses kicked so that you are not able to sit for the rest of the day. Music like ours needs to be delivered with raw energy, sonic violence and - very important - fun. And - again depending on the music a band plays - a band should look like band. KNIFE is a 4-man-army wearing denim, leather, bullet belts, spikes and chains!
8. Which attributes, do you think, that a new Heavy Metal Band should have in order to gain identity and be unique?
In times where there are so many bands worldwide which have the chance to make music, I think the most important thing is to be authentic. It does not matter what kind of music you play as long as you do it for the sake of music. You should play the sound you love and not the one that might be in vogue at a specific time. If you love to be in a band that sounds like the mighty Maiden, well, then start a band that sounds like Maiden. I don't think that this is a problem. Uniqueness is very hard to find in the Heavy Metal scene but I don't think that this is a problem. A good song will always be a good song.
9. Do you believe that Bandcamp and other Digital Platforms help the new Heavy Metal Bands? Which, do you think, is the ideal way for a Band to promote its work?
The digital platforms are a two edged sword. Today it is much easier to record and distribute music. It is awesome that you have the opportunity to spread your music world wide. On the other hand one billion other bands do this as well. Again it is important to use all these platforms wisely. And this is where the hard work begins. You steadily have to work and promote
yourself, you have to prove that it you band is worth listening to. So it is also important to create an image that people can refer to.
10. Tell us a few things about the New Underground Metal Scene in Germany (Bands, Fanzines, Webzines, Metal Clubs etc.)
The German underground is very busy. We have many good bands with and without record deals. As there are our friends in HYEMS - a brilliant Black Metal band, Glanville, Supercobra, Blizzen, Vulture, Tyler Leads...and many many more. We got some "big" magazines like Rock Hard, Deaf Forever and Metal Hammer and many on- and offline fanzine. I think that Germany is a great country for Heavy Metal because all the bands got the chance to play (small) venues all across Germany (at least before the fuckin' Corona crisis), you can use the zines for promotion and you get in touch with all those maniacs out there, fans in Metal clubs or other freaks.
11. Do you know anything about the Hellenic Metal Scene?
Of course I know some bands like Rotting Christ or Battleroar but Since I have never been to Greece before I can only refer to what I "know" from the internet. But if you watch videos of all these great underground bands you can see that the people
are crazy about metal. I always get the impression that the fans in Greece and South America are the wildest Heavy Metal Maniacs on the planet. I hope we play there anytime soon.
12. What are your future plans?
So the "Black Leather Hounds" tape will be available soon. Basically we planned to release a second tape and 7 inch but because of Corona no one knows what the future will bring. It is still scheduled that we record our full length album at the end of 2020. As I said before, we already have written and partly pre-record some killer tunes of raging METAL.
13. Thank you very much for your time & Keep up the good work! The closure is yours.
We have to thank YOU again for your support. Well, there's not much left to say...stay health, stay clean, stay METAL! Up the Irons! Sacrifice your life to KNIFE! Cheers!

By Steve the Filthy Dog.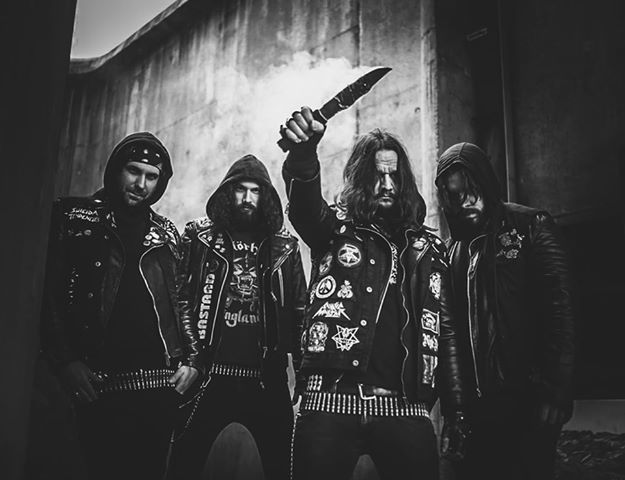 KNIFE CONTACT:
https://www.facebook.com/knifeofficial.de/