!!!SPEED METAL FROM COLOMBIA!!!
Welcome to the FILTHY DOGS OF METAL Webzine.
Thank you very much for the interest and support you are giving us by creating new channels to extend the reach of our music.
Tell us a few things about IRONCLAD (Members, Starting Year etc).
Ironclad is a band from Bogotá-Colombia that started activity since 2007 approximately. The line-up has always been the same: Andres Romero drums, Alejandro Echeverry bass/vocals, Albeiro Jaramillo guitar and Nelson Cárdenas guitar. Our style is mainly influenced by Speed Metal but it is also possible to perceive influences of Heavy and Thrash. Lyrically there is even an inclination towards dark themes.
In 2015 you have released your album ''Iconoclast''. Have you prepared anything new since then?
At the moment we are working on our next album which will be called "The darkest Key". We consider this album is darker than the first one and we wanted to attribute a song to different demonic deities. Musically it is fast, with speed acid guitars, dark atmospheres and deep and evocative vocals.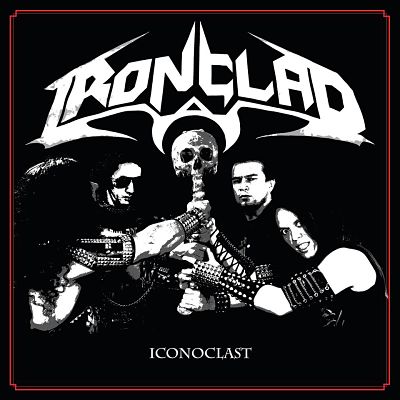 Label or DIY and why?
Rata Mutante Records is the label that will release our next album, which will be released in June of this year. The owner of the label is Esteban Mejia vocalist and guitarist of the Speed Metal band from Medellin-Col Revenge. We think that Esteban's label is an excellent opportunity to venture into different scenes worldwide.
Do you prefer Vinyl, Tape, CD or Digital Format and why is that?
We have no preferences. So far we have had productions on Tape and CD. CD is the format in which the majority of productions are still produced, at least in our country. Currently there is a boom in the vinyl format and of course we also consider publishing material in this format as well.
Your music style is Heavy/Speed Metal. Which are your main influences (Favourite Artists / Bands etc.)
Our influences are quite varied. We love and enjoy listening to music and not only metal music. Each member of the band has very particular interests that cover a wide range of genres (Heavy, Speed, Thrash, Black, Doom, death, Progressive, jazz, AOR, Synth pop, old Electronic music, Hard rock, among others) However there are tastes in common and that's where our motivation to make metal come from. We could then name bands like Venom, Possessed, Angel Dust, Iron Angel, Manilla Road, Tyrant (Ger.), Sodom, Motörhead, Judas Priest, Accept, Exciter, Razor, etc.
Which things, do you think, a Band should sacrifice in order to succeed?
Time. Making music takes time and dedication. Hours for rehearsal, hours for composition, recording, performances. We sacrifice time from our families, hobbies, fiends or work in order to create our music. We put a lot of things aside to get together and make music. But music is our passion and in the end it's not so much a sacrifice, it's a lifestyle, and we enjoy it.
Describe your ideal live show as a performance Band. Have you already experienced that?
Well, our shows are very classic. For our live-outfits a lot of black leather and spikes. If possible, good lighting and a dense atmosphere created by smoke. Imagine something like a Motorhead´s or Venom´s show. Something like that is ideal for us.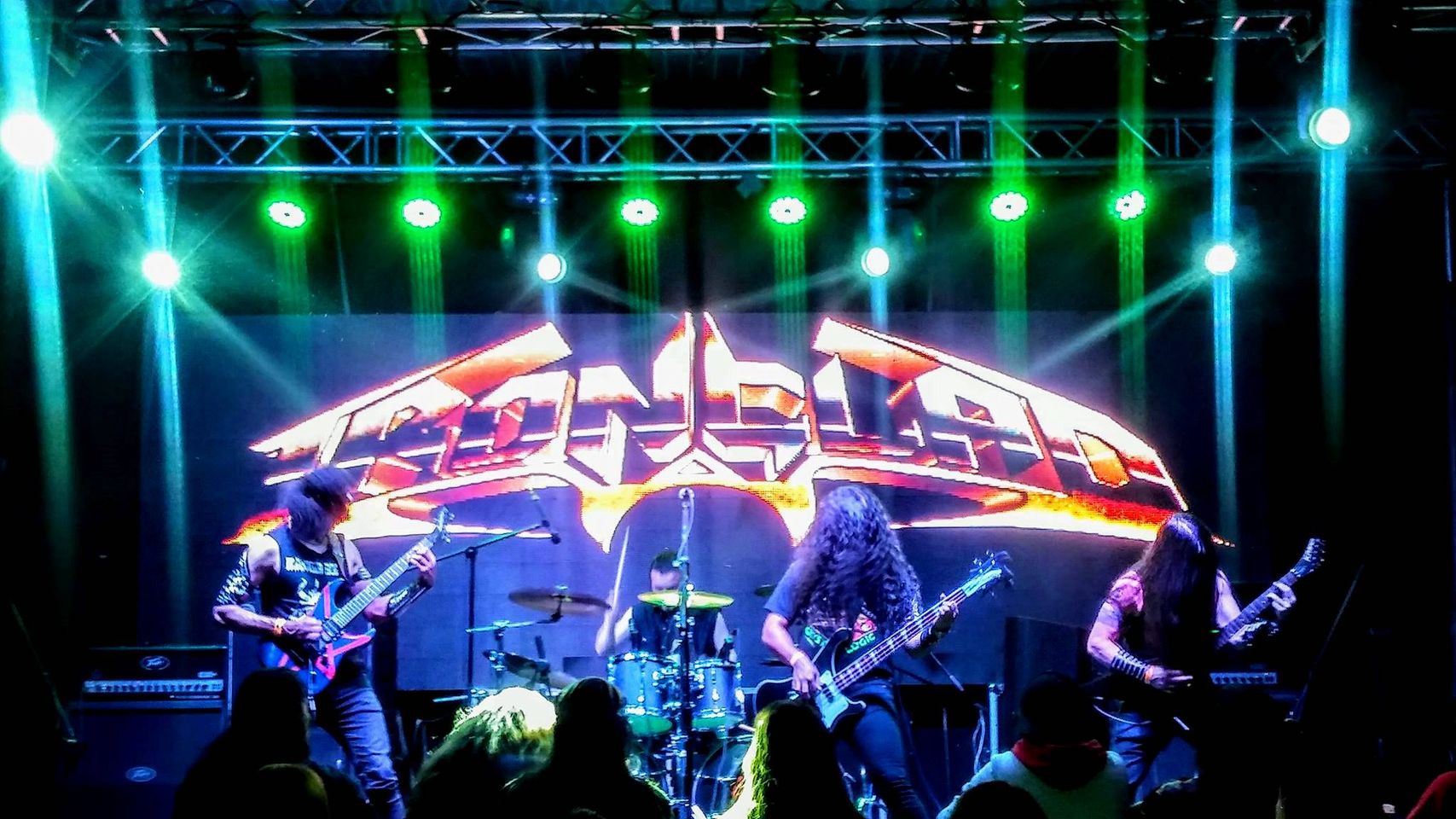 Which attributes, do you think, that a new Heavy/Speed Metal Band should have in order to gain identity and be unique?
Creating musical identity is perhaps one of the hardest things these days. Each member of the band must contribute ideas pointing towards the same horizon and must be mature enough to discard contributions that may not be related to the band's ultimate interests. It's what we call "creating a stylistic filter." What does not go with the style you want to achieve is simply discarded. On the other hand, it is very important to have clear influences. We are aware that the best metal has already been made and we are not creating any new genre, but at least try not to be a blatant copy of another band and try to create a sound of our own, be it for the riffs, the voice, the topics, even for the selection of the distortion and things like that.
Do you believe that Bandcamp and other Digital Platforms help the new Heavy/Speed Metal Bands? Which, do you think, is the ideal way for a Band to promote its work?
Honestly we haven't used any of the digital platforms to promote and sell our music so far and it's not so because we don't like them; we've simply been on the sidelines from these platforms, limiting ourselves to using physical formats like CD and cassette. Nor do we rule out the use of such platforms in the future. At the moment we will have to familiarize ourselves with them.
Tell us a few things about the New Underground Metal Scene in Colombia (Bands, Fanzines, Webzines, Metal Clubs etc.)
The Metal-scene in Colombia is quite wide and varied in terms of genres and has a long history since early 80's. The main contribution of Colombian metal would be made by the "Ultra Metal" in the eighties. The bands of this underground movement would be characterized by a raw, dark and aggressive sound with few technical and academic concerns musically speaking. Bands like Parabellum, Reencarnación, Necromantie, Sacrilegio, Blasfemia would be a reference for underground metal worldwide and bands like Mayhem would testify for the influence of these bands on the North Black scene especially. Other bands that we could name for their long career and international recognition are for example Masacre (Death) Neurosis (Death) Revenge (Speed/Heavy) Witchtrap (Thrash/Black) and Inquisition (Black)
Do you know anything about the Hellenic Metal Scene?
Well, we don't really know a lot of bands and the few bands we know belong to the Black genre; Rotting Christ, Varathron, Necromantia, Suicidal Angels.
What are your future plans?
Our next plans are of course to promote our next album, to be able to distribute our music in other countries in South America and Europe especially. We would of course like to acquire a contract with a larger label internationally.
Thank you very much for your time & Keep up the good work! The closure is yours.
Thank you very much FILTHY DOGS for your valuable work and for supporting us and for wanting to help our music and that of many other bands on the South American scene have a greater reach on other scenes internationally.
By Steve the Filthy Dog.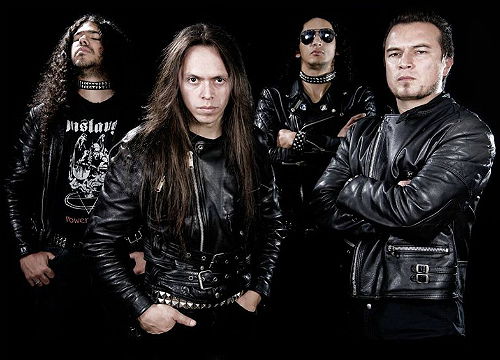 IRONCLAD CONTACT:
https://www.facebook.com/ironcladoficial/
https://soundcloud.com/ironclad-speed-metal
https://www.instagram.com/ironcladsm/