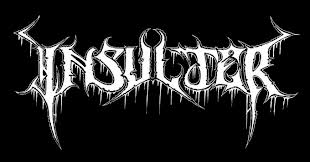 !!!BLACK/THRASH METAL FROM GERMANY!!!
We had a conversation with A. Patrolator (Guitars/Vocals). Enjoy!

Welcome to the FILTHY DOGS OF METAL Webzine.
Tell us a few things about INSULTER (Members, Starting Year etc).
It is not easy to name our year of foundation. Different members and different previous projects led to Insulter. Today`s line-up was founded in 2010. Until 2016 Insulter was a quartet but then our singer left due to personal reasons. Since then we are a trio: Michi von Einst (Bass & Background vocals), Infernal Firedemon (Drums) and A. Patrolator (Guitar & Vocals). From this point on we had a lot of great gigs and small tours in Europe and a mini-tour in the southeast of Asia. I think we became a really good-working trio with a good mixture of Metal-possession and fun.
You are going to release your new album ''To The Last!''. Tell us a few things about this project.
This album means a lot to us. It is the first album that we completely composed as a trio. I think the third album is always something special for a band. Take a look at "Master of Puppets", "The Number of the Beast", "Reigning Blood" and countless other albums and what they have meant for the bands. Not that we will ever be as influantial as those bands. But it is something special for us. Furthermore we sacrifized a lot of passion, time and money for this album. Due to health reasons of the husband of our Labelboss (Cheers to Cheryl of Witches Brew ;) we didn´t know which Label is going to release the album or if we can even find one. But our passion to the new songs was stronger. So we decided to withstand those unclear conditions and to put all our money into a professional recording (Cocobolo Studios in Gießen Germany). Now Witches Brew (CD & Vinyl) and Metal is the Law (Picture LP) are going to release "...To The Last!". This was the first time for us in a really professional Studio. The atmosphere and the working conditions were great and we never worked so concentrated before. Now we are very satisfied with the result and looking forward to what you guys are going to say.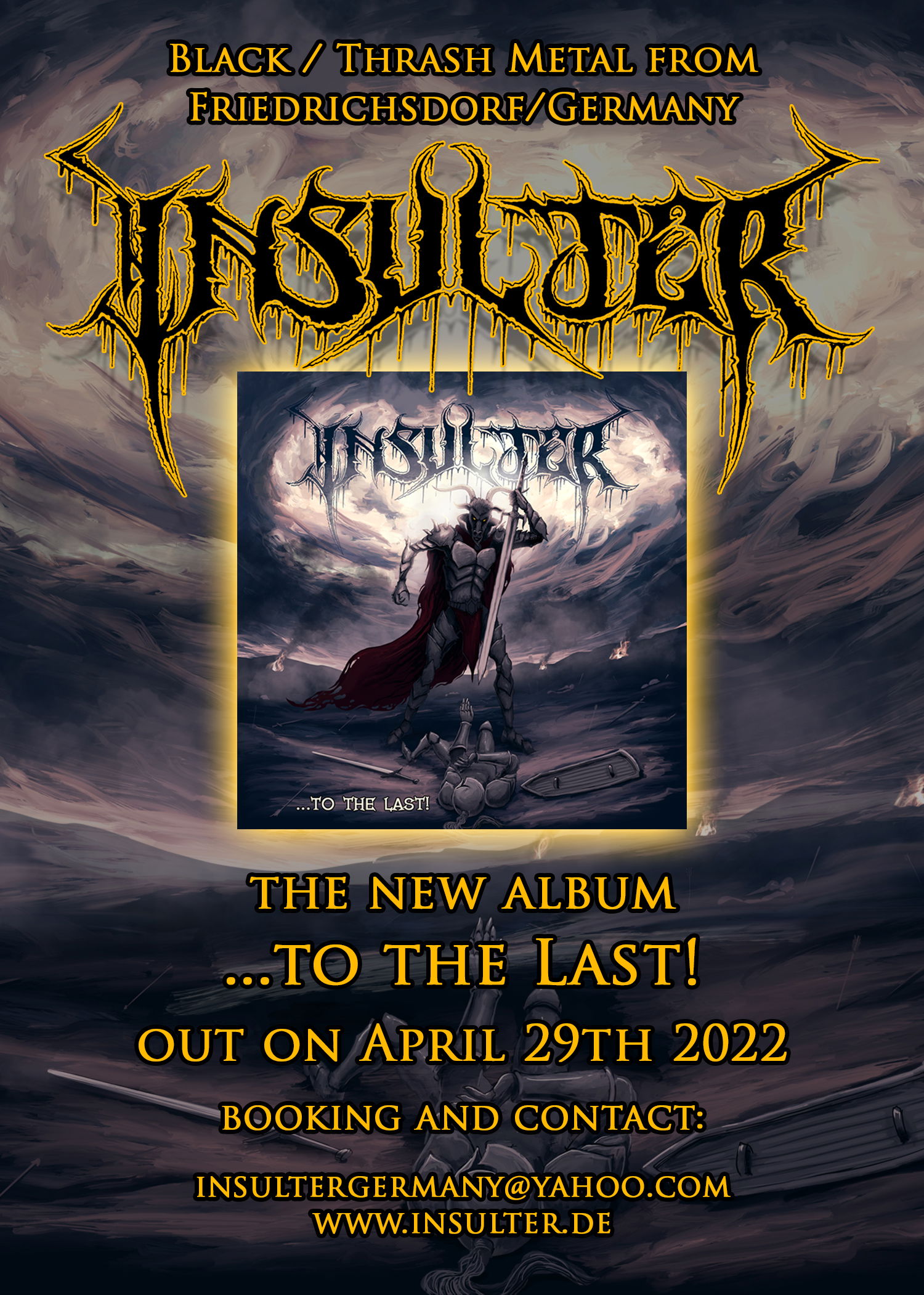 Label or DIY and why?
We were very happy when Cheryl told us that she wants to release our new album. We have the feeling that Witches Brew really wants to support underground bands. We are less traditional musicians than more kind of possessed Metal fans. So we have the feeling they are the right choice for us. Since years we thought about a Picture LP. So we were very happy when Metal is the Law told us that they want to release our new album as Picture LP. We are managing and financing a lot on our own. The support by both Labels gives us some more options and helps us a lot. And the most important thing is to meet more possessed Metalheads and get connected.
Do you prefer Vinyl, Tape, CD or Digital Format and why is that?
Easy question! ;) I guess all of us are collecting Vinyl. Vinyl got the bigger artwork, more atmosphere and is kind of closer to the roots and former heroes of our Genre. A really good thing is the combination of Vinyl and a download code. That combines the best of both worlds – flair and modernity.
Your music style is Black/Thrash Metal. Which are your main influences (Favourite Artists / Bands etc.)
We all share a big base of traditional Metal bands. But everyone of us also has his individual favorites. Michi von Einst has really an eye on everything concerns Heavy Metal and Hard Rock. I guess he his the most educated of us in Traditional Rock music. Christian for example is a big fan of Dissection and death. I am a big fan of bands like Sodom, Desaster and various Teutonic Speed, Thrash and Black Metal bands. A lot of people compare us with Desaster. Thats an honor for us and we already shared the stage with Infernal to cover Desasters Razor Ritual.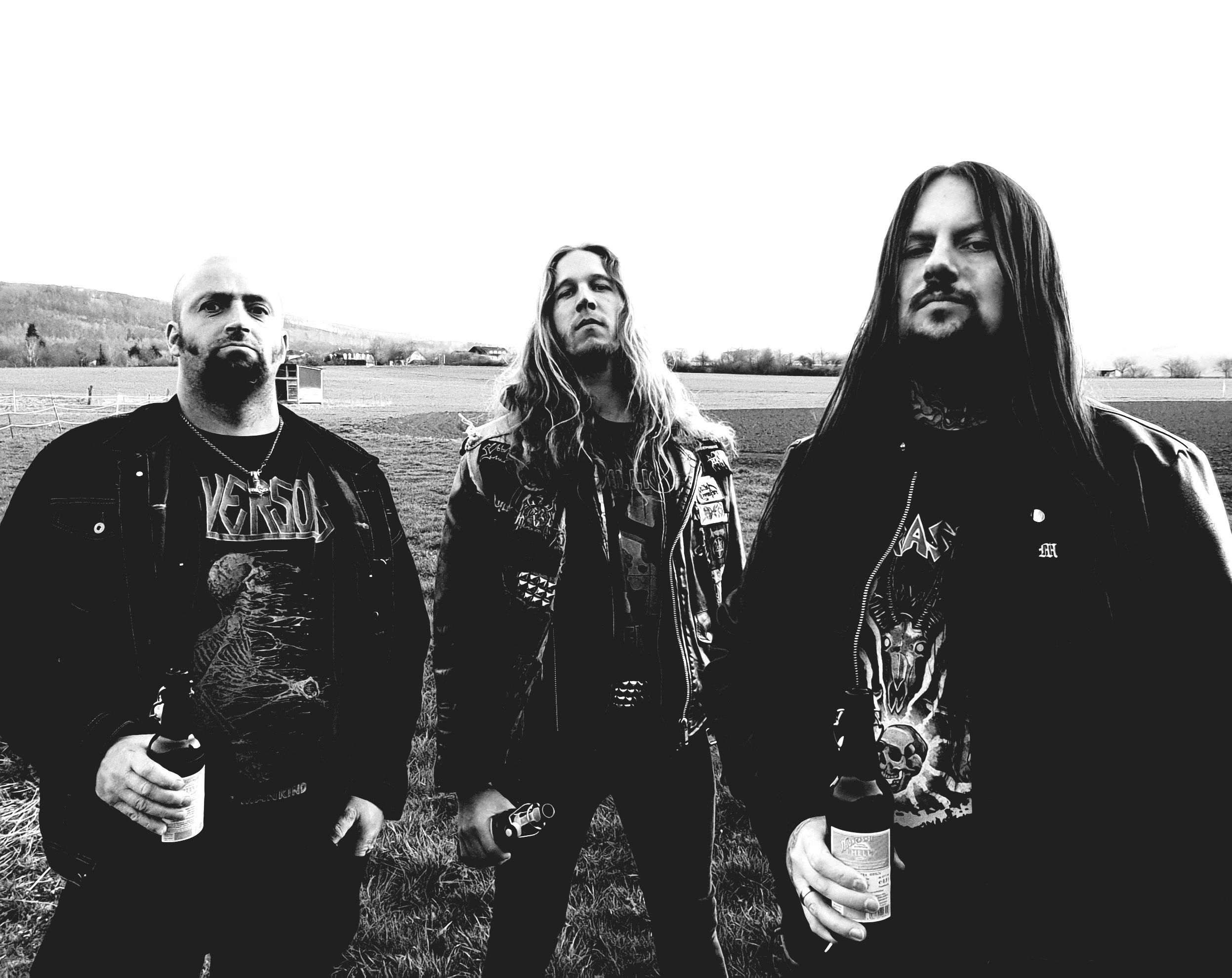 Which things, do you think, a Band should sacrifice in order to succeed? Have you ever sacrificed anything in your life for a better future of your Band?
As I told you before we sacrificed a lot of time, patience, money and brain cells. And if I think back to our first small Tour, we sacrificied our health ;) The first night on this Tour we planed to start slow into this adventure. At the end and in the middle of the night we were stucked with five persons in the elevator for one and a half hours. The only things we had with us were a lot of beer and whisky and of course – no toilet. So we had to start with small headache on Tour. But all these things doesn`t feel like a sacrifice in a negative way. It more feels a sacrifice you want to make and which makes you proud. Maybe it is less a sacrifice than more something necessary to fullfill our desire.
Describe your ideal live show as a performance Band. Have you already experienced that?
The most important thing is the atmosphere within the crowd. A perfect live concert would have a big crowd and everybody would go wild and have as much as fun as possible. The sound would be rough but powerful and allows to hear every instrument. Beer would be cheap and afterwards there would be a hell of a party until sunrise. Oh, and due to the reason that I am a big Venom fan there would be a huge pyrotechnical show. To be honest we had a lot of gigs that come very close to this imagination. I remember a gig in Nancy when we played on a crowded boat with a big party at the promoters house afterwards. Our two gigs in Malta when the fans entered the stages or a gig in CZ when in the middle of the Sars Covid-19 disease an organizer of a festival surpised us with pyros during the show. Or when we played the shows Malaysia with all those crazy Metal Maniacs. 8. Which attributes, do you think, that a new Black/Thrash Metal Band should have in order to gain identity and be unique? That's a difficult question. I think there is no recipe but different ways. Some bands create identity by doing something someone did decades before but what became rare in the meantime. Other bands create their own style or something unique. I think Primordial is a good example. They started with Black Metal and created their own style especially around Alan Averills voice. I guess you can easily identify a Primordial Song out of every other Black or Pagan Metal song. Maybe the best concept for young bands is to do what you really feel. Maybe it is not the most successful way but the most authentic.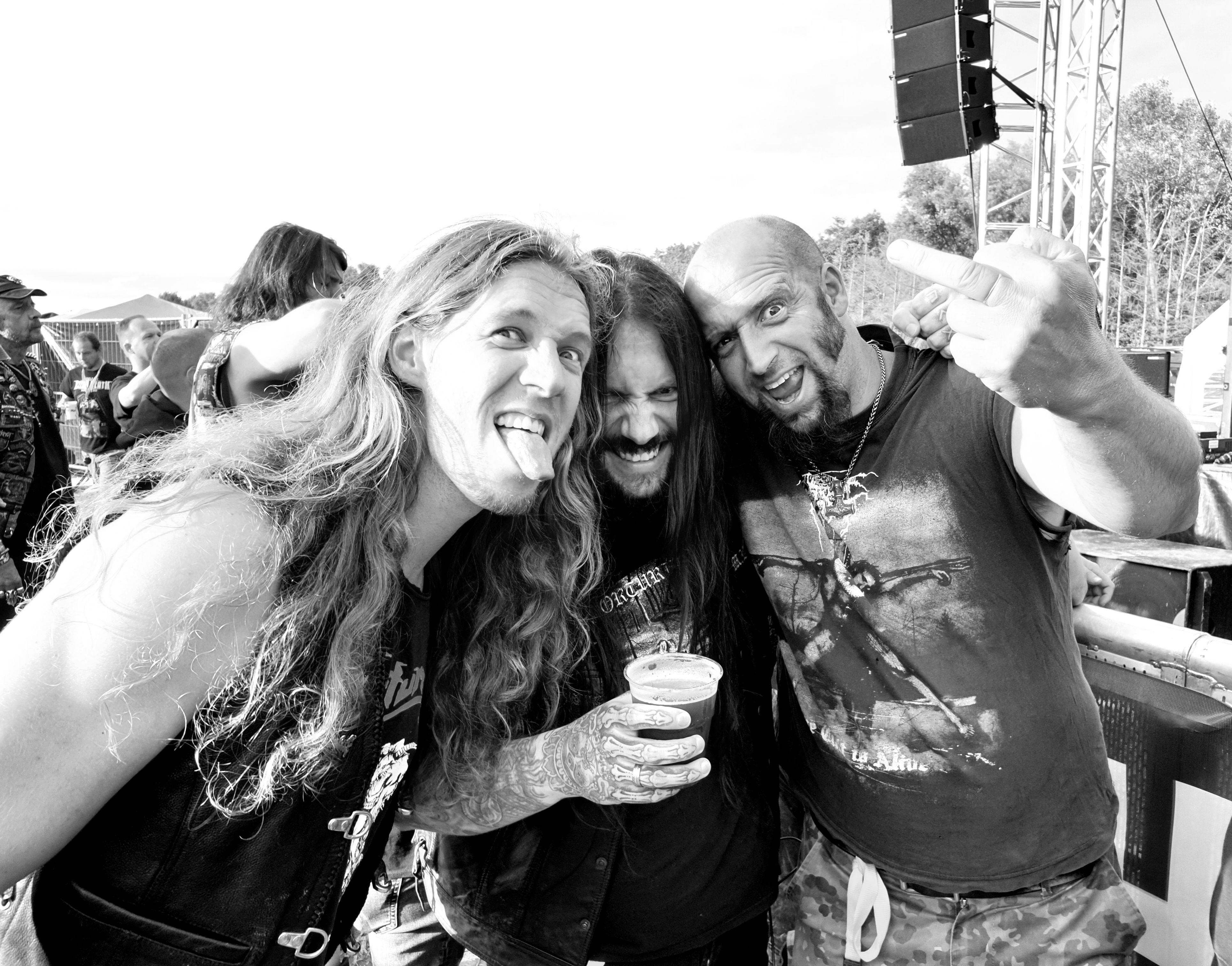 Do you believe that Digital Platforms help the new Black/Thrash Metal Bands? Which, do you think, is the ideal way for a Band to promote its work?
I am pretty sure that in our scene mouth to mouth propaganda and here in Germany the Deaf Forever magazine are the best ways to get attention. Digital Platforms are useful to check out new bands without buying a whole album. Anyway I am not sure how many fans from the underground Extreme Metal Scene have a Spotify account for example. But this can easily change with younger generations.
Tell us a few things about the New Underground Metal Scene in Germany (Bands, Fanzines, Webzines, Metal Clubs etc.)
At the beginning of this century we had a really strong and big Thrash scene in Germany. Nowadays its more Heavy and Speed Metal. But I think we still have a big and relevent underground scene here in Germany. Especially the Ruhrgebiet as well as parts of the south and north of Germany have a lot of Bands, Clubs and Fans. We are from the (financial) center of Germany. I guess most people in our region prefer Techno, House and Pop. So we often go to other cities in Germany and rarely play in our region. A cool magazine in Germany is the Deaf Forever. They also seem to care about smaller or new bands and have an eye on the underground.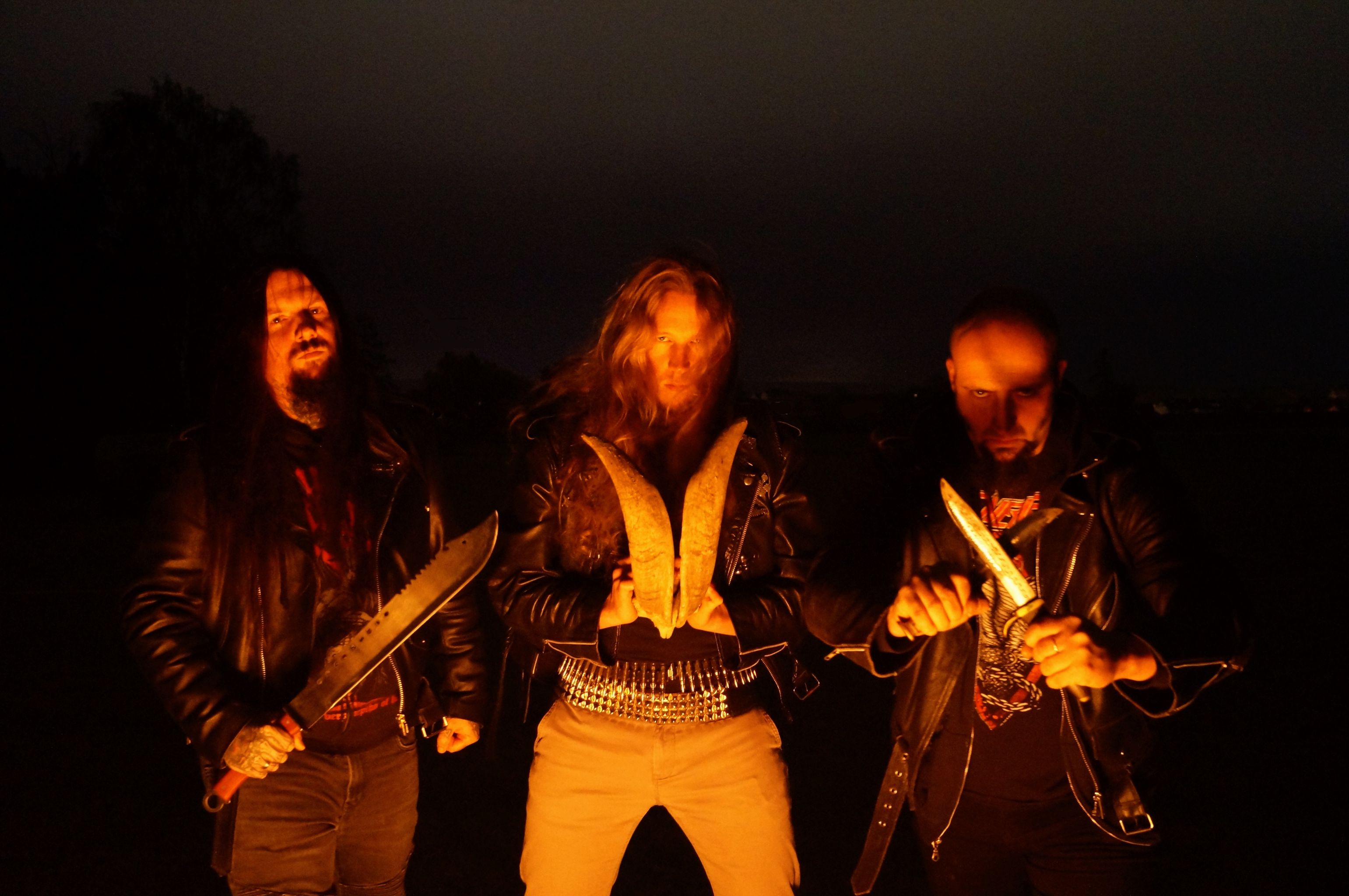 Do you know anything about the Hellenic Metal Scene?
I heard you guys have a quiet good scene. We know our label brothers of Nightbreed and Speedrush. So it seems you guys have really good bands, right? ;) Nir Beer even wrote the Lyrics for our title track "Insulter" and years ago we played at a festival in Germany together and shared the stage. Sad to say: Until today we never played in Greece. We definitely hope to come to Greece with our new album.
What are your future plans?
On 29th of April we are going to release our new album. Until then we will release songs in different video formats. From April on we hope to promote our album with Gigs in as many countries as possible. Hopefully also in Greece ;)
Thank you very much for your time & Keep up the good work! The closure is yours.
Stavros Bouras Again, thank you very much and metal greetings from Greece. Vielen Dank. Cheers, Stavros. Thank you very much Stavros!!! Your job is really helpful and we hope you get as much attention as possible. We hope to visit you guys with our new album. King regards to Greece! Hail the cult! Τα λέμε σύντομα!
By Steve the Filthy Dog.
INSULTER CONTACT:
https://www.facebook.com/InsulterGermany
https://www.instagram.com/insultergermany/
https://insultergermany.bandcamp.com/
https://insulter.bigcartel.com/