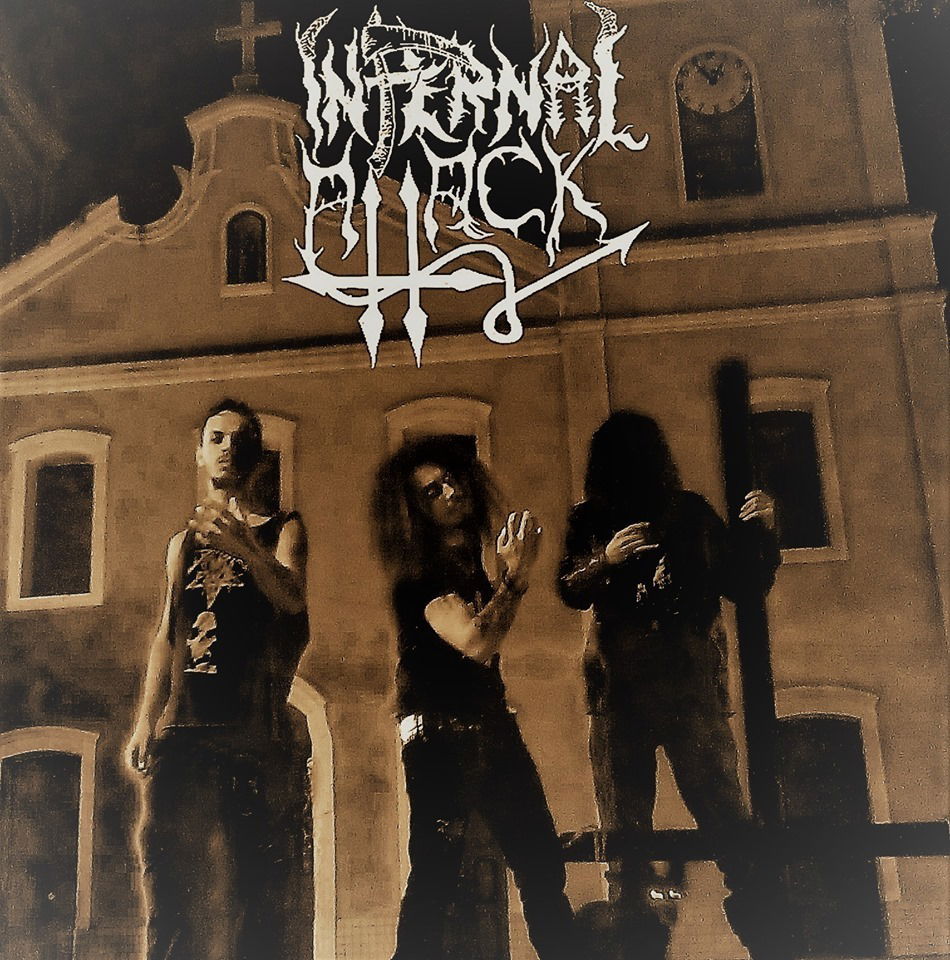 !!!HELLISH BLACK METAL FROM BRAZIL!!!
We had a conversation with Hellbutcher (Drums).Enjoy!
Welcome to the FILTHY DOGS OF METAL Webzine.
1. Tell us a few things about INFERNAL ATTACK (Members, Starting Year etc).
Hellbutcher: Infernal Attack was founded in early 2015, by me Hellbutcher on drums and lead singer and guitarist Jhonata Hellfire,It was a very turbulent start, without many resources, a year after our second performance, a live demonstration was launched something very strange and dirty, different from the path that the band follows nowadays, right after recruiting a bassistof the band Orgia Nuclear here in Brazil, a big brother of ours played a few times live and recorded the bass of the seconddemo titled Drinking With The Devil (2017), because it is another very distant state, decide to move on without it, in 2019 we released a tape limited to just 40 units, by Resistκncia Underground Records (BR) and Resistκncia Bestial Records (BR) being as guitars and vocals recorded by Jhonata Hellfire and as drums by me, on March 13, 2020, released our most recent material, a tape entitled Eternal Desire by Sacrifice Records (Portugal), limited to 70 units of the purest and most hateful Black / Thrash Metal, this release already shows a great evolution and maturation of the band. At the beginning of the year 2020, we recruited another entity to compose in Infernal Attack, with his cursed riffs, and hellish murmurs more than a black metal warrior, a brother.Henrique Antichrist.
2. In 2019 you released your demo ''Satanic Night''. What was the feedback from your audience as well as from the press?
Hellbutcher: Yes, in 2019 we were already moving towards the future of the band, this demo gave us great opportunities and good reviews great partnerships with labels from Brazil were aligned and many infernal alliances were forged.
3. Label or DIY and why?
Hellbutcher: In the beginning, nothing better than doing it for ourselves, demonstrates a great initiative and a libertarian attitude, people who didn't know were getting to know about the band and its proposal, right after that we closed with some labels of great friends around Brazil, so there was a greater disclosure of the band's name, record labels are of great importance, since the band has already matured or is maturing.
4. Do you prefer Vinyl, Tape, CD or Digital Format and why is that?
Hellbutcher: I am a big fan of analogue particularly, Tape for me represents, a whole underground way of living, as in the past record tapes, send letters, but I admire all the formats for promoting art.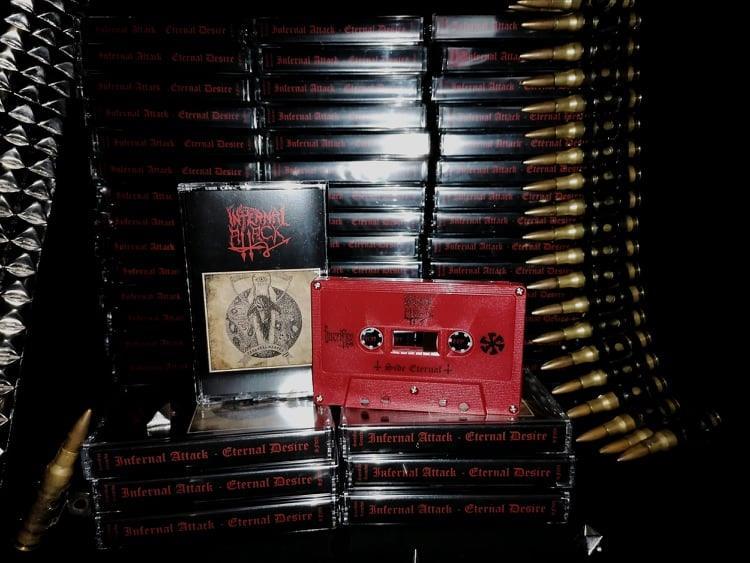 5. Your music style is Black/Thrash Metal. Which are your main influences (Favourite Artists / Bands etc.)
Hellbutcher: We are big fans of Bathory, Hellhammer, Venom, Motorhead, Celtic Frost, Darkthrone, Apokalyptic Raids (BR), Old (BR), Whipstriker (BR) among other big names.
6. Which things, do you think, a Band should sacrifice in order to succeed? Have you ever sacrificed anything in your life for a better future of your Band?
Hellbutcher: Yes, sacrifices are always necessary for the evolution of work, dedication and persistence in what you do,we always get together to put on paper what is or is not necessary to continue making progress, each has its story to tell.
7. Describe your ideal live show as a performance Band. Have you already experienced that?
Hellbutcher: The ideal show, would be to see all the damn headbangers, enjoying our presentation and head banging nonstop doing mosh pit and destroying the whole place, this is how I enjoy the shows of the bands I like, yes, we have already lived it sometimes and we are very proud of our work, are things that change our outlook on life, view on how much we struggle to get where we are, to define what we want for the rest of our lives.
8. Which attributes, do you think, that a new Black/Thrash Metal Band should have in order to gain identity and be unique?
Hellbutcher: The greatest pleasure for a headbanger, I speak for us from Infernal Attack, is to see a band appear suddenly, without excuse, with its own identity, their own ideals and attitudes, we emerged like this, we are long-standing brothers and so, we have been working on what we wanted do, what would be the themes, ideals, freedom of expression is the main attribute for a band to be unique.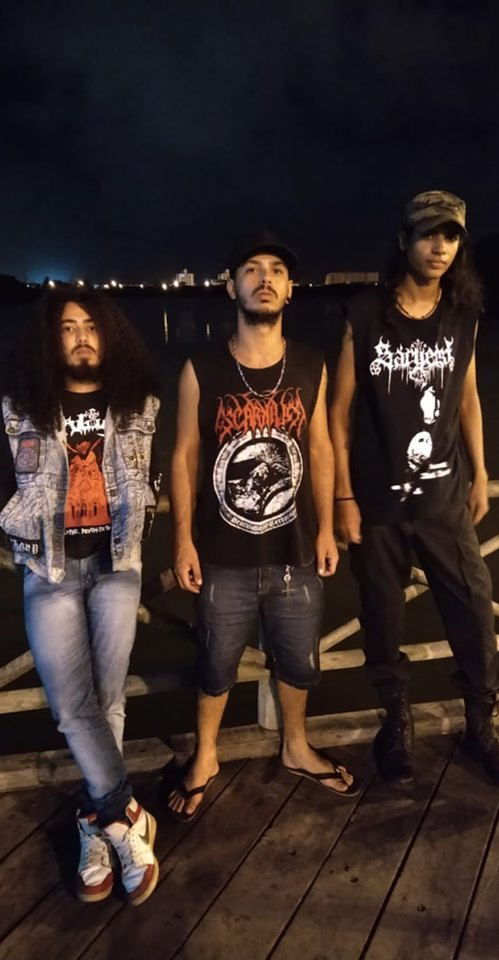 9. Do you believe that Bandcamp and other Digital Platforms help the new Black/Thrash Metal Bands? Which, do you think, is the ideal way for a Band to promote its work?
Hellbutcher: The ideal way is to persist in your dreams, whatever they may be, never give up, as Flagelador (BR) said, "Surrender Never", platforms digital, blogs, zines, are always important in the work of any band or project, the more dissemination, the greater the chance that people will recognize your work.For us the digital medium helped to spread our art. Otherwise it would be more difficult for our art to reach the ears of some,because we have few resources.I believe that this is the reality of many bands in our underground.
10. Tell us a few things about the New Underground Metal Scene in Brazil (Bands, Fanzines, Webzines, Metal Clubs etc.)
Hellbutcher: It is a great honor to be participating in this webzine first, because you are the ones who do all the work of spreading the work of artists worldwide, that is, they are as important as any other means of dissemination, new bands are appearing every moment here and in the world, I have many known in Brazil, which are constantly evolving and I have admiration and mutual respect for them, I hope that everyone will continue to do so.Last year we gave an interview to a friend of mine here in Brazil, great Joγo Felipe and his Fanzine Musikal Exterminator # 1, Alexandre Chakal (Thrashera) also did a review about our Tape Satanic Night in his Fanzine called Sepulchral Voice.
11. Do you know anything about the Hellenic Metal Scene?
Hellbutcher: I'm definitely a big fan of Rotting Christ, Necrohell, Slaughtered Priest, my friends from Boneyard, Kawir, Varathron, Zemial, etc ...Even the art and layout of Tape Satanic Night (2019) and the art of Tape Eternal Desire (2020) were made by Khaos Art from Greece, our great friend Stelios Pelekis, a friend of the band Herald.
12. What are your future plans?
Hellbutcher: We have some news in mind, many blasphemies are being forged in the underworld and we are forwarding new releases and splits to the future.
13. Thank you very much for your time & Keep up the good work! The closure is yours.
Hellbutcher: First of all, I would like to thank you for the opportunity you gave us to express our ideals and proposal as a band, we would like to thank all maniacs who have supported us and believed in our work, thank our great friend Stelios Pelekis, and all those who resist in the underground underworld we make a dirty and aggressive sound, about the biggest farce that ever existed, we vomit on the sacred cross, we curse the Nazarene bastard, in the name of Satan we raise the flag hellish black and we salute all black entities, donate to those who hurt, Death to the false Metal.
By Steve the Filthy Dog.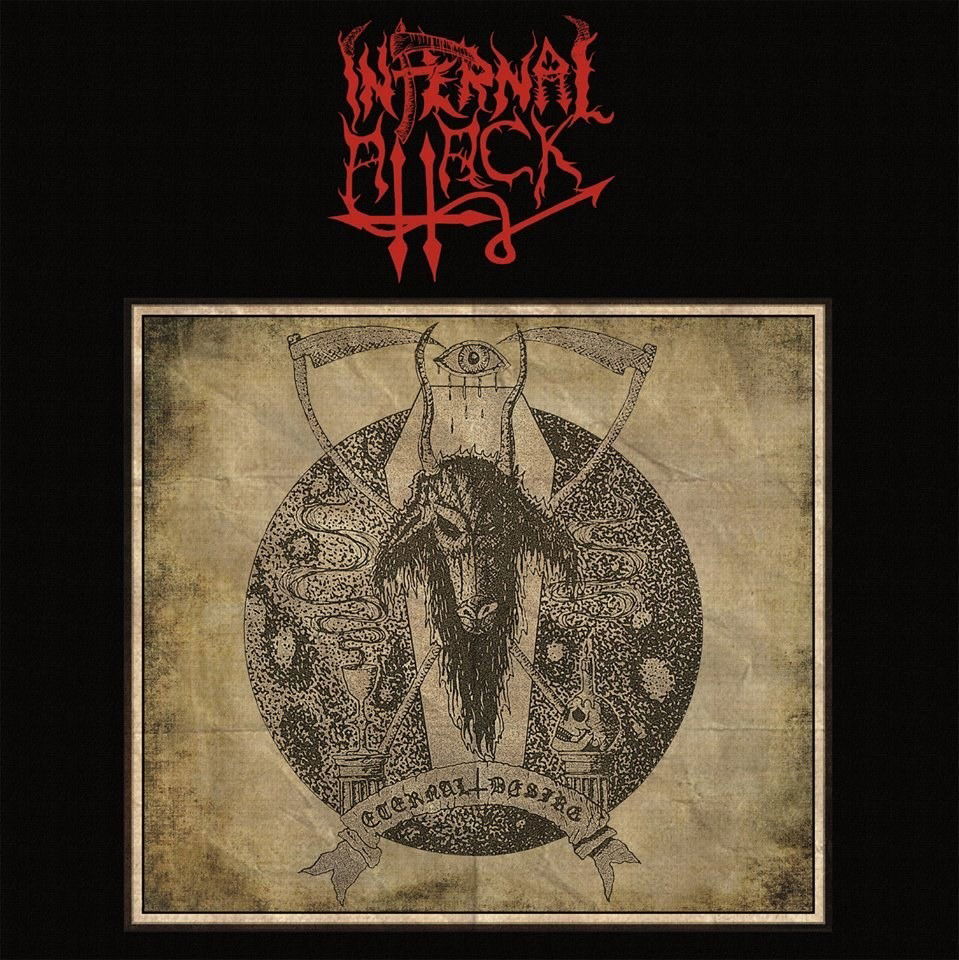 INFERNAL ATTACK CONTACT:
https://www.facebook.com/InfernalAttack/