!!!HEAVY POWER METAL FROM GERMANY!!!
We had a conversation with Schally (Vocals). Enjoy!
Welcome to the FILTHY DOGS OF METAL Webzine.
Tell us a few things about IGNITION (Members, Starting Year etc).
We started Ignition in late 2015 with Christian Bruckschen (Ex-Synasthasia(Guitar)), Dennis Marschallik (Ex-Blood of God (Vocals), Ex-Synasthasia (Guitar and Backing Vocals)), Christoph Zeller (Ex-Ravage (Guitar)), Dominik Erbach ((Drums)Ex - Circle of Death, Ex - Synasthasia, active in Eyes of tomorrow) an Patrick Wassenberg (active in Motorjesus Ex-). In 2017 we released Guided by the Waves via Roll-the Bones-Records (Digital and CD) and ftwctp records (Vinyl). During this time Christoph and Patrick left the Band for new Jobs and Band projects. During this time Tim Zeevaert ((Guitar)Ex - Cause for Confusion, Ex - Motorjesus)and Jochen Galindo (Ex Synasthasia (Vocals)) were Part of the Band and played numerous Gigs and Festivals including a whole Tour with Motorjesus across germany in 2018/2019. In 2020 we released our second Album "Call of the Sirens". In this time Tim Zeevaert was replaced by Sebastian Ernst. Due to Corona we weren't able to play Live Shows what made it possible to take time for our fresh Album "Vengeance".
You have recently released your album ''Vengeance''. What is the feedback from your audience as well as from the press?
The feedback to Vengeance is great. The press seems to love it and the audiences we had at the start of our tour was out of bounds, the first two shows were amazing.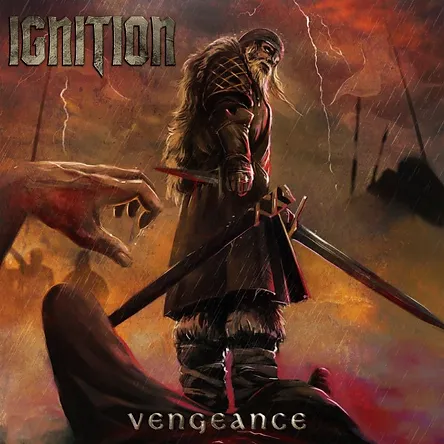 Label or DIY and why?
We again chose a label, this time it is Doc Gator Records (Switzerland) because we wanted someone who really loves metal music and pushes the record with the needed power. The guys at Doc Gator are Metalheads from the bone and know what really kicks ass. We love it to work together with them.
Do you prefer Vinyl, Tape, CD or Digital Format and why is that?
We love Vinyl and that was also a reason to chose Doc Gator, because it is their main priority to produce first class Vinyl records. We know that the digital world is also needed to get response and get heard by metalheads around the world but it's no secret that the artist gets nearly nothing as refund from the digital platforms. We like the range you get from the digital world, but we don't like the alimentation.
Your music style is Power Metal. Which are your main influences (Favourite Artists / Bands etc.)
To be honest we grew up with Bands like Iron Maiden, Hammerfall, Gamma Ray, Helloween, Metallica, Iced Earth, but also Melodic Death Bands like at the Gates, In Flames or Soilwork. Also Thrash Metal Bands like Forbidden, Heathen or Testament influenced our musical journey.
Which things do you think a band should sacrifice in order to succeed? Have you ever sacrificed anything in your life for a better future for your band?
I think sacrifices are part of the 80s and 90s, the time where you could make a living with beeing a musician. Nowadays it is not possible to earn an average wage out of music. We all have good jobs that allow a good living including families. We don't need to sacrifice big parts in our lives to succeed in making music or pushing the band. We love what we do but we don't do it as a job. I think the need to tour to have an outcome of music kills the creativity of a band. Constant pressure could not release good music. We take the opportunities that open up for us and make the best out of it, without the need to be successful.
Describe your ideal live show as a performance band. Have you already experienced that?
We love both worlds of live Shows, the huge stages with big crowds, but also the intimate club shows were you are able to have a chat with the audience afterwards. We experienced both of it. It is always an honor if the crowd does singalongs with us and screams their lungs out if they like us.
What attributes do you think that a new Power Metal Band should have in order to gain identity and be unique?
Identity is a hard word and always lies in the eye of the beholder. I think it is hard for upcoming bands to get the attention they need. There are lots of Bands out there who are really great, but don't get the attention they need because the press is more likely to write for 15th Album of Band xy than present an album of a newcomer who really kicks ass. Because of that there are more Bands out there who put on a live "dress" with custumes that draw the attention away from their mediocre songs and performance. I'd like to see more Bands who kick ass making good music. I think new Power Metal Bands should part their ways with the circus clown - pop shit and kick ass again.
Do you believe that Digital Platforms help the new Power Metal Bands? Which, do you think, is the ideal way for a band to promote its work?
Digital Platforms make it easy to release music, but I don't think a band could grow without playing live shows. That is what it's all about, to bring the music to the audiences.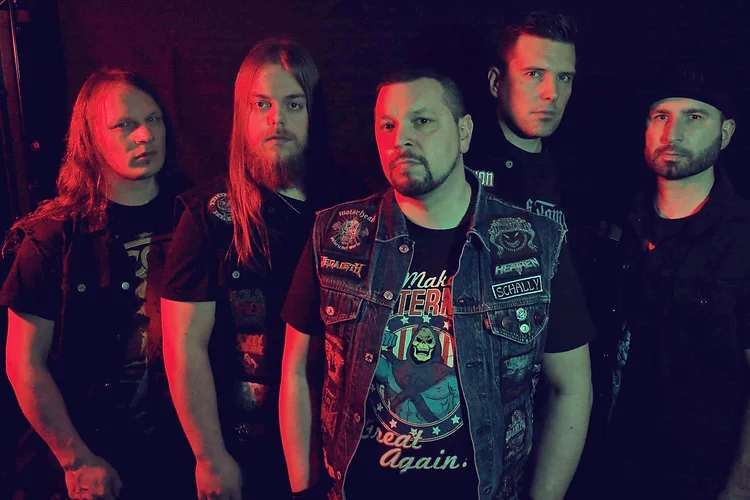 Photo Credit: Christian Bruckshen
Tell us a few things about the New Underground Metal Scene in Duisburg, North Rhine-Westphalia, Germany (Bands, Fanzines, Webzines, Metal Clubs etc.)
The Metal Scene in North Rhine Westfalia is a really good and big network of clubs and Bands. Many good Bands are from here like Night in Gales, Motorjesus, Gloryful, Harkon, The Very End, Words of Farewell just to name some of them. We have a lot of bigger Open Air Festivals, like Nord or Turock Open Air and the well known Dong Open Air or the family Festival Rage against Racism.
Do you know anything about the Hellenic Metal Scene?
I've just once been to Rhodos and because of that the Hellenic metal scene is not really known to me. I know some awesome bands from Greece. Maybe we could play in Greece someday and get introduced in the Hellenic metal world.
The last 3 years, worldwide in the world, we have faced many dark, strange & new situations in our everyday life (covid, lock-down etc.) Did all of this affect you positively or negatively?
Covid was crap. It destroyed all our touring plans for the years 2020 until late 2022. But for the good side it made Vengeance possible. It got us closer together as a band what you can hear on the record I think.
What are your future plans?
Our plan is to release more albums , play live shows and have as much fun with making music as possible and at least: conquer the world (hahaha).
By Steve the Filthy Dog.
PS. Many thanks to Markus (https://www.facebook.com/MetalMessage.Global) for this interview (Cheers mate!)
IGNITION CONTACT:
https://www.ignitionmetalmusic.com/
https://www.facebook.com/Ignitionmetalmusic/
https://www.instagram.com/ignitionmetalmusic/
https://ignitionmetalmusic.bandcamp.com/
https://open.spotify.com/artist/4oBGUsjD2nxZtftePbh78W
https://music.apple.com/us/artist/ignition/1088670955