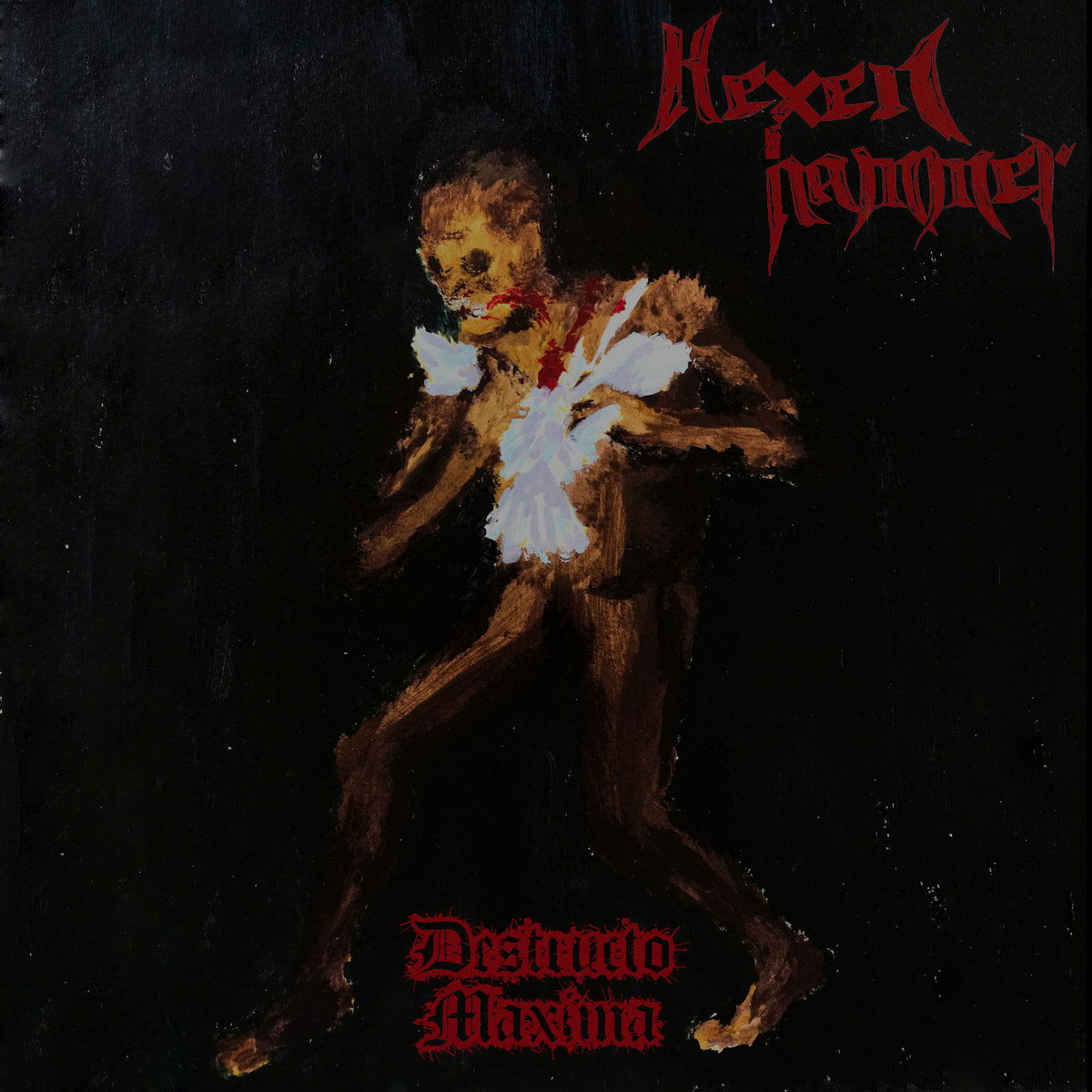 !!!BLACK/SPEED THRASH METAL FROM CHILE!!!
We had a conversation with Salim (Vocals/Bass). Enjoy!
Welcome to the FILTHY DOGS OF METAL Webzine.
Tell us a few things about HEXEN HAMMER (Members, Starting Year etc).
Hello, my name is Salim, vocalist and bass player from Hexen hammer. Before start i want to say that my english is not the best. We are 3 members, David Faivovich on drums, Daniel Martinez (Somali) on guitar and me. We started as Hexen hammer in 2011 with the idea to play speed metal with influence of all metal we like. The actual line up is the original, but we had other guitarist between the years, like Foley and Ian Rojas who played in our first EP, Hexen hammer recorded on 2017 and released on 2019.

You have recently released your EP ''Destructo Máxima''. What is the Feedback from your audience as well as from the Press?
We have received good comments from "a lot" of people about music, lyrics and sound. In fact, the sound of Destructo Máxima is exactly what we expected.

Label or DIY and why?
Is a hard question. If you have the luck (or talent) to be financed by a label who pays you the recording and post production and all the shit, thats is fucking great and you would be a fool if you don´t want it. By the other hand, if you feel the need to show your music and you don't have the support of a label the way is doing it by yourself, show your music to everyone who may like it, that's the way we do it and labels appears after that. We used the money of the copies that we sold of our EP from 2019 to pay the recording of Destructo Máxima... And some booze and drugs.

Do you prefer Vinyl, Tape, CD or Digital Format and why is that?
I prefer CD because is more comfortable (to me). I collect cassettes and vinyls too, but CD is easier to play, you dont have to put a side a or b, or rewind it like on cassettes. If we talk just from the esthetic, i prefer cassettes, vinyls and CD in that order.

Your music style is Black/Speed Metal. Which are your main influences (Favourite Artists / Bands etc.)
The common influence between all the members is Destruction. Talking just for me, Destruction (yes again, because never is enough destruction), Aura Noir, Carnivore, Sodom, Kreator, Nifelheim, Venom, Slayer, Possessed, Deicide, Exodus, Pentagram (Chile), Mayhem, Whiplash, Voivod, Motörhead... is a long list but that is what came to my mind now.

Which things, do you think, a Band should sacrifice in order to succeed? Have you ever sacrificed anything in your life for a better future of your Band?
Time, is the only thing, you can traduce it on money, party, family, etc. But the only thing that i think is needed to sacrifice is time, and i think that i need to play metal, so i don't take it as a sacrifice. I enjoy every fucking rehearsal more than the most of the things that i do in a ordinary day.

Describe your ideal live show as a performance Band. Have you already experienced that?
I don´t know if i have an ideal show, i like to play for audience that enjoy our music, that's all.

Which attributes, do you think, that a new Black/Speed Metal Band should have in order to gain identity and be unique?
I think that it scape from my knowledge, when I compose I try not to fall for the obvious but still playing traditional metal, I try to mix different styles
of metal like black, death or heavy metal but still being a thrash/speed metal band.
Do you believe that Bandcamp and other Digital Platforms help the new Black/Speed Metal Bands? Which, do you think, is the ideal way for a Band to promote its work?
I think it helps a lot, but of course it's not the ideal way, the ideal would be through a label with 10000 copies in CD pro, vinyl version in 7" and a world tour (I'm joking). But we have Bandcamp now and platforms like spotify and that kind of shits and i think that we have to use that. By the way, V.I.C records (Chile) will release 100 copies of Destructo Máxima on pro tape soon, and Red Truth Poridcutions (Kazakhstan) is working in 300 copies on CD pro.

Tell us a few things about the New Underground Metal Scene in Chile (Bands, Fanzines, Webzines, Metal Clubs etc.)
There is a lot of good bands here like Dangerous, Invocation spell, Ripper, Ejecutor, Force of Darkness, Massive Power, Parkcrest and a lot more bands. We have good Fanzines and websites too like grave full of fools fanzine, discordancia.cl, extremechileanmetal.com , etc. About metal clubs, i think with the coronavirus thing are all dead.

Do you know anything about the Hellenic Metal Scene?
Just a few bands really, like Varathron, Macabre Omen, Rotting Christ, Flames. I would like if you can recommend me bands, specially black thrash and death metal bands.

What are your future plans?
We are working on new songs and we want to record an album, the line is the same or very similar to Destructo Máxima.

Thank you very much for your time & Keep up the good work! The closure is yours.
Thank you for this, fanzines, metal websites and small concerts and labels are the support of every underground metal band, so thanks for keep metal alive.
By Steve the Filthy Dog.
HEXEN HAMMER CONTACT:
https://www.facebook.com/HexenHammerchile?fref=ts
https://hexenhammer.bandcamp.com/
https://www.instagram.com/hexen_hammer_cl/