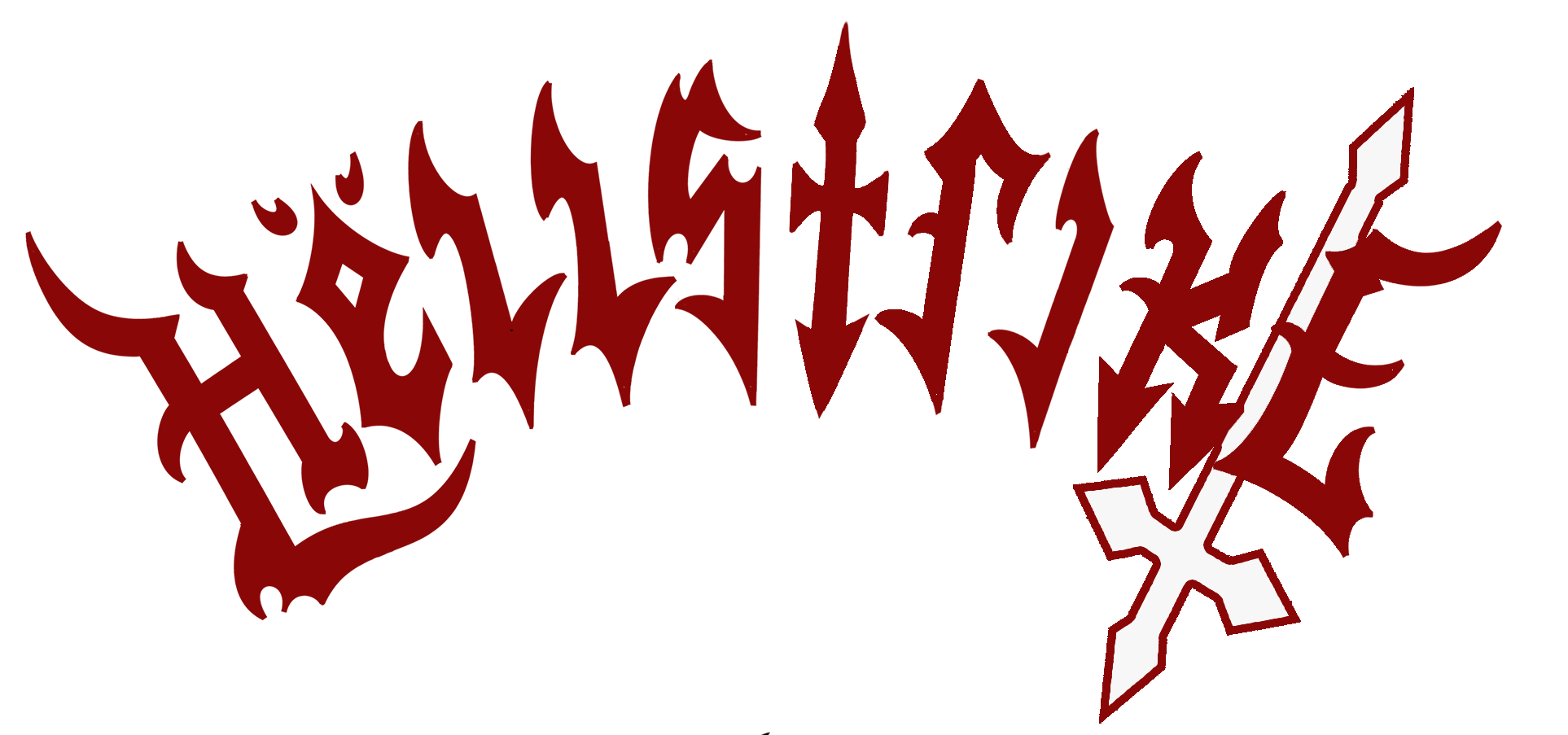 !!!BLACK THRASH METAL FROM ROMANIA!!!
We had a conversation with HELLSTRIKE.Enjoy!
Welcome to the FILTHY DOGS OF METAL Webzine.
Tell us a few things about HELLSTRIKE (Members, Starting Year etc).
We started because Nekrohammer and a past member, Lord Xilvarod (from Marax) got drunk one night and decided they wanted to play blackthrash.This happened in late spring (2019). Half a year passed and Hellstrike acquired two new members, Vomitor and Nekrohammer's brother.The former line up was Vomitor on guitar, Nekrohammer on vocals, Lord Xilvarod on bass and Nekrohammer's brother on drums.
Then, when all the Covid madness started, Nekrohammer moved to Vomitor's place for a few months and kicked all the other members and found a new drummer, Erol, Vomitor's cousin.The band was about to break up due to frequent fights between Nekrohammer and Vomitor, but they decided to give it one more try after Nekrohammer contacted Figaro for a new logo.They started talking and then Nekrohammer recruited Figaro into the band. Vomitor was hostile at first but then he befriended Figaro.After all things settled down, we all became family and seriously started working on their first material.
You have recently released your demo ''Spill the Blood''. What is the Feedback from your audience as well as from the Press?
Generally good from both the press and the audience.We actually didn't expect much from either of them and we were ready to receive harsher feedback because of the recording quality.Before releasing the demo we talked with the owner of 'Black Thrash Metal' youtube page who accepted our request to feature the demo on his channel which helped us to get a bit of traction from the international balckthrash scene.The press attention was unexpected to say the least. We were featured on a Romanian metal blog and a few webzines contacted us for interviews which was great.The great public reception fueled our passion and now we want to write our best music, being more inspired than ever before.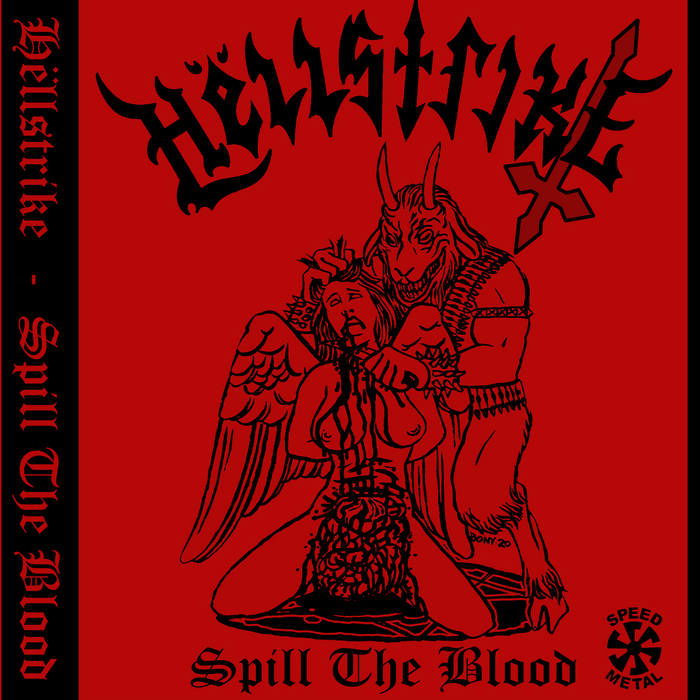 Label or DIY and why?
We like both but it really depends on the situation you are currently in. We, for example, considering the fact that it was our first release, had to make it DIY because no label would sign a newly formed band with no discography.For future releases maybe we'll find a decent label that suits our criteria but for now we'll probably stick with DIY style because it is more KVLT.On the other hand a label would be more convenient and we wouldn't have to worry about merch, CD's and other management problems.
Do you prefer Vinyl, Tape, CD or Digital Format and why is that?
Vinyl is the best option regarding audio quality but digital format is more accessible for both the band and the public. Nowadays we live in a digital world in which listening to music online has become the norm and few people still buy the physical format of releases.With this being said we prefer CDs and tapes, the old school way.
Your music style is Black/Thrash Metal. Which are your main influences (Favourite Artists / Bands etc.)
Many bands inspired us to play Black thrash such as: The classics Kreator, Bathory, Motorhead, Sodom, Destruction, Metallica, Venom, Hellhammer, Bulldozer, Poison (Germany), Darkthrone, Tormentor and Mayhem's Deathcrush, 90's and 00's bands: Aura Noir, Cruel Force, Nocturnal, Toxic Holocaust, Deathhammer, Abigail, Sabbat (JPN), Nifelheim, Barbatos, Whipstriker, Omega, Slaughtered Priest, Violentor, Baphomet's Blood, Bunker66 and newer bands, Bastardizer, Hellripper, Barbarian, Evilcult, Disembody, Alcool (Brazil) , Ranger and Krushhammer.

Which things, do you think, a Band should sacrifice in order to succeed? Have you ever sacrificed anything in your life for a better future of your Band?
There are a few things that come to mind when thinking about sacrifices for the band: beer money and a lot of time we could have spent drinking.
No, but in all seriousness you have to put a lot of time, heart and sweat into your craft if you want it to turn decent in the end. Although rehearsals take up a lot of time we don't feel like it's a burden because in the end we are all best friends and we genuinely have a great time playing together.Also, when you don't have a label or a manager you have to be ready to face any problem at any time of the day.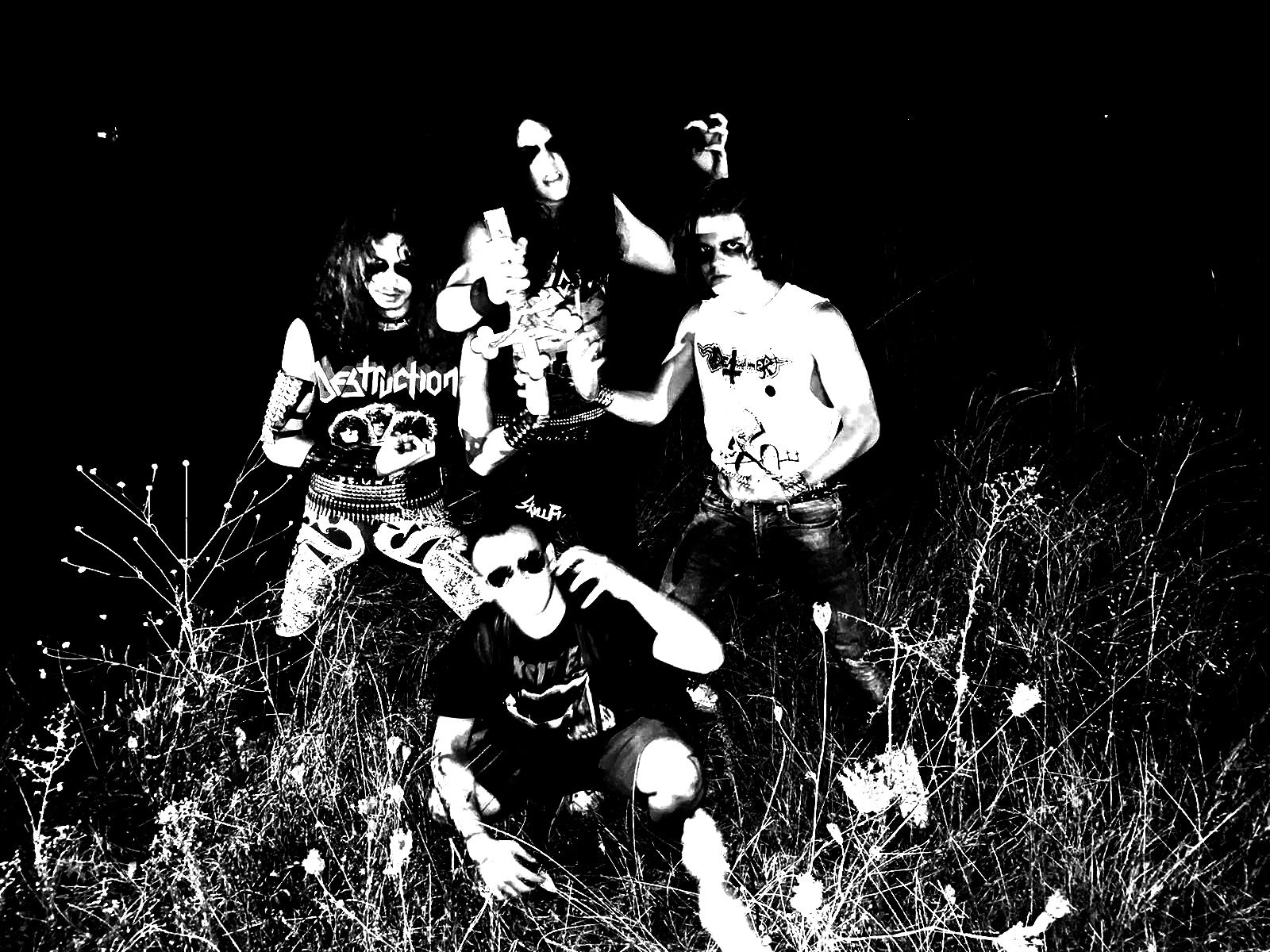 Describe your ideal live show as a performance Band. Have you already experienced that?
Our ideal show would probably be in a local pub, with our local scene in the audience including our friends. We'd like to see people being involved in the action, like moshing and headbanging and going apeshit crazy. We want to see destruction at our shows.Unfortunately we haven't had the opportunity to play live yet because of the pandemic so we couldn't have had our 'perfect show'.
Which attributes, do you think, that a new Black/Thrash Metal Band should have in order to gain identity and be unique?
Firstly, attitude plays a big factor in the image of a band. You have to have balls and go 110% for anything you do. In our opinion, a Blackthrash band should sound old school. We don't really go out of our way to try to be innovative, but we surely want to discover our sound as soon as possible, an aspect on which we're still working on.As we see it, Blackthrash is not about identity, but more about playing hard, fast metal and staying true to your roots.
Do you believe that Bandcamp and other Digital Platforms help the new Black/Thrash Metal Bands? Which, do you think, is the ideal way for a Band to promote its work?
Definitely, Bandcamp and other streaming platforms do, in fact, help new and upcoming bands a bit. For example, you could be discovered by a vast audience in a matter of days without too much effort. Self promotion also helps. You have to be active on social media and engage with your followers and link your work as much as possible on all the platforms.This would be our ideal way to promote music, online publicity.
Tell us a few things about the New Underground Metal Scene in Romania (Bands, Fanzines, Webzines, Metal Clubs etc.)
The Romanian metal scene is very small and not very consistent regarding music quality.Some good bands that we enjoy and consider worth listening are: Damage Case (speed), Slicer (black punk rock'n'roll), Crossbone (crossover thrash), Deathrattle (thrash), Necrotum (OSDM), Demoted (OSDM), Ordinul Negru (black), Martolea (black metal), Mental Disorder (thrash), Clitgore (grind), Necrovile (brutal death), Marchosias (black), Anexa Unu (punk), Sur Austru (atmospheric black), Blutrina (deathgrind) and Terror sickness (grind) . About local metal pubs, there are a few decent ones: Quantic Club (main venue for somewhat large concerts),Underworld (leaning more towards punk than metal but great vibes anyway), Yellow Pub, Fabrica & B52, Wicked Pub, Encore Pub, Boogie Bar and Private Hell.We have a very small selection of fanzines and webzines. Some of them are: Metalhead Meeting, Romanian Thrash Metal Club, Din Intunerec, Let's Rock and Bloody News.In spite of having a small scene we have some cool festivals: Old Grave Fest, Metal Bunker, Rockstadt, Posada Rock Castle, Metal Gates, Transylvanian Death Fest, etc.
Do you know anything about the Hellenic Metal Scene?
Yes, we know a bit about the Hellenic metal scene! We enjoy Suicidal Angels, Bio-cancer, Slaughtered Priest, Exomnia, Raw Poison, Revenge, Omega, Principality of Hell, Necromantia, Rotting Christ and many others. We like your scene and would love to perform there someday.
What are your future plans?
We want to record our second demo, then perhaps do a split with other Blackthrash bands, followed by our first EP. We also want to keep up with school (we're 16-17) because next year we'll sit our highschool finals and then we're off to college. After that we'll take our time to write the first Hellstrike full length.
Thank you very much for your time & Keep up the good work! The closure is yours.
See you in hell, maniax!
Check us out here: https://linktr.ee/Hellstrike
By Steve the Filthy Dog.
HELLSTRIKE CONTACT:
https://hellstrike.bandcamp.com/releases
https://www.facebook.com/hellstrikeblackthrash/