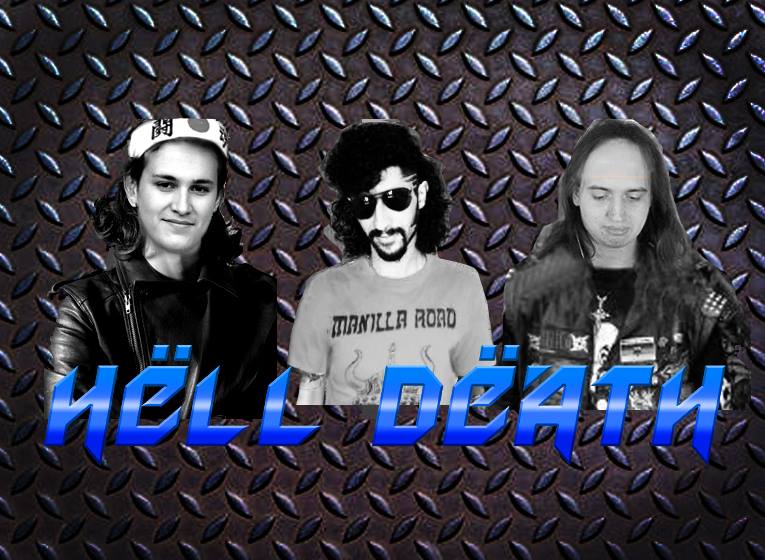 !!!SPEED METAL FROM BELGIUM!!!
We had a conversation with HELL DEATH. Enjoy!
Welcome to the FILTHY DOGS OF METAL Webzine.
Tell us a few things about HELL DEATH (Members, Starting Year etc).
Lucas: We are Lucas Sluitstinken on guitar, Adam Gezikont on vocals and bass, and Louis Dondermes. I don't know when we started, we were all drunk and we still are. Maybe it was during a hangover, but we forgot. we've been friends for all our lifes and we grew up listening to the old school trad speed metal, so we decided to put out a trio like Motörhead, Exciter, Venom, Raven to be even more legendary than those bands.

You have recently released your EP ''Rip Your Face Off''. What is the Feedback from your audience as well as from the Press?
Adam: They are banging their heads from morning til night every day of each day of month and year!
Lucas: Awesome, we got some big offers from several places, but we cant reveal anything. we rejected some, of course, because there was many posers approaching, but in general its been grat. We have many fans in Brazil and we can't way to go there and play.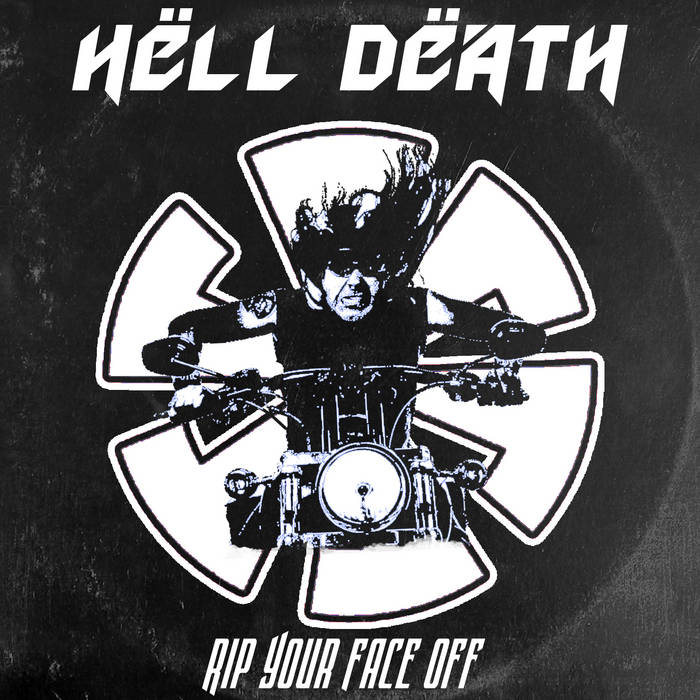 Label or DIY and why?
Adam: We want a great big label like Nuclear Blast or AFM Records to sign us and launch us into touring all over Europe.
Lucas: Of course for the following releases we may consider signing bigger labels. lets see what they offer.

Do you prefer Vinyl, Tape, CD or Digital Format and why is that?
Adam: Vinyl is great but digital is also great, CD is great and tape is great.
Lucas: Only tape is real.

Your music style is Speed/Thrash Metal. Which are your main influences (Favourite Artists / Bands etc.)
Adam: We like Ranger from Finland.
Lucas: Agent Steel is my religion.

Which things, do you think, a Band should sacrifice in order to succeed? Have you ever sacrificed anything in your life for a better future of your Band?
Adam: I sacrifice my job for this life as metalhead on tour road.
Lucas: I bowed down my soul for the gods rock and roll.

Describe your ideal live show as a performance Band. Have you already experienced that?
Adam: Moshpit and headbanging. Yes we played a show many years ago and everyone was moshpit and headbanging.
Lucas: We played a lot, of course, with legend bands. we opened because we were younger but the audience was clearly blown away after our gigs and most of them left after not even caring about the rest of the bands. much beer, violence and speed metal.

Which attributes, do you think, that a new Speed/Thrash Metal Band should have in order to gain identity and be unique?
Adam: It should be very fast and also have distortion on the guitar , and vocals, they be very high and sharp.
Lucas: We don't use a metronome, because we want to have that dirty and authentic sound. i think we are playing around 230bpm in every song, so my advice for young kids is to watch around that number and play very fast. I'm a great guitarist because i can play very fast, and of course not everyone can play at the same speed... so if they cant play around that speed, i consider it doom metal. and its ok because doom metal is ok, like Pentagram and that shit, but not as great as speed metal. speed metal is for greater guitarists. so if your great you will have the identity of being great and unique being unique being great. just love speed metal.

Do you believe that Bandcamp and other Digital Platforms help the new Speed/Thrash Metal Bands? Which, do you think, is the ideal way for a Band to promote its work?
Adam: Yes we sell tons there thanks to great fanbase.
Lucas: Adam is the one using Bandcamp but hes saying its great and we've been receiving tons of fan mail and orders, so I think its cool. we don't have almost any tape left and the t-shirts are going fast as well.
Tell us a few things about the New Underground Metal Scene in Belgium (Bands, Fanzines, Webzines, Metal Clubs etc.)
Adam: They are great, many great bands, fanzines webzines and metal clubs.
Lucas: Big support, there are some posers, like everywhere, but you know, its fine.
Do you know anything about the Hellenic Metal Scene?
Adam: I have more knowledge about French and Portuguese speed metal scene.
Lucas: Yeah! I'm more of an speed metal fan, but Hellenic metal is cool.
What are your future plans?
Adam: Tour, and sign a contract with Nuclear Blast or AFM Records.
Lucas: We have a big tour soon, with some awesome big bands... we had that before coronavirus, but it got cancelled and that. So soon the speed metal revenge.
Thank you very much for your time & Keep up the good work! The closure is yours.
Adam: Hell Death!
Lucas: Speed metal lives on!!!!!!
By Steve the Filthy Dog.
HELL DEATH CONTACT:
https://www.facebook.com/H%C3%ABll-De%C3%A4th-104985731714372
https://www.instagram.com/helldeathspeedmetal/
https://helldeath.bandcamp.com/releases