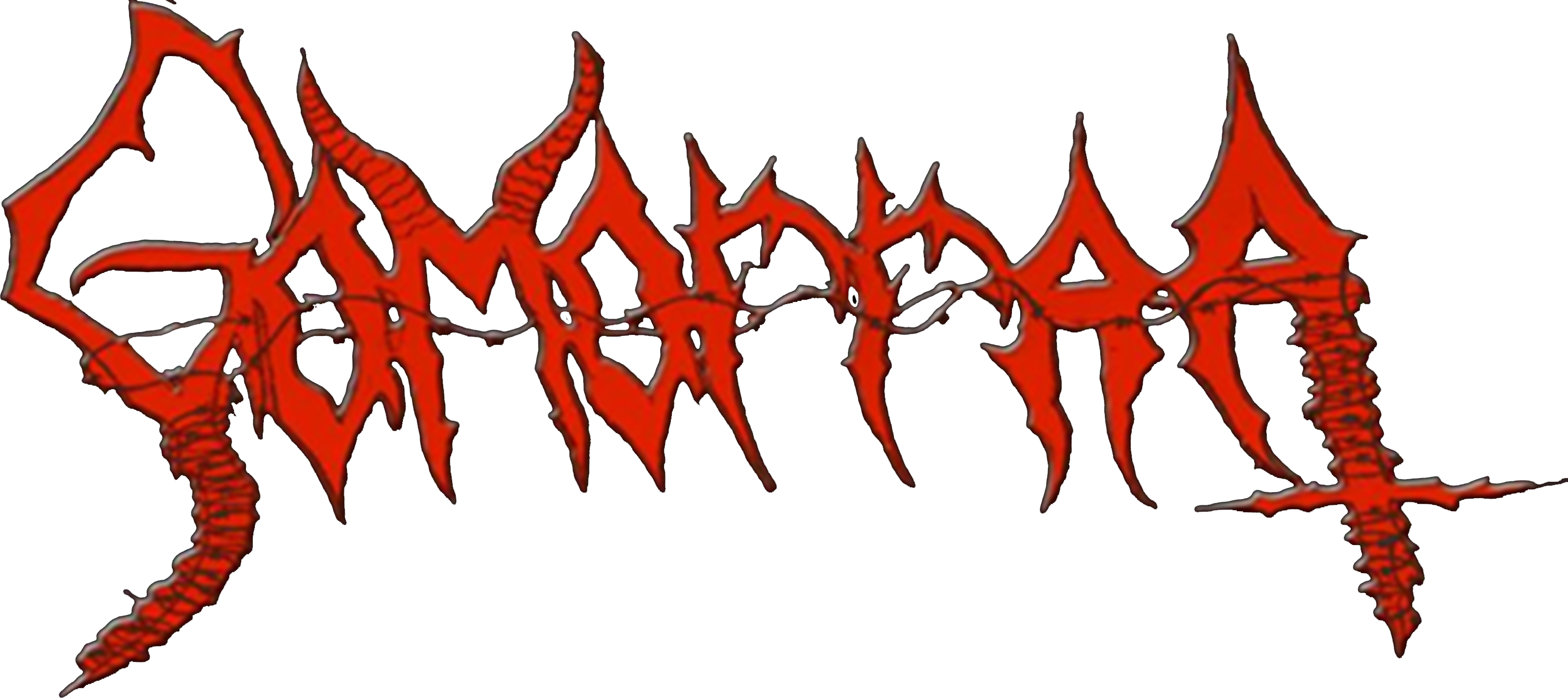 !!!BLASPHEMIC BLACK/THRASH METAL FROM BRAZIL!!!
We had a conversation with GOMORRAA.Enjoy!
Welcome to the FILTHY DOGS OF METAL Webzine.
Tell us a few things about GOMORRAA (Members, Starting Year etc).
MD - First of all thank you immensely to FILTHY DOGS OF METAL for the great space given to me, Crucifier and Blasfemator for talking a little about the band.
Come on!
GomorraA started in the second half of 2014 with the first name, Eterno Carnal (We played two shows with that name until we reached the current name), with me and Jhon / João Marques (ex-Guitar). The idea of the band was to be Sarcófago / Sextrash, an extreme metal band singing in Portuguese. At the time I was a big fan of Sextrash and I was a bass player and vocalist for the band "Absoluto Poder". I wanted to get out of touch and scream a little, and set up a "project" where I would just scream. We followed the idea of the theme and principle of the bands I mentioned, but sonically we totally followed Bathory / Bathory due to limitations.The initial members Cris / Blasfemator was from "Virtude Impetuosa" and played with Jhon, I already knew him because he was an old friend, we called him and he agreed on the spot. I was receiving some not from some drummers and then I called Anderson Pereira / Buiu, from "Decadencia" (Thrash Metal). He had played with me and continued after I left Decadencia. First Anderson would "break a branch" until we got another one, but he ended up staying two years and recorded the first EP "Obsessão Sexual", and the Single "Cães do Inferno ...", which contains music cover by Perseguir & Exterminar, by Flageladör.End of 2016 to 2017, we had exchanges, they were sudden and fast, when Anderson Pereira left the band due to his personal reasons in 2016, Wagner Hammer (Ex-War Victim and Ex-Damnation City) came in, did some shows with us and participated in compositions that went to "Negro Culto De Rais" as the "Triunfo do Anjo Suicida", but in the same year Jhon left, and then Wagner left too, also for his reasons.So in 2017 I ended up finding Mauricio "Skonger", I saw a show with his band "Suicidown" on the guitar, followed by contacts of friends, Natan "Crucifier" on the other guitar, which has his band Madkill.
So lastly Glauco "Devastatör", but Glauco and I had made a deal the same way I did with Anderson, to just record an EP that was "Negro Culto De Rais" and it was already, even in the meantime of recording, we only did one show together and who was on the drums was "Ozodrak SpeedFröst" (Leo Cardoso who is Ex-Days of Hate, Ex-Vingança Suprema and Ex-Madkill) live, who really stayed with us and did great shows and broke the branch (laughs), and it turned out that G. Devastatör after a while, wanted to continue with us, he is up to now.And now with the more solid formation we had a change in our sound, even more compared to our first job. Because in the band we have a mix of tastes (technical Thrash metal, Norwegian Black Metal, Heavy Metal, Punk). And all of this helps us to evolve our sound and lyrics, but without losing our essence that the band has.
In 2019 you have released your album ''Sordidus Fabellas (Luxuries et Profanus)t''. What was the Feedback from your audience as well as from the Press?
Cfier - They were very positive and surprising ... as it was too busy to run out of time to record, we now have a lot of people with their favorite songs and the material in hand.
Blasfemator - Ah, the feedback was very positive. The guys who enjoy our sound, liked the album a lot, the specialized critic, also welcomed our work and, we hope to evolve more, so that the crowd can always enjoy and praise in a very categorical way (hehehe) that's it. (laughs).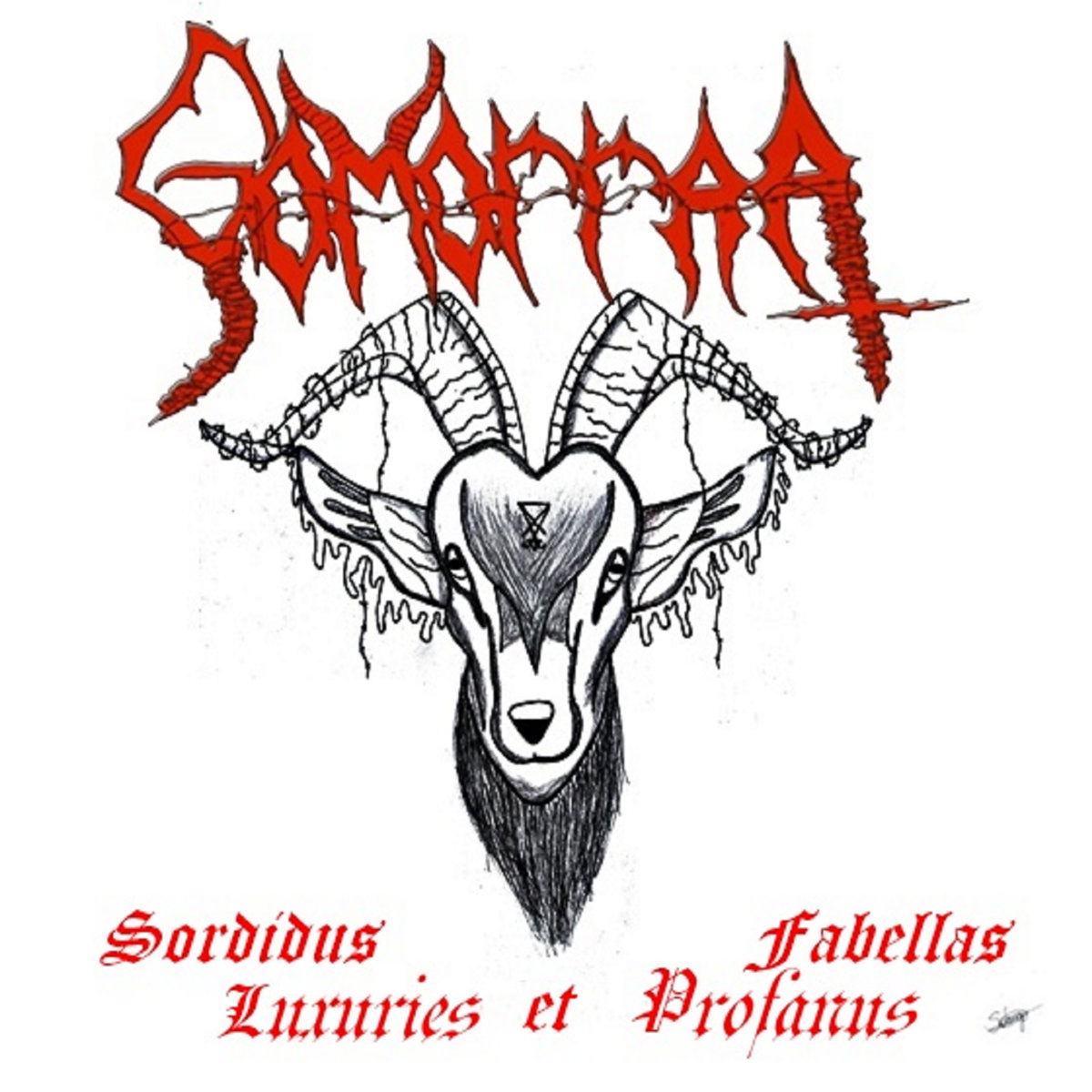 Label or DIY and why?
MD - I find both valuable and precious.Labels are very important to spread your material widely, presenting to maniacs who still don't know who follows this label is a "two-way street"!But our way is also "do it yourself", because when we close with a stamp, we choose the photos and all the graphic arts when we close an agreement, for me communication is everything and always will be, as we did in all materials. But if we need to, we will also take money out of our pockets to help launch the material.
Do you prefer Vinyl, Tape, CD or Digital Format and why is that?
Cfier - The first 3 I believe are the most adored by all of us in the band, we all have our personal collection, digital today is inevitable. However, having the physical in hand is something inexplicable, a unique sensation.
Blasfemator - I'm definitely in favor of physical media. Because it is a much more organic thing, you have the broadest feeling of knowing the work of the band / artist better, and, consequently, valuing the work of the artist, right. (Of course, digital formats have their ease and practicality, but there is an extra "Q" missing and, between us, it is not the same thing.
Your music style is Black/Thrash Metal. Which are your main influences (Favourite Artists / Bands etc.)
Cfier - The Cruel Force, Bewitched, Sodom, Bathory, Dorsal Atlântica, Sarcófago, Sextrash, Vulcano and the like ... still leave me for beautiful features in our style ... But personal question we have many favorite bands (I say that we are very versatile in a matter of taste) such as: The Mist, Chakal, Ratos de Porão, PUS, Cancer, Death, Coroner, Black Sabbath, Deep Pruple, Iron Maiden, Chakal, DooM, Rattus and so on ... And we always try to get good references, but never losing the essence that we created even more in this current formation.
Blasfemator - Ah, our main influence, certainly here is: Sodom, Destruction, Hellhammer, Darkthrone, Sarcófago etc. Basically this old school school of disgrace. Ha ha ha.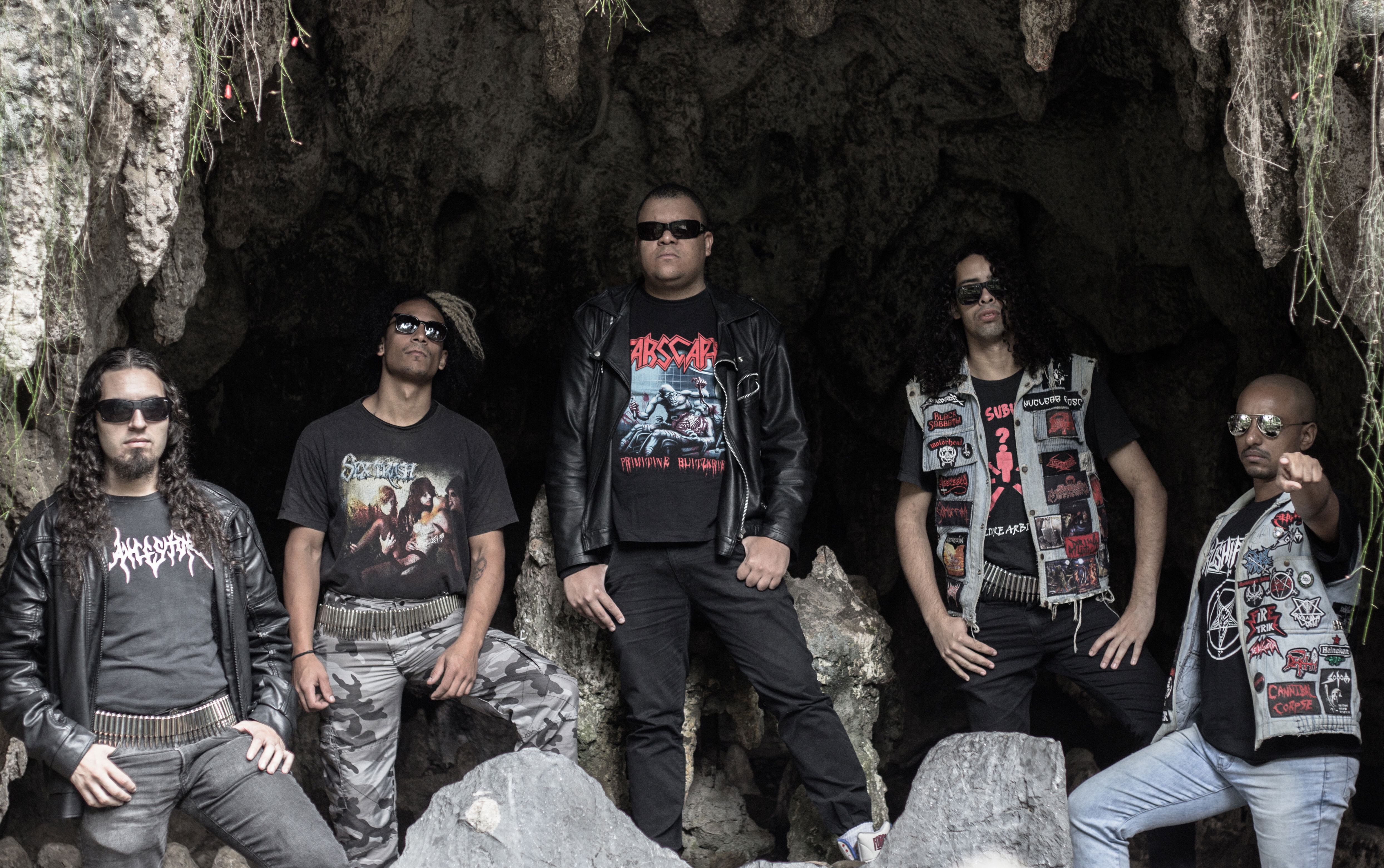 Which things, do you think, a Band should sacrifice in order to succeed?
Have you ever sacrificed anything in your life for a better future of your Band?
Cfier - Countless, (time, money and days without being with people you love.) I think everyone in the band still does that ...
MD - Adding what my brother said.Thinking about our reality as a suburban band, I see that we lose a lot of time and sometimes even a job depends on the guy's vision.Because we are not a band that lives off that, we are mostly fucked up, many times we are even unemployed due to the fact that the country does not provide enough jobs, the demand is huge (so there is the financial problem together), we still have a president's trash that is fucking nice the people, but many knew that it would happen and others unfortunately not, anyway ...
but we dedicate ourselves with passion in doing and wanting to look for the best, so we sacrifice days that we could be doing something else, with family or even go to another place and visit places, and we are here for the band.But what helps that we are passionate about what we do and then we have it does not affect us like what was discussed above! If we want to have success, much more would be sacrificed ...
Describe your ideal live show as a performance Band. Have you already experienced that?
MD - Man there are many cool shows and I sincerely take as a reference many even within the underground as: Creptum, Summum Heredis, Vazio, Ratos de Porão, Days Of Hate, The Mist, Holocausto (before ending) and the like ... are bands that it has a strong and great performance on stage.
From bigger bands I can totally say Iron Maiden, King Diamond and Judas Priest.What I can say about using would be Corpse Paint, I particularly use the old Sarcófago school form, in addition to the inverted cross that I use for it, Skonger already uses Norwegian and we are the only ones to use and follow this essence that consumes.The idea we took a lot of reference to was the great Desaster (Germany) that only Odin uses and the rest does not!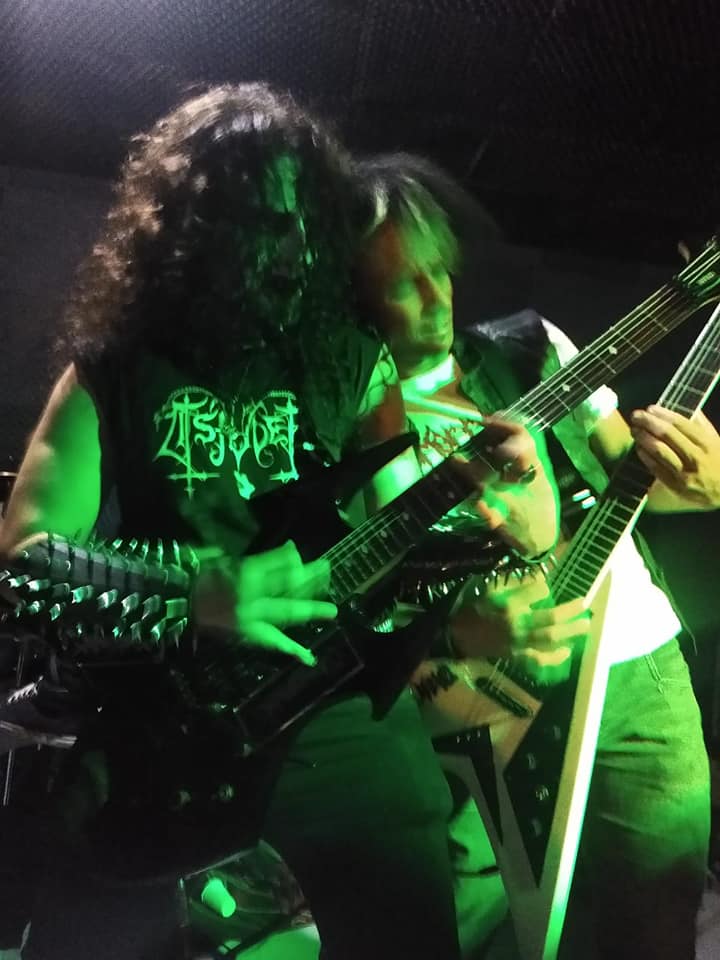 Which attributes, do you think, that a new Black/Thrash Metal Band should have in order to gain identity and be unique?
MD - Man if you do it with passion and make your heart race, enjoy what you do, it's over, that's your authenticity and identity! Never listen to anyone, do whatever comes to your insane mind, fuck you! Never discredit your work, always be honest in what you do.
Do you believe that Bandcamp and other Digital Platforms help the new Black/Thrash Metal Bands? Which, do you think, is the ideal way for a Band to promote its work?
MD - Yes, I believe that all digital forms are worth even for you to evaluate a record of a band you liked and buy the record, t-shirt and the like, knowing that you will be heard at your house with pleasure or even meet a new band to be able to buy the record and so on!The problem I think is that you get stuck in these forms of platform or even the band itself thinks about profits on these digital platforms like Spotify, Deenzer and the like ... You have to think about how to publicize your work, think about the profit (laughs) is stupid, because we all know who takes the gross profit from your work are they (the company) and not you, and I also think that Bandcamp is more valid than the rest, because the public can still help buying the band material and sounds, because Spotify and the like I think it only plays to publicize the beginning and put it just in view, but it goes from each band and its own "politics".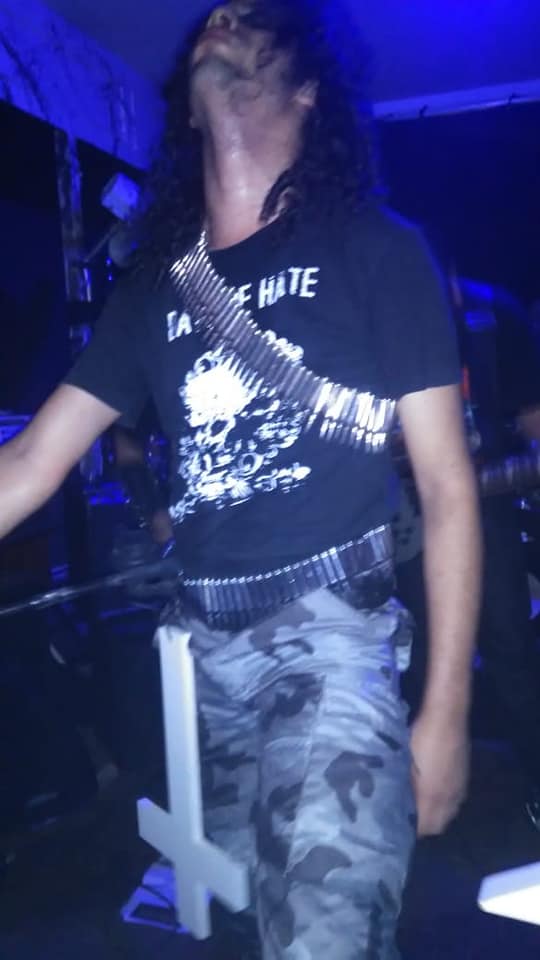 Tell us a few things about the New Underground Metal Scene in Brazil (Bands, Fanzines, Webzines, Metal Clubs etc.)
Cfier - There is always a lot going on, everyone on active duty, zines, bands launching new materials, the pandemic period was taken advantage of, nobody stayed still, a lot of content to be explored ... Anyone who wants to go after it and can find it ...
Do you know anything about the Hellenic Metal Scene?
MD - First contact was with the Rotting Christ, which until today is a band that I appreciate, in fact I know some children, but I do not follow such as: Necromantia, Varathron & Suicidal Angels ...
But I can say that the first three that I mentioned are a unique form of metal coming from you, in my view of course! From your underground, I only know "The Crucifier", which is a really cool band, I really wanted to know more about the underworld, send it to me if you can, so we can get to know it.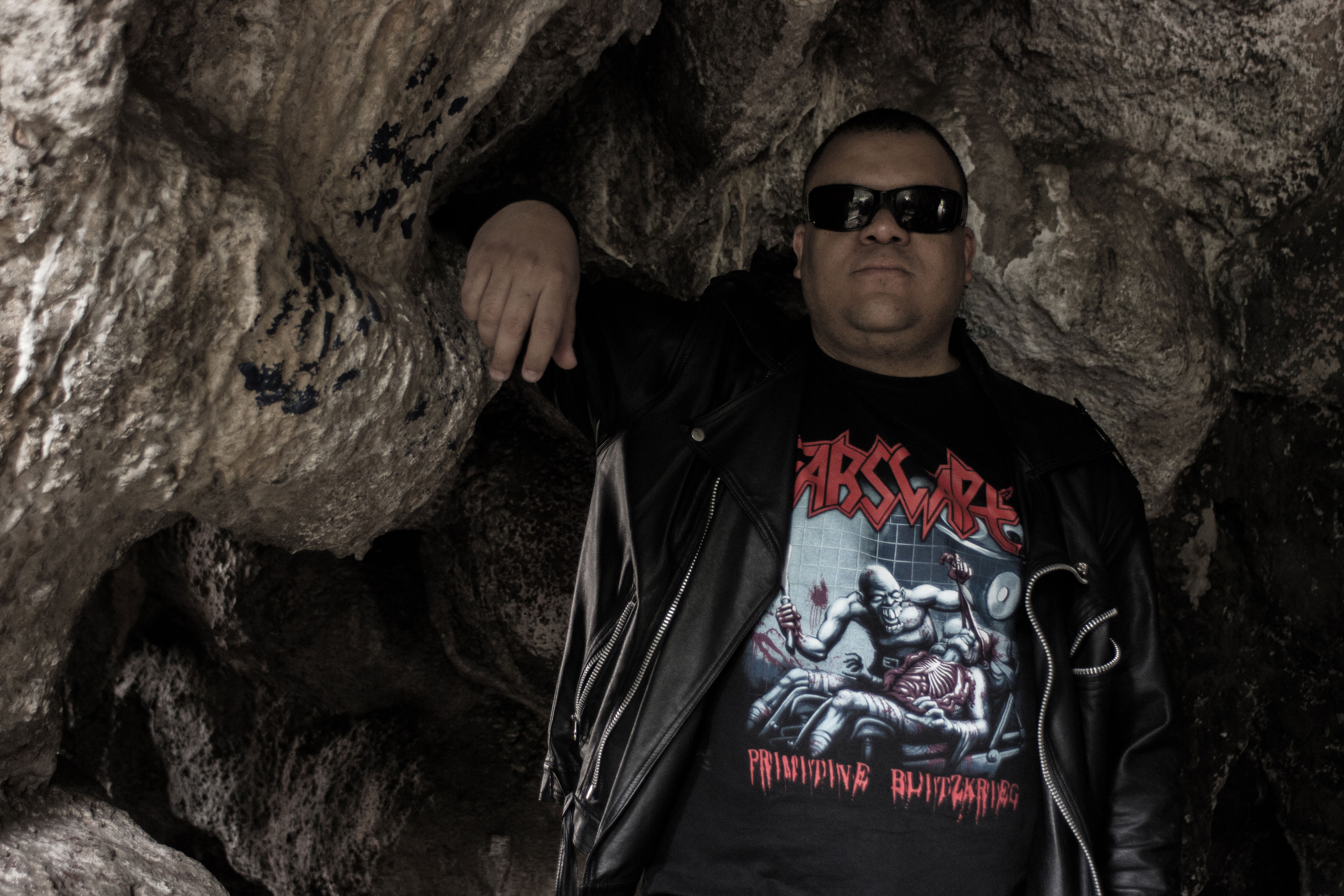 What are your future plans?
Cfier - Record material and soon return to the stage.
Thank you very much for your time & Keep up the good work! The closure is yours.
Cfier - I thank everyone who follows our work and is with us on this journey. Those who bought the material and are always giving us strength and I thank the space provided.
MD - Many thanks to FILTHY DOGS OF METAL, and to everyone who will read this interview and learn more about our ideas, thank you all.Take care, that we all have more EMPATHY in this pandemic situation in which we are living and live the true black metal of death.
Fuck racism and fuck prejudice, fuck God and all forms of oppression!
GO VEGAN !!!
By Steve the Filthy Dog.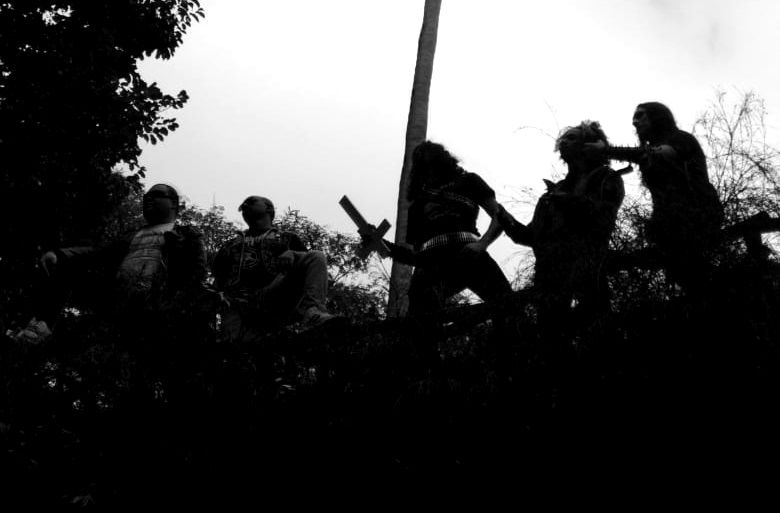 GOMORRAA CONTACT:
https://gomorraaxxx.bandcamp.com/releases
https://www.facebook.com/Gomorraa