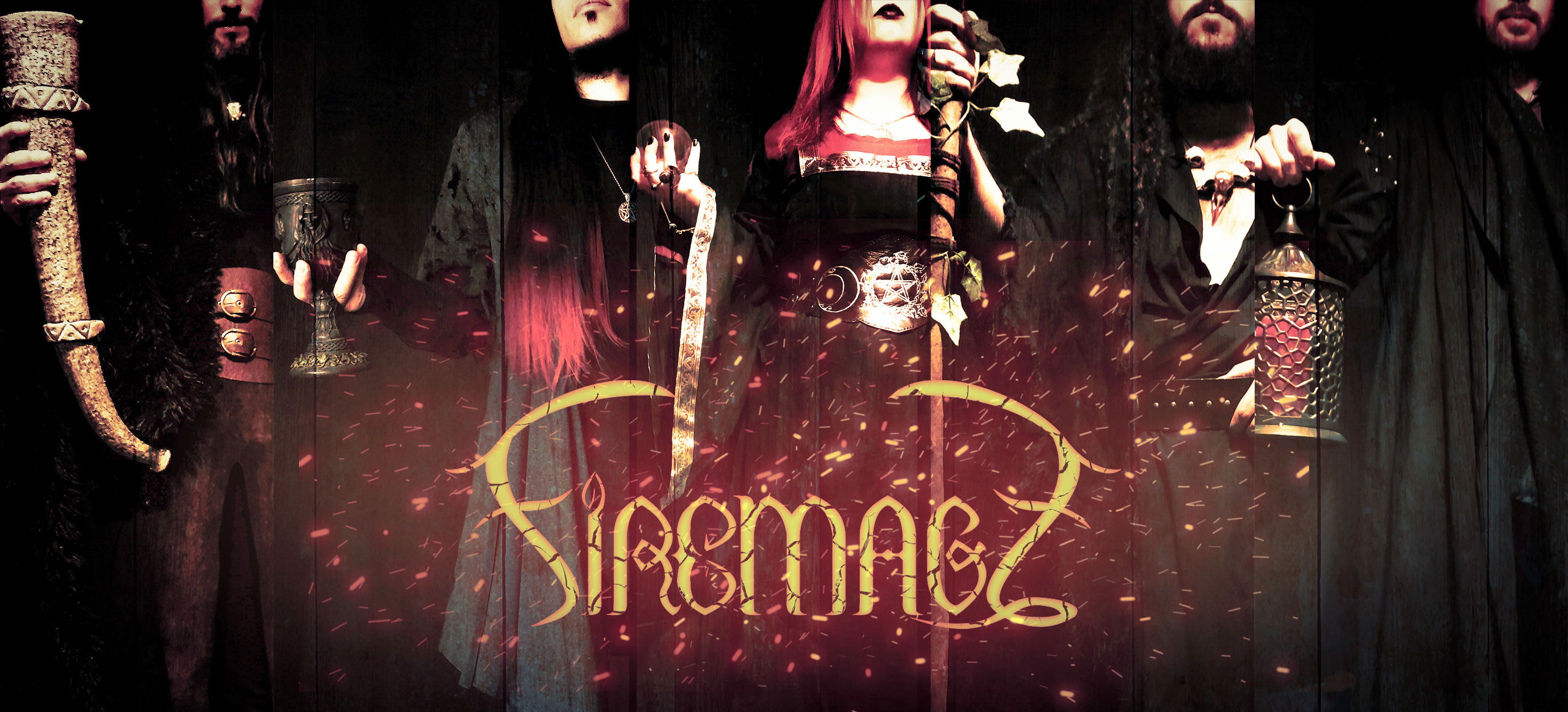 !!!FOLK METAL FROM PORTUGAL!!!
We had a conversation with Tiago Costa (Vocals/Guitars). Enjoy!
Welcome to the FILTHY DOGS OF METAL Webzine.
Tell us a few things about FIREMAGE (Members, Starting Year etc).
First and foremost thank you for having us. Firemage is a 5 piece band from Portugal. While the original idea for the band came along in early 2015, and there was some degree of composition going on in the following years, we think of ourselves as a band that started in 2020. The founding members of the band are myself (singer and guitarist) and Ana Ferreira (bass player). We were joined by the keyboard player Ricardo Santos, the drummer Emanuel Moreira and last but not least, the guitarist Rui Meireles.

You have recently released your new single ''The Grove''. What is the Feedback from your audience as well as from the Press?
As far as we know, the audience loved the song. All the feedback we've gotten was great and even some people sent us messages saying how they related to the message of the song. We haven't gotten much feedback from the press per se, as a rather new band, I suppose that's to be expected. But the bottom line is that our growing fanbase has liked it.

Label or DIY and why?
Presently we are DIY. We don't possess the means to buy into a bigger label, and there's very little that a small one can do for us that we can't do ourselves. Ricardo and I are also in Eoten, which is an international project with some guys from the UK, and that gives us a wider reach within the Folk Metal scene. It's harder work but we can do things like featuring musician friends, like we did with Nick Wragg of Iron Seawolf and Eoten who made our song so much better, and the fans seemed to love it.

Do you prefer Vinyl, Tape, CD or Digital Format and why is that?
I'm a CD guy who's getting more and more into Vinyl! I love being able to hold the releases, look at the artwork and the booklets. However, for Firemage it's too early in the day to be releasing an album. Most of our career choices have to do with the fact that we know that we are a new band with just a handful of faithful fans. We need to make the most of our releases, and a full length album when there's almost no one listening would be rather underwhelming. Regular digital releases is the way to go for a new band like us.

Your music style is Folk Metal. Which are your main influences (Favourite Artists / Bands etc.)
The people in the band have different musical backgrounds and preferences ranging from Doom/Goth to Rockabilly, Black/Symphonic to Folk and Power Metal But for actual music making, Finntroll is a big influence. We also have some influences of the more storytelling/folkish side of Rhapsody of Fire.

Which things, do you think, a Band should sacrifice in order to succeed?
Have you ever sacrificed anything in your life for a better future of your Band?
First it's time and dedication. Then you sacrifice your patience. But it all means nothing if you don't sacrifice your comfort zone. It's a big leap into the unknown, and if you want that which you've never had you have to do what you never did. Sacrificing your Ego is very important. You have to make it work with everyone else and sometimes that's hard. You also need to be able to recognize when you're wrong and correct your way. My area of study is Languages, Literatures and Cultures but I work as a musician/music teacher. It's not a luxurious life but it allows me to work on music and to have time available for the bands I'm in.

Describe your ideal live show as a performance Band. Have you already experienced that?
We haven't played live as Firemage yet, but the ideal show, regardless of genre, venue or act, is a show where the audience are enjoying it as much as we are on stage.

Which attributes, do you think, that a new Heavy/ Folk Metal Band should have in order to gain identity and be unique?
I suppose that most new bands have got one or other band that they're fashioned after. Also it's a very visual style that relies on a strong image. Similarities are perfectly fine but a new Folk Metal band should try to do their own thing, put their twist on common themes. For instance half the people are doing the Viking thing, and that's ok if you want to do that. Just put your own spin on it. Don't try to be another band, because they already exist and they're not you.

Do you believe that Bandcamp and other Digital Platforms help the new Heavy / Folk Metal Bands? Which, do you think, is the ideal way for a Band to promote its work?
Yes! We're strong believers in this. To promote you have to be everywhere you can be, but also be careful not to spam. Regular single releases are a great way to start promoting. Folk Metal is a very visual genre, so using media like video and image is extremely important. A very easy way to understand the Metal scene is this: when you start releasing music, you are showing up with a six pack of beer at a party that's not yours. No one is expecting you or even knows who you are. You need to keep showing up to hand out a few beers and make friends. People will start expecting you, and one day you'll have enough friends to throw your own party.

Tell us a few things about the New Underground Metal Scene in Portugal (Bands, Fanzines, Webzines, Metal Clubs etc.)
Portugal has a ton of talented bands, especially for such a small country of 10 million people. Especially on the Thrash and Death side of the spectrum. We have some good festivals (or had before Covid-19), but unfortunately the venues like clubs are very, VERY scarce. There are a few radio shows like "Caminhos Metálicos" and "Alta Tensão", that do a lot for the bands. There are magazines like "LOUD!" and "Metal Hammer", webzines like "HintF" who will help out with promotion of bands. And labels like "LARVAE" that another band I'm in works with (Xeque-Mate), they help out a lot. So there's a lot of good people trying to make the scene happen, and a lot of talent. Unfortunately, there aren't many places to gig.

Do you know anything about the Hellenic Metal Scene?
Well, we know a couple of bands like Rotting Christ, Septic Flesh, Firewind. And Ricardo is an admirer of George Kollias of Nile, who's an absolute beast on the drums!

What are your future plans?
We have a few songs lined up to be released, and then an album! Hopefully this year. And after Covid is behind us, we want live shows!

Thank you very much for your time & Keep up the good work! The closure is yours.
Thank you so much for interviewing us. We hope to catch up with you again in the near future, once the album is out!

By Steve the Filthy Dog.
FIREMAGE CONTACT:
https://www.facebook.com/firemageofficial
https://firemage.bandcamp.com/
https://www.deezer.com/fr/artist/111715872?autoplay=true
https://www.instagram.com/firemage_folk/
https://open.spotify.com/artist/6t8JCFb7sexk2ZpFA3qA1H?si=N2vzraECRPG2xj8KmugZBA&nd=1