!!!BRAZILIAN HELLISH METALPUNK!!!
Welcome to the FILTHY DOGS OF METAL Webzine.
Tell us a few things about FILHOS DA BESTA (Members, Starting Year etc).
We started in the year 2020, at that time we were a power trio. Today we are 4 members. Luiz Fernando (guitar/vocals) - Bruno Guimarães (drums/vocals) - Camila Santos (Bass) - Lukas (guitar).
You have recently released your EP ''A Marca da Besta''. What is the feedback from your audience as well as from the press?
We were surprised because we didn't release this EP as we should have. It's gratifying to know that it crossed the world and reached your ears.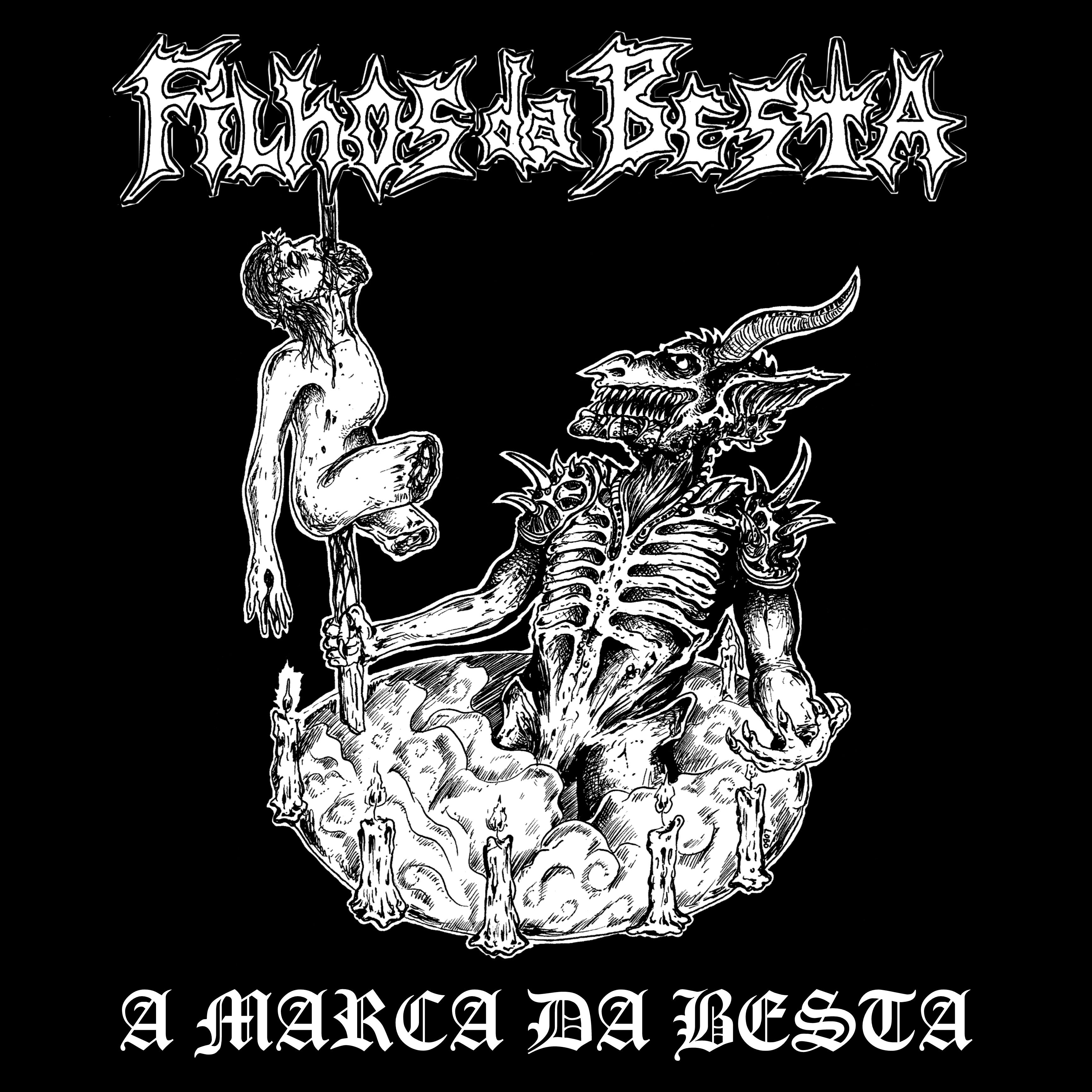 Label or DIY and why?
Both. We just don't have contact with labels at the moment, it's a matter of time to happen.
Do you prefer Vinyl, Tape, CD or Digital Format and why is that?
All formats! Unfortunately not all are accessible here. The price for pressing vinyls is quite expensive, but it's something we really want to release in the future.
Your music style is MetalPunk. Which are your main influences (Favourite Artists / Bands etc.)
Our influences are directly linked to the early 80's. In short, we are children of Motorhead and Discharge, and of course, bands like Bathory, Hellhammer, Midnight, G.B.H, Extreme Noise Terror, Warfare, Sepultura, Sarcófago...
Which things, do you think, a Band should sacrifice in order to succeed? Have you ever sacrificed anything in your life for a better future of your Band?
Buying instruments, rehearsing, composing... All this is a sacrifice considering that the economic situation around here is the enemy. We give our soul for it... We all have boring, massive and depressing work. The band is our refuge, where we have fun, drink beers and make some fucking noise
Describe your ideal live show as a performance Band. Have you already experienced that?
YEA! We like chaos, stage dive, mosh, beer soaking our clothes. We don't like to stay in the same place doing the same pose throughout the show. Altogether we did two shows, we have two more dates in August, one of them in São Paulo, our first time there.
Which attributes, do you think, that a new MetalPunk Band should have in order to gain identity and be unique?
Mainly originality, I know it's difficult but we can't always be trying to be a Celtic Frost or something, having an original work will make you have a greater dignity in the metal environment, besides being always true, don't be carried away by illusions of fame and lust in this environment, never sell out or surrender to adversity.
Do you believe that Digital Platforms help the new MetalPunk Bands? Which, do you think, is the ideal way for a Band to promote its work?
Certainly digital platforms help us a lot to release our materials and make contacts with other punks and metalheads around the world, I think it's super important for any band to have a good involvement with this, a lot would not be possible without this leg of technology that helps us so much nowadays, believing in their work and without getting tired, we can make good use of these platforms.
Tell us a few things about the New Underground Metal Scene in Brazil (Bands, Fanzines, Webzines, Metal Clubs etc.)
Brazil is the birthplace of great metal and punk bands, and a lot of people have been releasing amazing works here in the underground scene keeping a high level, super new bands have been active and have released material, old bands coming back to active, and veteran bands show that can still offer relevant work. The scene is alive in the underground.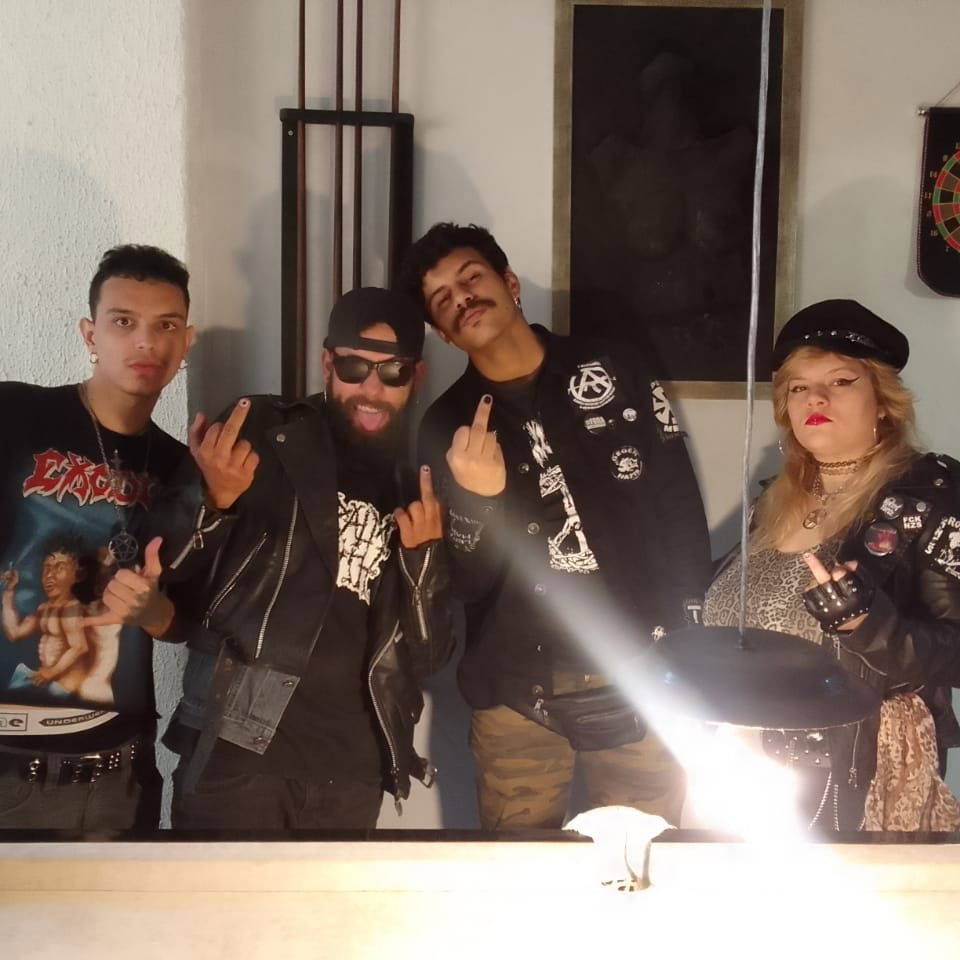 Do you know anything about the Hellenic Metal Scene?
To tell the truth, we don't know, but this participation is certainly a bridge for us to know this scene, we admire everyone who participates in some way, anywhere in the world.
What are your future plans?
Our main goals at the moment are recording our full album, and making material together with partner bands, as well as releasing the material on physical media, and of course playing a lot, drinking alcohol and having fun out there.
Thank you very much for your time & Keep up the good work! The closure is yours.
First we would like to thank you for the invitation to participate in this Zine, we found the material super interesting, thank you to everyone who spent the miserable time of their lives reading and listening to our songs, thank you to everyone who dedicates themselves to keeping the flames lit. SALVE GERAL AOS METALPUNXXXXXX
By Steve the Filthy Dog.
FILHOS DA BESTA CONTACT:
https://www.facebook.com/filhosdabesta
https://www.instagram.com/filhosdabesta/
https://filhosdabesta.bandcamp.com/