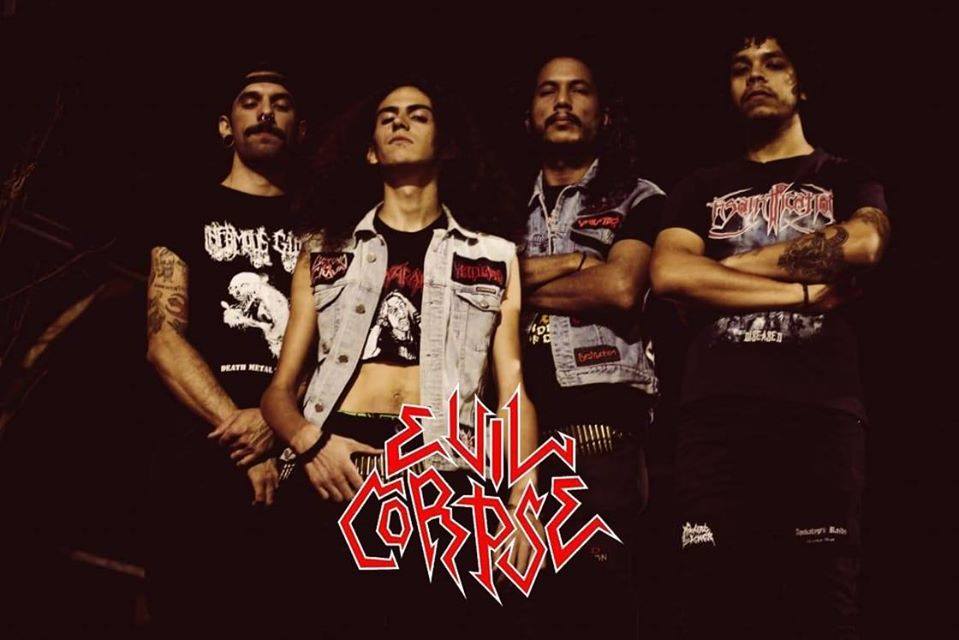 !!!BRAZILIAN RAW THRASH METAL!!!
We had a conversation with EVIL CORPSE.Enjoy!
Welcome to the FILTHY DOGS OF METAL Webzine.
Tell us a few things about EVIL CORPSE (Members, Starting Year etc).
We're a raw thrash metal band hailing from DF/GO, Brazil. The band was born in 2014 after the break up of Slaver (Guitarist Darkhell's ex-band), with the only purpose of playing old school, fast and evil thrash metal.
The current line-up consists of:
Jhonata "Darkhell" - Guitars and Vocals
Iury "Stringbreaker" - Guitars and Vocals
Rômulo - Bass
Gabriel "Zenön" - Drums and Vocals.
You have recently released your album ''Apocalyptic Future'. What is the Feedback from your audience as well as from the Press?
We think our latest album was very well received by the public and press, people liked the old-school lo-fi kind of sound we tried to deliver. We also got some pretty good advice and constructive criticism in regards to production, which will help us in the recording of the new materials.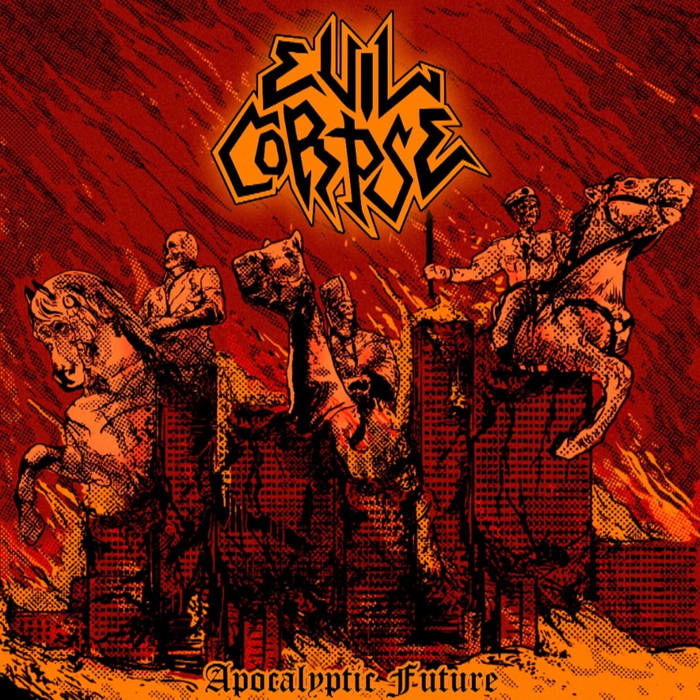 Label or DIY and why?
Even though we think DIY is cool in every sense, having a label really helps underground bands like ours.We used to do everything by ourselves until we signed with Brazilian label "Kill Again Records", which is specialized in old school thrash/death bands (Violator, Podridão, Nightwolf, Cemitério), and it's really helped us so far.
Do you prefer Vinyl, Tape, CD or Digital Format and why is that?
We love every physical format, and we're certainly addicted to vinyl, though we realized that the digital format is really important nowadays, because of the huge amount of people it can reach.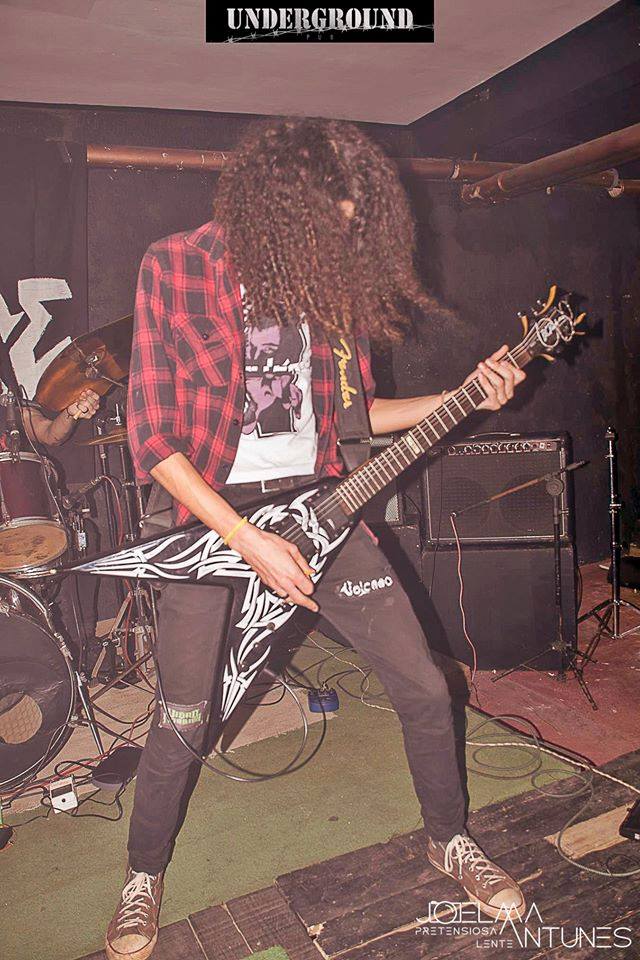 Your music style is Thrash Metal. Which are your main influences (Favourite Artists / Bands etc.)
We're very influenced by old school thrash and death bands such as Sepultura, Kreator, Sodom, Slayer, Ripping Corpse, Sadus, Protector, Darkness, Dark Angel, Pestilence, Massacre, and also newer, obscure bands in the likes of Violator, Slaver, Pesticide, Beyond the Grave, Ripper, Hypnosia (which is a huge influence), Considered Dead and many others.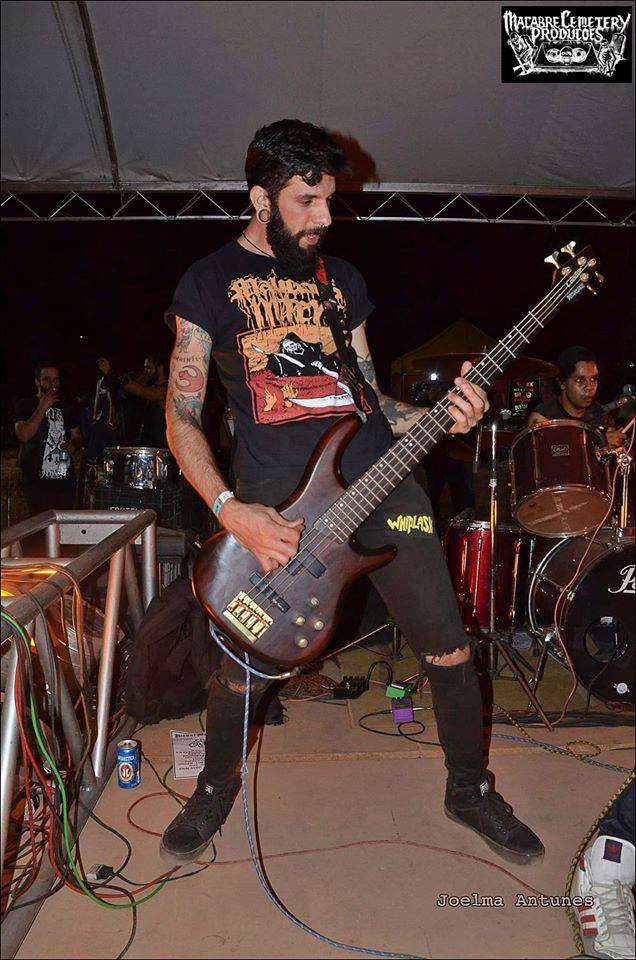 Which things, do you think, a Band should sacrifice in order to succeed?
Have you ever sacrificed anything in your life for a better future of your Band?
If you're in an underground band, just like we are, you must sacrifice many things. We have sacrificed money, nights of sleep and also health in order to achieve our goals, but it's all worth it because we love what we do!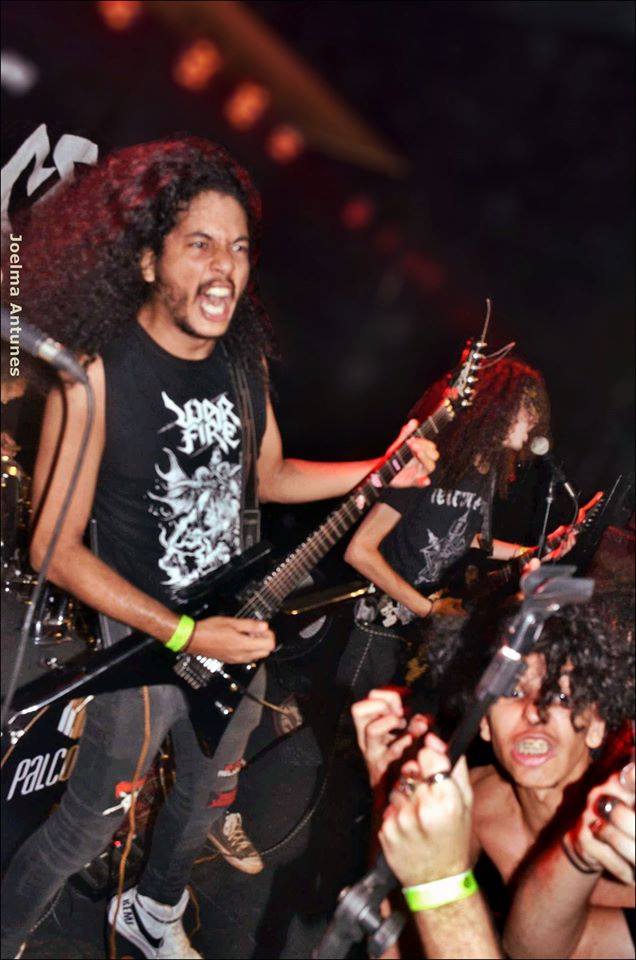 Describe your ideal live show as a performance Band. Have you already experienced that?
We really like gigs in which we can get in touch with our public, we can feel the energy when they come up on stage and mosh all around and break stuff hahahaha. The gig we organized for the recording of Infectious Disaster's music video was one of the best gigs we ever played. It was at a very small venue, packed with people moshing and stage diving. It was cool as hell!
Which attributes, do you think, that a new Thrash Metal Band should have in order to gain identity and be unique?
Thrash Metal bands tend to fall victims of the limitations of the genre, some can sound generic, but you have to put yourself into the music in order to be authentic. We try, at least hahaha.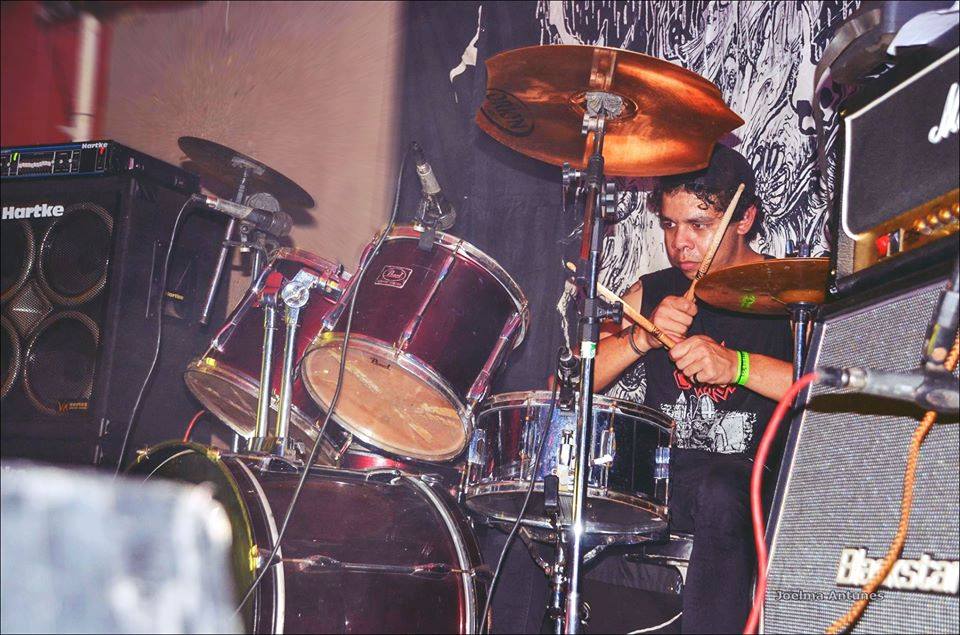 Do you believe that Bandcamp and other Digital Platforms help the new Thrash Metal Bands? Which, do you think, is the ideal way for a Band to promote its work?
Digital media is very important nowadays, and it sure helps new bands a lot. Bandcamp is good, but it's nice to have your music uploaded to many platforms such as Youtube, Spotify, Deezer and many others if you want to reach a larger audience. Our "Apocalyptic Future" album was very well promoted because of digital platforms.
Tell us a few things about the New Underground Metal Scene in Brazil (Bands, Fanzines, Webzines, Metal Clubs etc.)
We're from the region of Goiás/Distrito Federal in Brazil. The underground scene here is very active, with many metalheads supporting it and many bands to represent it such as Terrorcídio, Deathrazer, Nuclear Dash, Violator, DFC, Terror Revolucionário,Transtorno Nuclear, Tean Zu, Zenön, What I Want, Who Farted?, Desonra, Blind Fear, Naughty Dog and many others.
Do you know anything about the Hellenic Metal Scene?
We don't know a whole lot but we sure love Suicidal Angels, it's very influencial for us!
What are your future plans?
We intend to keep writing new music and releasing new materials under the Kill Again Records label, and we hope to go back to playing gigs as soon as this pandemic ends.
Thank you very much for your time & Keep up the good work! The closure is yours.
We would like to thank you guys for your time and for the opportunity to be participating in this interview.And for those who are reading: support underground metal/punk bands from your local scene, smash fascism/racism/homophobia/sexism in EVERY opportunity, stay home, if you can (at least for now) and don't forget to check out our demo
"Awakening the Slaughter" and the full album "Apocalyptic Future". We really appreciate it.
METAL TO KILL BASTARD POSERS! 666
By Steve the Filthy Dog.
EVIL CORPSE CONTACT:
https://www.facebook.com/EvilCorpseThrash/
https://evilcorpsethrash.bandcamp.com/