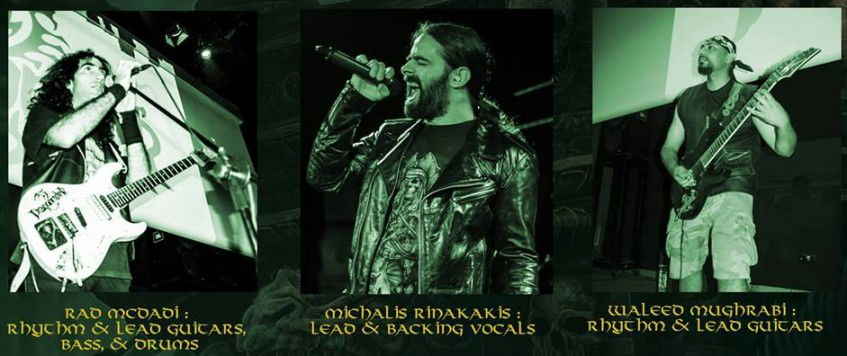 We had a conversation with DRAGONRIDER.Enjoy!
Welcome to the FILTHY DOGS OF METAL Webzine.
Tell us a few things about DRAGONRIDER (Members, Starting Year etc).
We started back in 2001 under a different Name "Valderia" which Rad formed as his main project after quitting Drumming for his previous Band. The band was struggling as a Traditional Heavy or Power Metal band where almost every metal fan was into Thrash or Death Metal.In 2006 the Name was changed to Dragonrider to mark a fresh start and a new change, some old Valderia Demos were re-recorded but we have never released them.In 2007 with a full line up we entered the Horned Helm Studio and recorded our 2nd demo which was released on CD.The years Passed and Finally Rad got in touch with Michalis and together with Waleed we managed to release a Single "Lone Rider" in 2018 and Finally the debut was released on the 17th of September this year.
You have recently released your album ''Scepter of Domination''. What is the feedback from your audience as well as from the press?
We are really impressed with how much the fans are loving the Album, even people who never knew us are also giving us some really nice comments and the Album is getting a good feedback.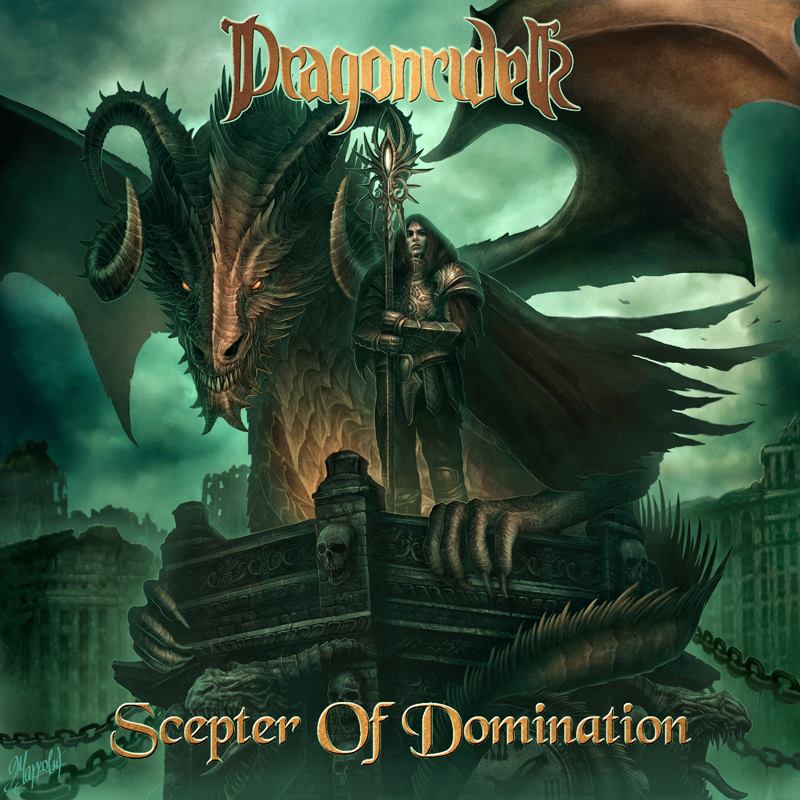 Label or DIY and why?
Rad: I would say Label but, personally I prefer a small label the reason why is most of the smaller record labels are doing it because it's their Passion and they love Heavy Metal so it's like a big Community where everyone is supporting one another through the love of Heavy Metal.
Michalis: I would say Label as well. The support and promotion you get from a good Label is valuable - so that you can have more time to focus on the music!
Waleed: Yes a small independent label worked very well for us, we did all the music, recording and production but did not have to stress over release and promotion.
Do you prefer Vinyl, Tape, CD or Digital Format and why is that?
Rad: If it's personal taste I love Vinyl because of the Huge sound Quality, the Big Artwork, the text and designs.For me an Album isn't just the Music or Lyrics, I enjoy gazing at the artwork and show great respect to the person who came up with it. It is Art which needs appreciation. I enjoy reading the special thanks list and almost everything in the Booklet.
Michalis: Vinyl, for the great sound and artwork sizes. I really like CDs as well though and even Tapes still have their charm.
Waleed: I agree with Vinyls for quality, but personal experience where I had to move houses and countries a few times CDs are more practical. I also use streaming services for car journeys and at work. So basically a mix of everything.
Your music style is Power Metal. Which are your main influences (Favourite Artists / Bands etc.)
Rad: Black Sabbath with either Tony Martin or Ronnie James Dio, Dio, Rainbow with Dio, Running Wild, Stormwitch, Savatage, Cloven Hoof, Iron Maiden, Blind Guardian, Angel Witch, Saxon, Manowar, Grave Digger, Iced Earth (early) , Deaf Dealer, Helstar.
Michalis: Judas Priest, Blind Guardian, Iced Earth, Gamma Ray, Savatage, Dio, Crimson Glory, Virgin Steele, Dream Evil, Masterplan, Ark, Brainstorm, Megadeth, Annihilator, Symphony X, Impellitteri, Running Wild and many more.
Waleed: Helloween, Accept, Annihilator, Dokken, Iron Savior, Iron Maiden, Helstar, Savatage, Blind Guardian, Deep Purple, Hammer Fall, Testament, Crimson Glory, Judas Priest, Jag Panzer, Nevermore, that's what came to mind, there are many more.
Which things, do you think, a Band should sacrifice in order to succeed?Have you ever sacrificed anything in your life for a better future of your Band?
Rad: It differs. for me personally I sacrificed relationship and friendship in order to spend more time with instruments and to get somewhere in my musical career. But, I guess most musicians have been there.
Michalis: Time. Lots of it!
Waleed: Yes, definitely time and money which I believe is the case for many underground and upcoming bands.
Describe your ideal live show as a performance Band. Have you already experienced that?
Rad & Waleed: In 2009 we had a headlining show in Amman. We have never seen such a yelling crowd before; they were very interactive and involved with singing along.For us we always try to involve the crowd they are what makes a live show great (and of course the crew and the people who set the stage). It sends shivers down our spine when the audience sing along to our Music.
Michalis: Playing in the Keep It True festival in Germany with Air Raid in 2013 and supporting Primal Fear and Gus G. in Athens with The Silent Rage in 2019! People singing along to your songs and choruses is always amazing!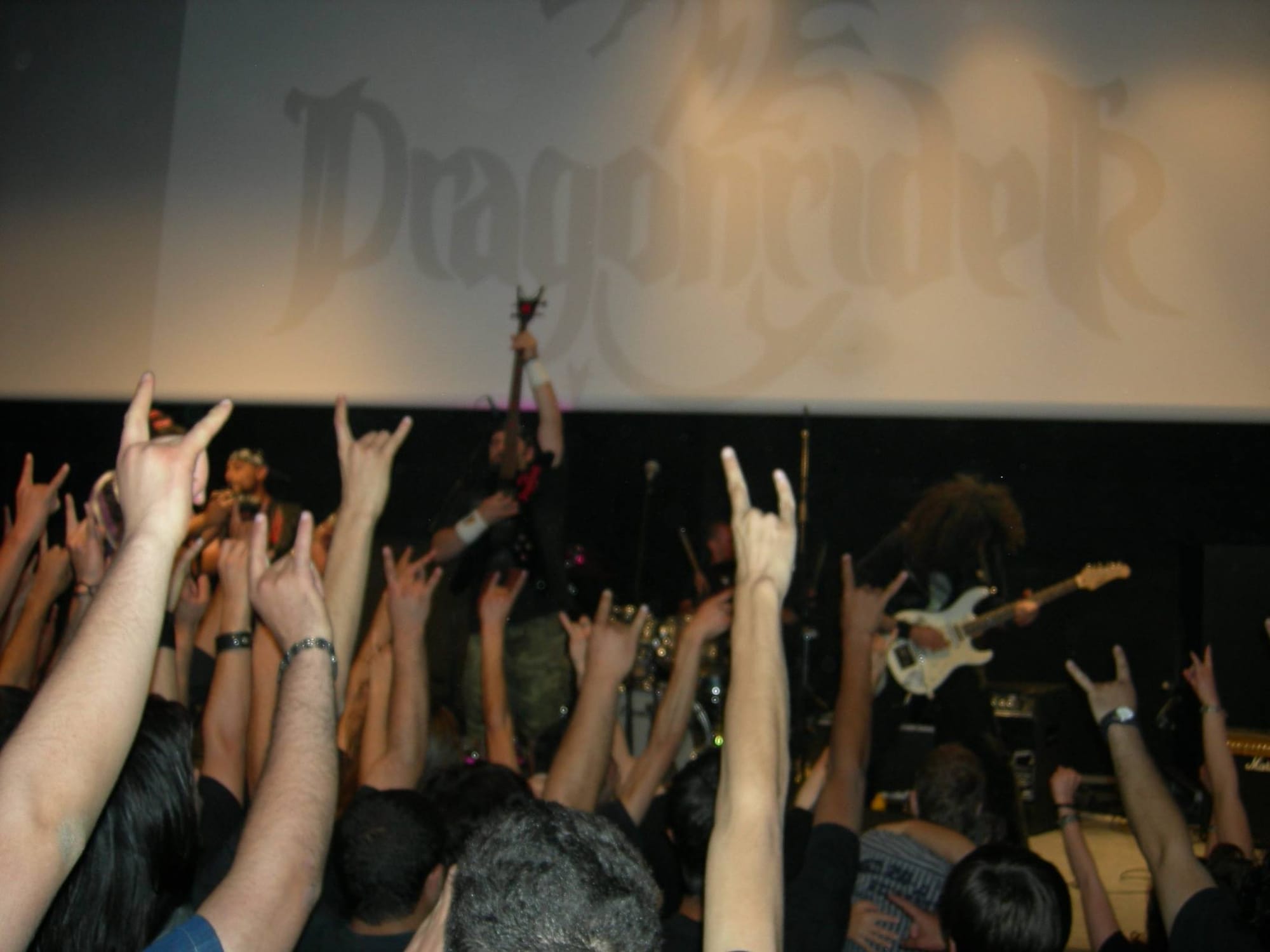 Which attributes, do you think, that a new Power Metal Band should have in order to gain identity and be unique?
Rad: Don't limit yourself to the title Power Metal or thrash Metal etc.Instead write down how you feel at the moment. Be honest with yourself and with your music and don't worry about pleasing people because you can't be everyone's darling.
Michalis: Avoid following trends and set your own "limits" based on the skills and influences of your band members!
Waleed: We never tried to match current trends in the music scene, we just happened to play and create music based on our influences and what we felt at the time of writing the songs. Gaining identity can be a tricky topic, the style we play is a mix of our individual styles, we had a lot of songs in our arsenal that vary in genre, but we tried to make an album with a matching theme, and were very satisfied with the results.
Do you believe that Bandcamp and other Digital Platforms help the new Heavy Metal Bands? Which, do you think, is the ideal way for a Band to promote its work?
Rad: With these website I think Bandcamp is good because unsigned bands could still sell their Music and Merch and it's free unless one sells something yet they don't receive a very high patronage, and one could easily share the band's webshop on social Media easily which is a good thing. But, Spotifiy and the rest of the streaming services are just killing music yet they are profiting from it.Promoting over Social Media is becoming more and more important nowadays as almost everyone uses sites like Facebook and many people are still into streaming services, but as a Metal fan I love seeing bands I don't know or never heard of as opening act or an underground gig and if I like what I hear I will assault their merch booth and be happily broke after that. So yes, Touring is still the most effective way because Metal fans love Merch and Physical copies more than anybody else.
Michalis: I think that most digital platforms, especially Bandcamp and even e.g. YouTube channels such as NWOTHM Full albums, help new Metal bands a lot nowadays. The ideal way for me is to combine all of this promotion with as many live shows as possible.
Waleed: I think until a band reaches a certain fan base, platforms like Bandcamp is perfect. I also think live shows are very important to promote bands, and sell merchandise, especially since upcoming bands will usually play small gigs, we get the chance to have a chat and interact with fans which makes a big difference.In our case social media and networking was a great help to grow the fan base and get to know people in the industry.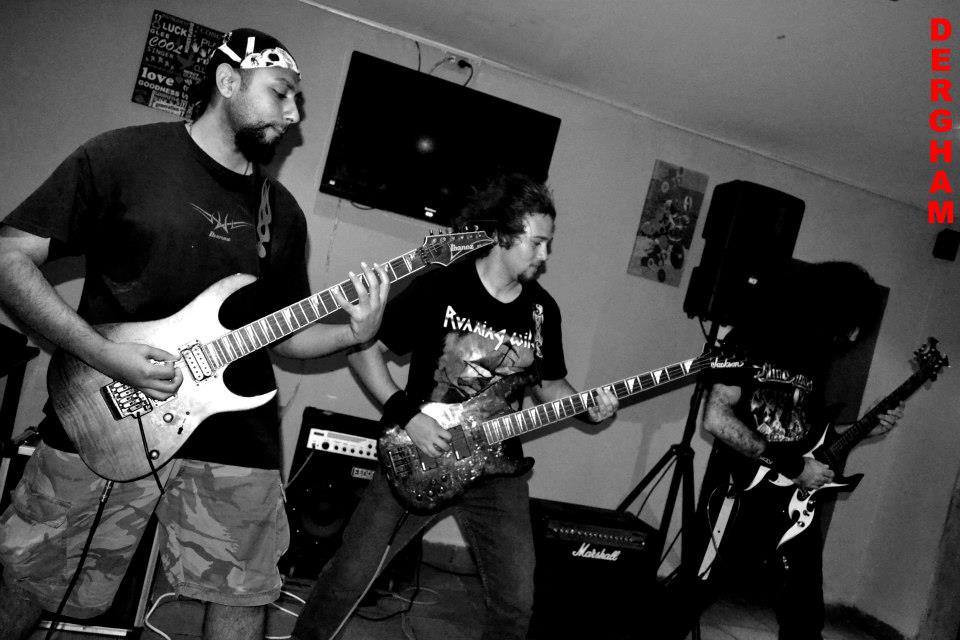 Tell us a few things about the New Underground Heavy Metal Scene in Jordan (Bands, Fanzines, Webzines, Metal Clubs etc.)
Rad & Waleed: Since we moved from Jordan in 2014 we can't talk about the current scene yet I am sure some places and bands still exist.Most bands are either Death or Thrash Metal some are really good bands like Tyrant Throne, Phex , Esodic. But, we have also Black Metal bands like Natherzeim and Auguary and symphonic bands like Symphovania. I am not sure if most of them are still active.We have a rock Pub called Murphys with mostly Guns N' Roses and hard Rock music and sadly the Rainbow theater got shut down by the officials as all the Metal bands and fans were accused of Satanism. Sadly, a very conservative society that will never accept Metal music and Metal fans. and I think Jorzine "the only Jordanian Metalzine" is still active.
Do you know anything about the Hellenic Metal Scene?
Rad: Only few things I heard from our Ex Bass player who moved to Thessaloniki in 2008 or some friends from other bands who played in Greece. Michalis knows more than I do. But, I know that the Greek Metal fans are crazy hardcore old School Metal fans.
Michalis: Yes! And yes to what Rad said about the Metal fans! I think the Hellenic Metal Scene has evolved a lot during these last 10 years, both when it comes to musicians as well as the music itself.
Waleed: Mostly from Facebook friends, groups and pages. I do believe that our music fits in very well with Hellenic Metal taste, and would love the chance to play their one day.
What are your future plans?
First, when the world returns to normal, to find a Drummer and then play some live shows then eventually do a second and third album and more live shows.
Thank you very much for your time & Keep up the good work! The closure is yours.
Thank you very much for the support!
By Steve the Filthy Dog.
DRAGONRIDER CONTACT:
https://dragonridermusic.bandcamp.com/
https://www.facebook.com/Dragonridermusic