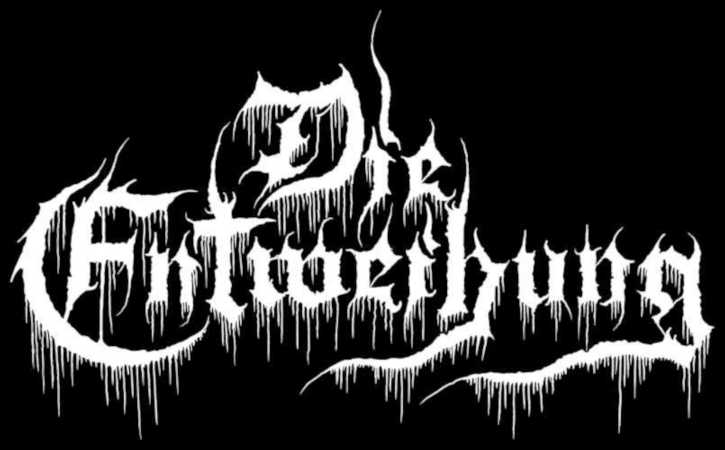 Welcome to the FILTHY DOGS OF METAL Webzine.
Tell us a few things about DIE ENTWEIHUNG (Members, Starting Year etc).
Hello, DE started in may, 2007, by me (Denis, first years I used the name "Herr Entweiherr) as solo project (so called one man band), DIE ENTWEIHUNG ("The Desecration" on German) was originally low fi underground Black Metal project, trying to find my own place in this music. After a couple of badly sounding demos and first album, I started to try different experimental things, use many synths, ambient melodies, look for the new sound in general, etc. All these "researches" lead me in 2015 to the album "Neverending Terrorism", that opened for me the new way - moved away from Black Metal, my music turned to some hardly classified style, that I personally call just Melodic Dark Metal, but in fact in includes Black, Thrash, Hard 'n' Heavy, Mid-Eastern melodies, some epic fragmets etc. The last album "Kings & Pawns" was recorded featuring 2 guest vocalists - Alexander from Russian band JINX, and Alena from Czech band NOCTURNAL PESTILENCE. Can't say if they will be the constant members of DE, but they both will be taking part in the next album.
You have recently released your album ''Kings & Pawns''. What is the feedback from your audience as well as from the press?
Well, I'd say this album received the most positive feedback among all my albums. I can't say a lot about a feedback from fans, but almost all the press representatives said a lot of nice words about the album. Of course, there are things that may be more or less liked to different people, someone was disappointed in the artwork, someone in the sound production.. that's natural thing in any art I guess.
Label or DIY and why?
Definitely label! In my personal case, I don't have enough of time and resources to do it all by myself (it's enough for me that I am making 99.9% of all that directly related to creativity and production). At the times of "Neverending Terrorism) I was trying to start my own label for releasing my music by myself, but after releases of 2 albums on CD I realized that it's not really for me. Since 2018 I am releasing my music via Russian Wings Of Destruction label + helping him with different things. For now I am absolutely happy with it, concerning the CD releases. As this label is not releasing vinyl and tapes, probably I will be looking for a one time label deals for analogue media editions' releases, but the main label for me is Wings Of Destruction definitely.
Do you prefer Vinyl, Tape, CD or Digital Format and why is that?
I am CD fan. During ~20 years that I am collecting music, I was going through tapes, being a kid, CDs being a teenager, vinyl being in my 20's. After all, I realized that CD is best media format for me. I have very good sounding equipment (CD player, Amp, etc), and the CDs sound the best, for sure. I'm still love tapes and vinyl, but more as just nice stuff to collect, not to listen. The only thing I don't really like in CDs - the trend for digipacks (yes, jewel cases rule.. and Japanese Mini LP CDs too!) as most such editions manufactured very bad, the quality of modern digipacks is really low... and what I really HATE - that nowadays the digital overcompressed mastering that made mostly for Streaming and other shit is being used for the CDs as well. All actual nagging about "CD sucks, it has dead sound, and the vinyl rules, it's alive" is just nothing for me. The old CDs (80-90s) sound perfect, and not CD format's guilt that the labels and bands put the modern shitty sound on CDs and not making a good sound for it.
Your music style is Black/Dark Metal. Which are your main influences (Favourite Artists / Bands etc.)
Basically I always was a fan of classic Hard/Heavy bands, and their influence can easily be found in my latest albums. When I only started the project, I was a judge fan of Black Metal, in its more "true" form, haha. Raw DSBM, Norwegian classic etc. Last years I almost don't listen to the new BM stuff, to be honest now I don't feel really connected to it in general. I still love its atmosphere, general conception etc, but prefer listen to the other music. If you'd see my music collection, you'd probably be surprised how weird it is for the usual metalhead. I don't have tons of Black or Death or Whatever Metal on my CD shelves. Instead of it - there are absolutely different music, from Beatles to Immortal and Burzum, from Nirvana to Deicide and Cannibal Corpse. From Joy Division to Doro, etc. Among my favourite bands - Metallica, Nirvana, Pink Floyd, Deep Purple, Ozzy, Queen, Warlock/Doro, Burzum, Bathory (viking stuff), King Crimson, Paradise Lost, Gods Tower, and many more (here I named just some artists that came to mind, but there are really many bands I listen). If we're not talking about heavy guitar music, I love 90's Eurodance and 80's pop stuff. Non trve at all, haha...
Which things, do you think, a Band should sacrifice in order to succeed? Have you ever sacrificed anything in your life for a better future of your Band?
It depends on what you call success. If we talk about being signed on Nuclear Blast or Sony Music - so I guess the case is not the self-sacrificing, but just being a little bit more lucky than many other ones. There are many cases when the young band with their first album starts on the big label, but why? Who knows, maybe they are just making trendy popular music, maybe they have a strong female singer... on the other hand - many bands are playing, composing their music for many years, playing shows etc, but anyway they are staying in the deep underground. So I'd answer the band shoudn't sacrifice - the band should just do the music that goes from the musicians' hearts and be true. The true creativity is on the first place. The same things about me as well. I sacrifice the most of my free time and money last 15 years for the music. But it's hard to say that I "sacrifice". The sacrifice is that I have to go to the work 5 days a week instead the making music, hehe, and the music is not a sacrifice, it's a passion and way of life.
Describe your ideal live show as a performance Band. Have you already experienced that?
Me with long red coloured hair, playing drums on big stage... hahaha. I never played live, I never had a real band. I wanted that in my teenagers years, but after opening Black Metal and many one man projects, I understood that I don't need and don't want to play live. This music is not for the live performances definitely. Probably my newest albums would sound well on the gigs, but anyway I don't have any plans about it.
Which attributes, do you think, that a new Dark Metal Band should have in order to gain identity and be unique?
No matter if it's Dark Metal or Alternative pop grindcore band - work and work, don't be afraid to try something new. That's ok when the band just started and people play something similar to their favourites, but when it's the same way after 5, 7, 10 years... it's kinda sad, I guess.
Do you believe that Digital Platforms help the new Dark Metal Bands? Which, do you think, is the ideal way for a Band to promote its work?
If you ask me, I would close every streaming site and return the internet to the times when you could only listen online or download the music in the low quality (like 128-192 kbps). Now the music is perceived by many people just as a background noise, as a "content", just like some video blogs on youtube or something like that. It's not art anymore. There are much more harm than good in instant access to everything. The ideal way for a band - when people go to the music stores and go to the shows/ buy merch and support, no matter how and when. But today this formula doesn't work, so... I only hope that more people would support artists via sites like Bandcamp and not Spotify, if you understand what I mean.
Tell us a few things about the New Underground Metal Scene in Israel (Bands, Fanzines, Webzines, Metal Clubs etc.)
No idea about the "new" Metal Scene in Israel - I stopped following it something like 5-7 years ago. Most bands just come and go, they play 2-5 years and after they split up, instead them the new ones come and the situation repeats itself. But of course the bands like Orphaned Land (best of the best!!!), Arallu, Desert play many years, recording the albums, making some tours, both local and in Europe... Concerning the Metal culture in general - the last Metal shop closed in ~2015, the last zine stopped... well, I even don't know when. The site Metalist.co.il is probably the only one serious metal site in Israel, I would say that the only not bad situation is with the live shows - local bands play more or less often, and before the Coronavirus we had here a lot of shows by the bands from abroad. But in general, my opinion is the local scene is in very shitty condition. No magazine/fanzines, no labels... and I don't think they will come in some near future.
Do you know anything about the Hellenic Metal Scene?
Hildr Valkyrie... Astarte (RIP Tristessa). These names that firstly came to mind. Well, of course I know Rotting Christ, Septic Flesh, Necromantia, but I guess these names almost every metalhead knows around the world.
What are your future plans?
The new album "Strict Regime Country" is in making process - the music is recorded, now we're working on the vocals... it will be conceptual album, but it's the topic for the next interview, haha. Beside of it, I am waiting for the new edition of "Kings & Pawns" in Brazil on Digipack-CD (I would prefer it be Jewel edition, yes, haha). I also have the new project, making Eurodance music, but that's something that I'm sure not will be really interesting for your readers, hahaha!
Thank you very much for your time & Keep up the good work! The closure is yours.
Thank you as well! To all the readers: have a good time, live your lives to the maximum you could, make sex, listen to the good music and never give up! Oh, and yes... "we will definitely make our best to come to your country with the shows", haha! Best regards, Denis / Die Entweihung.
By Steve the Filthy Dog.
DIE ENTWEIHUNG CONTACT:
https://entweihung.bandcamp.com/