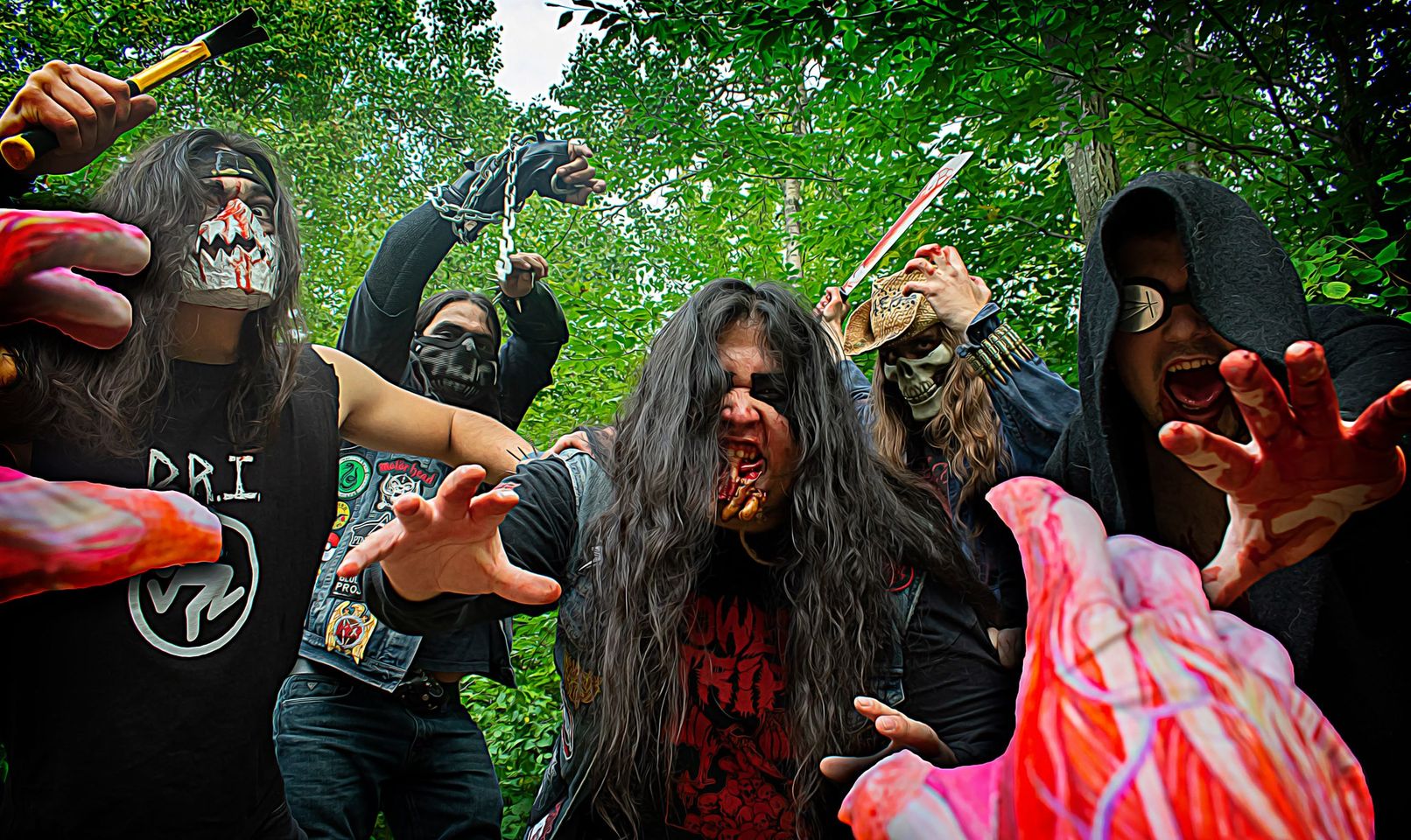 !!!CANADIAN BLACK/THRASH METAL!!!
We had a conversation with Jos (Vocals). Enjoy!
Welcome to the FILTHY DOGS OF METAL Webzine.
Tell us a few things about CHAOS WASTELAND (Members, Starting Year etc).
Let's start with the presentation : my name is Jos and I'm the singer of Chaos Wasteland. Right now the band is composed of myself, Gogol on the lead guitar, Leo on the rhythm guitar, David on bass and James on drums. We formed Chaos Wasteland in the summer of 2019. James, David and I were already on another band but it was clearly going nowhere so we decided to form Chaos Wasteland when Leo joined the band. Gogol later joined us after Leo helped him with one of his project.
You have recently released your EP ''Bloodlust''. What is the Feedback from your audience as well as from the Press?
For now, the feedback has been fairly good. We posted our songs on our Youtube channel and on « New Wave Of Old School Thrash Metal » on Youtube and the comments on there has been really good. Also a couple of DJs on the internets played us on their show so we are really happy of the reception of our EP!
Label or DIY and why?
Of course, we would like to be signed by a label but we want to do what we want to do, we want to try things and we want our freedom and that's what our DIY approach gave us for now.
Do you prefer Vinyl, Tape, CD or Digital Format and why is that?
Personally, I like vinyl the best because of the different sound that it gives to the music that you cannot really replicate with the perfection of the CD. Right now, because it's our first EP, we only offer it on digital but we are looking for options for our first album.
Your music style is Black/Thrash Metal. Which are your main influences (Favourite Artists / Bands etc.)
Our EP could definitely be described as Black/Thrash Metal with some punk influences. For our album, right now the songs that we have written are definitely going more on the thrash side but with a couple of other inclusion here and there. We don't like to be classified because we want to be free to explore other avenues. But for now we can say our first EP has a black/thrash sound with some sparkles of punk. We have a lot of influences like Slayer, Children of Bodom, Megadeth, Power trip, Anthrax… Just to name a few.
Which things, do you think, a Band should sacrifice in order to succeed? Have you ever sacrificed anything in your life for a better future of your Band?
Creatively, I don't think a band should do any sacrifice to be known. You should stay true to yourself and make the music that you want to make and that you love. On a personal level, of course we give our 110% to the band and that's including time for practice and time to write songs that we want to play and we like to hear.
Describe your ideal live show as a performance Band. Have you already experienced that?
We would like to do theatrical shows. A lot of thrash metal bands are really minimalistic on their stage approach. We want to do something different than the others. We'll schedule shows after this whole pandemic thing.
Which attributes, do you think, that a new Black/Thrash Metal Band should have in order to gain identity and be unique?
Don't conform yourself just because you're in the genre. To be honest, a lot of Thrash/Black Metal bands sounds really similar to each other. Why? I don't know the answer. Maybe they're afraid of taking a direction that their local scene and fans won't enjoy. In my opinion all musicians should do whatever they want even if it doesn't please to their audience, they'll gain back some fans if they're honest with the changes.
Do you believe that Bandcamp and other Digital Platforms help the new Black/Thrash Metal Bands? Which, do you think, is the ideal way for a Band to promote its work?
Yeah, I think bandcamp is helping bands, because we got some listeners who told us they discovered us in bandcamp. And to promote today is easier with social medias. The best to promote a band will always be word-to-mouth because if something is good, people will talk about it and it will help make a strong fanbase who will be there to support the band.
Tell us a few things about the New Underground Metal Scene in Canada (Bands, Fanzines, Webzines, Metal Clubs etc.)
Canada is a large country. You can't really say a band in Vancouver is local to us because it's on the other side of the country which is 6000 km to the west. Also, there's the language barrier and all that stuff. But we're situated between two of the oldest cities in North America, both of them have big metal scenes, especially Montreal, but our town is very small compared to them. Its always the same faces at every gig. That said, Gogol, our lead guitarist, plays in 3 other local bands : Satanic, Hellborn and Dirty Rotten Bastards.
Do you know anything about the Hellenic Metal Scene?
I know a few bands. My favourite Hellenic thrash metal band is Bio-Cancer and I've been listening to Rotting Christ a few years earlier.
What are your future plans?
Recordings, gigs, tours. That's our plans for the future, we already have a lot of ideas 2 more albums that we want to do after our first so we are definitely gonna have a lot of stuff to do.
Thank you very much for your time & Keep up the good work! The closure is yours.
Thank you, very much and rock on!
By Steve the Filthy Dog.
CHAOS WASTELAND CONTACT:
https://chaoswasteland.bandcamp.com/releases
https://www.facebook.com/chaos.wasteland
https://www.instagram.com/chaoswasteland1/