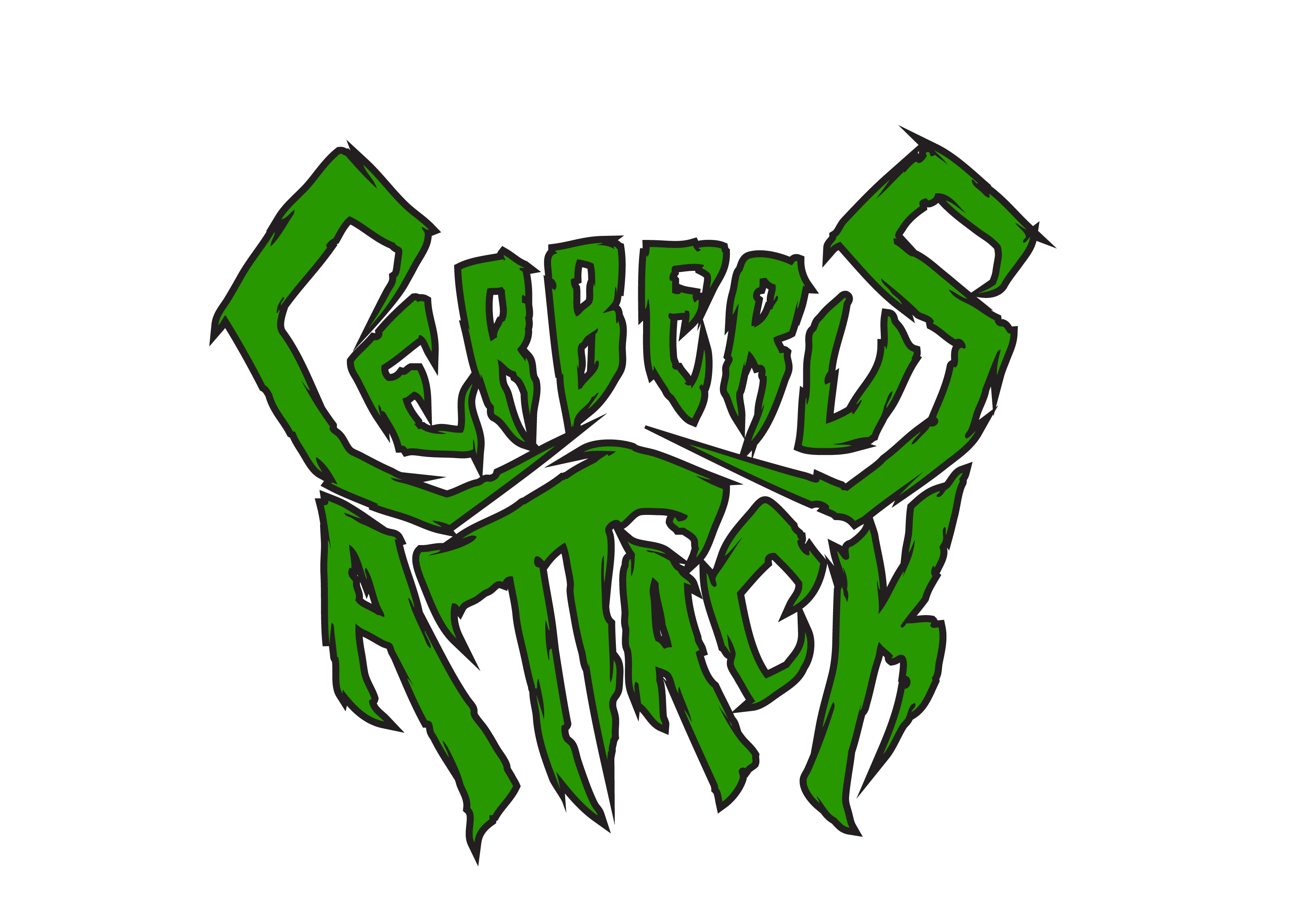 !!!THRASH METAL FROM BRAZIL!!!
Welcome to the FILTHY DOGS OF METAL Webzine.
Tell us a few things about CERBERUS ATTACK (Members, Starting Year etc).
Jhon: Hello, Filthy Dogs! It's a pleasure to be here, cachorros! Well, the band started in 2008 with a different line up and released a Demo tape around the year of 2009 with 4 songs. I joined up with the guys at the end of that same year and we recorded "Welcome to Destruction" in 2011. Bruno and Marcelo Araujo have been playing since the beginning and Maskote joined in 2011 I think. That line up (Bruno, Marcelo, Maskote and I) stands up for today. Bruno plays the drums, Marcelo the lead guitar, Maskote bass and I, Jhon are the lead singer and rhythm guitars.
You have recently released your album ''Abyss Of Lost Soul''. What is the feedback from your audience as well as from the press?
Jhon: Man, the feedback has been awesome since we released our 2nd full length. The cover is awesome and a lot of youtube channels, blogs and zines posted it up together with the best of 2021. We are very happy and very excited with the shows of 2022!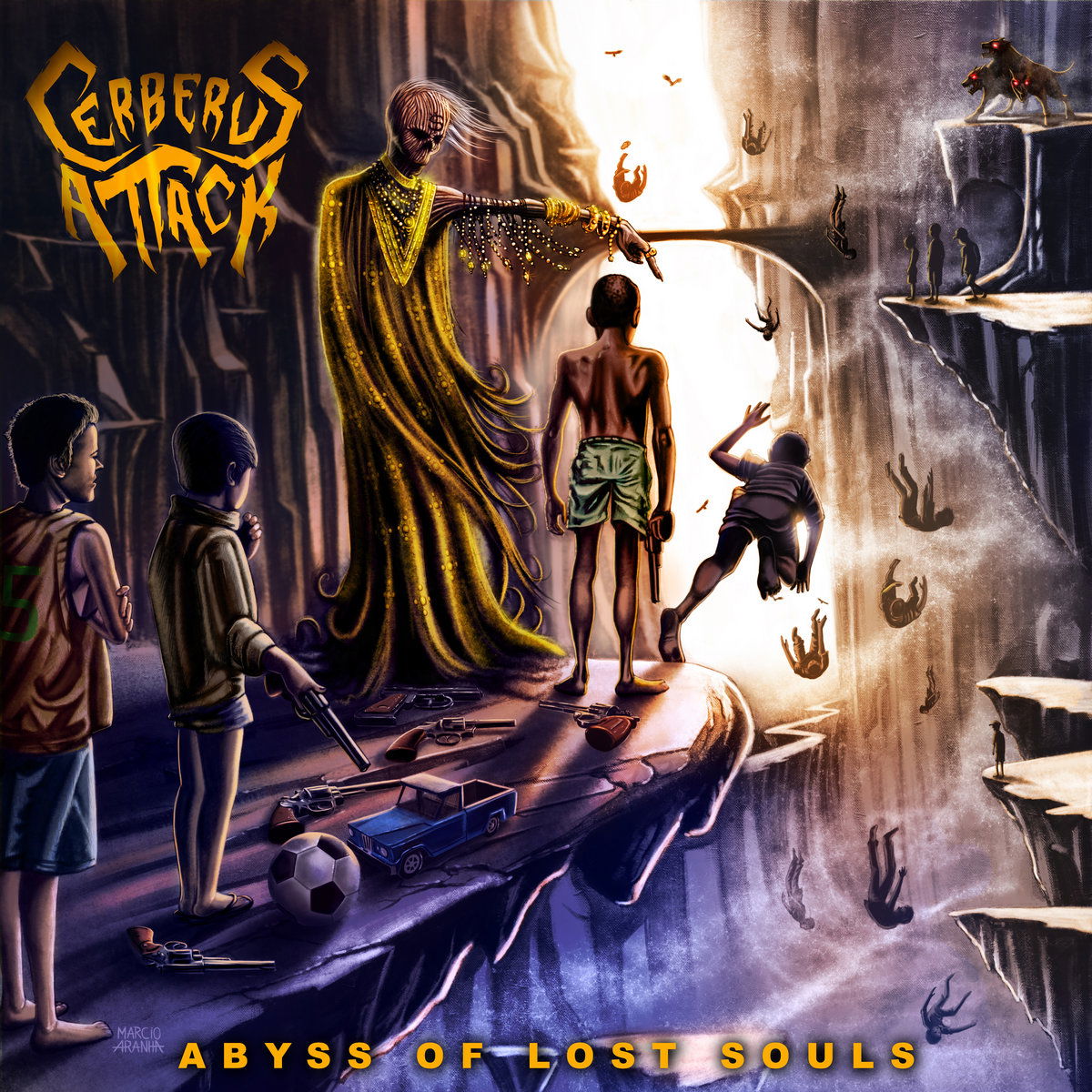 Label or DIY and why?
Jhon: We like to do things our way, that's why we decided to be DIY. But we know the important work that labels can do and unfortunately, the Brazilian metal scene in general doesn't have so much attention from record labels at all. It's an option, but it's also a necessity.
Do you prefer Vinyl, Tape, CD or Digital Format and why is that?
Maskote: I think we prefer the physical stuff in general, but there's something about the digital stuff that's really nice. It's more democratic, we usually put our stuff on the internet for free, and people can check it out before buying. We know that in a country like ours some people just can't afford the album, so they can download and listen to our music too. We had the opportunity to be released on CD by Obskure Chaos Distro, Poeira Maldita and Rapture Records/Rapture Records from Brazil. On tape by Thanatology Productions from China and hope to one day be released on vinyl. This is the tip of those who want to release us on vinyl hahaha.
Your music style is Thrash Metal. Which are your main influences (Favourite Artists / Bands etc.)
Maskote: We recently listed each band member's favorite thrash metal album:
Jhon: Dorsal Atlântica - Antes do Fim do Fim do Fim (2004)
Bruno: Slayer - Reign in Blood (1986)
Marcelo: Sepultura - Beneath the Remains (1989)
And me: The Mist - The Hangman Tree (1991)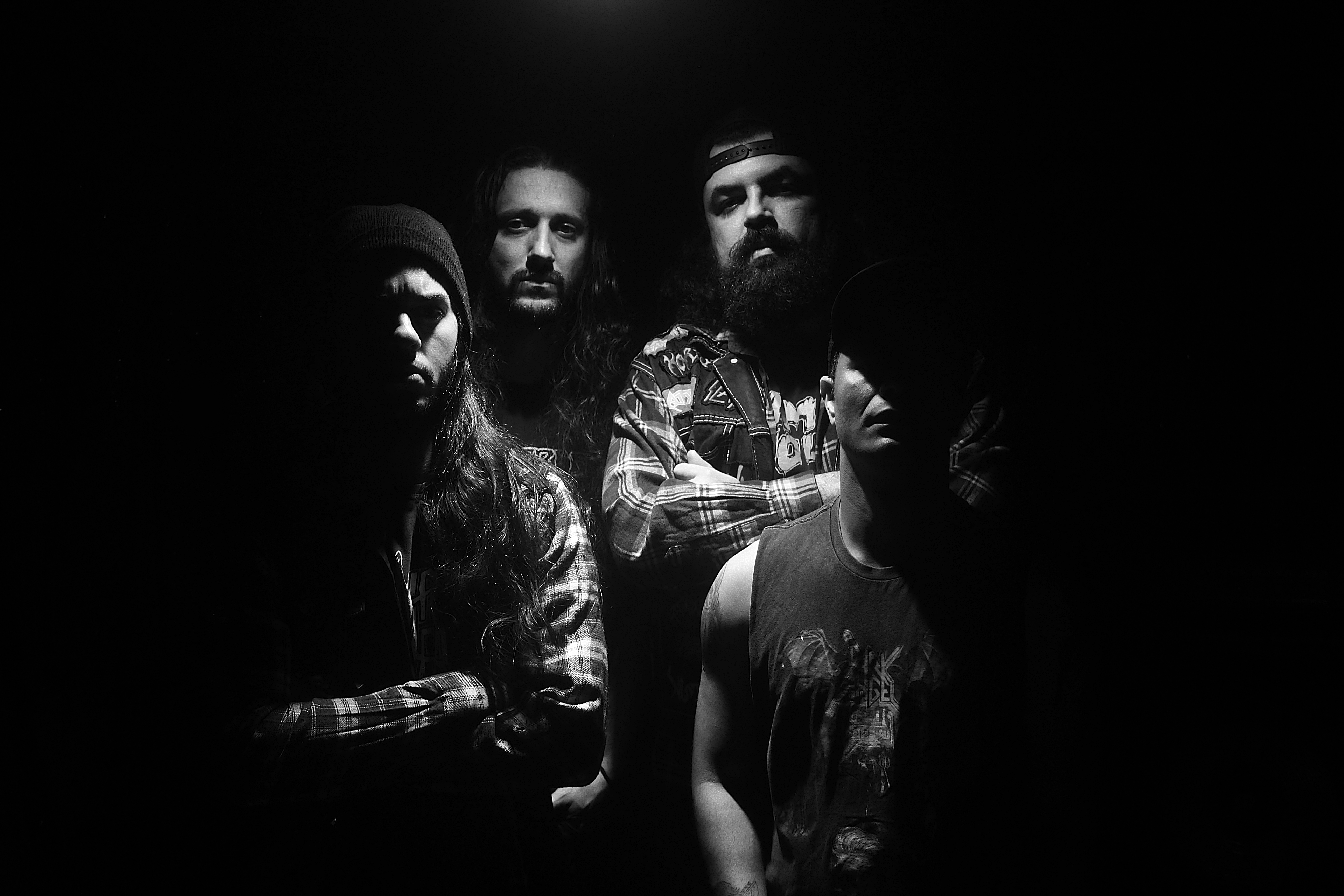 Which things, do you think, a Band should sacrifice in order to succeed? Have you ever sacrificed anything in your life for a better future of your Band?
Maskote: I don't think this question has a right answer, but we've learned that music can be very ungrateful. Sometimes you can live 100% for music and still not get recognition. So it's not easy to answer this one. Yes, definitely. We sacrifice more things than I can count. A lot of time, money, years. I hope whoever is reading us now doesn't misunderstand us, but you have more reasons not to start a band than the opposite hahaha. Being in an underground band can be very difficult sometimes, but when someone says our music fits their moment in life, or playing with our favorite bands, it's priceless.
Describe your ideal live show as a performance Band. Have you already experienced that?
Maskote: We experienced that feeling on the last show. We've been away from the stages since March 2020 because of the pandemic, so this show in early December 2021 was as ideal as possible. We met our old friends, played with good equipment, and spent time together as friends. This is an ideal performance for us.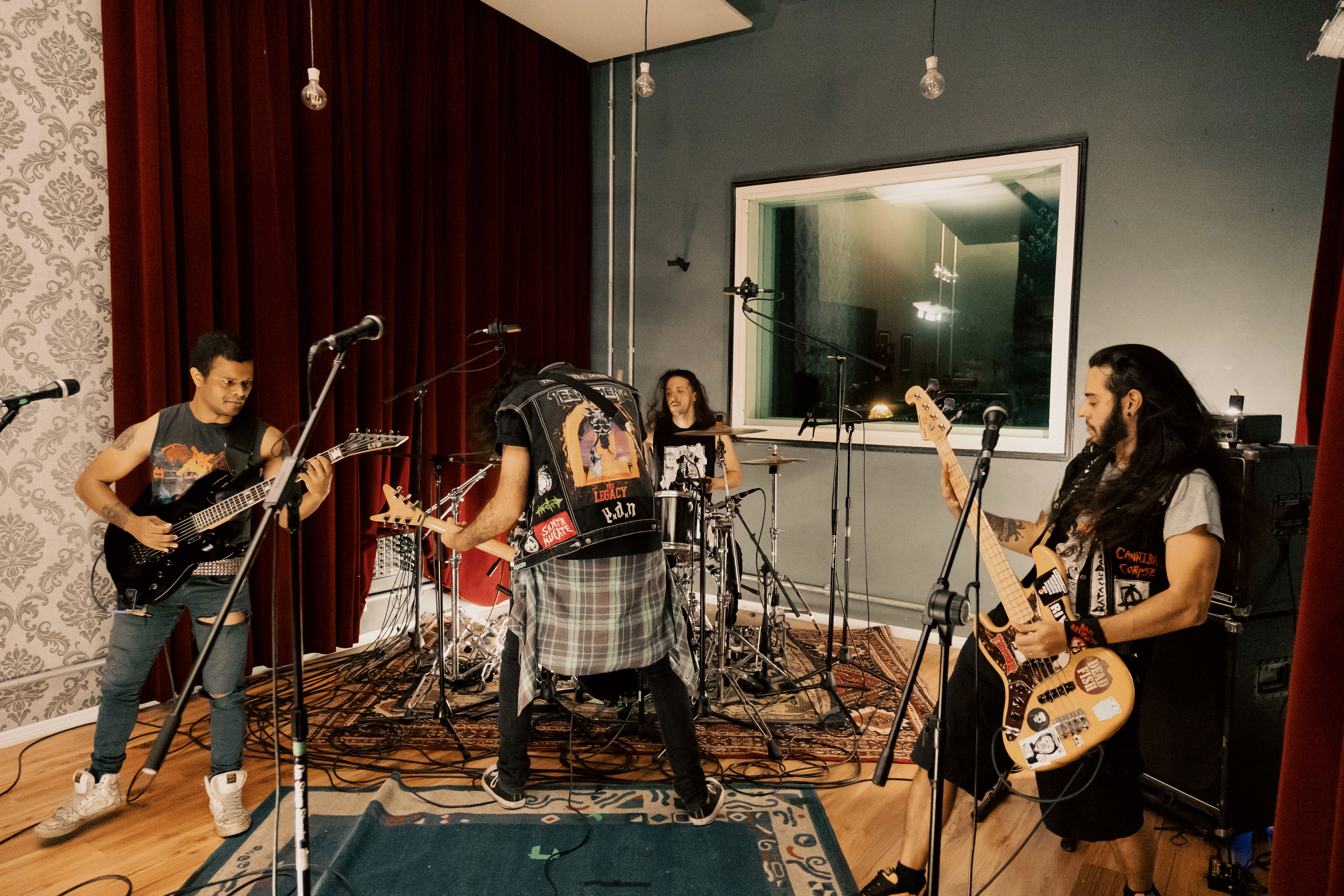 Which attributes, do you think, that a new Thrash Metal Band should have in order to gain identity and be unique?
Jhon: In my opinion, being unique in thrash metal is too hard, the genre has too many clichês and some rules in it. But i believe that has your unique way to listen to thrash and so on to play thrash metal, that is what makes the song unique, you know?
Do you believe that Digital Platforms help the new Thrash Metal Bands? Which, do you think, is the ideal way for a Band to promote its work?
Maskote: Yes of course. Our music is reaching more people today with digital platforms than ever before. We've been trying to be more active on social media since the beginning of this year because we realize that people want to keep up with our stuff. We still believe that playing live is the ideal way for a band to promote their work. You can have the best distributor, the best products and the best equipment, if you don't give a good live performance, all that stuff doesn't matter.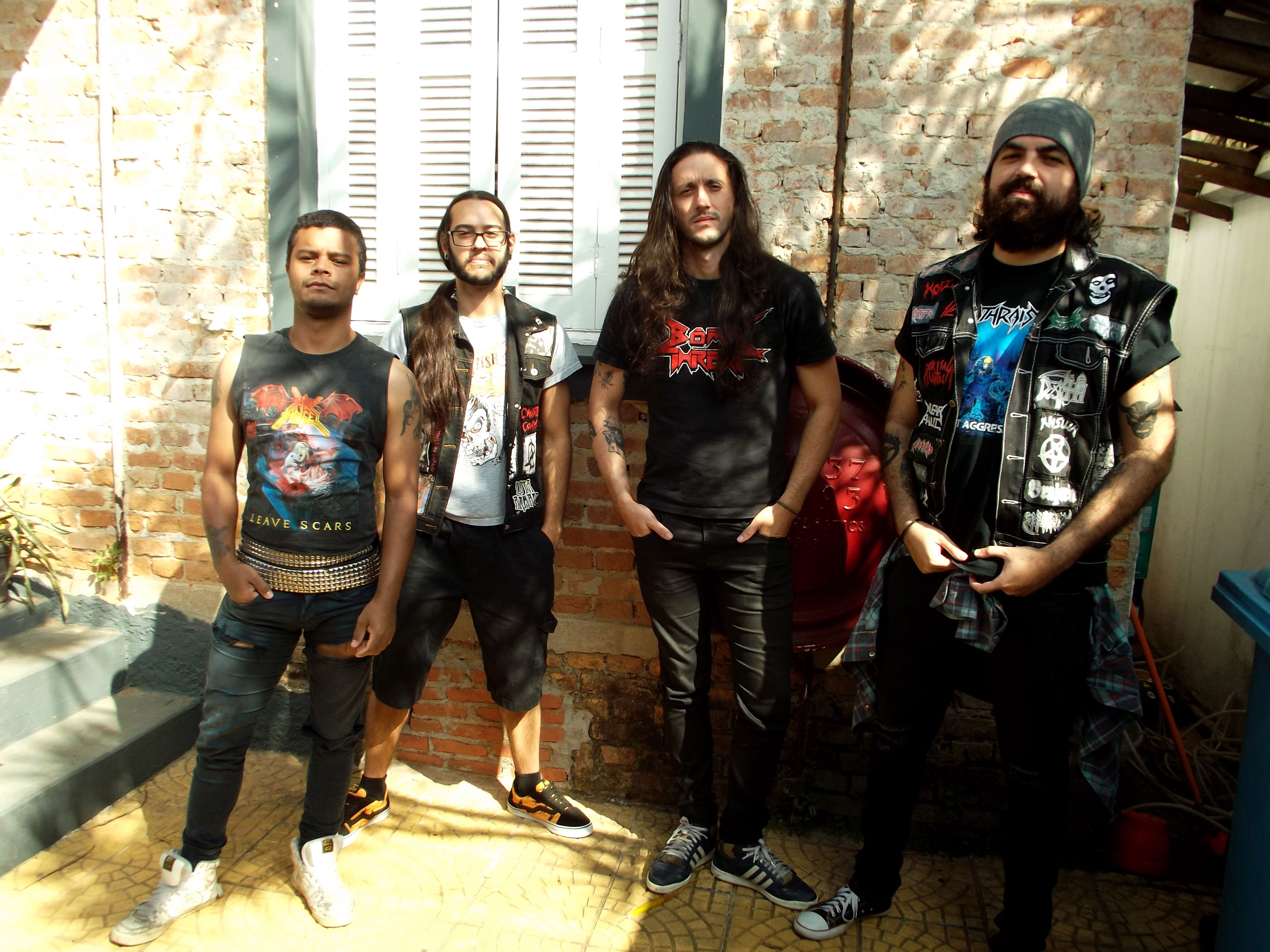 Tell us a few things about the New Underground Metal Scene in Brazil (Bands, Fanzines, Webzines, Metal Clubs etc.)
Maskote: We have some stable places where we can prepare a show here, but we saw a lot of places closing down a few years ago. It's very difficult to keep a rock bar open here in Brazil. When you're at a show here, it all comes down to collaboration. Sometimes you will share equipment with a member of the other band, sometimes we need something we forgot, and in the end, each band did their show as best they could. I think this is our underground scene, people here have this willpower to make things happen. I will mention some stuff from Brazil with you guys:
Bands:
Cranial Crusher
Desalmado
Dischavizer
Inside War
Manger Cadavre
Oligarquia
Toxic Carnage
Other bands from Cerberus Attack members:
Eskrota
Imminent Doom
Sweet Danger
Vomit Bag Squad
Fanzines:
RaroZine
Hecatombe Zine
Kaos Metal
Manifesto em Furia Zine
Webzines:
Subterraneo Metal Punk
Clubs:
74Club
Casa de Cultura de São Mateus
Caveira Velha
Centro Cultural Zapata
Container Pub Stop
Hocus Pocus
Okupação Cultural Coragem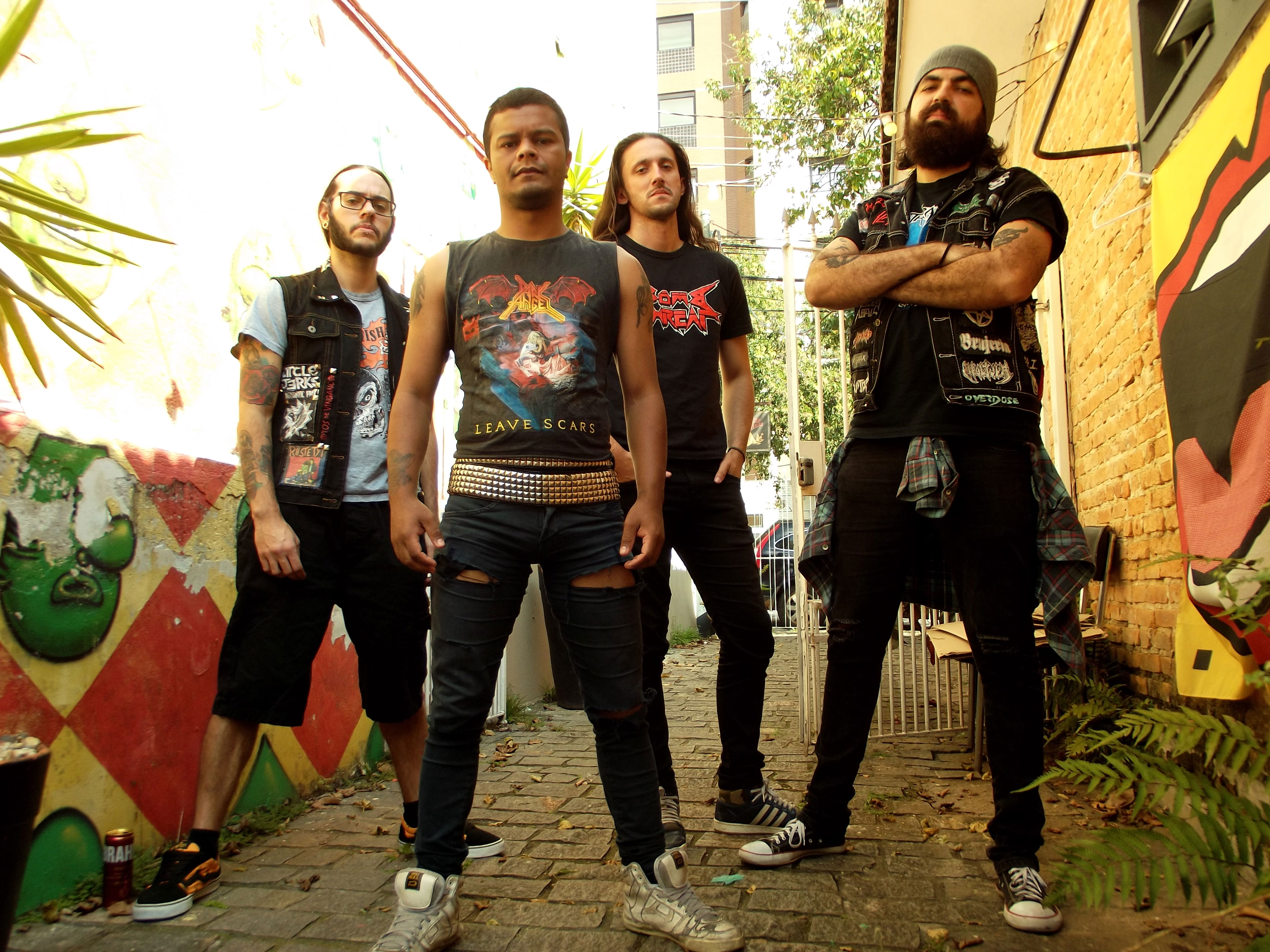 Do you know anything about the Hellenic Metal Scene?
Jhon: Unfortunately, only Suicidal Angels!
Maskote: I heard a little bit of the old school Flames too.
What are your future plans?
Jhon: We are hoping for a better future without this covid pandemic and recently we released our brand new videoclip of "harbinger of decay" and we made it 100% DIY, if you guys want to check it out, feel free to visit our youtube channel and leave a comment! Also we're planning to participate on a 4-way thrash metal split with some of our friends here in Brazil.
Thank you very much for your time & Keep up the good work! The closure is yours.
Jhon: We want to salute you all and thank you for the invitation to this interview and we hope things get better here in Brazil so we can tour Europe. We have a lot of requests coming from neighboring countries! Thank you so much guys!
By Steve the Filthy Dog.
CERBERUS ATTACK CONTACT:
https://www.facebook.com/Cerberusattackthrash/?fref=ts
https://www.instagram.com/cerberusattack/
https://soundcloud.com/cerberus-attack
https://open.spotify.com/artist/2aYAA4BXCorNPX525W0uj9?si=_nmjAb3gSSKkay20_4zx9g&nd=1