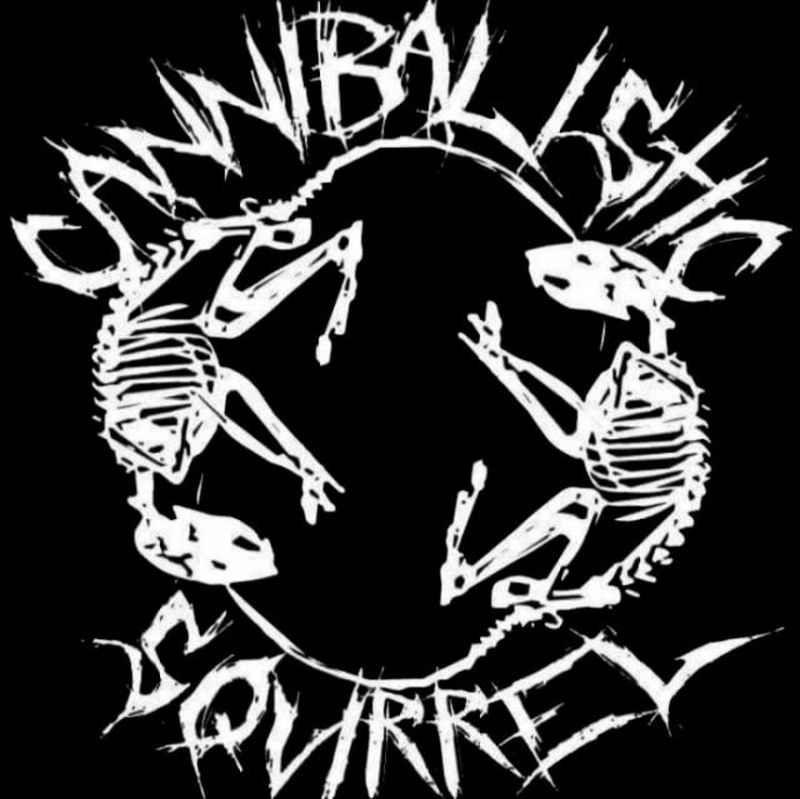 We had a conversation Mischa (Bass). Enjoy!
Welcome to the FILTHY DOGS OF METAL Webzine.
Tell us a few things about CANNIBALISTIC SQVIRREL (Members, Starting Year etc).
Alright, we started the band I think about 5 years ago. A little bit as a joke about a squirrel whom actually have cannibalistic features. Our current lead singer/rhythmic guitarist and I were talking about starting a Ramones tribute band. While the former lead singer started jamming with our current lead singer and lead guitarist. And I said I like it I know a drummer let's play together. And that was the start of the band.
In 2019 you have released your EP ''Beeldenstorm''. Have you prepared anything new since then?
We have some new stuff and we really want to play and write but corona has made us almost a year lay down. Now the Netherlands is slowly crawling out of it's lockdown we'll start rehearsing and even have a few gigs on the schedule. There is actually a video called Cannibalistic Sqvirrel live in Wim's Muziekkelder 2019 where we play a couple of songs that are not on the record, so if you're interested, check it out!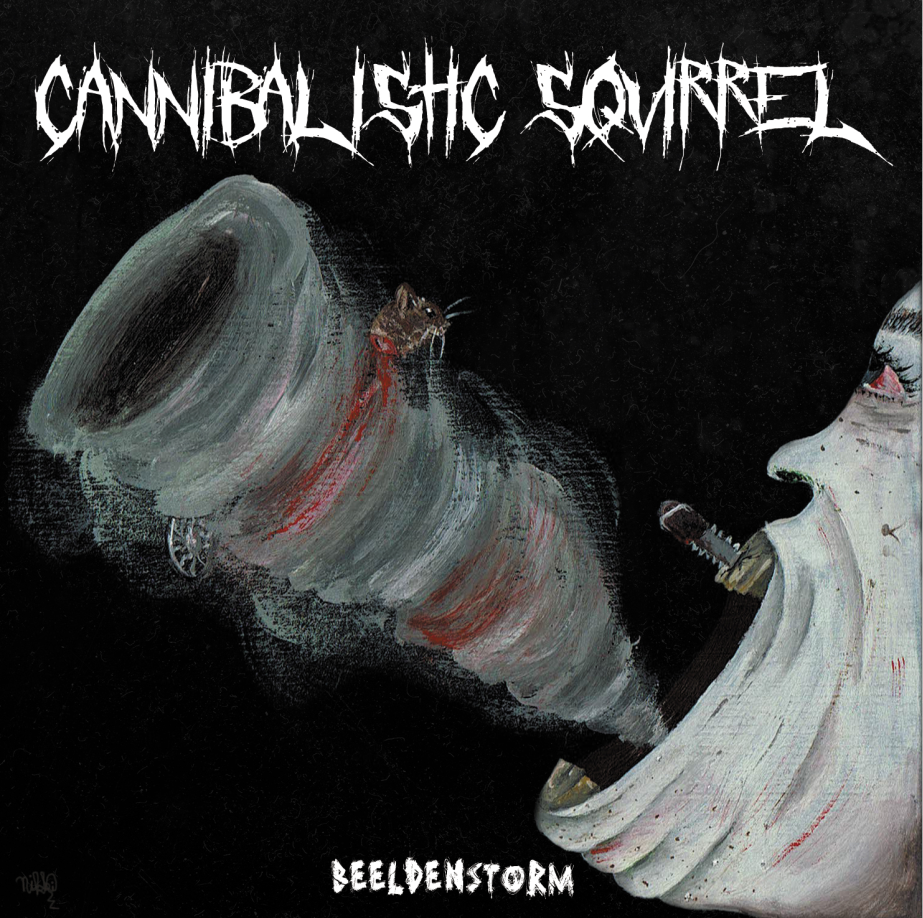 Label or DIY and why?
DIY because we like it. You can have full artistic freedom and arrange everything yourself, it's a great learning experience and since we play as a hobby, it's great to have full control over everything you put out. Not everything will look like something done by somebody who studied years for it and now does it on a daily basis but at least we managed to do it ourselves. Thusfar, this has succeeded we're glad to say.
Do you prefer Vinyl, Tape, CD or Digital Format and why is that?
I really want to make a Vinyl record, because when you have it in your hands you get the feeling you're holding something special. But for now we only have 1 EP released on CD and digital format because friends and fans what it. But one day we hope to release it on vinyl!
Your music style is Thrash Metal. Which are your main influences (favourite Artists / Bands etc.)
There are a lot of bands and artists that influenced us(from classical music like Beethoven to Icon bands like Death to Slayer). But the favourite band of Wiebe (the vocalist) is I think The Beatles whom he talks a lot about and he has every album which they ever released, including most of the solo records. He likes them because they were way ahead of their time. Dominic the drummer his favourite band is without a doubt Metallica. He even plays in a Metallica coverband called Some kind of 'Tallica as well. It's his favourite because it really got him into metal music, he's one of the guys that likes everything they released! For myself, Mischa the bass player is Anthrax my favourite. Because of this band I wanted to play an instrument in the first place. I was at a live concert and the vibe and power that came of that stage was unbelievable. I hope one day the music I play can make people happy in the same way their music made me happy that day. And then we have Roos, she is our lead guitarist and her favorite is the band AC/DC. And if I'm honest I don't really know why. In a memory she always says because it is a great band and the way they play and mess around.
Which things, do you think, a Band should sacrifice in order to succeed? Have you ever sacrificed anything in your life for a better future of your Band?
Sacrifice is a great word. I think you shall sacrifice nothing. There is just a lot of time and money which you put in a band. But for us, the band is just a hobby. But if you do it because you want to become famous and successful then you might have to sacrifice a lot of time and money. I think some fun as well because it will end up as being your job. And you can play whatever you want since you are less noticed when it comes to copyright rules. We are establishing a loyal fanbase in our area and it's a lot of fun expanding that and making friends (and get chicks, if you play in a band and leave that out you're a liar) with our music.
Describe your ideal live show as a performance Band. Have you already experienced that?
We are busy to increase the quality of our stage performance. I did for example a cursus in fire breathing because I always liked to do it and the performance will look much better. But the best gigs are when you actually made people happy that night and having a fun time with them after the show, that really feels good and accomplished.
Which attributes, do you think, that a new Thrash Metal Band should have in order to gain identity and be unique?
I think it's most important to do what you like. Don't limit yourself to "sounding like a thrash metal band", dare to be creative and never give up. People who didn't like us earlier like us now and maybe vice versa.
Do you believe that Bandcamp and other Digital Platforms help the new Thrash Metal Bands? Which, do you think, is the ideal way for a Band to promote its work?
Yeah definitely! Without the digital platforms a lot less people would know us, music has been made much more accessible. And besides, we get listeners from all over the world which is great.
Tell us a few things about the New Underground Thrash Metal Scene in Netherlands (Bands, Fanzines, Webzines, Metal Clubs etc.)
The most "popular" underground bands are black, stoner and death metal band Etcetera. We are from the provincial area, there is not really a scene around here. The Netherlands made some great punk/hardcore which thrash fans could approve. I really like Gewapend Beton (Armed Concrete) with their best known song Alles in de fik (everything on fire) about burning down Amsterdam, it's great. The Netherlands is a very small country, you have to rely on smaller initiatives like small radio stations and webzines like yours! The intimacy and passion for the music, wanting to do something for the music. Everybody is just a small brick and together it forms a really strong building.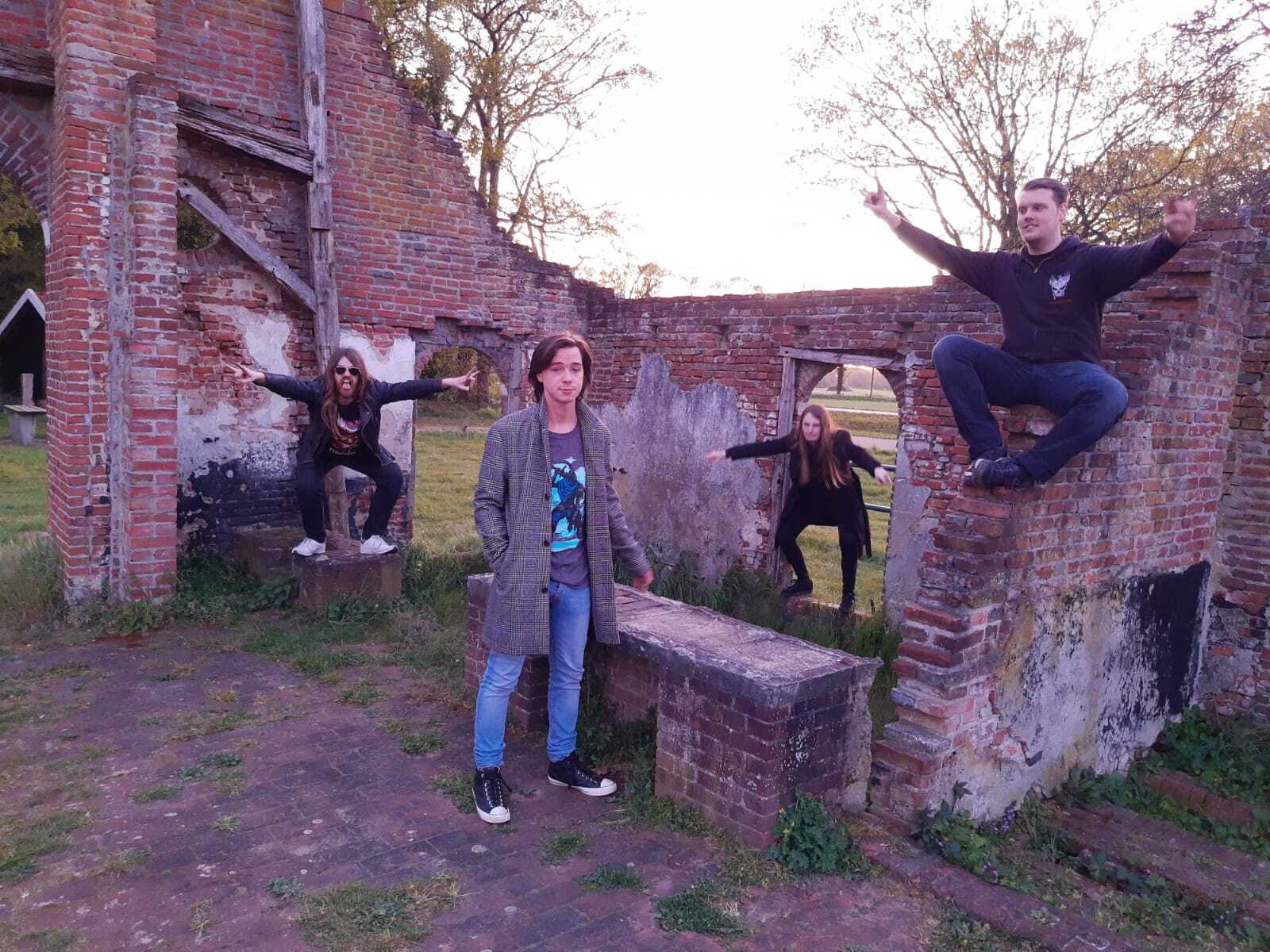 Do you know anything about the Hellenic Metal Scene?
To be honest, not that much. I have seen Rotting Christ live about 3 years ago and still listen to them sometimes. But we are better known with the American and German thrash metal bands.
What are your future plans?
To make a new album, write more songs and play a lot of gigs with fans and friends. We're also planning on improving our PR. Actually, we are working on that this very moment (badum tssss).
Thank you very much for your time & Keep up the good work! The closure is yours.
Thank you everyone for reading this article! Check out: New Wave of Old school Thrash metal on Youtube. Like our video, comment on our video, like the other thrash bands as well and follow us on our personal accounts as well! You can find us on Spotify, Facebook, Instagram, Bandcamp and Youtube! Like us and follow us on these pages and share it with your friends. It would help us out and we might have to write our messages in English soon. Stay metal \m/
By Steve the Filthy Dog.
CANNIBALISTIC SQVIRREL CONTACT:
https://www.facebook.com/Sqvirrel
https://cannibalisticsqvirrel.bandcamp.com/releases
https://www.instagram.com/cannibalistic.sqvirrel/
https://open.spotify.com/artist/68yvBaqd6YXHm3rYwTGDGC?si=heH2H1vUSKSTesGOUdGfeA&nd=1