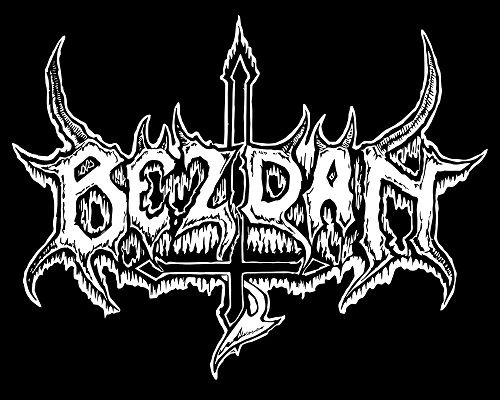 !!!BLACK/THRASH METAL FROM CROATIA!!
We had a conversation with BEZDAN. Enjoy!
Welcome to the FILTHY DOGS OF METAL Webzine.
Tell us a few things about BEZDAN (Members, Starting Year etc).
Hi, thank you for having us. Filip (guitar), Toma (guitar) and Deherator (lead bass) here answering you questions.
Filip: Bezdan was formed in 2012 by me and two other now ex-members, Ivan on bass and Igor on drums/vocals. The three of us also played in a local band called Desecrator where we played mostly cover songs from bands such as Death, Nocturnal, Nunslaughter, etc. One year later Toma joined as a second guitarist and we recorded our first demo "Of Visions and Voyages" with that lineup. In 2015, Ivan left the band and Deherator came in on bass. With that line up we recorded "Invocation Rites" EP, which was released on 7'' vinyl, and most recently Satanska Kurva demo single. Satanska Kurva is actually one of the oldest songs written back in Desecrator days, but recently finished and finally recorded. In the meantime, we played shows in Croatia, Slovenia, Bosnia & Herzegovina, Serbia and Austria.

You have recently released your EP ''Satanska Kurva''. What is the Feedback from your audience as well as from the Press?
Deherator: As far as I know, there still isn't any feedback from the press about the EP, and the audience feedback seems to be going pretty well when you take into account views/clicks/likes and cassette sales.

Toma: People seem to like it, but we played that song live for some time before releasing it and we received a lot of positive feedback already then. And in my opinion it sounds much better live and its the most "fun" song to play.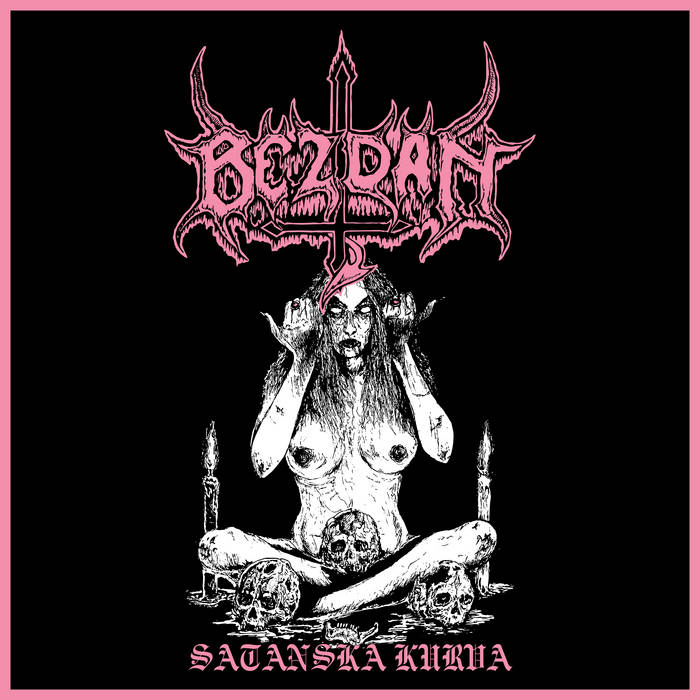 Label or DIY and why?
Deherator: Everything has it's advantages. Of course DIY lets you have more freedom about all the decisions, but it is more time and money consuming. But there are a lot of independent labels who take really good care of the artists and I don't see an obstacle in cooperating with one of them one day.

Toma: Label definitely. You get the biggest promotion from label, if it's releasing similar genres which usually is the case. Also you can see the quality and know what to expect, though I have nothing against a good DIY.

Do you prefer Vinyl, Tape, CD or Digital Format and why is that?
Deherator: As far as physical copies go, Tapes and Vinyl are preferable for Singles and EPs, and Vinyl and CDs are the most rational go-to option for full-lengths. Digital Format is just the most convenient one and is always a good option, especially when you need to conserve space, IE when commuting, traveling, etc. Vinyl is my favourite, but you can't play it in a car or on a train, right?

Filip: Personally, I prefer Vinyl, then CDs.

Toma: Analogue definitely, it has a special feeling, who buys it knows. Nothing against CDs but no one should ever buy digital downloads.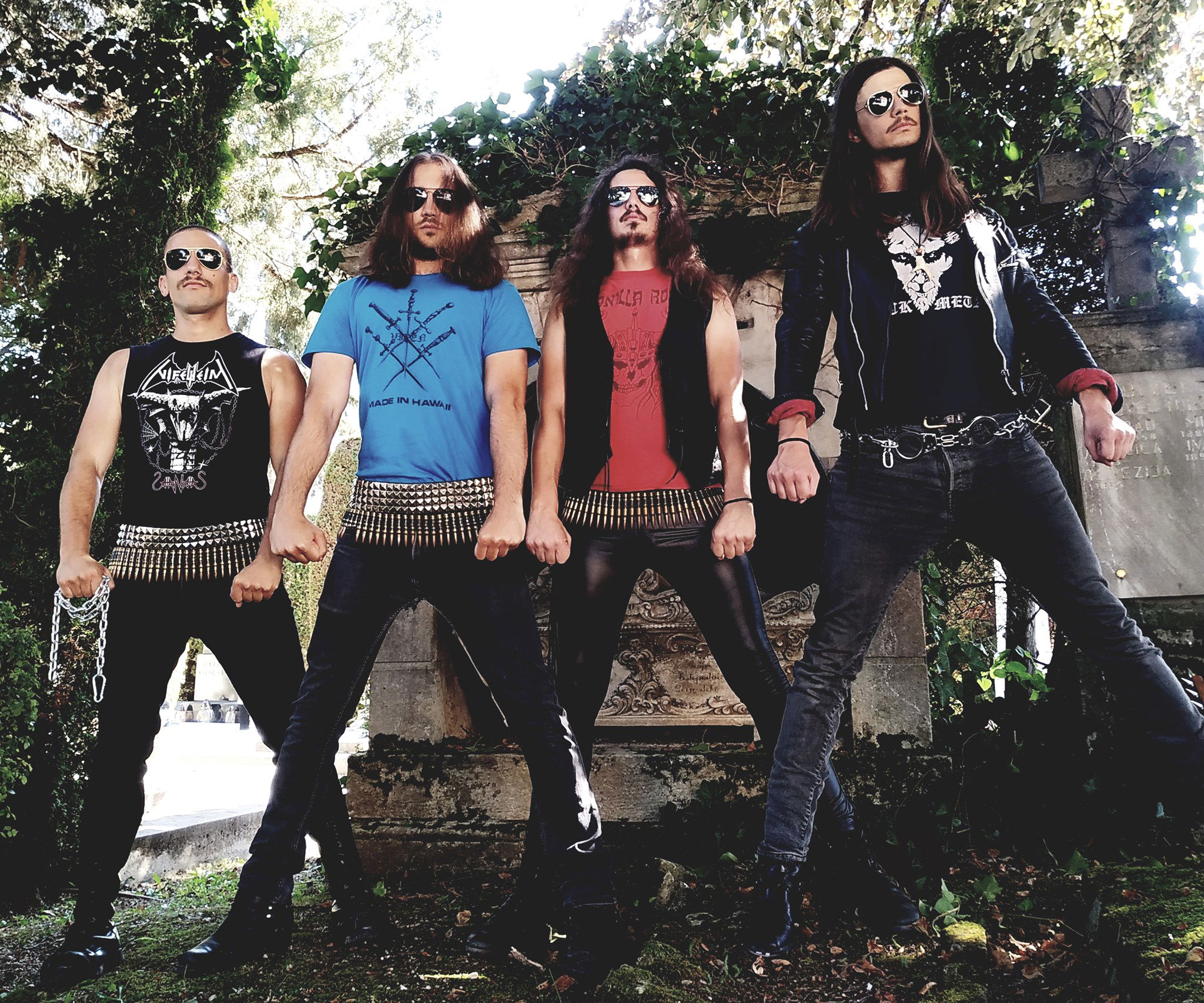 Your music style is Black/Thrash Metal. Which are your main influences (Favourite Artists / Bands etc.)
Filip: It is hard to say which are our main influences since there are a lot of bands from different genres that we are listening to, but to name a few classics such as Judas Priest, Black Sabbath, Motorhead, Slayer, Infernal Majesty, Merciless, old Morbid Angel...Swedish DM bands Dismember, old Entombed/Nihilist, then of course Bathory, Sarcofago, etc. Some of the recent bands such as Destroyer 666, Gospel of the Horns, Antichrist (SWE), Dead Congregation, the list can go on and on...

Toma: Yeah it could be a very long list. But to sum it up really short lets say Nifelheim, Desaster, Destroyer 666. In this genre.

Deherator: I think my bandmates have written more than enough musical influences, but the live shows are also a very important part of a band's identity, and there you also have to have influences in order for those shows to be memorable. So I'd like to mention bands such as Judas Priest, Kiss, even Guns 'n Roses, and a lot of bands from American 80s metal scene, which to a degree do influence live performances.

Which things, do you think, a Band should sacrifice in order to succeed? Have you ever sacrificed anything in your life for a better future of your Band?
Deherator: We are not a band that lives off our music, so we didn't really have to sacrifice that much. All of us have some day jobs and lives besides the band, it ain't the 80s anymore (unfortunately) so the amount of sacrifices has gone down regarding that.

Toma: You shouldn't sacrifice anything, the success (however one defines it) should come on its own. Also I don't have much nor goats to sacrifice.

Describe your ideal live show as a performance Band. Have you already experienced that?
Deherator: Well, I highly prefer smaller closed venues such as clubs, so in a way, I have experienced an ideal live setting in a band. Maybe a smaller open air venue (~1000-1500 people) during night, with a great light show and a thick layer of fog would be something I'd like to experience as well. And also the South-American crowd, it's my dream to do a tour there.

Toma: South American tour.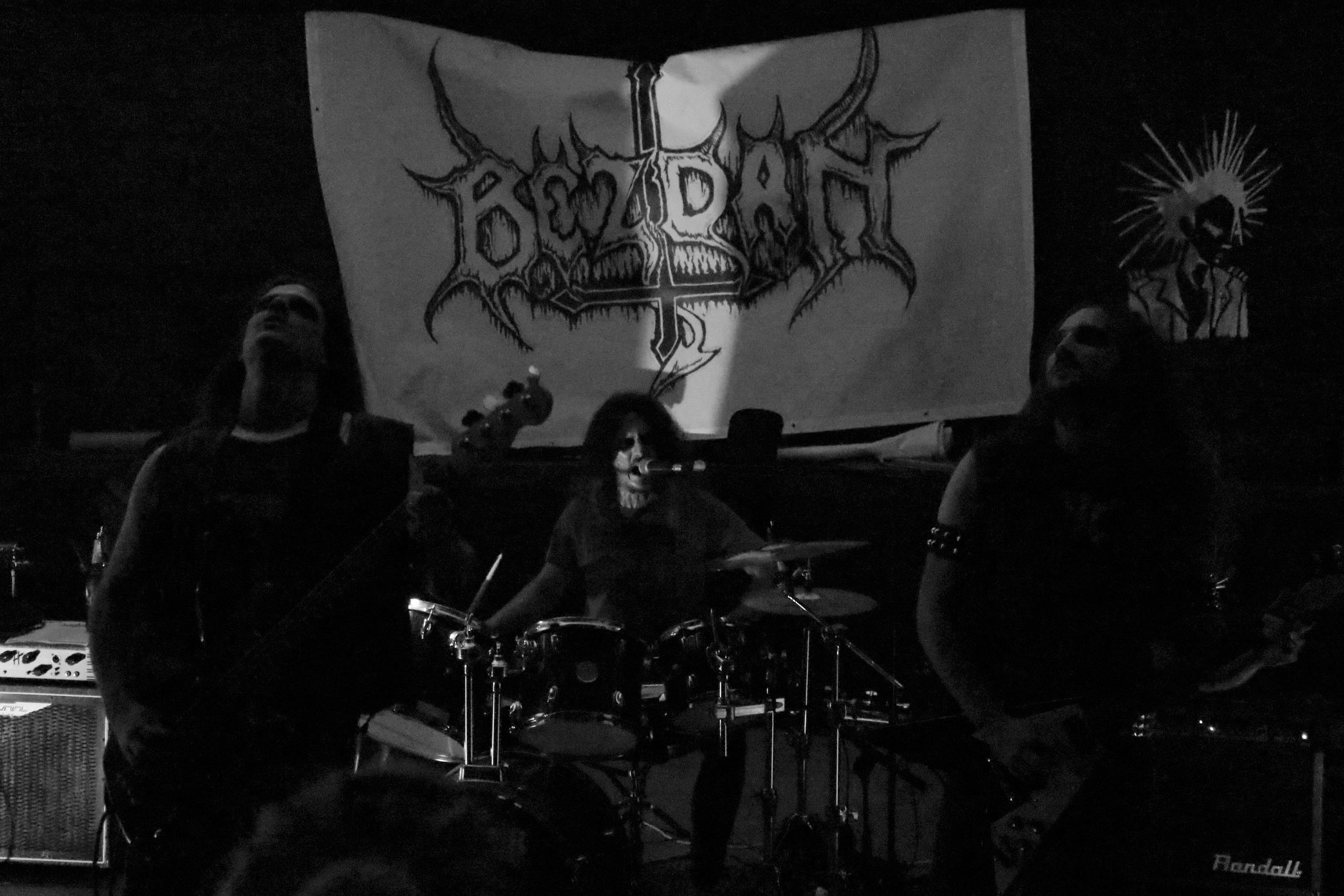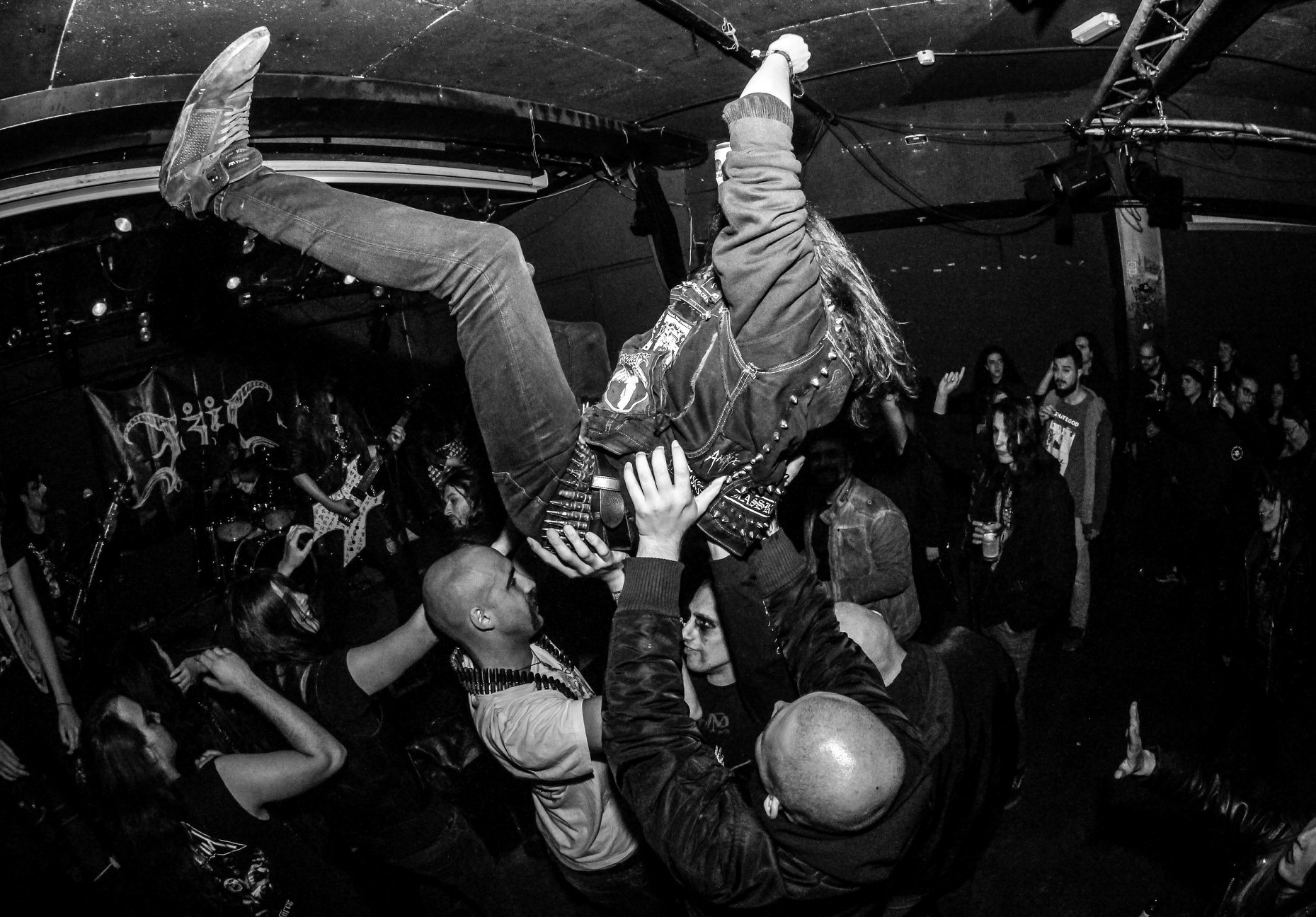 Which attributes, do you think, that a new Black/Thrash Metal Band should have in order to gain identity and be unique?
Deherator: I don't think you HAVE TO invent something new, but also don't just copy what your influences did. Try to find a thing you are most unique in, and make it one of the focal points of your music. Good songwriting and arrangements are also crucial, you can't just throw a riff salad and think it's going to make a good song. Give a lot of attention to crafting riffs, it's important. And ask yourself if you would like to hear that riff in a song you're listening. But I think you should never lose the flame of the Old Metal.
Filip: New bands should concentrate on their unique sound/style rather than to which genre they belong to and when they find it they should further develop it.
Toma: It's hard to say, you can't really know the recipe, you just do your stuff and people like it or they don't. In my opinion the band should have a good combination of music, lyrics and image to create an interest. But the test of time is what proves the band's quality.
Do you believe that Bandcamp and other Digital Platforms help the new Black/Thrash Metal Bands? Which, do you think, is the ideal way for a Band to promote its work?
Deherator: Bandcamp is good enough for smaller bands, a nice way to sell digital copies of your music and to promote it. But it shouldn't be the only outlet for a band to promote themselves, especially in today's age where you have so many tools at your disposal.
Toma: It is good yes, but in my opinion ideal way is through labels that make trades among each others.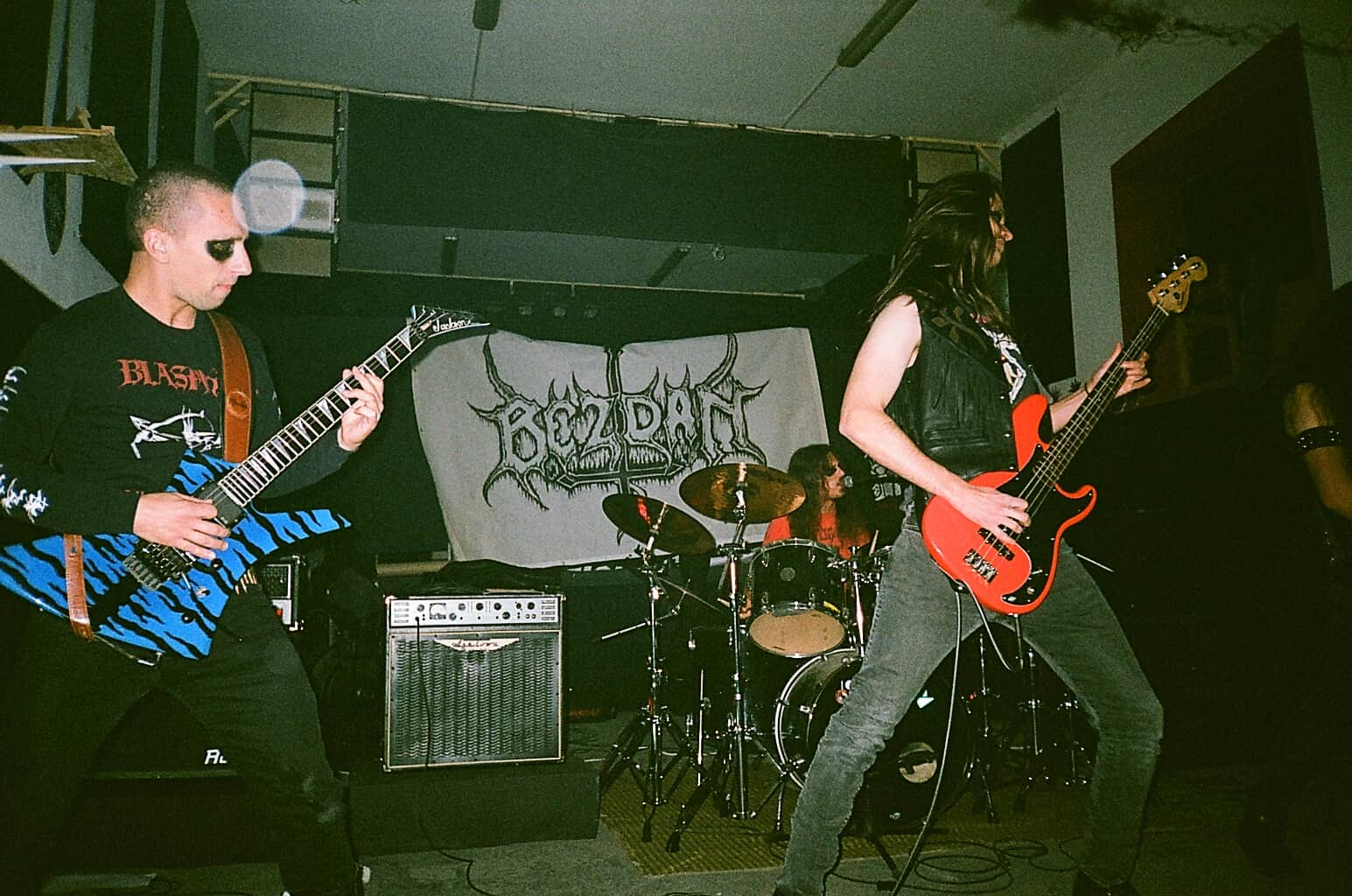 Tell us a few things about the New Underground Metal Scene in Croatia (Bands, Fanzines, Webzines, Metal Clubs etc.)
Deherator: There is definitely a good scene here in Croatia, not big, but it's pretty tight. There are a few regional scenes, mainly in Coastal Croatia, and North-Western Croatia, but there are also notable bands in other parts of the country as well. I'd like to give a shout out to a few fellow partners in crime such as Krucifikadores, Cidium, LIV, and our northern pals Senf, Hrmülja, Gemišt, and Zvgator. Also, not Croatian, but I'd definitely like to mention our good friends Slovenian blackened heavy madmen Vigilance from Postojna. There is a notorious venue in Postojna called "Kontejnr" and it should be a mandatory go-to place for every smaller band on their Euro tour. Also Kapu in Linz is one of the best venues in Central Europe, props to them as well! As far as Croatian venues go, there is a few great ones in Zagreb, the capital, but other cities also don't lack good venues as well. There is at least one good venue in every regional center (Rijeka, Split, Varaždin, Pula, Osijek, Čakovec, Požega, Zadar, etc.), so there are a lot of options for live shows.

Do you know anything about the Hellenic Metal Scene?
Deherator: As far as the newer bands go, only a handful such as Sacral Rage, Wrathblade, Dead Congregation, Omega, and Suicidal Angels. But when we're talking about Hellenic Black Metal scene has, it has left a very big mark on the metal world in general.

Toma: Not much about the black metal scene since I don't really listen to that kind of bands. As for generally, I like some of the previously mentioned bands, especially early Suicidal Angels. And also you have the Up the Hammers festival, one of the best in the world as the line up goes.

What are your future plans?
Toma: Well as was previously mentioned, we have recently parted with our singer/drummer, so definitely first thing is to try to form a new complete line up. We will try to keep it in the same style without loss of the quality, otherwise there is no reason to continue. We already got most of the album written, it should consist of mostly new stuff and few re-recorded demo songs. So top priority is the full length, and of course shows/tour after that.

Thank you very much for your time & Keep up the good work! The closure is yours.
Deherator: Play our music, buy our merch, and never miss an opportunity to wear big sunglasses (which are coincidentally, cheap).

Filip: Thanks to everyone for their support! Stay tuned for our new releases and see you on the road!

Toma: Turn the cross upside down.
By Steve the Filthy Dog.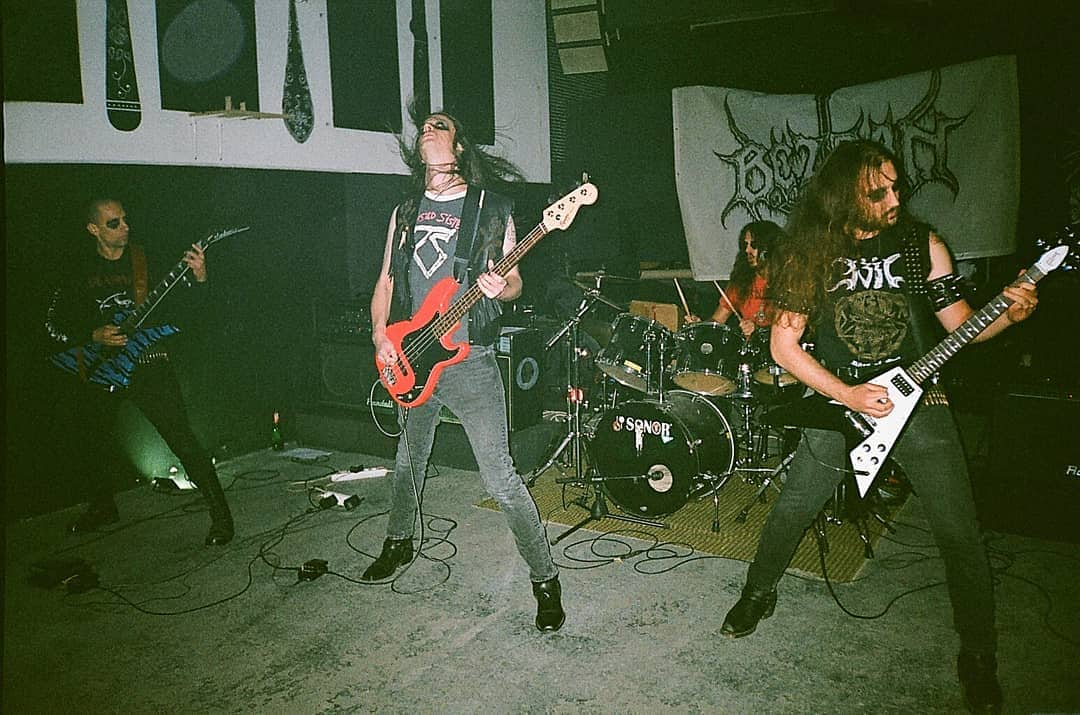 BEZDAN CONTACT:
https://www.facebook.com/bezdannikaddan
https://bezdannikaddan.bandcamp.com/releases