!!!BLACK/SPEED METAL FROM JAPAN!!!
We had a conversation with Vladphemer. Enjoy!
Welcome to the FILTHY DOGS OF METAL Webzine.
Tell us a few things about BAFOMET (Members, Starting Year etc).
Hell! Vladphemer here with the answers. We started as Sigil of Baphomet in 2015 and put a rehearsal out. When we recorded the first demo 'Poison of Darkness' in 2017 we changed the name to Bafomet. In 2018 I was left alone and started looking for new members, later that year Branded Rebel (guitars, from Metalpunk band Military Shadow) and Noctisadistum (drums, from Black Metal band Fra Hedensk Tid) joined the Cult of Bafomet. With this line-up we released a promo at the end of 2018, and released our second demo 'The Black Flame Still Burning' this year 2020. I released this demo EP under my small label 'Denim & Leather' on CD, and it also got released two times on cassette, by the Malaysian label Goathlordh and by the Chilean label La Maria Del Tajo. All physical releases includes the 1st demo as bonus for a total of 9 hymns to the Darkness. Noctisadistum moved to the north of the country and in his place Joe entered and with him, in mid December we recorded more songs soon to come out under the title F.O.A.D.I.F. ('Fuck Off and Die in Fire'). We have also some splits with Metalpunk band Suicide Club on cassette, and a 4-way split CD with Black Metal bands Black Abyss, Kratornas and Rapture Messiah.
You have recently released your demo ''The Black Flame still burning''. What is the Feedback from your audience as well as from the Press?
In Japan the response has been better than expected. We distributed a few copies on different metal stores and a total of 100 copies went sold out in a few days. Overseas lot of good comments but not many people buying the CD version, although the Chilean cassette version got sold out pretty fast and I think there's still some copies of the Malaysian press. I haven't heard much from international press regarding this release to be honest, mostly people commenting it's a mix between Black, Thrash and Heavy Metal. Some people said that some songs sounds too different that looks like a different band, which is probably true, although that wasn't intentional.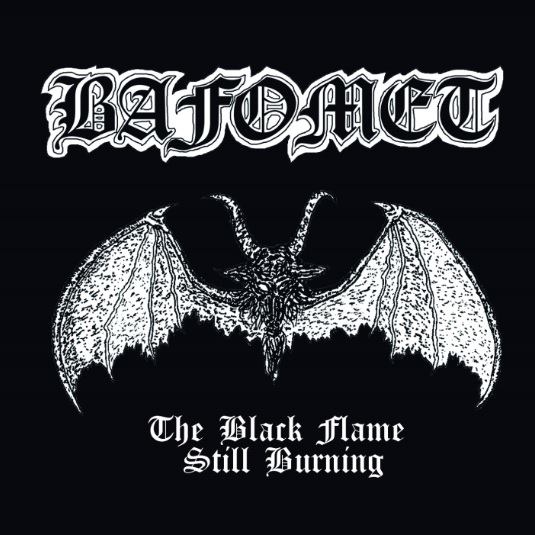 Label or DIY and why?
A combination of both. For starters I think it's important for a band to have a first DIY release as an initial step or 'baptism', and through that, to get attention or interest on re-release it, or doing future releases or collab works.
Do you prefer Vinyl, Tape, CD or Digital Format and why is that?
My fave format is vinyl, as there's something magic on having a big cover jacket to admire plus the sound of the needle... it's out of this world. But for distribution of our black flames made music, any format is OK, with CD and digital being the most convenient probably as it allows for quick listening and listening on the road, and shipping cost for tapes can get outrageous prices nowadays.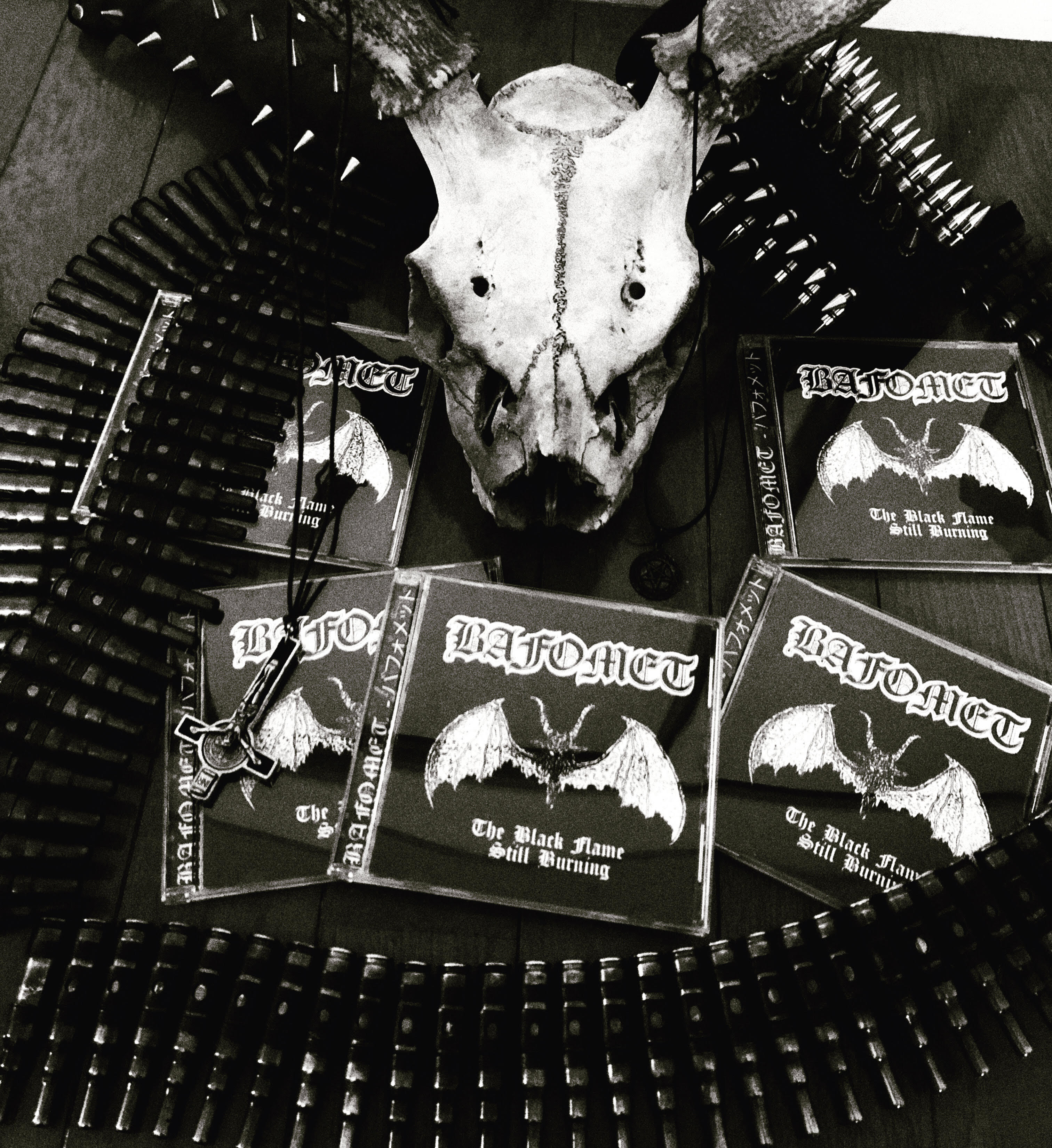 Your music style is Black/Speed Metal. Which are your main influences (Favourite Artists / Bands etc.)
Personally I could name acts such as Sabbat (jp), Bathory, Tank, Warfare, Running Wild, Sarcofago, Nifelheim, Sodom, Sadistik Exekution, Darkthrone, Blaspheme, Archgoat, Black Knight, High Power, Abigail, Slaughter Lord, Astaroth, Stormwitch, Crowley, Kat, Zed Yago, Thou Art Lord, Luzbel, Grotesque, Venom, Atomkraft, Heavy Load, Acid, Tabbasa, Mercyful Fate, G.i.s.m., Zouo, GG Allin, Discharge, German Oak, Nokemono, and soundtracks etc. I'm also very deep into old Greek Black Metal. Basically people from overseas refer to us a mix between Sabbat + Gism... not sure if that description is accurate though. Some people labeled us as Black Heavy Punk, others Speed Black Thrash... I think that's a byproduct of our influences. Always interesting to read people's visions on our poisons of darkness!
Which things, do you think, a Band should sacrifice in order to succeed?
Have you ever sacrificed anything in your life for a better future of your Band?
The most essential thing people need to sacrifice in order to have a band, are both money and time.Is not cheap to practice here, rehearsal rooms and the public transport in Japan are expensive, and the time spent is priceless, but all sacrifice is worth.Recording studio can get pretty expensive, so bands that can do the work on their own home studio, can consider themselves lucky.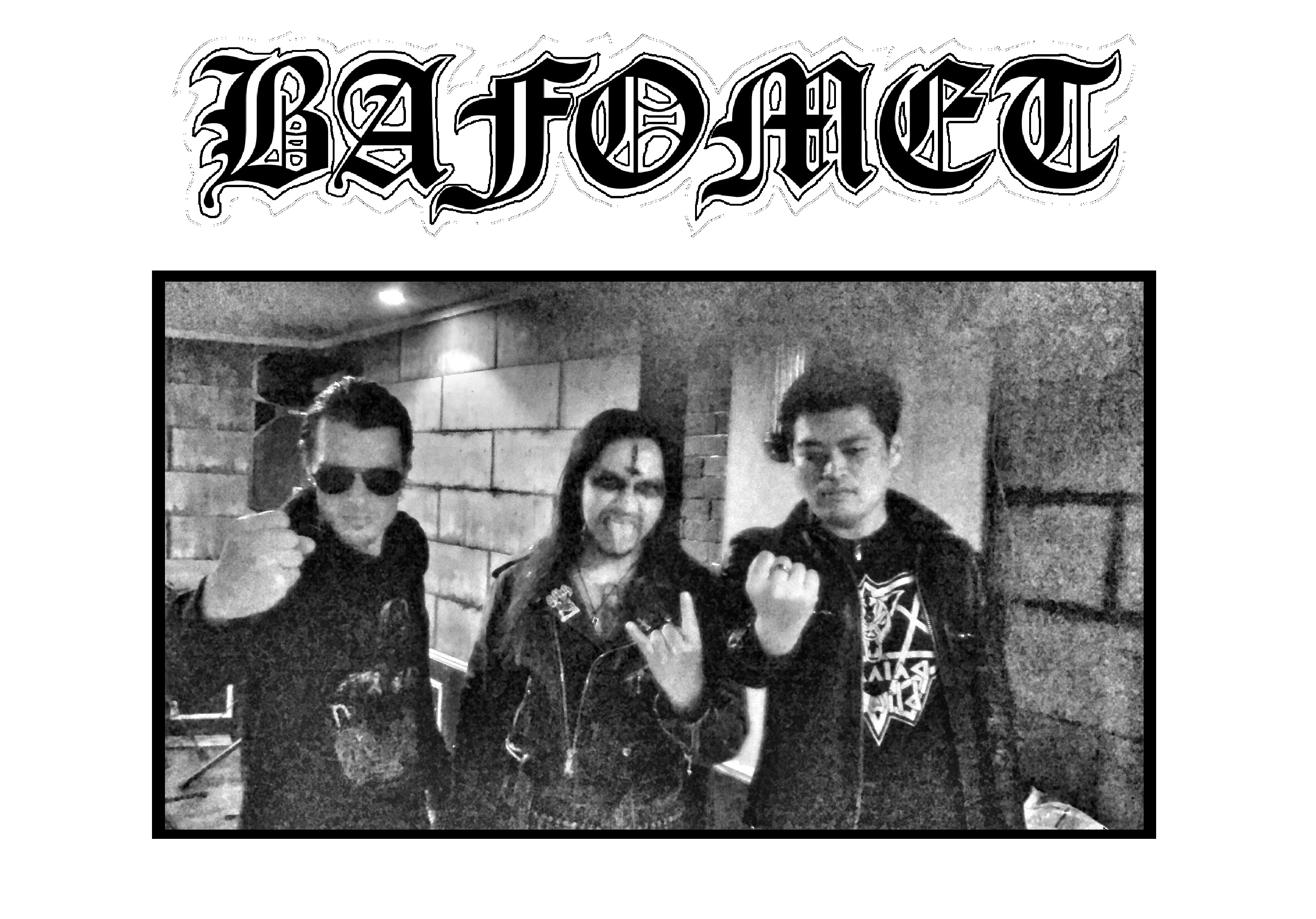 Describe your ideal live show as a performance Band. Have you already experienced that?
We kinda did!! We had a gig in a very small venue with lot of friends and Jero (from Abigail/Barbatos/Gorgon) played a few songs with us, that was an amazing experience!! I love small venues with a small crowd, that's enough for me.Ideal live show could be playing in a small venue with a stage surrounded by fire and blood raining and with witches and he-goats as the crowd hahah! But I think all of our gigs has been great for us, and for that I'm grateful.
Which attributes, do you think, that a new Black/Speed Metal Band should have in order to gain identity and be unique?
Lot of passion!! Perseverance and determination. Being honest is an important part of the equation too. You can copy lot of bands, but if you firmly follow your own path, you can be more authentic. In our case, we play what we want to play, that's why you can hear some very Black Metal songs like 'Resurrection', and then some more hardcore song like 'Leviathan's Priest'. There are bands that start with a clear path to follow, that could be to sound like Toxic Holocaust or to be a clone of Blasphemy, and that's also OK, but it's not the way that work with us. Each band/person is a different universe. Do what works best for you, but be honest and don't try to sell an image you don't possess.

Do you believe that Bandcamp and other Digital Platforms help the new Black/Speed Metal Bands? Which, do you think, is the ideal way for a Band to promote its work?
Indeed digital platforms helps a lot, but it will also depend of the goal the band has. Some bands are against using these digital media, and that's a pretty valid way to do things. In the case of Bafomet we use bandcamp, and that's how two labels from Malaysia found about the band and contacted us to do a release, so I can say first hand it's a good platform to spread the disease.Some people consider bands that use digital platform to not be 'underground', and that's an interesting point of view that opens a huge debate, and it's good that each person/band has his own views on the matter.The ideal way to promote a band in my opinion, is by sending promos to labels and fanzines (which I do a lot!) but it's good to complement that with some digital platform as it's easily accessible. However lot of people talk about Spotify and I still don't know about that platform so I stick with bandcamp, which people can check from anywhere without having an account, so is very convenient.But even if you put all your stuff online, never stop sending promos through the old snail mail way, as that is the essence of the underground. In fact I encourage any editor of printed 'zines that drop me a line and I'll send them our CD (currently unemployed so I don't think I can spend much money on doing many shippings though hahah).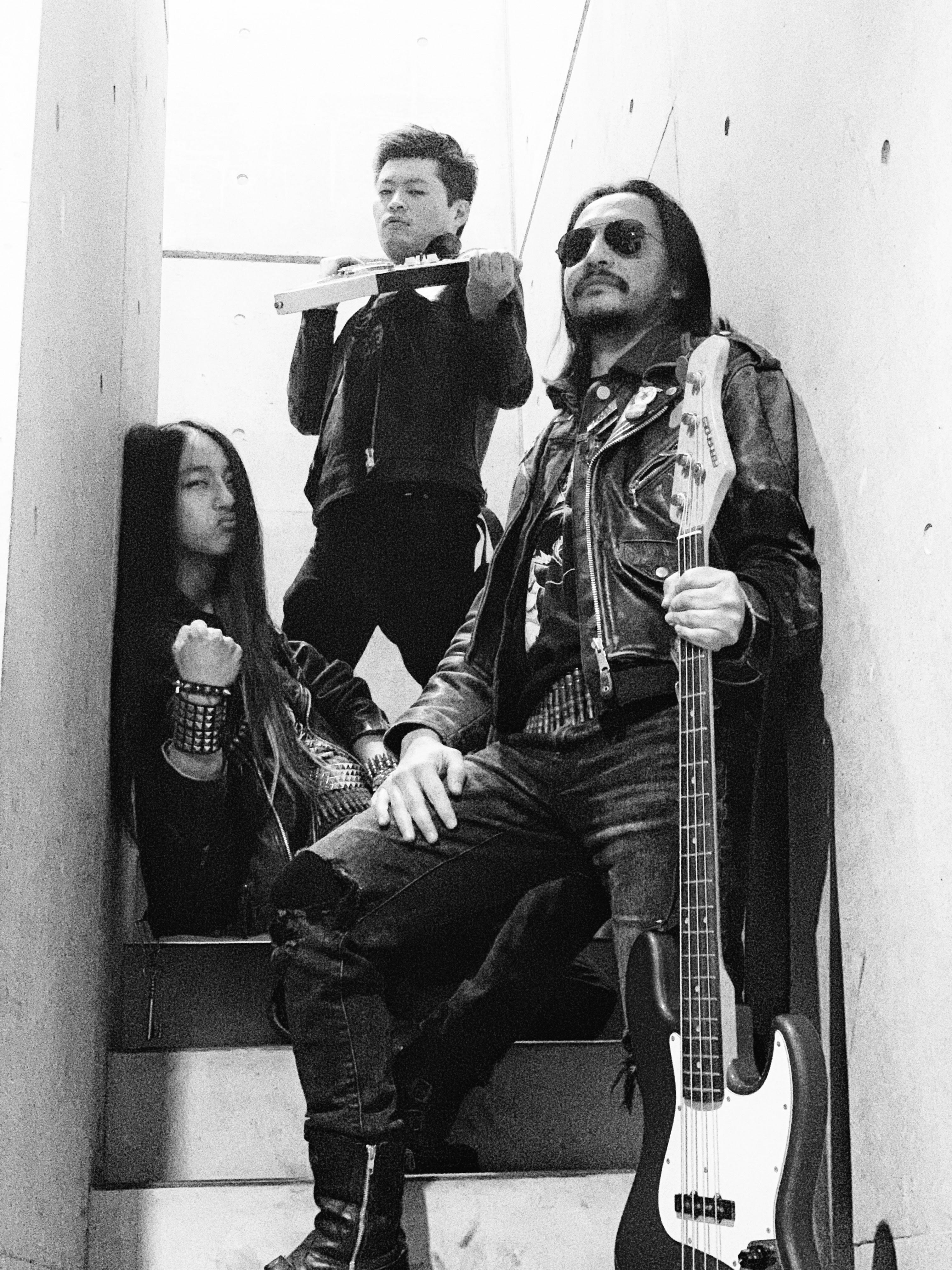 Tell us a few things about the New Underground Metal Scene in Japan (Bands, Fanzines, Webzines, Metal Clubs etc.)
There's a few new bands like Deadra and Hell Freezes Over (both Thrash), Chase the Top, Swazönd, Swazönd, lot of other bands like, Evil, Sex Messiah, Military Shadow, Significant Point, Döraid, Worship Pain, Risingfall, old timers like Necrophile' Necro-E, Anatomía, Butcher ABC (and a long list) and new projects Volcanic War and Bitcheater (both projects from Yasuyuki from Abigail). Fanzines not many I'm afraid... one that still remains is Shukusei Shinpo, and there's some book series with ton of reviews and interviews dedicated to all spectres in Metal. There's many metal bars/venues, like Pit Bar, El Puente, Earthdom, 2万電圧, Godz...

Do you know anything about the Hellenic Metal Scene?
Yeah actually I know lot of bands from your scene. Since the mid 90's I've been following with bands like Mortify, Varathron, Necromantia, Rotting Christ, Flames, then got into Dead Congregation, Agatus, Naer Mataron, Astarte (1st álbum only), Kawir, Holy Records bands like Nightfall, Septic Flesh, and On Thorns I Lay, but I'm also enjoying recents releases like Cult of Eibon and the new Black Sword Thunder Attack. Two of my all fave bands from Hellas since I was a teenager are Thou Art Lord and Zemial. In fact 'Eosforos' is my total favorite album from the genre, despise not being the best. Between original presses and different formats, I should have that album 6 or 7 times hahah. Ohh I also have both Vavel records, and found Sadistic Noise but sadly can't afford it hahah. I still play Unholy Archangel 7". Bought that fucker back in the day and started falling apart on how many times it has been 'turntabled' hahah.

What are your future plans?
To bring the Chaos to this realm! We just recorded our first album. As usual is a dirt mix of Black Thrash and Heavy Metal. It also includes a cover of mighty Barbatos. At first I thought on a cover of Abigail but everybody covers Abigail so decided to go for Barbatos instead. It's going to be out on cassette, and we are trying to figure out something with other people to get it in other formats. I tell you it's sounding killer!!Aside of that we've been proposed to release a couple of splits, but we'll see how things develop. For now we are focusing on this new release.

Thank you very much for your time & Keep up the good work! The closure is yours.
I appreciate your support Stavros!! For the people reading this, give the band a check through bandcamp or YouTube and if you like what you hear, consider getting some of our stuff on CD, cassette or digital.
Keep the Black Flame still Burning & Praise the Goat!! 地獄のメタル!
By Steve the Filthy Dog.
BAFOMET CONTACT:
https://bafomet666.bandcamp.com/