!!!THRASH METAL FROM SPAIN!!!
We had a conversation Lee Pinto (Vocals). Enjoy!
Welcome to the FILTHY DOGS OF METAL Webzine.
Tell us a few things about ARKHAM (Members, Starting Year etc).
ARKHAM was born in Galicia, Spain, in 2002 as a Heavy Metal band, formed by Yago Rodriguez (Drums), David Thrashtornao ( Lead & Rhythm guitar), Alex ( Lead & Rhythm guitar), Edu (Bass guitar) and Xano (Vocals). Over the years, the successive elements gave Heavy 'n' Thrashing notes to the band. As a result of so many different ideas and souls, Arkham became clearly faster, harder and louder! Nowadays we can define Arkham as Authentic Old School Thrash Metal.
Our actual members are:
Yago Rodriguez (2002 - present) - Drums
David Thrashtornao (2002 -present) - Lead & Rhythm Guitar
Lago Carroucha ( 2008 - present) - Lead & Rhythm Guitar
Lee Pinto (2011 - present) - Vocals
David Llamas (2020 - present) - Bass Guitar
Arkham ex members are:
Alex (2002 - 2005) - Lead & Rhythm Guitar
Edu (2002 - 2005) - Bass Guitar
Xano (2002 - 2006) - Vocals
Peter Lameer (2014 - 2016) - Bass Guitar

You have recently released your single ''Decapitation''. What is the feedback from your audience as well as from the press?
We are heaving a very good feedback and we are receiving contacts from Metal scene people. Not only from Spain but also from Portugal.
Label or DIY and why?
We are going to edit a split by ourselves. For the upcoming LP we are working on a possible partnership with a label.

Do you prefer Vinyl, Tape, CD or Digital Format and why is that?
Both split and LP will be edited on CD format and the LP will probably also be edited in vinyl format.

Your music style is Thrash Metal. Which are your main influences (Favourite Artists / Bands etc.)
We have many influences. I can tell you our drummer (Yago) prefers bands like Accept, Iron Maiden, Judas Priest, Kreator… David Thrashtornao is more thrash all the way. He's influenced by bands like Testament, Slayer, Forbidden, Flotsam and Jetsam, Havok.... Lago and Llamas are clearly more extreme: Death Metal, Brutal Death Metal besides Thrash/Speed Metal are their favorite styles. Deicide, Cannibal Corpse, Dying Fetus, are some of their influences. Lago also do vocals on Dantalion wich is a very known and appreciated spanish Black Metal band. Personally, bands like Testament, Exodus, Obituary, Suicidal Tendencies, Slayer, Municipal Waste, Metallica, Suicidal Angels, Warbringer, Violator are some of my references. But, apart from Thrash, Crossover or Death Metal bands, I also appreciate bands like Queen, Led Zeppelin, Queens of the stone Age, Nine inch Nails, between many more bands and styles. As you can see, there are so many influences and maybe that explains why Arkham's music can sound fresh and different.
Which things, do you think, a Band should sacrifice in order to succeed? Have you ever sacrificed anything in your life for a better future of your Band?
When you love music as much as we do, you cannot talk about sacrifices. Of course, in order to manage all aspects of your life, you have to make some choices and/or stablished priorities... But that's life, right?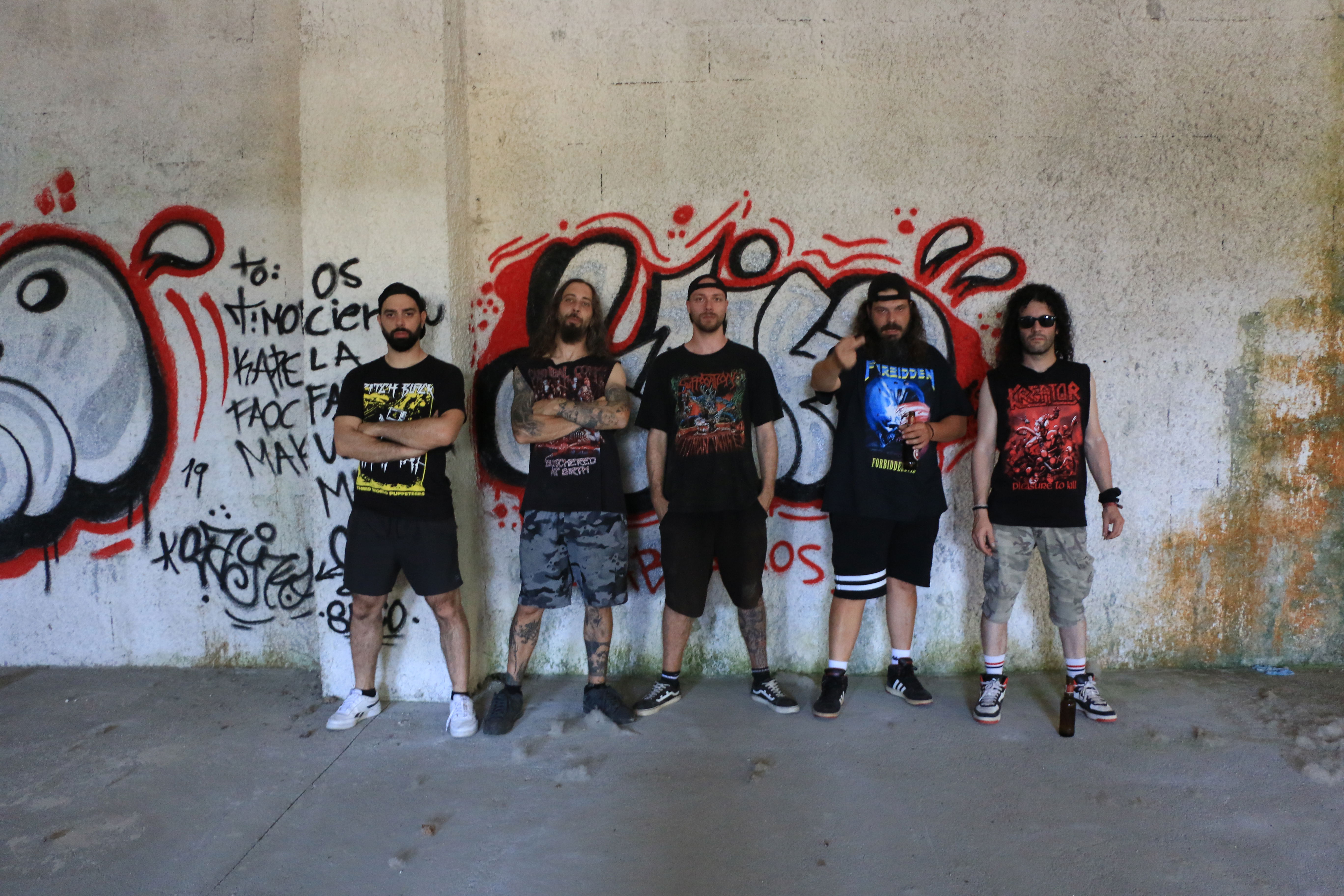 Describe your ideal live show as a performance Band. Have you already experienced that?
Live shows are where you give all of you and sometimes even more... I cannot explain what I feel when I step the stage but I know for sure it's guaranteed happiness! I just hope everything gets back to normal so we can soon have those feelings back again. We all miss it so much!
Which attributes, do you think, that a new Thrash Metal Band should have in order to gain identity and be unique?
Well... I play what I feel. We all do. So the fact that we have such different personalities, tastes and influences can be the key to the freshness that could make us unique in Thrash Metal scene.
Do you believe that Digital Platforms help the new Thrash Metal Bands? Which, do you think, is the ideal way for a Band to promote its work?
Every band, big or small, wants to reach as much people as possible. Nowadays digital platforms are definitely the best way to spread music or any kind of message. Of course things are not as linear as they used to be, but we are fine with that.
Tell us a few things about the New Underground Metal Scene in Spain (Bands, Fanzines, Webzines, Metal Clubs etc.)
There is a lot going on in the underground scene: old and new bands, Spain is full of good but unknown music. Hopefully there are some fanzines and webzines trying to make things get closer to people. There are also many pubs and places to perform. Because I'm Portuguese and the band is located really close to the border with Portugal, we hope that our music will cross that border. Well... honestly, that shouldn't exist. At least, it doesn't exist to us.
Do you know anything about the Hellenic Metal Scene?
I think Greece is a great Metal music factory. From Thrash to Black, it's impossible to think on Metal without considering the Greek market. Personally, besides the above referred Suicidal Angels, that already took me to Paris for a live show, I really appreciate Ektomorf and Dead Congregation.And because of their importance on international scene, we cannot forget about Septic Flesh, Rotting Christ and Firewind.
What are your future plans?
As I told you before we are about to edit "Bastardize The World", a 4 songs split EP with our friends Lethal Vice, also from Galicia, Spain. We hope that people will get into our music and look forward to our LP, which will be recorded early next year. It will be 20 years of Arkham celebration and trust me... it's going to be serious!!!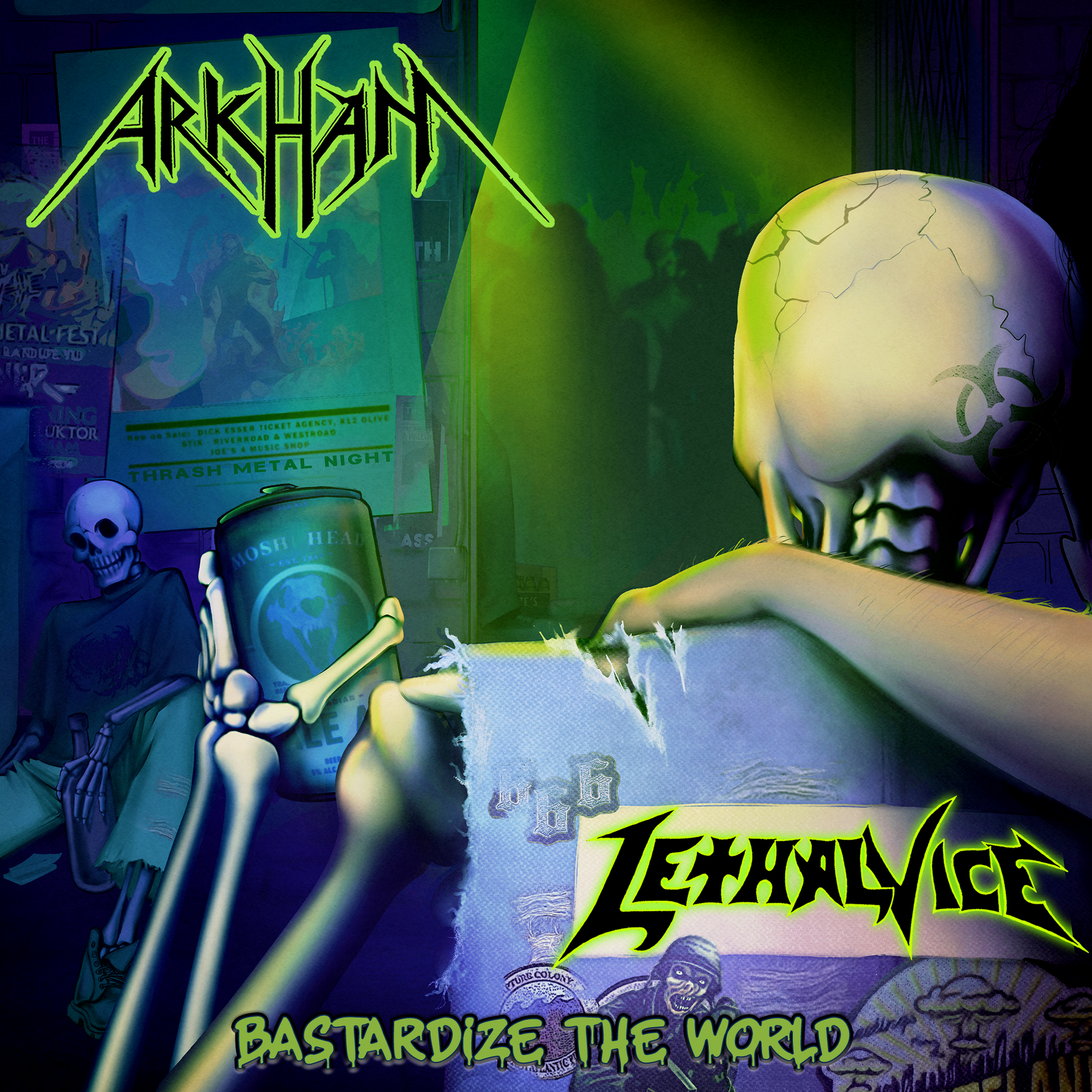 Thank you very much for your time & Keep up the good work! The closure is yours.
Thank you very much for the opportunity and for your interest in knowing a bit more of Arkham. We wish you all the best and never forget: Thrash Metal never dies!!!
By Steve the Filthy Dog.
ARKHAM CONTACT:
https://arkhamthrashband.bandcamp.com/
https://www.facebook.com/ArkhamThrashBand

https://www.instagram.com/arkhamthrash/